These Venues in the North Carolina Triangle Showcase Its Creative Spirit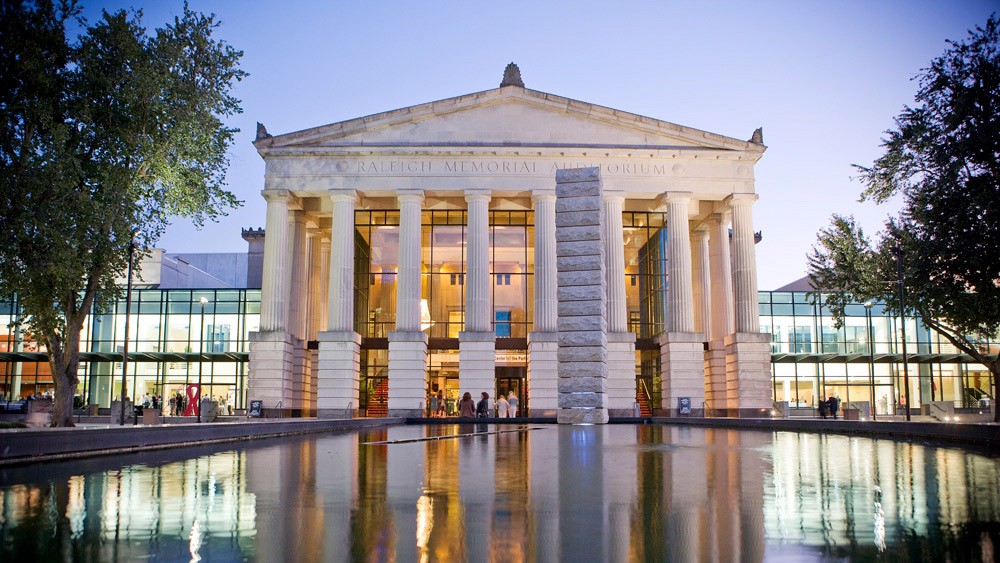 North Carolina's Research Triangle—Raleigh, Durham and Chapel Hill—is famous for academia, as it's home to North Carolina State University, Duke University and University of North Carolina at Chapel Hill.
But the area's creative scene is equally impressive, making the colloquially known "Triangle" a prime spot for association meetings and conventions. Reimagined spaces and offsite cultural venues make these cities even more intriguing for meetings groups.
Explore the understated creative culture of the Triangle through the following venues and experiences in Raleigh, Durham and Chapel Hill.
Infuse Raleigh's Music Scene into Meetings and Events
From bluegrass to hip hop, North Carolina's tuneful traditions run deep.
Groups can explore this storied music scene in Raleigh, which has five walkable entertainment districts, 80-plus performance venues, and premier events like the Wide Open Bluegrass Festival and Hopscotch Music Festival.
[Related Content: 3 Raleigh Museums That Double As Event Spaces]
Steps from the Raleigh Convention Center are six professional arts companies at Duke Energy Center for Performing Arts, including ballet, symphony, theatre and opera, plus leading traditional music organization PineCone. Groups can take advantage of shows after meetings like Broadway musicals, rock shows, orchestra performances and more.
Some of these performance spaces within Duke Energy Center for Performing Arts are available for group rentals, too, including:
The 2,369-seat Raleigh Memorial Auditorium.
The 1,700-seat Meymandi Concert Hall.
The 600-seat A.J. Fletcher Opera Theater.
The 150-seat Kennedy Theatre.
In addition, Red Hat Amphitheater, which is adjacent to the convention center, can host outdoor concerts and other events, complete with an impressive backdrop of the Raleigh city skyline. Capacity at the amphitheater is 5,900.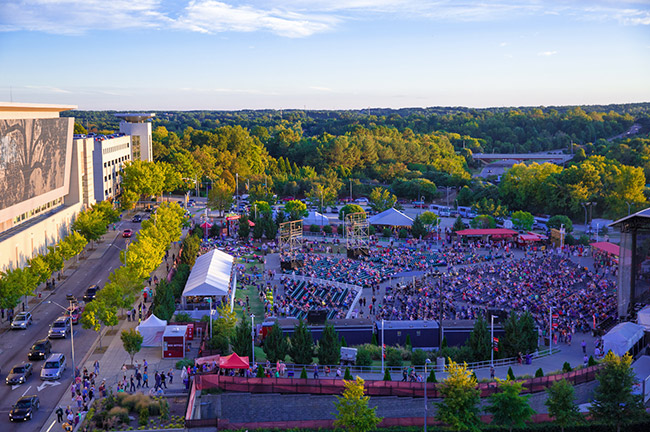 Red Hat Amphitheater, Credit: Willa Stein for Visit Raleigh
Reimagined Spaces in Durham Become Unique Offsite Venues
Reimagined industrial spaces have transformed former tobacco titan Durham into a creative hub. Adaptive reuse has figured prominently in Bull City's renaissance, which kicked off in the early '90s amid the twilight of its tobacco days.
Once producing around 90% of America's cigarettes, the million-square-foot American Tobacco Campus was converted into a multi-use district.
The 2,700-seat Durham Performing Arts Center or DPAC, is the largest stage between D.C. and Atlanta. It's one of 43 group-capable venues on the sprawling campus.
Versatile group options at DPAC include:
Behind-the-scenes tours.
200-person events in the glass-walled atrium.
Full-theater buyouts, subject to availability.
Also, the reimagined Golden Belt—a former textile mill that produced pouches for Bull Durham tobacco—is now a LEED-certified multi-use complex featuring apartments, galleries, studios and event spaces. Groups can host an event here and then grab a brew at onsite Hi-Wire Brewing to play shuffleboard and table tennis in its 8,844-square-foot taproom.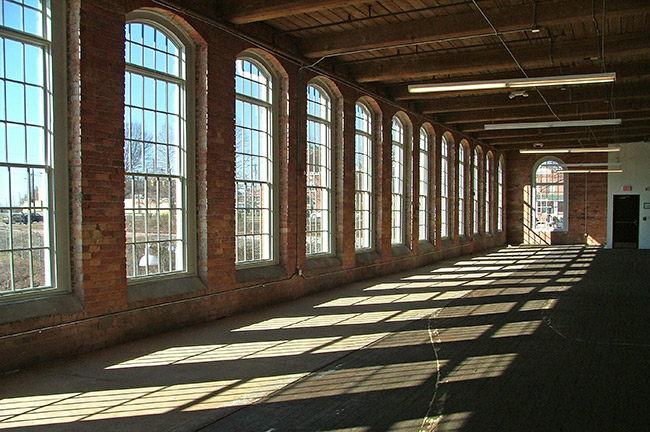 Golden Belt Event Space in Durham, North Carolina
Motorco Music Hall is another renovated event space in downtown Durham, featuring a 450-capacity Showroom, Garage Bar and outdoor patio.
The facility is an update of a mid-century car dealership. Rentals include tented events, with catering from the cleverly named Parts & Labor kitchen.
Adjacent to the Durham Convention Center, the Beaux Arts Carolina Theater offers rentals including 1,048-seat Fletcher Hall, which has been restored to its original 1926 grandeur. The theater also houses two cinemas that can seat 226 and 49 guests, respectively.
Live Chapel Hill Performance Venues and Experiences
There must be something in the Piedmont air that breeds creativity.
Legendary singer-songwriter James Taylor, whose family relocated from Boston to Chapel Hill when he was three, certainly thought so. One of the top selling artists of all time, Taylor wrote in his biography that "coming of age" in the region "was more a matter of landscape and climate than people."
Other nationally prominent acts with local roots include the Squirrel Nut Zippers, Superchunk and Ben Folds Five.  
The Cat's Cradle, founded in 1969 and relocated to nearby Carrboro in 1993, has seen this starpower first-hand, hosting acts from Joan Baez to '90s superstars Nirvana, Pearl Jam, and The Smashing Pumpkins. Groups can take advantage of live music at the 750-capacity venue, or music buffs can arrange an event in its 160-capacity Back Room.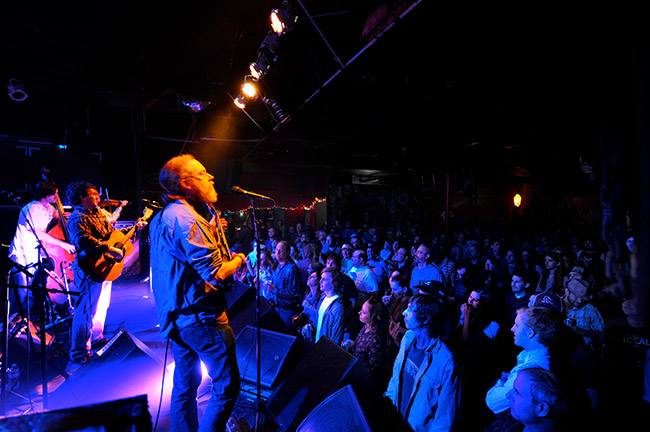 Band Performing at The Cat's Cradle in Chapel Hill, North Carolina
Other live performance venues in Chapel Hill with rentable spaces include:
The Arts Center, which features the 355-seat Wynn Theater, the Nicholson Gallery for networking functions and a variety of studios and classrooms.
The University of North Carolina at Chapel Hill offers five performance venues.  Managed by Carolina Performing Arts, these historic spaces include Memorial Hall, Gerrard Hall and Moeser Auditorium.
For groups looking for a casual, end-of-day music gathering, The Carolina Inn features "Fridays on the Front Porch," a popular seasonal community event featuring live music, food trucks, wine and more. Dating to 1924, the Inn is five years shy of its centenary.
The Carolina Inn offers 185 guest rooms and 16,721 square feet of meeting and event space, making it a perennial group option.
North Carolina Triangle CVB Contact Information
Chapel Hill/Orange County Visitors Bureau
919.245.4320
Discover Durham
919.687.0288
Greater Raleigh CVB
919.834.5900