Westin Helps You Work Wellness Into Your Meetings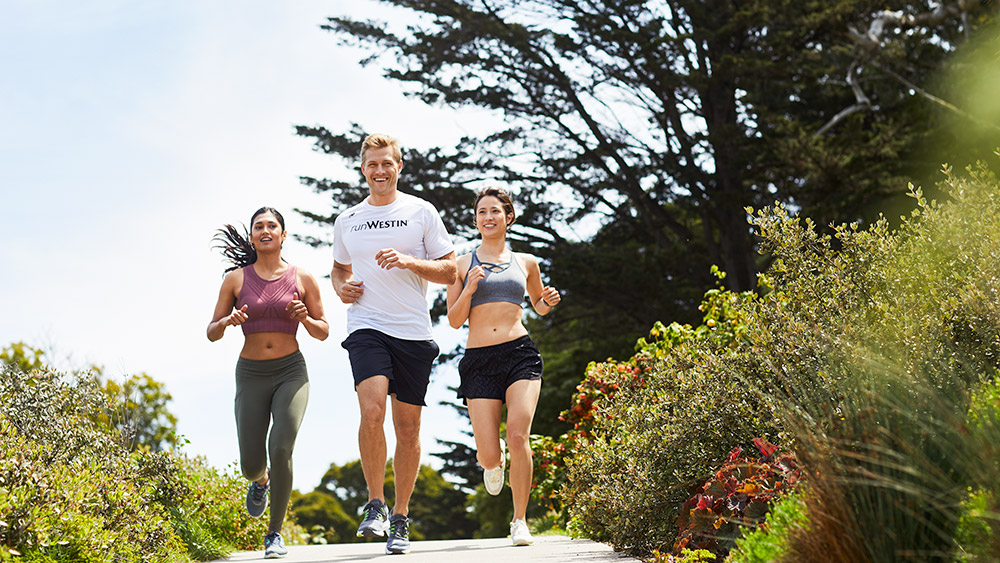 Running while traveling on a business trip is a great way to work in some exercise, get outdoors and see a new place. But during an often already-busy schedule in an unfamiliar place, it can be difficult to find the time, know a safe route to run, or even remember to pack your clothes and shoes.
If you're planning an event or stay at a Westin, the hotel staff can help make sure you and your attendees have a safe, enjoyable run, whether you packed your gear or not.
Westin has long placed a premium on wellness, from the iconic Heavenly Bed and Heavenly Spa to its Eat Well menu. Some of Westin's most interesting wellness programs, however, are geared for guests looking to exercise while on the road.
RunWESTIN offers a variety of programs aimed at runners.
Run Concierge: The Westin Run Concierge service provides guests a running partner for individual or group runs, and is available at most properties.
The Run Concierge can lead the individual or group in stretches and, based on how long or far the runners want to go and what they want to see, can suggest personalized routes, explained Marianne Cantieri, run concierge for Chicago's Westin Michigan Avenue RunWESTIN program.
"We pride ourselves on being a healthy hotel, and this is one more way to be healthy," Cantieri said in regard to the hotel's RunWESTIN program.
At the Westin Michigan Avenue, a member of Marriott's Convention & Resort Network, guests can sign up for a run with Cantieri for 6:30 a.m. Tuesday and Thursday during the warmer months when there's daylight. She leads both individual and group runs.
For meeting planners looking to schedule a group run as an activity, Cantieri suggested contacting her if planning an event at the Westin Michigan Avenue, or the hotel the event will be at, to coordinate.
[Related Content: 5 Pain Prevention and Recovery Tips for Meeting Planners]
Often when she leads group runs tied to an event, not everyone knows one another.
"It's a good time for people from the same event to meet one another," Cantieri said.
"People who have used the program—at this property or another—love it," she added. "It's a more personal way to work out."
To see if the Westin you will be at has the program and learn information about it, contact the front desk or hotel concierge, or look for information in the workout room.
Maps: Westin offers 3- and 5-mile running routes with directions from the hotel so you know you're on a safe, run-friendly path.
Workouts and stretches: In collaboration with TRX, Westin offers equipment and—through an app—instructions for stretches and workouts to improve your running.
With Westin Gear Lending, the hotel reminds you to pack light and stay fit.
No matter the workout, if a guest forgets their clothes or didn't have room to pack them, they can borrow items through the program. For $5, guests can borrow New Balance shoes and clothes to use—and can keep the socks. To partake, call Service Express to tell them your shoe and clothing size, and a Westin associate will deliver the gear within 15 minutes.
Clothes are washed after each wear, and insoles are replaced after each use.
[Read This Next: Marriott CRN Properties Step Up Their Gym Game]