Columbus, Ohio: The Next Big Meetings Destination That Might Not Be on Your Radar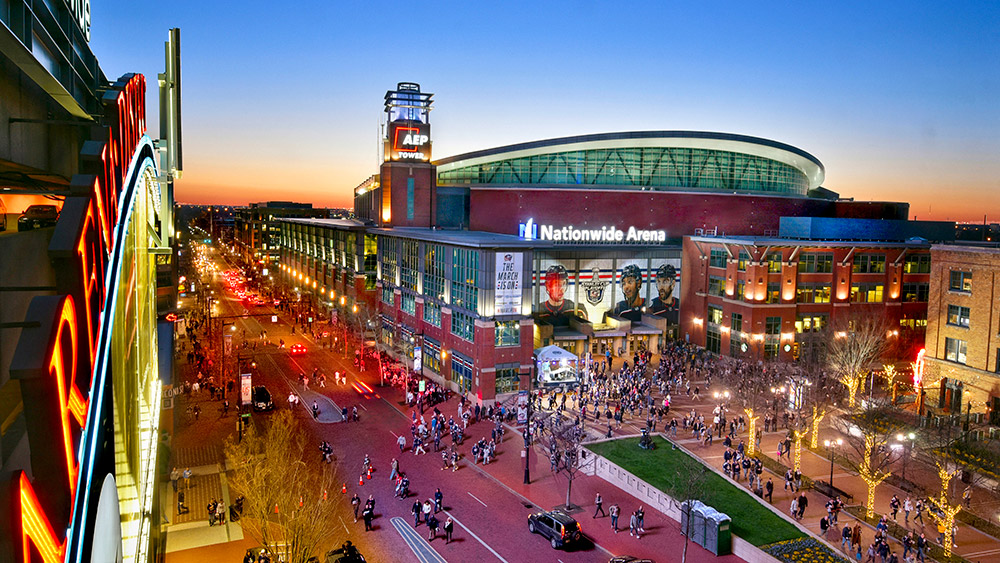 There's something happening in Columbus, Ohio.
I have to admit that the destination was hardly on my radar until a couple of years ago when I encountered members of its CVB at various meetings industry events extolling the meetings and conventions bona fides of the largest city in Ohio.
Until recently, I didn't even know that Columbus was the largest city in Ohio.
Maybe it was the Jeni's Splendid Ice Creams the Experience Columbus CVB labored to bring to the exhibit floor of IMEX America and ASAE? Maybe it was that, seemingly out of the blue, ASAE selected Columbus as the site of its 2019 Annual Meeting & Exhibition?
Or that the destination continues to climb up Cvent's top U.S. meeting destinations list, holding position No. 37 out of 50 in the 2019 edition of the annual list.
[Related Content: Columbus' North Market Checks All the Culinary Boxes]
Columbus is on the move, with young entrepreneurs opening up artisanal businesses and restaurants in its Short North convention district. A formerly forgotten flood plain is also set to explode as a haven for makers and a forward-thinking convention center that recently emerged from a $140 million renovation and expansion rounds out the suddenly shiny offerings.
Let's consider some recent accolades:
Greater Columbus Convention Center
All things flow from a city's convention center when it comes to large meetings, and the Greater Columbus Convention Center definitely delivers after a $140 million renovation that increased its space to 1.8 million square feet, with 370,000 square feet of contiguous meeting space. The city offers 2,250 rooms connected to the convention center, with 4,250 downtown and another 1,000 under construction and open by the end of 2019.
Even though the convention center offers state-of-the-art space that was renovated with a mission to greatly improve its sustainability, including switching every light to LED, one thing attendees and those walking by on the street will inevitably be drawn to is its "As We Are" interactive LED sculpture. The 14-foot-tall infinitely Instagrammable installation that resembles a giant head allows visitors to enter through the back of the neck and sit for a short photo session, with the result being their likeness broadcasted to the world.
Group Dining Options in Downtown Columbus
Even though nearby Westerville is where Prohibition began, there's no hassle enjoying a cocktail and great food at reasonable prices in Columbus—there are 72 bars and restaurants within a 10-blocks of the convention center.
Some highlights of our tour included the many venues of the Cameron Mitchell Restaurants group, including Marcella's, Martini Modern Italian and The Pearl.
Meanwhile, the upscale Wolf's Ridge Brewing just unveiled new dedicated event space.
All of the aforementioned spaces are within a walk of the convention center.
Not to be missed is the event-ready North Market, the city's oldest public market, which features nearly 40 vendors and has a major event space expansion in the works.
On the last morning of our fam tour our group was fortunate to enlist the services of food blogger Nick Dekker from Columbus Food Adventures.
Nick guided us on a culinary journey that included:
The foodie portion of the fam tour also included a stop at local favorite Northstar Café.
Hotels Near the Greater Columbus Convention Center
Our group stayed at the Hilton Columbus Downtown, the 532-room headquarter hotel connected by skybridge to the convention center.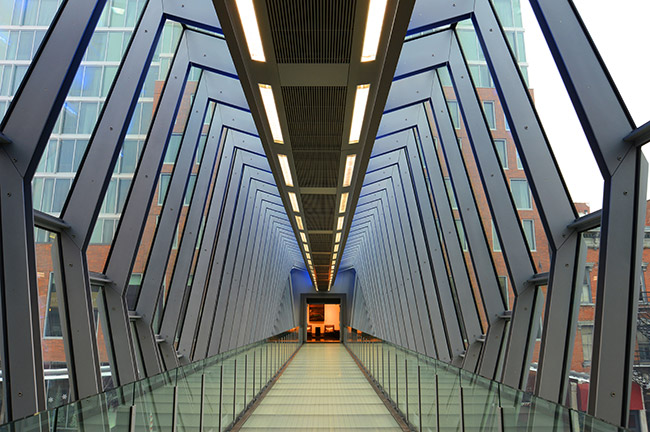 Hilton Columbus Downtown Skybridge to Greater Columbus Convention Center, Credit: Tyler Davidson
Boasting a truly impressive art collection with over 200 pieces from more than 150 artists, the LEED Gold-certified atrium-style hotel is set to embark on a major expansion that will add 470 rooms to its inventory and boost its meeting space to 75,000 square feet.
Columbus also counts the Hyatt Regency Columbus and the stylish Le Meridien Columbus, The Joseph, among its top-tier hotel brands near the convention center.
New entrants will include the Marriott-brand Moxy Hotel.
Large-Scale Event Spaces for Groups Meeting in Columbus
The 20,000-seat Nationwide Arena, home of the NHL Columbus Blue Jackets, offers up nearly 700,000 square feet of meeting space and is the venue of choice for many national touring acts.
The multipurpose EXPRESS LIVE! indoor/outdoor concert venue can hold 2,200 inside and 5,300 outside, and is available for a flat fee of $8,000 that includes staffing and AV services.
Of particular note is the National Veterans Memorial and Museum, an emotive, immersive tribute to U.S. veterans that is available for event rental.
Innovation on Display at Columbus' Idea Foundry
One of the most illuminating experiences was a tour of the Idea Foundry, billed as the largest makerspace in the world. One can gauge the vitality of any destination by the number of innovators coming together in places like this one-stop ecosystem to create.
The Idea Foundry is one such undertaking that is transforming what was formerly one of the oldest and most-blighted neighborhoods in Columbus, Franklinton's Jeffrey Park.
Groups here can participate in demonstrations of blacksmithing, welding and other industrial skills, and even dabble in podcasting, virtual reality games and drone and car racing through the expansive former manufacturing facility.
"Once you're done with the tools we're pretty alcohol-friendly," Idea Foundry Founder Alex Bandar said, in regard to Columbus' growing craft beer and cocktail scene.
So, after chewing on just why I was so intrigued with traveling to Columbus for a meetings fam, what was it that really put it on my wish list?
I've come to a firm conclusion: Gotta be that Jeni's Splendid Ice Creams!
Columbus, Ohio, CVB Contact Information
Experience Columbus
614.221.6623