Omaha and Council Bluffs Growing Community Friendly Spaces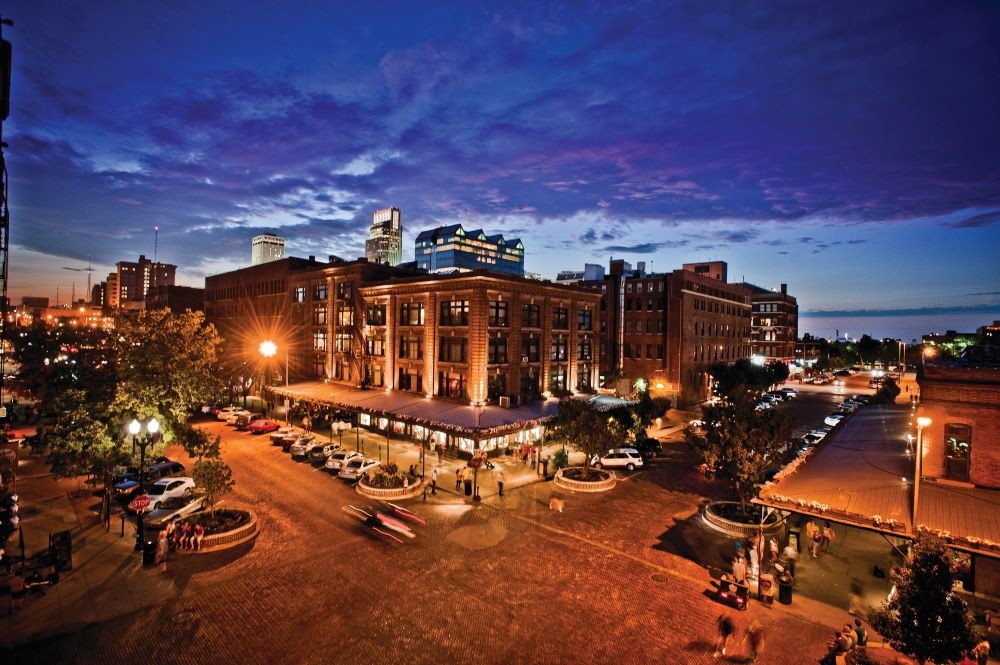 Set across the Missouri River from each other, Omaha, Nebraska, and Council Bluffs, Iowa, offer a convenient package for meeting groups that are activity minded and want to bust out of the conference room for outings in or close to each of their downtowns.
[Related: Discover Omaha's Multibillion-Dollar Meetings Makeover]
Omaha: Rolling on the River
On the western bank, Omaha is rolling out a $325 million revitalization project that is unifying three of its major urban riverfront parks to provide an easily navigable experience for residents and groups alike. A city known for its generous benefactors, $275 million of the funds for the project were privately donated with the rest coming from lease-purchase bonds.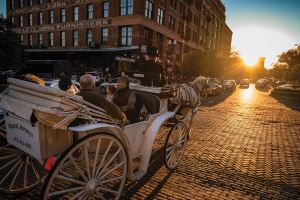 The 72-acre The RiverFront project is opening in three phases right in the core of Omaha's downtown. The first, the 13-acre Gene Leahy Mall, debuted in July 2022 and has already attracted 370,000 visitors in its first six months. The three-park package is conveniently located about a quarter mile south of CHI Health Center Omaha, the city's major convention facility with more than a half-million square feet of space. Another popular visitor district, Old Market, is located a little less than a half-mile south of Gene Leahy Mall.
"The creation of the RiverFront provides a bridge between all these great districts in the city's core—suddenly the whole thing opens up and is widely accessible," said Kristyna Engdahl, director of communications for Omaha's Metropolitan Entertainment & Convention Authority (MECA), a 501(c)(3) nonprofit organization that also operates the CHI Health Center Omaha arena and convention center and Charles Schwab Field Omaha. "Before the existence of these parks, because of their inactivable design, there wasn't a prolonged presence of crowds on a routine basis. Now people are spending multiple hours in the park."
Gene Leahy Mall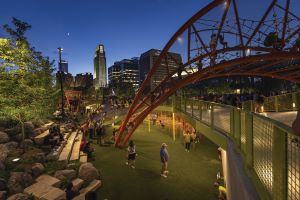 The Gene Leahy Mall project remedied the sloping design of the park to bring it up to street grade, and also includes a sculpture garden, playground and water features such as an interactive Cascades fountain visitors can play in. For groups, the park's performance pavilion can be rented for events and will also feature programming produced by staff.
"By bringing some of these areas up to grade and activatable, that opens up opportunities for groups of many sizes to come in and occupy it in whatever creative means they can think of," Engdahl said. "The event lawn can hold thousands of people, and there are smaller spaces around the park's perimeter, such as picnic tables and shade structures, that are great for a lunch or more-intimate gathering, and you can rent all spaces.
"By having all of these cohesive areas in one park it really opens up opportunities for groups that are looking for outdoor spaces to gather," Engdahl continued. "The performance pavilion is wired for sound and the smaller spaces will have access to electricity, which is good for more intentional, smaller gatherings."
The park has a cutout for food truck parking and supports a rotating schedule of trucks. Groups can serve alcohol at events but must secure a permit from the city to do so.
Heartland of America Park and Lewis and Clark Landing
Heartland of America Park, on the eastern side of Gene Leahy Mall on the banks of the Missouri, will also feature an event lawn and lakeside amphitheater that can be rented for large gatherings, along with a "skate ribbon" similar to Chicago's Maggie Daley Park that will accommodate roller skating in summer and ice skating in winter. Other features will include a bocce ball court and the Farnam Pier, which will stretch more than 200 feet and offer various visitor attractions.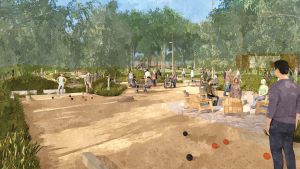 Both Heartland of America and the project's third park, Lewis and Clark Landing, are scheduled for a late-summer 2023 opening.
The largest of the three parks, measuring more than 32 acres, Heartland of America Park has welcomed visitors crossing over from the Iowa side of the Missouri since the early 1990s. According to Engdahl, the city is looking to partner with a company to relaunch gondola rides, which were a popular activity before the project was launched.
The 25-acre Lewis and Clark Landing will boast a huge playground with custom-made climbing structures, ziplines, tunnels and hills, with quieter areas to accommodate kids who are prone to overstimulation. Other features will include sand volleyball courts, a prairie garden with native flora and a beach area (but no water access) with Adirondack chairs and fire pits.
A highlight of Lewis and Clark Landing will be Kiewit Luminarium, which is not managed by MECA but will be a popular rental space for group events. At publication time, Kiewit Luminarium was scheduled for an April 15 opening. The 82,000-square-foot facility expects to offer 120 interactive exhibits. 
[Related: Development Boom in Omaha Is a Game Changer for Meetings and Conventions]
Council Bluffs: Activities Aplenty
On the east side of the Missouri, Council Bluffs is a destination brimming with activity options for groups that want to break out of the four walls of their meetings.
Hoff Family Arts & Culture Center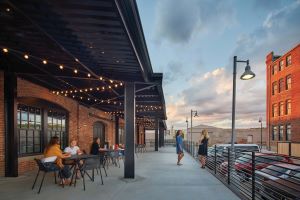 One popular group option is booking private culinary and art classes at the new Hoff Family Arts & Culture Center, run by Pottawattamie Arts and Entertainment. Also home of the American Midwest Ballet, Chanticleer Community Theater, Kitchen Council and Kanesville Symphony Orchestra, this downtown Council Bluffs venue offers a 280-seat theater and numerous classrooms, artist studios, exhibition galleries and teaching kitchens such as the Incubator Kitchen, a commercial-grade venue operated by the Kitchen Council.
Hoff can accommodate up to 280 for an event, with a full bar and audiovisual capabilities in venues that play up the history of the building—originally built in 1894 for McCormick Harvesting Machine Company—with exposed brick and wood flooring combined with contemporary design elements. The venue can also host conference-style setups. Hoff's McCormick's 1894 bar, cafe and rental space can accommodate up to 294 for events such as corporate dinners, presentations, conferences and receptions, with wrap-around patio seating providing additional outdoor space, with catering available.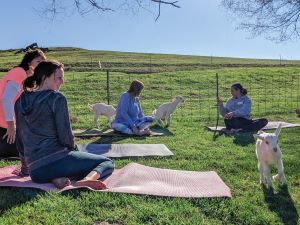 Honey Creek Creamery
In spring, groups can tap into the all-too-adorable goat yoga craze at this goat dairy farm in the beautiful Loess Hills. The 45-minute goat yoga classes are taught by certified yoga instructors and held on most Saturday mornings from late April till late May, with two classes per morning. If more baby goat time is needed, groups can also visit the venue's goat nursery after the class. 
Iowa West Field House Pickleball
Eclipsing even the goat yoga phenomenon, pickleball is exploding in popularity. Iowa West Field House, next to Council Bluffs' 64,000-square-foot Mid-America Center convention facility, offers a total of 100,000 square feet of space—enough for 12 regulation volleyball courts or eight basketball courts. Its six-court indoor pickleball facility was added in 2019 and can be rented for group programs.
Joe's Karting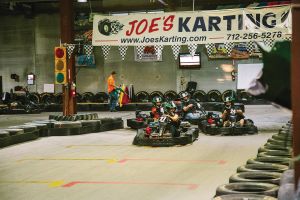 This indoor go-kart track will get attendees' blood pumping big time as they compete to bring home the checkered flag. Group discounts are available, as are a variety of packages depending on how many races are booked. Facility buyouts for groups from 50 to 200 are available and groups can bring in outside food (but there is a strict no-alcohol policy) as long as they clean up after themselves.
Iowa West Public Art
Attendees with some downtime and an appreciation for art can take advantage of the free Otocast Public Art app that provides a self-guided tour featuring narration from the artists about their work. Council Bluffs is home to 12 major pieces of public art stretching from Mid-America Center entertainment district to the Haymarket Square District and beyond. The result of the 2004 Iowa West Public Art initiative, Council Bluffs can rightfully boast of its dedication to showcasing its local artists.
The Cryptic Room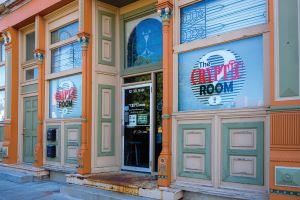 This escape room concept offers five games for small groups from 2-10 players and costs $25 per player. Large groups are split among the five rooms on a staggered schedule. There are three packages available for a full-facility rental, and the venue offers a reception room for up to 12 people and a conference room with six 60-inch rounds, up to 42 folding chairs, a 55-inch HDTV with HDMI connection, a dry erase board, two folding tables and a water cooler. While the venue doesn't cater, groups can bring in their own food. 
Connect
Council Bluffs CVB
(712) 256-2577
Visit Omaha
(402) 444-4037