Washington, D.C., Leads the Way Forward for U.S. Bleisure Travel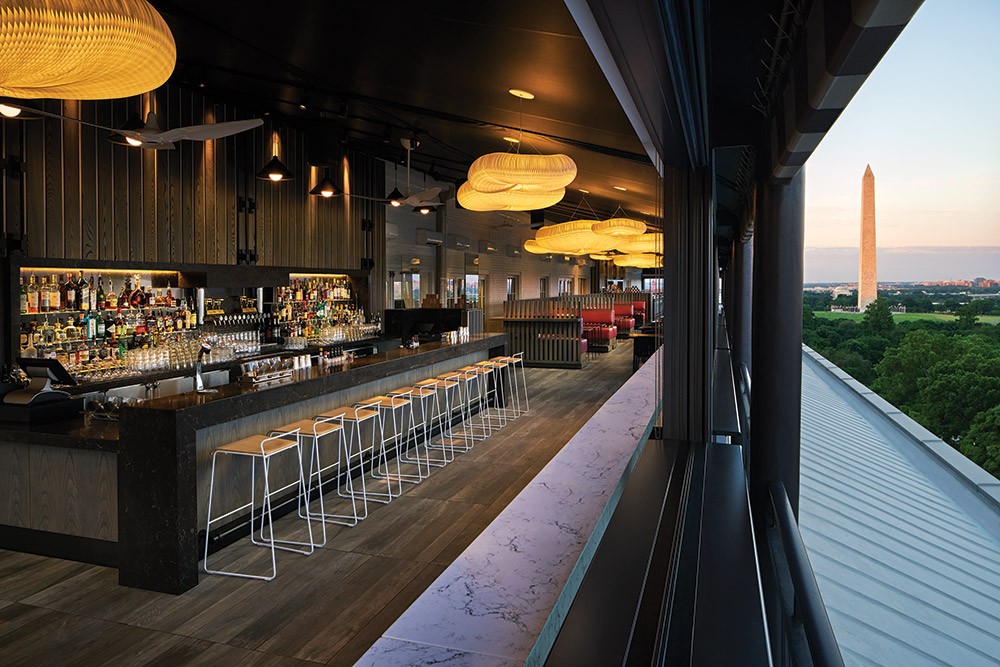 This June, I traveled to Washington, D.C., for a podcast interview with Destination DC President & CEO Elliott L. Ferguson II and to take an innovation-themed tour of Marriott International's headquarters in neighboring Bethesda, Maryland.
The five-day visit only deepened my long-running appreciation for D.C.'s work-play appeal. 
U.S. business travelers, many coming for meetings and conventions, feel the same way. Expedia Group Media's "Unpacking Bleisure Traveler Trends" identified D.C. as one of America's top bleisure destinations in May 2018 for its food, historical monuments, museums, art, culture and easy navigation—all of which make D.C. a perfect bleisure destination.
And all these factors are also pillars of D.C.'s booming tourism economy, which according to IHS Markit gained 4.3% for a record $7.8 billion in 2018.
[Related Content: What's New in D.C. for 2019 – Hotel and Event Venue Highlights]
The report also states that leisure spending rose 13% year-over-year, with leisure travelers accounting for 61% of visitors and 43% of spending. 
As a top-ranked hub for knowledge, innovation and technology, D.C. is also a magnet for association, corporate and other meetings. Making up 39% of D.C. visitors, business travelers accounted for 57% of spending.   
As D.C. continues to expand its business and leisure markets, here's a window into what makes D.C. a truly capital place to meet, relax and get inspired.
The Business: Connecting with D.C.'s Industry Resources
In 2017, Destination DC refocused its sales strategy to attract meetings in four key local industries:
Medical
Technology
Biotech & Pharma
Education
Led by technology and medical, the Connected Capital initiative produced 100,000-plus definite room nights and more than 100 leads for fiscal year 2018. The bureau has since added sustainability, transportation and government advocacy to its strategy.
D.C. has always presented a deep well of talent and resources, including expert speakers, investors, policymakers and industry sponsors. Destination DC is making a push to connect them to meeting planners in these industries.
"The key for us is teaming up with association, corporate and other group business and making sure they know how to maximize what D.C. truly has to offer," Ferguson said. "They don't expect the DMO to actually think about their program and ways they can interface with us."
Examples include the 2018 World Gas Conference.
"It took advantage of D.C.'s access to both thought leaders and local legislators, with the Secretary of Energy for the United States as a keynote speaker and the group's focus on educating policymakers on behalf of the global gas industry," Ferguson explained. 
Additionally, the D.C.-based American Geophysical Union (AGU), held its annual fall meeting in town for the first time ever in December 2018. The 28,000-attendee event was an eye-opener for the 100-year old scientific organization.
"We put in front of them key individuals within our community with specific ties to their industry," Ferguson said. "They had no idea of the talent that they could access through us."   
With AGU returning in 2024, Ferguson added that Connected Capital's ultimate ROI is that groups "have a great meeting and want to come back to D.C. because of the partnership they have with us."
The Leisure: D.C.'s Energizing Hospitality, Cultural and Culinary Scenes
Anyone stuck on outdated perceptions of D.C. as a dull government town will find abundant eye-opening discoveries during their next visit for a meeting.
Michelin regards D.C.'s food scene so highly that it produced a custom guide for the city. Nearby its many excellent restaurants, there are theaters, shopping, rooftop bars and more.
Multi-billion-dollar mixed-use developments like CityCenterDC in downtown and The Wharf on the Southwest waterfront are transforming the city, with a pipeline of 15 new hotels adding some 3,076 rooms to D.C.'s diverse inventory.
"We are able to hit on all the keys for both meetings and the leisure market," Ferguson said, who now also serves as national chair of the U.S. Travel Association.
The energy is real. After 30-plus years of visiting D.C. for law, business and journalism myself, this trip was the most rewarding yet.
Hospitality
Honoring company founder J. Willard Marriott, the 772-room JW Marriott Washington D.C. celebrates its 35th anniversary in 2019 as the luxurious JW Marriott brand's flagship.
Offering nearly 35,000 square feet of versatile space, including the 13,000-square-foot Grand Ballroom and 7,000-square-foot outdoor terrace, the hotel, just two blocks from The White House, routinely hosts high-level meetings and events.
Coming off a multimillion-dollar renovation, the expansive lobby has an inviting residential feel, including new concierge and check-in areas, seating nooks, and decor inspired by "bespoke tailoring." Named for the hotel's Pennsylvania Avenue address, 1331 Lounge is home to D.C.'s official cocktail, the Gin Rickey, or "air-conditioning in a glass."
One block away, W Washington DC is another breath of fresh air. Finalizing a sweeping $50 million refresh this spring, the former 1917 Hotel Washington exemplifies D.C.'s energetic modern personality.
The 326-room luxury boutique is awash in local design references, include the Lincoln Memorial's reflecting pool, D.C.'s streets and leading lobbyist industries. Groups have nearly 12,000 square feet of flexible indoor and outdoor space to choose from for meetings, including:
The ground-floor studio rooms for smaller board meetings.
Lower-level Great Room with capacity for up to 240.
The famed POV rooftop bar and terrace offer semi-private space for 15 to 50 people. The adjacent Altitude rooftop ballroom overlooks the White House and Washington Monument.
The new lobby-level Cherry restaurant, with an open-fire grill.
The Corner Office bar.
A year-round outdoor beer garden.
Both the JW Marriott Washington D.C. and the W Washington DC properties are within walking distance of the Warner and National Theaters and the event-capable Ronald Reagan Building and International Trade Center.
The Culture Scene
The parade of landmark monuments, memorials and museums along the National Mall could fill a multi-day visit. They are excellent offsite group experiences for meetings attendees and some also double as unique event spaces for planners to consider.
There are 11 Smithsonian museums and galleries on the National Mall in addition to the six other museums in the D.C. metro area and National Zoo. As an added bonus, almost all Smithsonian institutions offer free admission.
The National Museum of African American History and Culture is one of the 11 museums on the National Mall that can also host private events.
Planners can reserve multiple spaces, from the 2,500-capacity Heritage Hall on the museum's main floor (with floor-to-ceiling window walls showcasing a view of the Washington Monument) to the more intimate Solomon Brown Suite and Terrace, an indoor and outdoor space overlooking the Mall that can seat up to 70 guests for dinner.
Non-Smithsonian treasures include the circa-1887 National Building Museum.
Originally the Pension Building where Civil War veterans collected their checks, this National Historic Landmark is constructed from 15.5 million bricks. Rentals include the epic 2,000-capacity Great Hall, featuring 75-foot-tall Corinthian columns.
Lastly, the regal Library of Congress is an awe-inspiring space for events.
Situated behind the U.S. Capitol, this Italian Renaissance confection with its centerpiece Grand Hall houses the world's largest library collection. It's also America's oldest federal cultural institution, founded in 1800. Attendees can admire the building's architectural detail and learn about its famed collections while at a reception or dinner.
For attendees or planners with little free time who want to arrange a self-guided tour during breaks, Mall icons like the Washington Monument (scheduled to reopen August 2019); the World War II, Vietnam Veterans and Korean War Veterans Memorials; and Lincoln Memorial are noteworthy stops for first-time D.C. visitors.
The Dining Scene
Washington, D.C.'s dining evolution over time is distinctly European-flavored.
President John F. Kennedy loved fine French cuisine, which reached Michelin-starred heights in 1979 with Jean-Louis Palladin's eponymous restaurant at the Watergate Hotel. The trend continued in the 1980s with Robert Donna (Italian) and Michel Richard (French).
Then pioneering Spanish chef José Andrés brought tapas to town (and America) in 1993 with Jaleo, and D.C. has never looked back.
Andrés' flagship anchors a 30-plus national restaurant collection. In D.C., multiple event-capable options including two Michelin-starred minibars and Zaytinya.
Inspired by Turkish, Greek and Lebanese cuisines, the mezze (appetizer) menu is ideal for leisurely events and business lunches.
Through his ThinkFoodGroup and initiatives like the World Central Kitchen, Andrés, the James Beard Foundation's "Humanitarian of the Year" in 2018, is a leading global advocate for food and hunger issues.
Andrés, a multiple Beard honoree, was joined in 2019 by D.C. executive chefs Kwame Onwuchi of event-friendly Kith and Kin in The Wharf District, recognized as Rising Star Chef of the Year, and Tom Cunanan of Filipino-driven Bad Saint, awarded Best Chef: Mid-Atlantic.
From Afghan and Ethiopian to Indian and Thai, D.C.'s menu runs the global gamut. Another innovative option for visitors includes Chaia Tacos.
Located on the edge of Chinatown, this bright space offers delicious vegetarian tacos and refreshing cocktails, plus small event hosting and catering.
Though the heat of politics blazes on in the nation's capital city, bleisure trips to D.C. are a breeze. As the District continues to beef up its resources for groups in specific business sectors and increases its hotel, dining and cultural tour options, Washington, D.C. is primed to become one of America's top destinations for meetings, events and bleisure travel.
Washington, D.C., CVB Contact Information
Destination DC
202.789.7000