Cowboy State Cuisine: 6 Group-Friendly Restaurants in Wyoming That Specialize in Wild Game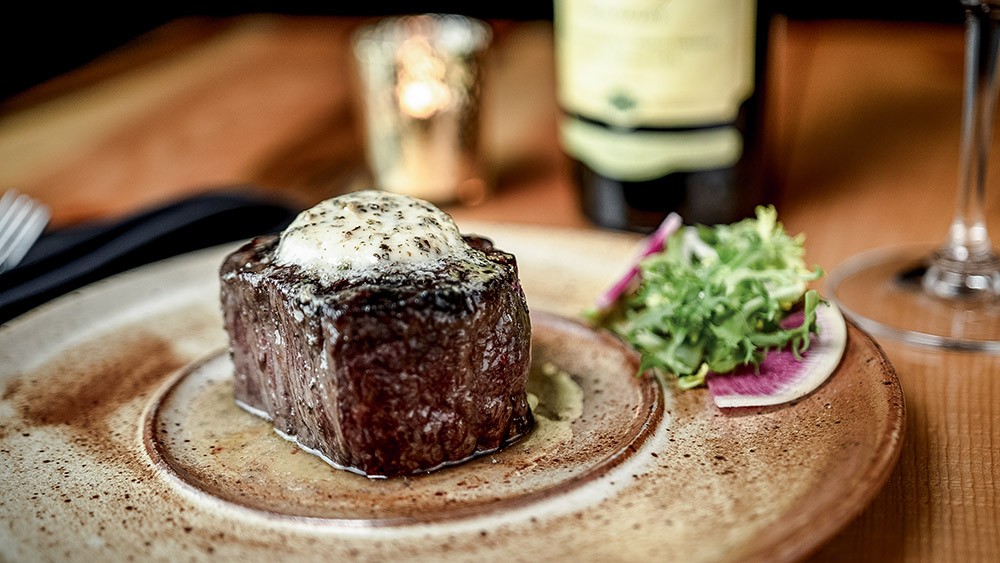 Consider Wyoming's surroundings: the wide-open spaces, national parks, fishing and hunting opportunities all contribute to a collective craving for a traditional cowboy meal.
Visitors to Wyoming can expect a dining experience that matches this Western spirit, searching for first-rate steaks and delicious burgers.
From Jackson Hole and Cheyenne to Casper, local restaurants in Wyoming capitalize on the state's wild game and cowboy spirit through dishes featuring bison, elk, duck and fish in season, and pair it all with amazing beer, wine and ambience.
We've lassoed the six best group-friendly eateries where visitors can dig into cowboy cuisine.
Groups dining at the Restaurant at White Buffalo Club can count on a luxe setting and high-quality steaks, according to the restaurant's manager, Hannah Sheppard.
"We specialize in steaks, and as a Jackson Hole restaurant we would be doing the public an injustice if we didn't also deliver some incredible wild game and fish dishes," she said. "Depending on the season, we like to offer a range of rainbow trout, venison, bison and duck."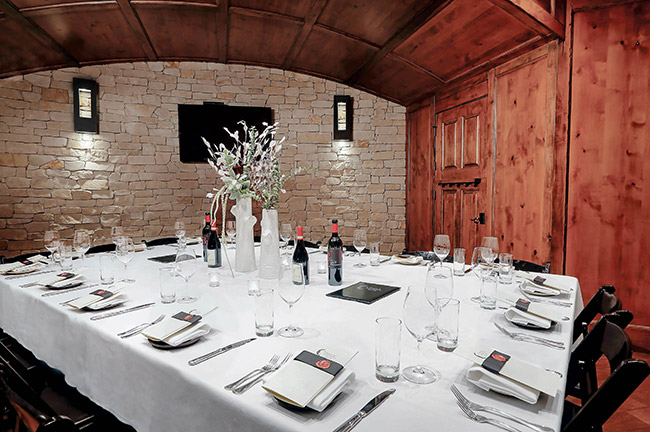 The Restaurant at White Buffalo Club Private Dining Area
The restaurant, located in the lower level of the White Buffalo Club Hotel, has a speakeasy vibe and decor that conjures the feel of an old-world vineyard tasting room.
Group Dining Space at The Restaurant at White Buffalo Club
Group meal functions are accommodated in both the full dining room, which is available for buyout for 50 people, as well as in a private dining space for smaller gatherings of 22.
There is also a terrace that comfortably seats about 15 people and is well-suited for a pre-dinner cocktail hour.
In the heart of Jackson Hole's Town Square is the Roadhouse Pub & Eatery, a gastropub that features an in-house, five-barrel pilot brewery and 30 unique taps.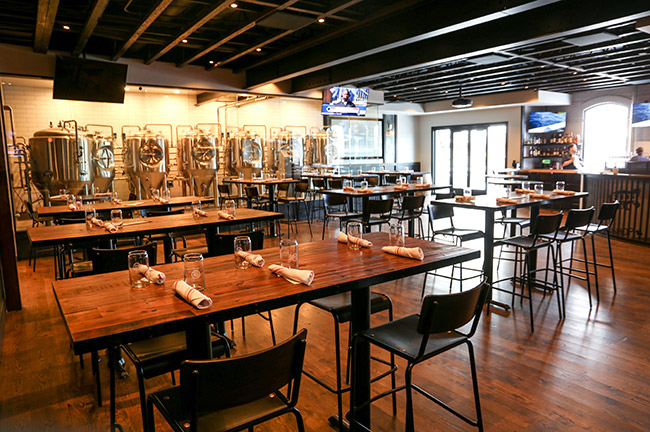 Roadhouse Pub & Eatery Main Dining Area
Co-founder Gavin Fine explained Roadhouse's craft beers—with names including Loose Boots Après IPA and Trout Whistle Pale Ale—aim to capture Jackson Hole's breathtaking landscape, including the après-ski scene and fly-fishing on the river.
[Related Content: Sweet Cheeks Meats Owner Nick Phillips Talks Sustainable Meat]
Trout is on the food menu too, along with other local favorites like skirt steak sandwiches, bison filets and the signature Roadhouse burger.
Group Dining Space at Roadhouse Pub & Eatery
The facility's large, diverse space offers opportunities for private group dining, namely two back rooms that can be sectioned off for parties. The Roadhouse Pub & Eatery is also available for buyouts.
"The brightened interior extends onto the open-air patio, which happens to be Town Square's only outdoor restaurant patio overlooking the famed elk antler arches," said Co-founder Colby Cox, adding that the patio is ideal for networking while enjoying dinner and a view.
There are nine Rib & Chop House locations throughout Montana, Colorado, Utah and Wyoming, making it a Western staple. One can be found in the heart of historic downtown Cheyenne.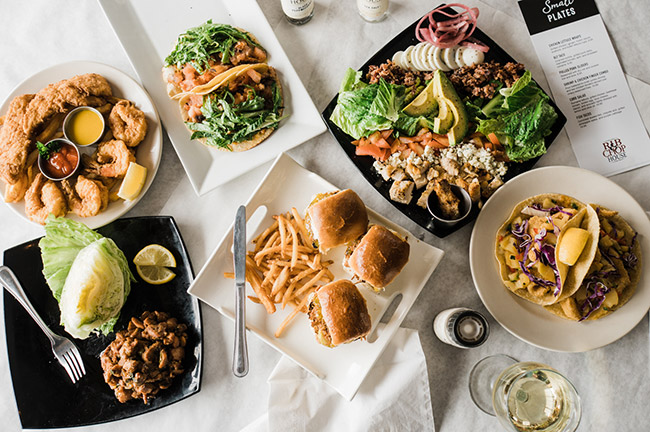 Rib & Chop House Small Plates
The Rib & Chop House in Cheyenne offers a contemporary Western atmosphere and is a favorite among locals, according to Kenzi Clark, the restaurant's group sales marketing coordinator.
"Success has been due to offering high-end steakhouse fare in a casual, family-friendly atmosphere," she said.
[Related Content: 3 L.A. Neighborhoods Get Creative on Group Dining]
One of the most popular dishes offered during the summer is the buffalo ribeye. The Chop House also serves certified Angus beef steaks.
"While dining with us, you can't go wrong with any of the steaks," said Clark. "And a favorite dish to share is the fried green tomatoes, with sliced green tomatoes, blue cheese, lump crab meat and a balsamic reduction." 
Group Dining Space at Rib & Chop House
The restaurant has a private room to accommodate groups of up to 60 people. It can also customize menus based on the group's needs.
"We've developed set menus at different fixed prices to better cater to large groups and make the menu selection process for event planners a breeze," Clark said.
Groups can mingle with locals and experience the buzz of Casper, Wyoming's second-largest city, when dining at The Gaslight Social, which has plenty of flexible space to accommodate large parties.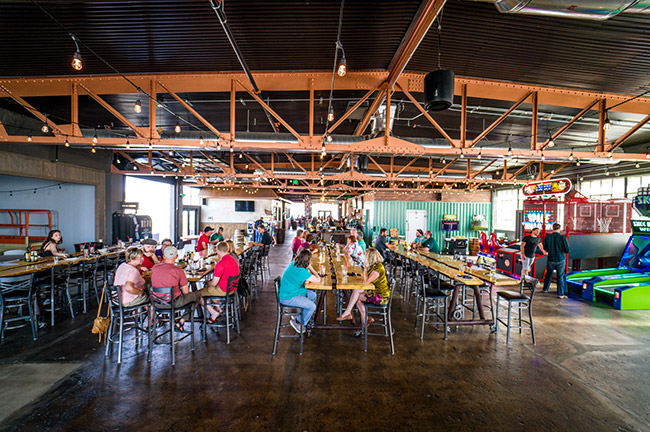 The Gaslight Social Communal Dining Area
"People don't necessarily want to be stuck sitting next to one coworker at a company party," said Owner Matt Galloway. "Here, there is an arcade so people get up and move around, and we also have high seats, which somehow lend to not feeling stuck in your seat."
Half-pound certified Angus burgers are the specialty here, and Galloway recommends groups enjoy a nacho trough as an appetizer.
"'Trough' is an ode to the local agriculture scene, and since it's a huge plate so it's good for groups to share," he said.
Group Dining Space at The Gaslight Social
The restaurant has three main areas:
A sophisticated front dining room with chandeliers, tables and booths.
A large back room with arcade games and long tables that are well-suited for group dining.
A massive outdoor patio where attendees could play yard games and listen to live music.
The variety in more formal sit-down areas and casual spaces for networking or relaxing make this an ideal flexible venue for groups meeting in Casper.
The Prime Rib Restaurant and Wine Cellar's fresh gourmet menu features—you guessed it!—prime rib, as well as buffalo burgers from meat raised at the Gillette-based Durham Bison Ranch down the road.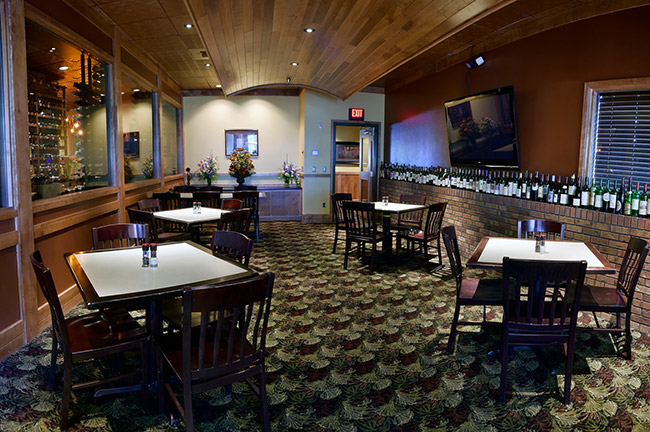 Prime Rib Restaurant and Wine Cellar
The impressive onsite 10,000-bottle wine cellar, which helped earn the restaurant a 2018 Wine Spectator Best of Award of Excellence, offers excellent bottle pairings with group meals.
Group Dining Space at The Prime Rib Restaurant and Wine Cellar
The restaurant offers a casual dining experience and accommodates group events. A six-person table in the wine cellar and a banquet room that seats up to 130 people are two private dining setup options. Buyouts of the entire restaurant are also possible.
"We make customized limited menus for large groups to order from," added General Manager Sam Barkey. "And we can set up classroom-style seating for presentations."
Cavalryman Steakhouse, located just outside of Laramie, opened as a country club in the 1920s and transformed into a restaurant during the 1970s. Today, it's popular among locals and welcomes visiting groups of up to 120 people.
"Its rustic charm and the local wildlife that pass by daily make it a must-see venue," said General Manager JT Taylor.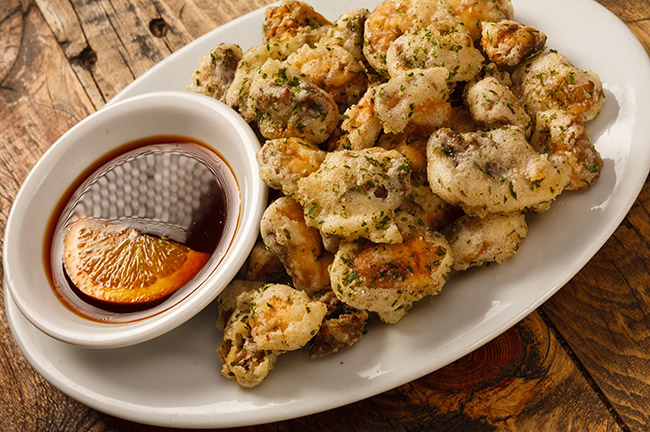 Cavalryman Steakhouse's Battered Mushrooms
By looking through the large windows of the restaurant's lounge, diners can indeed enjoy views of surrounding plains and passing critters, including antelope, rabbit, fox and prairie dogs.
[Related Content: Veteran Planners Share F&B Tips and Sound Off on Frustrations]
Longstanding menu specialties ordered regularly at Cavalryman Steakhouse include bison ribeye, battered mushrooms and house soda bread.
"As a Western restaurant, we always offer bison and beef, and can offer elk upon request," Taylor said.
Group Dining Space at Cavalryman Steakhouse
Buyouts of the restaurant are available to large groups. The restaurant can accommodate presentations, with projectors, screens and a sound system on hand.
Wyoming Hotel and Venue Updates and Openings
Casper's Latest & Greatest
Clarion Inn at Platte River, formerly the Parkway Plaza, is slated to reopen this month nearby downtown Casper after an extensive renovation including updates to its 198 guest rooms and over 40,000 square feet of meeting space.
David Street Station, a downtown outdoor venue for concerts and other events, completed its final phase of development in late 2018 and now features an outdoor stage, observation deck and ice rink.
Cheyenne's Latest & Greatest
Groundbreaking is scheduled for fall 2019 on a new 70,000-square-foot yet-to-be-named hotel and convention center in south Cheyenne. The property, scheduled to open in summer 2021, will have 150 guest rooms, onsite dining, a 36-lane bowling alley and convention space to accommodate everything from basketball tournaments to tradeshows.
Wyoming CVB Contact Information
Albany County Tourism Board
307.745.4195
Campbell County CVB
307.686.0040
Casper Area CVB
307.234.5362
Cody/Yellowstone Country
307.587.2297
Jackson Hole COC
307.733.3316
Sheridan Travel & Tourism
307.673.7121
Visit Cheyenne
307.778.3133