The Galveston Good Life: 3 Resorts That Make the Texas Gulf Coast Locale a Meetings Magnet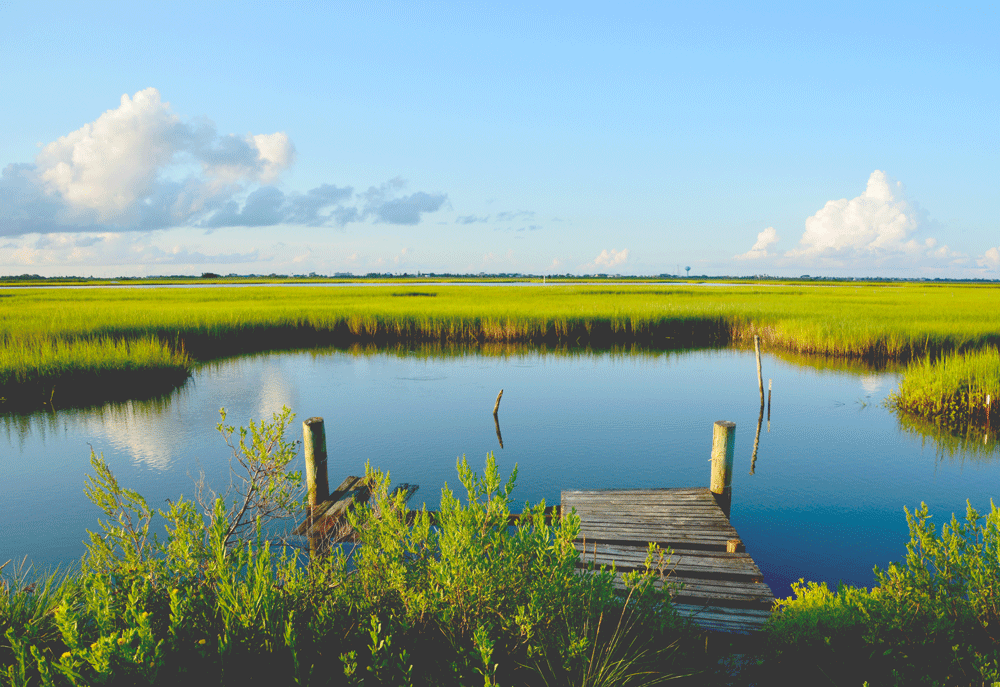 Behind the taglines "It's Island Time" and "Sea Your Meetings Differently," the Galveston Island CVB promotes its storied Texas beach destination for its laid-back vibe, unique group opportunities and bleisure appeal.  
"Our team curates authentic experiences to immerse delegates in our food, art, and culture scenes and vibrant, eclectic community," said Jacquelyn Helton, the bureau's destination services director. "We want meeting attendees to live like locals."   
Attracting more than seven-million visitors in 2018, Galveston, reachable under an hour from Houston, is a magnet for fun by the sea. 
"This provides an opportunity for planners to grow attendance by encouraging a 'bleisure' family vacation," Helton noted. "Planners like the high numbers from booking Galveston Island."
Groups can bank on superior hotel product and committed support for their programs. 
"We continue to increase our emphasis on destination services," Helton said. "For groups, that includes producing custom meeting planner guides or welcome videos. On the partner side, it means building positive relationships with our hotel, restaurant and other partners in order to encourage buy-in for enhanced experiences for meeting attendees."
The bureau is also looking after the environment with a new green meetings initiative. "This includes shifting to greener products and hands-on educational experiences such as kayaking in Galveston Bay to help illustrate the fragile relationship between humans and the marine environment," Helton said.
These priorities for meetings are prevalent in Galveston's leading group properties: The San Luis Resort, Spa & Conference Center; Hotel Galvez & Spa, a Wyndham Grand Hotel; and Moody Gardens Hotel, Spa and Convention Center.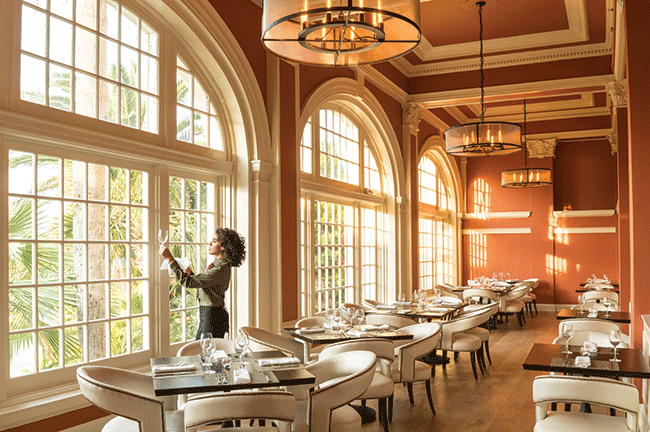 Galvez Bar and Grill | Terry Vine
Spanning eight blocks along famed Seawall Boulevard, The San Luis Resort, Spa & Conference Center has a distinct place in local lore. Taking one of Galveston's original pre-1783 names, the 32-acre beachfront resort was built on part of historic former Fort Crockett. Rated AAA Four Diamond since 1999, this Galveston mainstay integrates multiple offerings for groups large and small.
Key venues, amenities and services include:
Three hotels totaling 700 rooms, including the 250-room San Luis Hotel; 250-room Hilton Galveston Island Resort; and 200-room Holiday Inn Resort Galveston – On the Beach. Plus, five luxurious villas at the San Luis.
High-tech, ergonomically advanced 40,000-square-foot, IACC-certified conference center with 16 meeting rooms.
The 140,000-square-foot Galveston Island Convention Center. 
Ten restaurants, including the top-rated Steakhouse.
Creative, out-of-the-box teambuilding activities for meeting delegates, including mixology classes, painting lessons, golf outings, luaus, Pleasure Pier excursions and sandcastle building. 
"We continuously develop innovative experiences for our guests," said Jacqueline Stilwell, regional director of sales. "Group favorites include our Iron Chef Event, in which teams work with an award-winning San Luis Resort chef to create five-star meals." 
The property also continuously invests in enhancements such as the recently unveiled Cove swimming pool, featuring cabanas, firepit and swim-up bar. 
"Our commitment to excellence is evidenced by the number of new and returning visiting groups we welcome year after year," Stillwell added.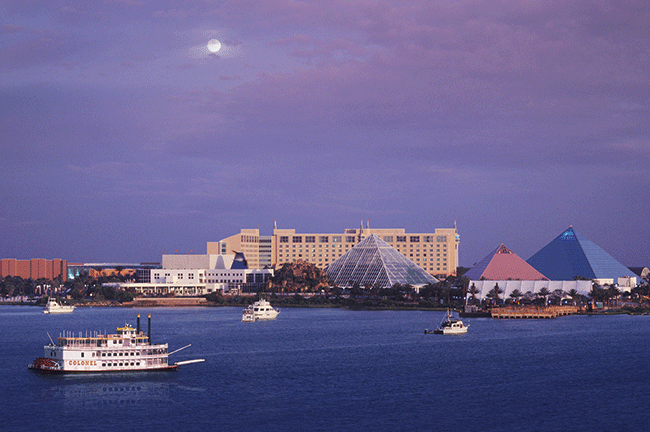 Moody Gardens | Credit: Galveston CVB
This hotel is also anchored in Galveston history. Opened in 1911, this Spanish Colonial-style AAA Four Diamond escape holds court as the only historic beachfront hotel in Texas. The permanent Hall of History on the lower level was created for its centennial in 2011 and features exhibits from the hotel's illustrious past. Along with weekly history and ghost tours, it's one of many departures from the ordinary for corporate and social groups. 
"The architecture and backdrops here are much different than your typical conference center or modern hotel," said Patty Rouse, director of sales. "Spaces like our gorgeous lobby and the Terrace Ballroom, with French doors opening onto a veranda overlooking the Gulf, offers guests a unique feeling that they'll only experience in a historic hotel."   
Distinctive offerings include:
224 guest rooms, including six suites.
13,000 square feet of refined meeting space, including the 500-capacity Music Hall and 250-capacity Terrace Ballroom.
Elegant outdoor venues, including the 150-capacity Oleander Garden.
Dining and Champagne Sunday brunch at the Galvez Bar and Grill, offering upper-tier seating for large parties.
"We also offer courtesy bikes and custom teambuilding programs such as our signature mixology event, in which teams compete to make the best margarita, martini, mojito and other cocktails," Rouse said. "Plus, the Galveston Trolley stops right across the street, and planners can take advantage of our sister property The Tremont House, a five-minute drive away in the Strand Historic District.
Originated in 1986 by the Moody Foundation as a hippotherapy (horse-based) rehabilitation facility for people recovering from head injuries, Hope Arena has since evolved and expanded to become the Moody Gardens Hotel, Spa and Convention Center. 
Covering 242 acres, the award-winning multi-venue resort today is a group magnet and mainstay, flexibly hosting small meetings all the way up to 2,000-plus attendee conventions with the same level of attentive service.
Key coordinates include: 
418 newly modernized luxurious rooms.
103,000 total square feet of customizable space, including a 60,000-square-foot, ballroom-quality exposition center, and parking for 1,000 cars.
Wide-ranging on-property attractions include the five-tier Sky Trail ropes course and zipline experience; recently renovated Aquarium Pyramid; and MG 3D Theater, featuring the largest screen in Texas.  
Beaumont, Texas is Experiencing a Meetings Boom
To the northeast of Galveston, Beaumont leverages its location, size and that "little something extra" to win group share, blending "Texas Friendly and Bayou Fun."
"Second- and third-tier cities are accustomed to working a little harder for group business," said Freddie Willard, director of sales for the Beaumont CVB. "Knowing our strengths helps us to customize experiences for groups booking our affordable and accessible city. With hospitality partners and incentives in place, we use personalized attention and services to stand apart in the market."   
2019 is proving to be a fruitful year for Beaumont, with bookings including a 450-attendee educational group with 1,200 room nights. By the end of 2019, the city expects to add 258 hotel rooms at three new branded properties including the avid Beaumont from IHG.
Future events include State Firemen & Fire Marshals' Association of Texas in 2022, with 700 attendees and 1,560 room nights.
Beaumont also boasts the premiere multi-venue sports, entertainment, and convention destination in Southeast Texas, Ford Park, further marketing it as a prime meetings destination.
Set on 221 acres, versatile venues include:
14,000-seat Ford Pavilion. 
The 8,500 seat multi-purpose Ford Arena, attached to the 48,000-square-foot Ford Exhibit Hall for a combined 83,000 square feet of space. 
Eight meeting rooms.
With nine acres of paved surface, the Ford Midway hosts events like the South Texas State Fair, attracting 400,000-plus people each year. 
Two free-span, open-air barns, at 44,000 square feet and 25,000 square feet. 
"Our drivable location on Interstate 10, 45 minutes from Louisiana, ideally positions Beaumont for regional meetings drawing attendance from Texas, Louisiana, Oklahoma and Mississippi," Willard said. "Many groups choose us for this very reason."
Unique Beaumont resources include: