50 Years After Apollo 11, Houston Is Aiming Higher Than Ever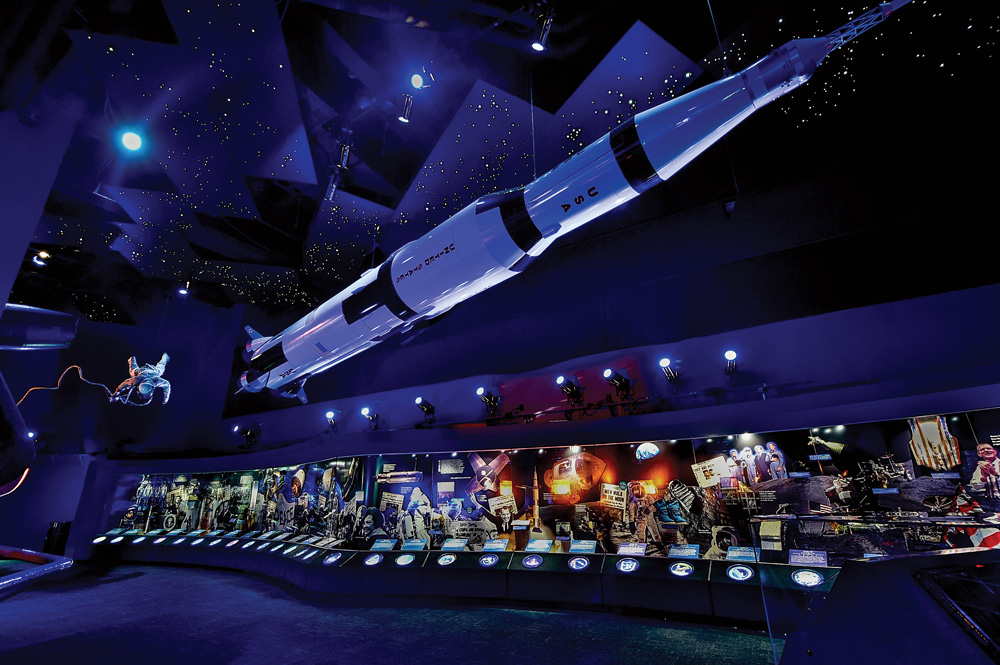 Houston is famous for its many nicknames. Spanning industry, culture, sports and more, at least 20 colorful monikers over time include Space City, Magnolia City, Clutch City and Humidity City. Ten distinct downtown districts alone define Sprawl City. 
H-Town (don't go short with HTX) is also deep in accolades, ranked high on 2019 lists by the New York Times, National Geographic, Bloomberg, Food & Wine, Travel + Leisure and other outlets.   
Meetings sizzle in Texas' vibrant, energetic and innovative city, the state's largest. Driven by a powerhouse economy inspired by pushing boundaries and exploring new frontiers, Houston continues to assert its place as a global convention leader.
From commercial intergalactic travel to far-reaching advances in technology, healthcare and innovation, Houston wants to boldly go where few destinations have gone before.
"In 2019, Houston (aka Space City), celebrates the 50th anniversary of the moon landing, reigniting interest in Houston as a leader in space exploration," said Houston First Corporation President & CEO Brenda Bazan. "Visitors can experience the completely restored Space Center Houston, which was unveiled in July 2019. This historic venue continues to inspire as the site that landed astronauts safely on the moon."
Houston is the launch pad for a universe of group encounters.
"Planners who have not been to Houston may already know of the city as the capital of energy, home of the world's largest medical center, or for its impressive skyscrapers where business meets country at the world's largest indoor rodeo," Bazan explained. "But Houston, the fourth-largest city in the U.S., is so much more."
Yet to book Houston? Here's a primer on the city's convention prowess and notable offsite experiences.

Avenida Houston
Updates to Avenida District and Texas Medical Center District
The 97,000-square-foot Avenida District includes live entertainment, nightlife, restaurants, the 12-acre, programmable urban park Discovery Green and the 1.8 million-square-foot George R. Brown Convention Center. Altogether, it forms the region's largest convention campus.
The area is a massive meetings spot, and its accommodations continue to grow and improve. Hilton Americas-Houston and Marriott Marquis Houston are connected via skybridge to the convention center and make it the only convention facility in Texas with two headquarter hotels. 
The former is slated to complete a sweeping $37 million renovation of all 1,207 guest rooms and all ballrooms by the end of 2019. 
Fifteen minutes southwest sits the Texas Medical Center campus—the largest medical complex in the world, consisting of over 60 medical buildings and home to the world's largest cancer center and children's hospital.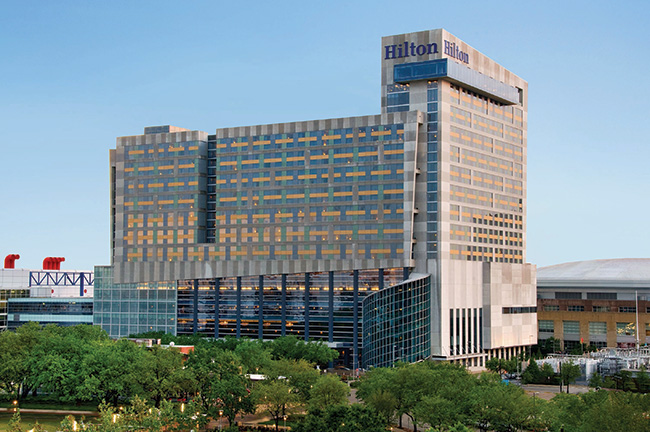 Hilton Americas, Houston | Credit: Visit Houston
The medical meetings magnet just received more space for visiting groups with the opening of the 354-room Intercontinental Houston-Medical Center. The hotel offers 18,000 square feet of meeting space, including nine meeting rooms and a ballroom. 
It's just one part of a hotel development wave slated to deliver more than 2,300 downtown Houston rooms, plus hundreds more in other districts, in the next few years. 
A Snapshot of Houston's Arts and Culture Offerings for Groups
Lush parks and waterways, along with diverse neighborhoods, help make the arts and cultural attractions in Houston more accessible to groups. 
Houston is a cultural tour de force, anchored by the 19 institutions of the mighty Houston Museum District. Organized in four walkable zones, inspiring rental options include the Buffalo Soldiers National Museum and The Menil Collection.
Additionally, world-class performing arts take center stage in Houston's internationally recognized 17-block Theater District, where venues include the anchoring Hobby Center for the Performing Arts and Wortham Theater Center, home to the Houston Ballet and Houston Grand Opera. Planners can rent these spaces for their own events or recommend as an evening activity for theater buffs.
For attendees with an appreciation for the arts, the historic Heights features Victorian-era homes and the famed Art Car Museum, home of Houston's popular annual Art Car Parade in April. Other group diversions include upscale shopping and dining in the Galleria District and the "Art and Soul of the City" in EaDo behind the convention center.
With its versatile arts and culture attractions and continued investment in its convention district and hotel infrastructure, it's clear that 50 years after Apollo 11, Houston is aiming higher than ever.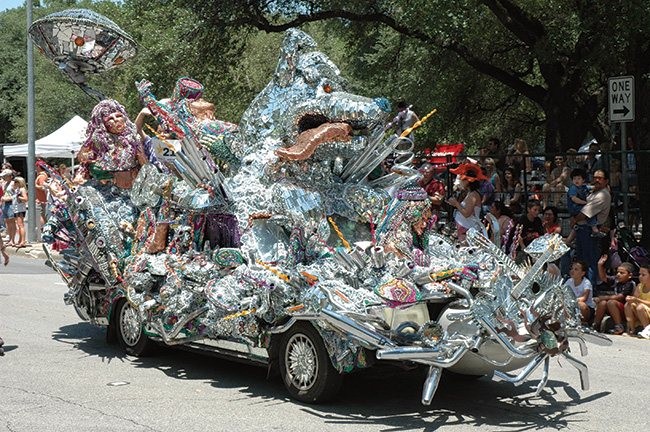 Art Car Parade | Credit: Visit Houston
Houston Reaches for Deeper, Richer Meeting Outcomes 
The annual ICCA Congress comes to Houston for its 58th edition in October 2019, making a return to the U.S. after a long absence since being hosted by Albuquerque, New Mexico, in 1987.
Daniel Palomo, director of global sales at Visit Houston, previews the paradigm-shifting, legacy-building opportunity at hand.
What are your goals for the ICCA Congress?
Houston is one of 12 global convention destinations in the BestCities Global Alliance, where a focal initiative is measuring the positive impact of a meeting after it happens. How, in particular, meetings contribute to areas such as knowledge exchange, technology transfer and the advancement of science. It's based on the Iceberg model originated at the University of Sydney in Australia. Now embraced by top meetings industry players, it's a priority objective for the ICCA Congress and beyond.
In what ways?
Historically, when hosting a congress, the legacy is with the destination. We looked at this differently. We want to leave that legacy—that lasting positive impact—with the anticipated 900-plus international planners, organizers and suppliers coming to the four-day event.
How? By sharing our knowledge with ICCA delegates via technical tours of key entities within our leading industries: aerospace, energy, innovation, technology and life sciences.
Tours include Houston Spaceport, where we are working on the future of intergalactic travel.
Home to 62 medical institutions, including world-renowned facilities like the M.D. Anderson Cancer Center, Houston's Texas Medical Center is the largest life sciences destination in the world. Here, delegates will tour TMCx, an incubator and accelerator for start-ups in the health sciences.
Alignment with our key verticals also provide speakers, thought leaders and networking contacts for the program and collaborative opportunities with BestCities partner Dubai, which hosted the 2018 ICCA Congress and is another global leader in energy, aerospace and the health sciences.
In what other ways will the ICCA Congress positively impact Houston?
We see a great opportunity to raise local awareness of the global opportunities we are creating. International group business is generally not significant for U.S. DMOs due to the long development cycle, a lack of resources or time, or short-term ROI mindset. International opportunities are longer-term, requiring a different strategic vision and more resources. We bid on ICCA four times, starting a decade ago. For the 23rd World Petroleum Congress, coming to Houston in 2020, we worked with 20 energy companies on the bid, along with local and state government and the State Department. It was worth the effort. We are anticipating up to 15,000 attendees, including energy company CEO and ministers of industry, with millions in projected economic impact and profitability. 
We are also looking to co-locate a leadership forum with ICCA for leaders of mainly North American DMOs to advance the discussion on topics like rethinking the ROI of meetings. Stay old school, with rooms nights and economic impact, or reinvest profits in funding larger research teams to attract more international meetings? It all goes back to collaboratively sharing knowledge with an eye on greater impacts and lasting legacies.