LOL! Laughter Yoga Will Leave Meeting Attendees With More Smiles and Less Stress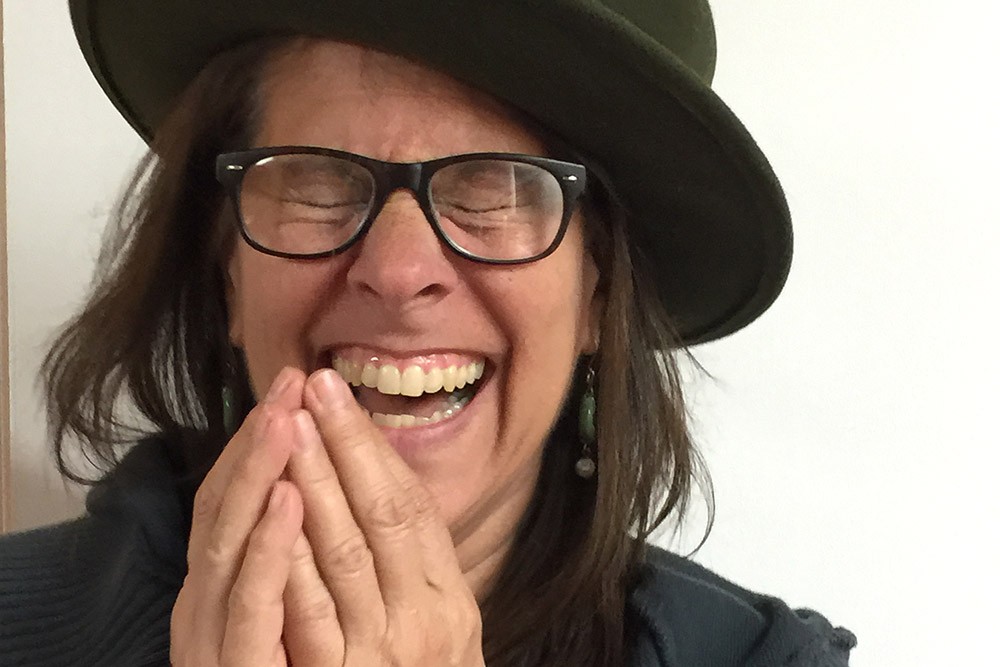 Hearing the roar of unrestrained laughter while wandering by an educational session tent on the exhibit floor of IMEX America is bound to get one's attention.
It did mine, but I knew what I was getting into.
I was headed into the "Laughter Lab," where Laughter Yoga teacher Sarah Routman was leading a circle of attendees laughing loudly out of context, gesturing with their arms and looking into each other's eyes as they directed their chortles and guffaws at their session mates with abandon.
According to acolytes of Laughter Yoga, aka Hasyayoga, the practice that originated in the early 1990s by Indian medical professional Dr. Madan Kataria is a catalyst for personal and group transformation, giving participants the license to control their attitude and spread positive energy to all around them.
"I like to describe it as heavy on the laughter, light on the yoga," Routman explained.
"You don't need special clothes, you don't need to do any positions—it's come as you are—and the basic premise is to learn that your body does not know the difference between laughing on purpose or waiting until something is funny," she added.
Much like more traditional forms of yoga that are practiced at meetings, Laughter Yoga is a wellness exercise that triggers your body and mind to relieve stress.
"You know that you love laughing, you know that it feels good, and that is exactly what happens," she continued. "Your body emits hormones and chemicals when you laugh that make you feel good and you have the power to create that any time."
Routman, who holds an MA in adult education and has served as an executive director for two nonprofits, was named a Laughter Ambassador by Dr. Kataria, and now takes her unbridled glee on the road as a speaker and session leader at meetings and conventions.
She has also created four coloring books, authored The Laughter Planner and co-authored The Laughter Book (coming soon).
One Editor's Surreal Experience With Laughter Yoga
I didn't come into the Laughter Yoga session uninitiated, having participated in a similar exercise on the Southern California coast during a fam trip years ago.
It was an odd experience, to say the least, finding myself in a group of meeting planners laughing out of context while locked in eye contact with each other.
At times I thought, "This must be what it's like to be in an insane asylum."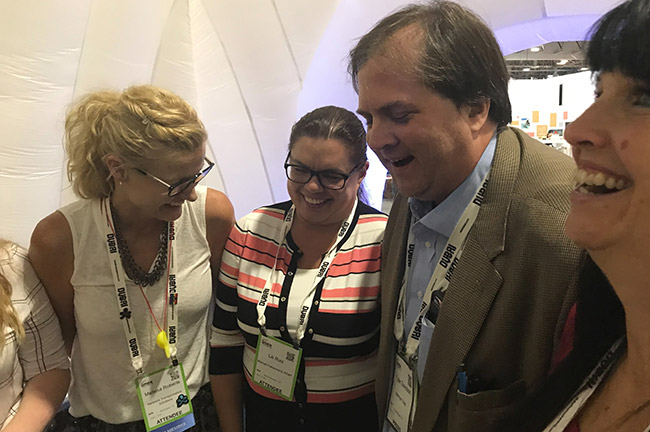 Meetings Today's Tyler Davidson at a Laughter Yoga Session at IMEX America
It didn't help that the instructor was a dead ringer for LSD guru Timothy Leary, whose ashes had already been shot into space by the time I was having my seaside chortle. But I digress. Let's get back to how Routman's mobile laugh factory can be used in a meeting environment.
"Doing this as an icebreaker is a great way to get people to shed their inhibitions and start to trust each other more, because when you laugh you cannot physiologically laugh and be angry at the same time," Routman said. "And when you share laughter with someone else and make eye contact, the research indicates you're much more likely to share honest things about yourself, whether you are laughing with a stranger or a friend.
"It's a great way to get people interacting in any kind of meeting," she added.
Video: Sarah Routman Shares a Laughter Exercise
Routman offered her Laughter Yoga services to the Minnesota Network of Hospice & Palliative Care Annual Conference two years in a row to start the event for 10 minutes, and has also done Laughter Yoga one-on-one with hospice patients, nurses and caregivers.
She also includes laughter games in the sessions, and leaves participants with tools to take with them to further the stress-busting practice on their own.
Laughter Yoga Applications for Meetings and Conventions
Routman said her Laughter Yoga offering can be applied to meetings and conventions in a variety of ways, including:
As part of a short icebreaker to start the day.
As part of a wellness lounge where attendees can take part in "marathon of laughter" or drop in for a five-minute laugh break.
For a breakout session of various durations.
As a keynote speech that is interspersed with laugh breaks and exercises.
"Every session is completely customized, so we can be doing stress management, we can be doing teambuilding," she said. "And even within the stress management arena we can be working on a particular thing. Maybe it's time management that you want.
"Maybe if you're having some problems with a few individuals who are not getting along and you want to influence the whole team in a positive way," she added.
"The whole point is to let loose, be ridiculous and playful and silly and childlike."
Listen to the full interview with Sarah Routman: