9 Offsite Venues in Savannah that Show Off Unique Southern Charm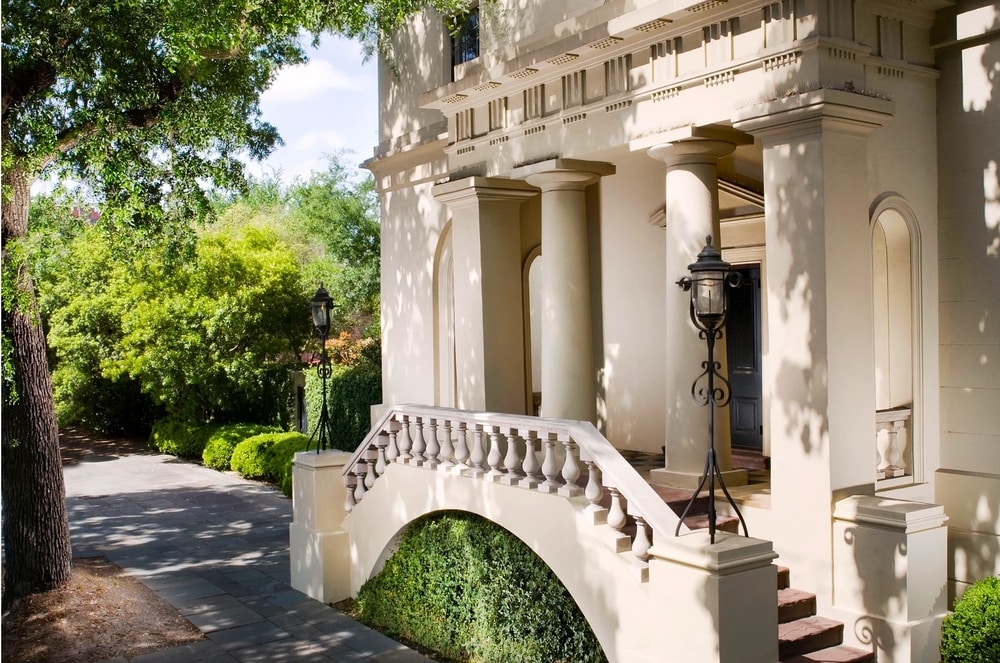 For first-time planners and conventioneers in Georgia's oldest city (1733), the journey to Savannah's LEED Gold-certified Savannah International Trade & Convention Center is a memorable one.
Located on Hutchinson Island across the Savannah River from historic River Street, the venue does have road access via the Talmadge Memorial Bridge for cars, shuttles and load-in. More cinematic by far, though, are free transfers by water aboard Savannah Belles ferries. Named for women leaders who shaped Savannah's history, these colorful boats steam back and forth to the island seven days a week and provide a grand sense of place and arrival for delegates.
Once you're on the grounds, the convention center—Georgia's second largest—puts on a big show of its own.
It currently offers 100,000 square feet of exhibit space and 50,000 square feet of meeting space, including a 25,000-square-foot ballroom and 367-seat auditorium. In 2018, the center hosted 160 events and 217,000-plus delegates for a record-breaking 2018 in attendance, room nights and revenue.
With continuing success comes calls to expand. According to the Center's Annual Report for FY 2018, more than 50 regular group customers "have confirmed they need more space."
Ongoing proposals call for doubling the exhibit hall space and adding a 40,000-square-foot ballroom, 15 meeting rooms and 900 parking spaces. Reporting funding for the expansion is around $234 million, with an estimated timeframe of two to three years. Additional investment includes a new convention hotel west of the center, joining the existing Westin Savannah Harbor Resort & Spa adjacent to the facility.
9 Off-Agenda Sites to See
As the center continues to deliver major local and state economic impact, delegates can bank on yet more rewards by experiencing the many charms of this Spanish moss-draped Southern time capsule.
Here are nine gems from Savannah's trove of off-agenda treasures.
Following a four-year remediation and restoration project, this former iron foundry and gas company complex along the Savannah River in the city's National Historic Landmark District has been reborn as a premier event venue. The long-abandoned sites feature four rehabilitated historic buildings and three new structures.
Offering 8,000 square feet of event space, including an outdoor plaza and amphitheater featuring commanding river views, the facility is part of Savannah's historic multi-venue Trustees' Gardens. The restoration won the 2019 Marguerite Williams Award, presented annually by the Georgia Trust for Historic Preservation to the project with greatest impact on preservation in the state. 
Billed as the "Art and Soul of Savannah," this mixed-use revival of the former Old City Market perpetuates the site's legacy as Savannah's original central marketplace.
Spanning four blocks, the district serves as a major social hub with multiple dining, entertainment and retail options. Choices include private dining at Belford's Savannah restaurant; craft cocktails and mixology classes at the American Prohibition Museum; seeing artists at work in the Art Center; and outdoor events in adjacent Ellis (originally Market) Square.
[Related: Savannah and the Georgia Coast Offer Bounty of Treasures]
Plus, the freedom to stroll with adult beverage in hand, with plastic to-go cups permitted throughout the Historic District under Savannah's open container law.
One of five museums maintained by the Coastal Heritage Society (CHS), this 1808 stalwart is one of the oldest brick fortifications on the East Coast. Located three miles east of the city on the Savannah River, the National Historic Landmark site hosts tours and outdoor events. Savannah Riverboat Cruises, which operates the 1,000-capacity Georgia Queen, is a popular transportation option for larger groups.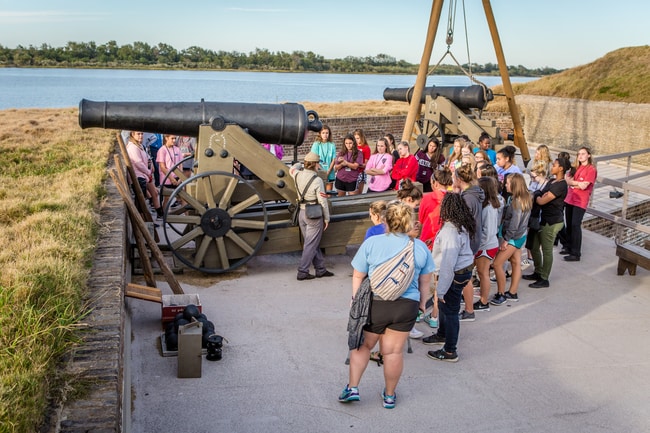 Old Fort Jackson. Credit Visit Savannah
Completed in 1855, the Central of Georgia Railroad Savannah Repair Shops prospered through the early 1900s as Savannah's largest employer in the maintenance and repair of steam locomotives and construction and remodeling of railcars.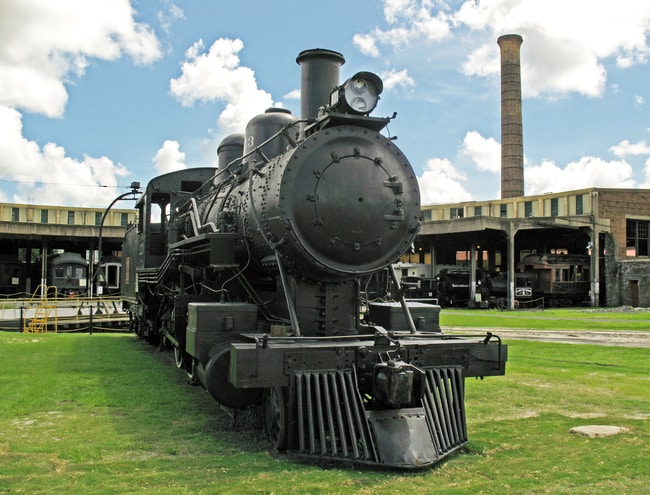 Georgia State Railroad Museum. Credit Visit Savannah
Saved from demolition by a citizens group in the 1970's, the National Historic Landmark site, which appeared in the Oscar-winning movie Glory, is the most complete antebellum railroad facility of its kind in the world. Conveniently located downtown in the same complex as Savannah's main Visitor Information Center, this CHS venue is another great outdoor venue for events, including hosting the Savannah Food & Wine Festival for several years running.
Taken by Savannah's rich food heritage and culture, brothers Stu and Donald Card relocated to Hostess City and created their rave-reviewed tour company, Savannah Taste Experience. Featured on the Travel Channel and named one of "The 15 Best Foodie Tours in the USA" by U.S. News & World Report in 2018, the duo's three-hour showcases include the First Squares Food Tour and off-the-beaten path Famous & Secret East Side. Savannah's culinary identity comes to life with memorable stops including legendary century-old Leopold's Ice Cream, a unique honey store and historic Scottish-inspired fare.
Private tours are available, with groups larger than 16 people split into smaller groups and staggered 30 minutes apart. The company also organizes large-scale culinary showcases, such as a recent micro-food fest for a 500-person citywide group on behalf of Visit Savannah.
Designed by globally renowned architect Moshe Safdie, this concrete-and-glass building forms part of the storied Telfair Museums, the first public art museum in the South. The Jepson famously houses the "bird girl" statue from the cover of author John Berendt's record best-selling book "Midnight in the Garden of Good & Evil" along with contemporary and rotating fine art exhibits.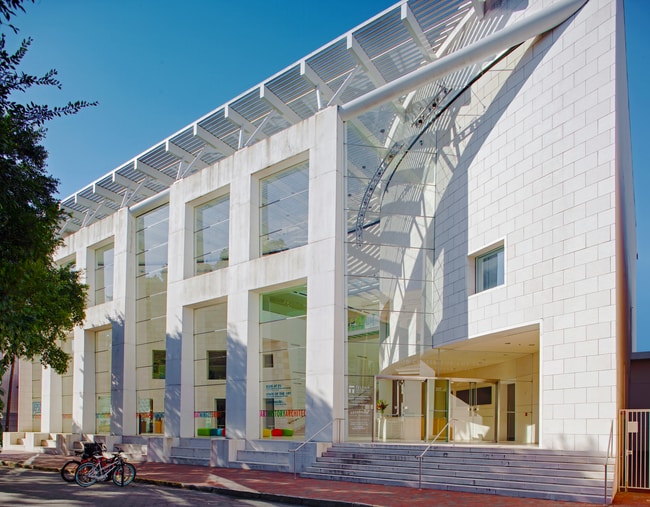 Jepson Center for the Arts. Credit Visit Savannah
Rentals for large and small groups include the soaring, three-story atrium; expansive galleries; and third-floor outdoor sculpture terraces. Groups can also hold events at the adjacent 1818 Telfair Academy and nearby 1816 Owens-Thomas House & Slave Quarters, both National Historic Landmarks.
Constructed from creatively cut-up shipping containers, this brand-new food truck park is an energetic update of the former Starland Dairy. Featuring rotating food trucks (including one from City Market anchor Pie Society), full bar, open areas with tables, bocce court and wood-fired pizza at Pizzeria Vittoria Napoletana from noted chef Kyle Jacovino, the venue conveniently operates on a one-cashier system.
With dedicated private space for 50-capacity corporate and social events, groups get a true taste of the local scene and Savannah's authentic, quirky vibe.
Departing Savannah for Liverpool in 1819, the SS Savannah became the first steamship to cross the Atlantic Ocean. The ship was launched by the Savannah Steamship Company, whose principal investor and president, William Scarborough, built a fashionable Savannah mansion known as "the Castle."
Today, this Greek Revival gem houses this stirring maritime museum. Dedicated to Scarborough's passion for ships, the venue hosts tours, special programs and outdoor events. Located in the award-winning North Garden, the roofed, open-air Assembly Room flexibly hosts events, including table seating for 340 guests and concert seating for 550-plus people.   
As one of the few remaining Gullah-Geechee communities in the Low Country, the tiny village of Pin Point is committed to preserving the ethnic group's fading culture. Housed in a former oyster and crab factory, this CHS-run museum tells the story of how catching and processing seafood kept this community afloat and preserved their traditions for generations. Authenticity is guaranteed, with generous outdoor space for catered events overlooking scenic marshland.
With its mix of southern charm, quirky experiences and expanding convention center, it's certain there's something for every group meeting in Savannah, Georgia.
Connect
Visit Savannah
877.SAVANNAH
[Read Next: Savannah and the Georgia Coast offer a full menu of flavors]