7 Ways to Savor Sonoran Cuisine in Tucson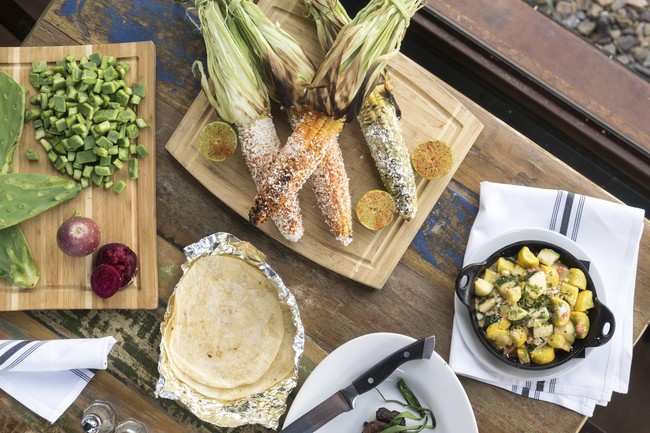 Tucson has been having a mouthwatering moment. Over the past several years, it seems every top media outlet has been covering its evolving culinary scene, particularly as downtown Tucson has blossomed with an eclectic lineup of eateries and received an UNESCO designation in 2015 as a City of Gastronomy—America's first.
More recently, James Beard Award winners and semifinalists have drawn their share of attention to a city that is a culinary innovator mixing old and new, all while staying true to incorporating the distinctive local ingredients that have long set it apart.
"We have a shockingly biodiverse food system, so Tucson tastes like the Sonoran Desert—like nowhere else in the country or maybe the world," said Dan Gibson, senior director of communications for Visit Tucson. "There are ingredients here that are unique to the area, and when combined with the collision of cultures we have— Native American, Mexican, Spanish, Italian, Chinese and others who have immigrated here—the fusion gives Tucson a local food scene that's different than anywhere else."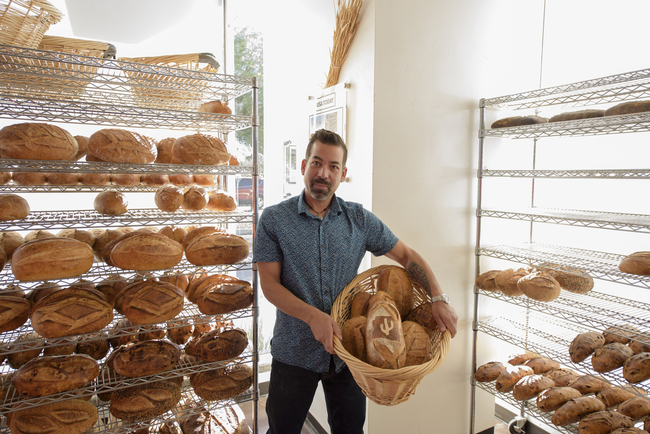 Photo: Don Guerra; Barrio Bread.
The region's unique ingredients include everything from the Sonoran white wheat brought by the Spanish missionaries and now used by locals such as Barrio Bread's Don Guerra, a James Beard semifinalist this year, to mesquite wood, long used to grill at places such as the legendary Charro Steak, and the chiltepin pepper, which might show up in dishes at the 80-plus-year-old El Charro Cafe or Suzana Davila's renowned Cafe Poca Cosa.
Seven ways groups can savor Sonoran food and drink in Tucson:
Exploring Tucson's culinary landscape on foot is readily available to groups through several intriguing walking tours.
Taste of Tucson Downtown and Tucson Food Tours spotlight the wealth of quintessential food offerings in the downtown area as well as the destination's culture and history.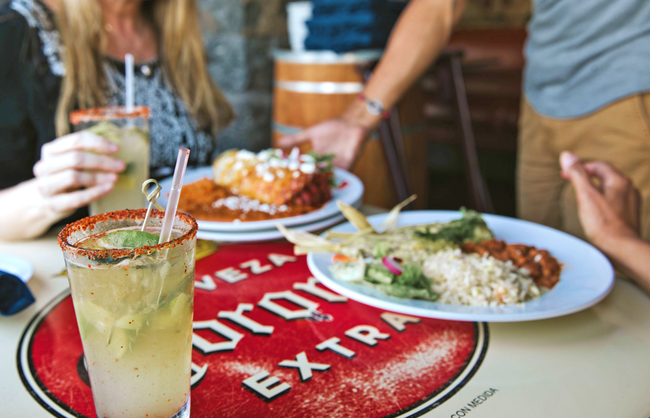 Photo: El Charro Cafe.
"Both companies highlight a range of new and historic eateries," Gibson said, adding that groups may sample coffee made with the chiltepin pepper or head to the new Ten55 Brewing and Sausage House or classic spots such as La Cocina or El Charro Cafe, America's oldest family-run Mexican restaurant.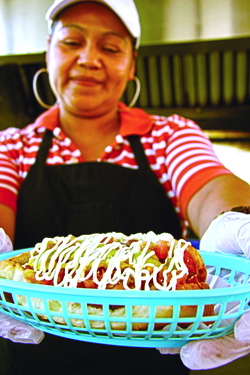 A delectable experience highlighting what has been dubbed the "Best 23 Miles of Mexican Food" north of Mexico awaits groups on Gray Line Tours' Best of the Barrio, A Sonoran Cuisine Tour via motor coach, with several stops along the way.
"From the Sonoran hot dog to Mexican seafood dishes to empanadas at a panaderia (bakery), you get an authentic taste of the unique Mexican flavors of Tucson by visiting family-owned restaurants in the area," said Cindy Aguilar, PR and communications manager at Visit Tucson.
Photo: Sonoran hot dog
Tucson has a growing distillery scene, and one of the premier ways to experience it is at Hamilton Distillers.
"There are few distilleries in America going from 'grain to glass,' and they're one of them," Gibson said. "It has a very personal, distinct flair to it, and you really see the totality of how whiskey is made. Plus, they are lovely human beings and have won several awards."
Hamilton Distillers prides itself on making everything in-house. They malt their own barley, and they mash, ferment, distill, barrel and bottle under one roof.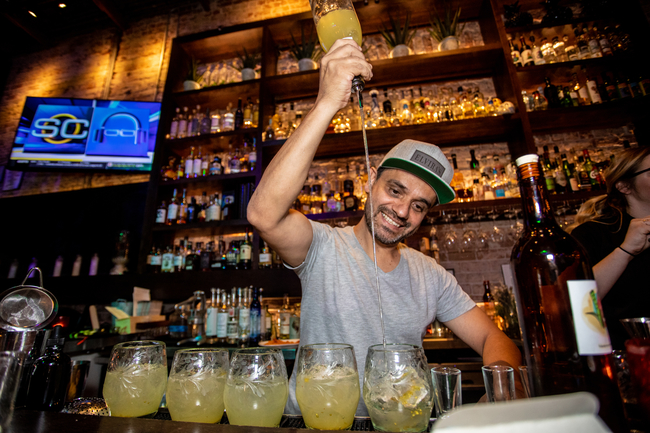 "They even use local mesquite wood, which has a distinct Tucson flavor, to smoke the barley," Gibson said.
[Related: New Mexico Meetings Developments Reach 'Breaking Bad'-Level Hype]
The distillery is available for group tours and tastings, as well as small private events such as a whiskey and food pairing.
Tucson's craft beer is on tap with Old Pueblo Brew Tours, which picks groups up via shuttle at their hotel and offers a pre-set list of brewery visits or a customized program.
"There are nine breweries in downtown that are within walking distance, and many are just genuinely innovative, focusing on incorporating local ingredients," Gibson said. "Borderlands Brewing Company does a white wheat beer and a prickly pear beer, then you have John Adkisson of Iron John's Brewing Company, who creates distinctly Sonoran flavors. He makes a beer with creosote flowers that has the scent of Tucson after it rains. He is a legit genius, and he gladly works with groups."
The Carriage House, owned by Janos Wilder, a legendary local chef who won a James Beard Award for his Tucson restaurant Downtown Kitchen + Cocktails in the 1990s, is a hot spot for its cooking school, and it is also an event venue.
"Janos does great demonstrations and classes at The Carriage House," Gibson said. "The Wellness Travel Association met here, and they closed their conference with a demonstration and dinner by Janos featuring local ingredients."
Groups can arrange a customized program with Wilder or another top local chef, as well as partake in one of the three scheduled programs. The series includes Restaurant Chefs of Tucson, featuring dishes of local celebrity chefs; Spirited Sessions, featuring food and beverage pairings, wine tastings and cocktail mixology; and City of Gastronomy, featuring culinary masters who help preserve the spirit and flavors of Tucson and Southern Arizona.
Tucson's vibrant Mercado District has become a dining and entertainment hub with dozens of food and drink establishments.
The district's Mercado San Augustin and MSA Annex are ideal places for groups wishing to indulge in the eclectic mix of flavors as well as host private events.
"They have great meeting space, including a courtyard at the Mercado and an outdoor event space at the adjacent MSA Annex," Gibson said. "There are great restaurants, including La Estrella, one of Tucson's classic Mexican bakeries, and Augustin Kitchen, a French-Southwest-style restaurant."
Groups holding private events at the venue can sample food and drink from a number of the unique local purveyors at the two establishments.
A key component of the story of the City of Gastronomy, Mission Garden is a recreation of the Spanish Colonial walled garden that was part of Tucson's historic San Agustin Mission.
Heirloom Sonoran Desert-adapted fruit orchards and vegetable gardens interpreting 4,000 years of agriculture in Tucson are the highlights of the experience, according to Gibson.
"It was part of a downtown revitalization project and is a living museum about the history of food in this area, from what the native people grew 4,000 years ago to what the Spanish brought here, including fruit trees, to the Chinese influences and beyond," he said. "It's a very evocative place. You really get to see Tucson history growing right in front of you. It's wild."
Mission Garden accommodates groups for garden and orchard tours with docents well-versed in Tucson's rich culinary history, and it also has a kitchen and area for groups events, including dinners and demonstrations by local chefs.
Read next: Hyatt Regency Tamaya Unveils Refreshed Meeting Spaces
More Info:
520.624.1817