The Must-Read Planner's Guide to State College, Pennsylvania: Venues, F&B and Group Activities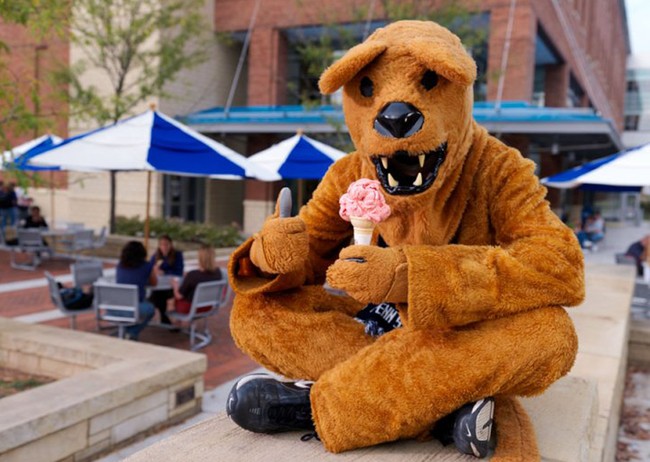 Happy times are calling in State College, Pennsylvania.
With branding elements that include annual "Happy Traveler" guides and the "Happy Thoughts" blog, the Pennsylvania Tourism Office's "Pursue Your Happiness" campaign is proving to be quite the siren call. In 2017, the Commonwealth welcomed a record 204.4 million tourists, to the tune of $43.3 billion in total spending.
Some 70 years ago, Pat and Harriett O'Brien, both originally from Pennsylvania's coal country, answered the same call. According to the Nittany Valley Society, the married couple, enchanted by their weekend sojourns to Pennsylvania's bucolic Centre County, relocated there from Washington, D.C.
Pat, a Purple Heart-decorated WWII veteran, taught speech and coached the men's debate team at Penn State. Enamored of its "beauty and intangible positive qualities," he reputedly nicknamed the area "Happy Valley."
Achieving national recognition in the 1960s via Penn State football broadcasts, the folkloric moniker stuck. Faithfully describing low-stress, high-reward State College and Centre County to this day, it's an alluring invite for productive meetings, positive outcomes and pleasurable pursuits.
Smart Venues for Meetings at Penn State
Benjamin Franklin, another Pennsylvania champion, considered "the good education of youth" to be "the surest foundation of happiness." Today, the Commonwealth is home to over 500 colleges and universities. Penn State (1855) is among the most influential, with 24 campuses state-wide and investing some $860 million in collaboration-based research initiatives each year. Many faculty member experts in their fields, from agriculture and climatology to cybersecurity and infectious diseases, are available for conference programs.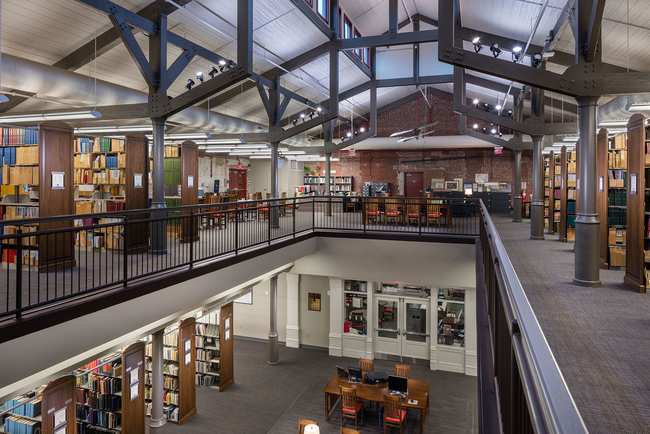 Photo: American Philatelic Society Research Library. Credit: Jim Roof Creative
Minutes from the main University Park campus in State College, Innovation Park offers an "ecosystem where business, education and research come together." 
Venues on the 118-acre development include the Ben Franklin TechCelerator, supporting early-stage entrepreneurs and inventors, and internationally renowned Penn Stater Hotel and Conference Center. Perennially earning "Best of the East" recognition from the readers of Meetings Today, the 300-room property is a Mid-Atlantic conferencing leader.
Situated on its own leafy campus, the full-service Penn Stater offers 58,000 square feet of versatile space, including 41 IACC-certified meeting rooms. Distinctive venues include the 10,000-plus-square-foot President's Hall and popular Senate Suites.
[Related: Western Pennsylvania Wows Groups With Deep-Rooted Food Culture]
The facility is owned by Penn State's Hospitality Services, which also operates the 233-room Nittany Lion Inn. Located on campus, this Four Diamond landmark from 1931 offers 20,000 square feet of flexible event space.
Diverse F&B Options: University Stops, Tasting Trails and Zero-Waste Catering
Launched in 1865, Penn State's globally renowned dairy research program includes the Berkey Creamery. Located on campus in the Food Science Building, this famed venue serves 70-plus flavors of ice cream supplied by the university's herd of 200-plus Holsteins. Plus, various cheeses and specialty gifts. 
Shipping is available, including three-gallon ice cream tubs ideal for special events. Notable alumni include Ben Cohen and Jerry Greenfield, who founded Ben & Jerry's Ice Cream in 1978 after taking the $5 correspondence version of Penn State's popular ice cream-making course.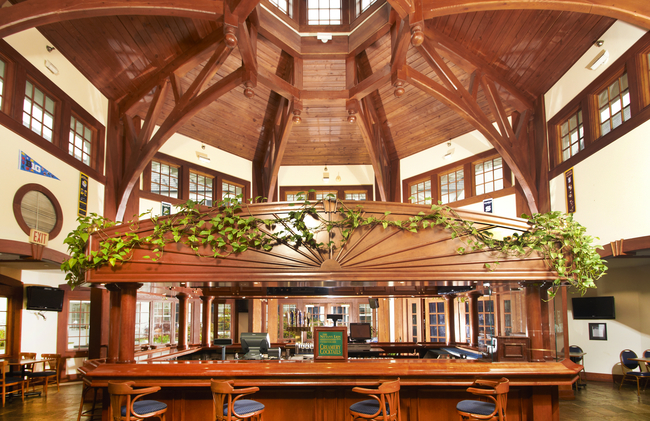 Photo: Whiskers Bar, Nittany Lion Inn. Credit: VisitPennState.org
Founded along with the university in 1855 as Jack's Road House, the iconic Hotel State College and Company building houses group-capable eateries such as the Corner Room and Spats at the Grill (formerly the Allen Street Grill). 
Groups can experience Centre County's craft beverage scene along the Central Pennsylvania Tasting Trail. Comprising four microbreweries, four wineries, two distilleries and two cideries, the dozen trail members offer guided tours and tastings, dining and live entertainment. For worry-free imbibing, recommended local transportation partners include long-time operator Fullington Trailways.
Other group options include Duffy's Boalsburg Tavern in Boalsburg and Benjamin's Distinctive Catering, offering zero-waste F&B and event planning services.
Arts and Culture Elevate the Agenda
The State College and Centre County regions of Pennsylvania offer a surprisingly diverse menu of arts and culture venues that can add some much-needed creative energy into meeting agendas.
For example, the 16,000-seat Bryce Jordan Center is the largest multipurpose arena in Central Pennsylvania, hosting more than 30 Rock and Roll Hall of Famers to date, and was second for university venues in Pollstar's ranking of 2018 worldwide ticket sales.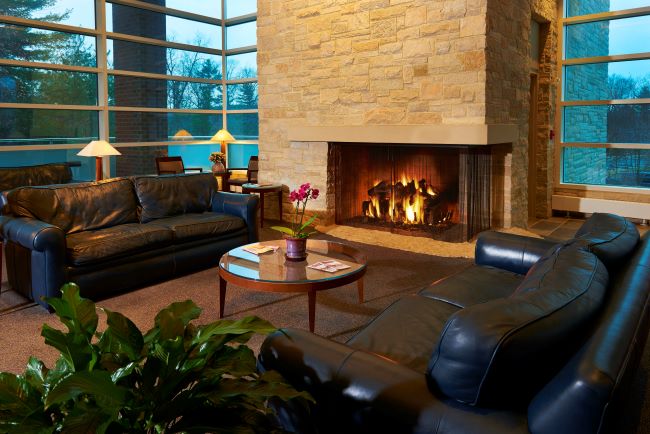 Photo: Penn Stater lobby with fireplace. Credit: VisitPennState.org
Planners can harness its star power for events—the facility also flexibly hosts executive meetings, conventions, expos and more. 
Also close to State College, the town of Boalsburg claims rights as the birthplace of Memorial Day, after women began decorating Civil War graves here in 1864. This patriotic village is home of the Pennsylvania Military Museum. Located on the grounds of the 28th Infantry Division's National Shrine, the venue honors the citizen-soldiers of the Commonwealth with year-round exhibitions and programming. Rental facilities include the Parade Grounds and Pavilion for outdoor events, and Memorial Theater for indoor gatherings.
Other notable arts and culture venues include:
Inviting Outdoor Group Escapes
The wider Centre County region has charmed visitors for centuries. Around 155 years before the O'Briens came along, explorer James Potter climbed Nittany Mountain and declared to his companion, "By heavens, Thompson, I have discovered an empire!"
Much of Pennsylvania's 2 million forested acres are within reach of State College, including the popular Moshannon, Sproul, Bald Eagle and Rothrock State Forests. More outdoor adventures await groups, including:
Connect
Central Pennsylvania CVB
814.231.1400
Read next: Pennsylvania's Historic Meeting Sites Have a Story to Tell