The Case for Bringing Your Incentive Trips to Australia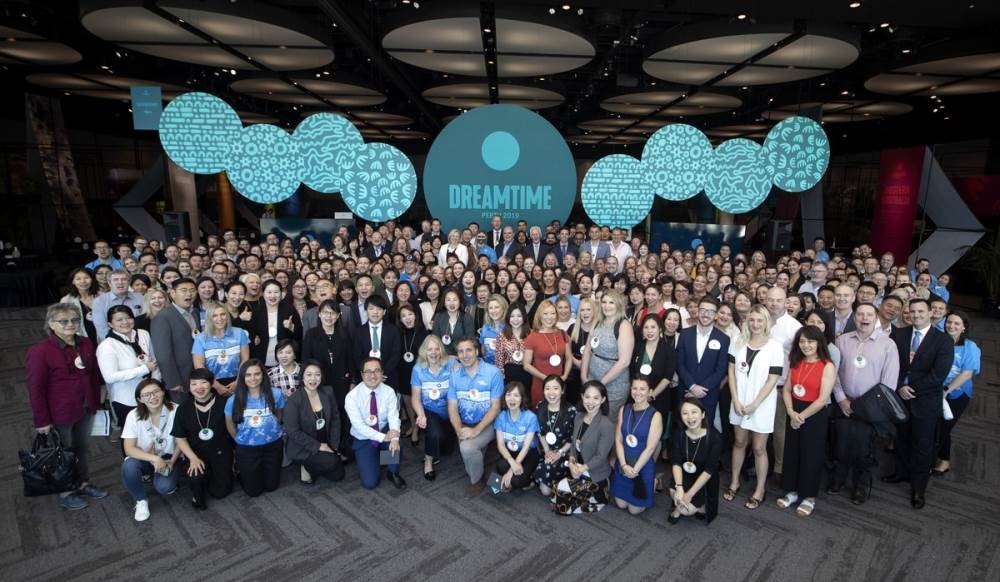 Lead Destinations Content Strategist Danielle LeBreck sits down with Tourism Australia's Penny Lion during Dreamtime 2019 in Perth, Australia, to chat about how Australian destinations can help you plan one-of-a-kind incentive trips.
Listen now: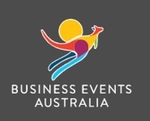 *This podcast is brought to you in partnership with Business Events Australia
[Transcript starts]
Danielle LeBreck: Hello, Meetings Today listeners. This is Danielle LeBreck, lead destinations content strategist for Meetings Today, and I'm reporting to you from halfway across the world in Perth, Australia. Today's podcast is brought to you in partnership with Business Events Australia who is hosting the Dreamtime 2019, which is the event I'm attending this week.
This event is Australia's largest business events showcase, which takes place bi-annually in different locations around the country. During this program, qualified buyers from around the world meet with the Australian hospitality industry, learning about the incentive business and opportunities here. The Dreamtime program also includes a destination showcase of the host city, which is Perth this year, in addition to media events and networking opportunities.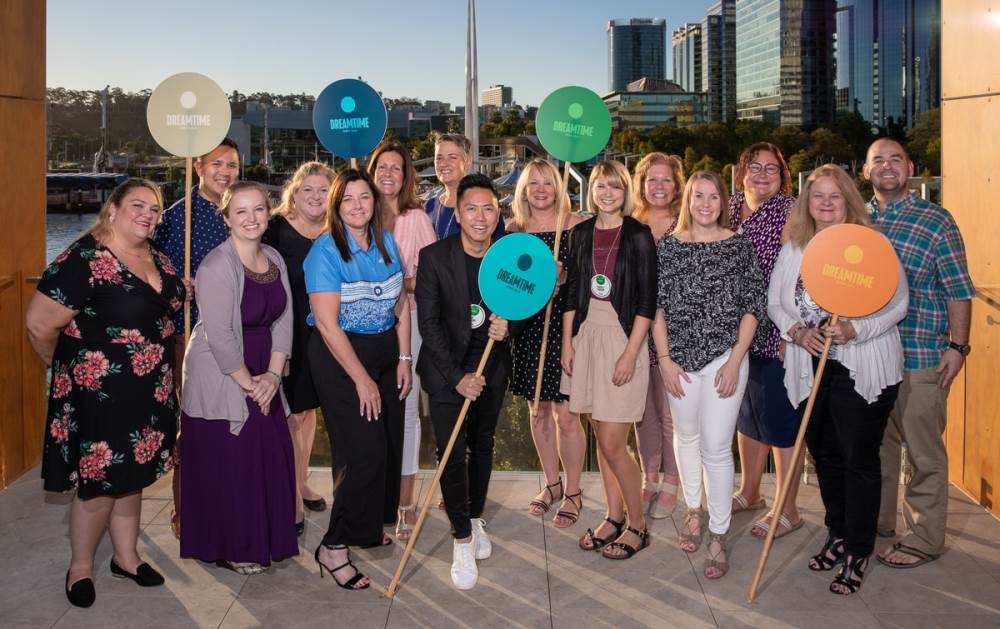 North American crew at Dreamtime 2019
The event kicked off today, and since this morning, I've had a chance to sit down with destinations from all over Australia, learning about the extensive incentive offerings they have here, from Sydney and Brisbane to Melbourne and many more.
For many of our North American incentive meeting planners, one of the biggest hurdles I imagine when considering Australia is the time that it takes to get here. You may be wondering to yourself, is the long haul worth the time?
I sat down with Penny Lion, the executive general manager of events for Tourism Australia earlier today to talk about why you should believe it is worth your time. Here's the interview.
[Interview begins]
Okay, so I'm here with Penny Lion, the executive general manager of events for Tourism Australia. We are at Dreamtime 2019. It's day one, and we are in the host city of Perth. So, just tell me a little bit more about why you guys chose Perth for this event this year.
Penny Lion: Right. Firstly, welcome.
Danielle: Thank you.
Penny: So, pleased to have you here. For Perth, it is very much going through a period of change. And that's because of this incredible infrastructure development that's been happening in the city. For the audience that will be listening, Western Australia is a very big mining and resources town or a city. I mean now mining resources, a colony or offer in Australia is tremendous.
But they realize WA had such a tourism offering, and so to make people realize that there were some incredible things to experience in Australia, then, or in Perth in Western Australia, they needed to do all these new infrastructure developments.
So, all these new hotels have gone in, which you'll learn more about, what you hear but you know, everything from the Ritz Carlton to the Western to the refurbishment of some properties on the Intercontinental and so on and so on.
And so, I just think the time for Perth is now and for Dreamtime, that's a terrific way for us to showcase—not just for them—media like yourself, but also for the business hands of the world. People won't know what's going on here until they come and experience it firsthand. So, for us to put on a great show, then that's what we'll do.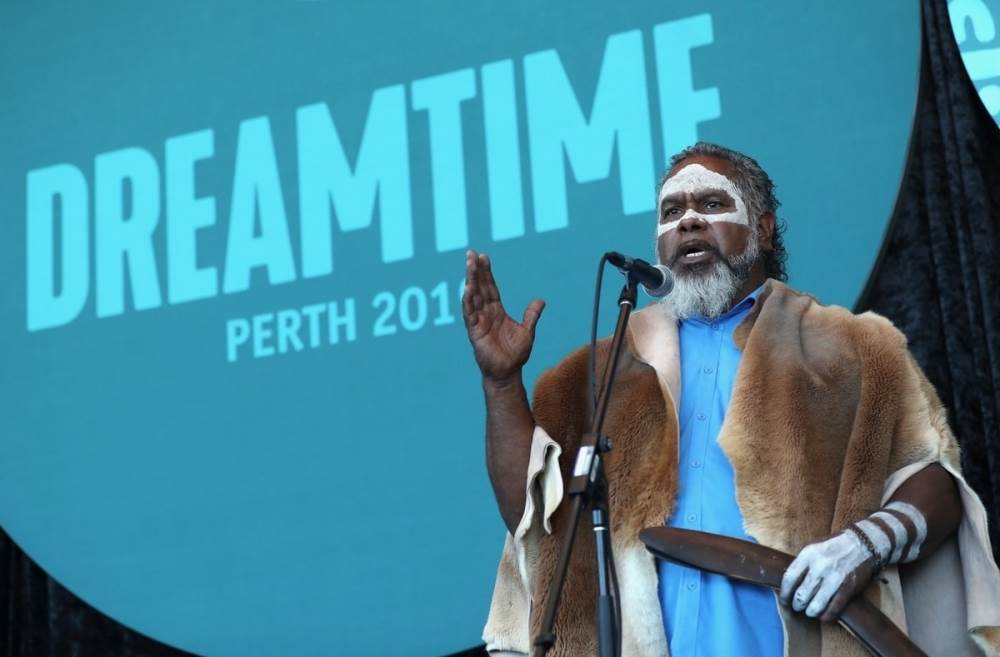 Dreamtime 2019 Business Session Opening;​ Credit: Tourism Australia
Danielle: I'm actually staying at the Ritz Carlton and it's been open for about two-and-a-half weeks I think, and it's absolutely gorgeous. We have a beautiful view of the river, and it was just a great thing to wake up to this morning.
So, coming off of Dreamtime in 2017, you guys do this event bi-annually, so once every two years, what was some of the feedback from North American planners, and how are you hoping to convince them this year that Australia is the right destination for their incentive groups?
Penny: Well, off the back of Dreamtime 2017 in Brisbane, I can remember so distinctly the positive feedback from the North American buyers. And that's always so enlightening because we know North American buyers love the combination of Sydney and the Whitsundays, for example, or Sydney and tropical North Queensland and Cairns so when we actually host an event such as Dreamtime in a city that they might not know so well, such as Brisbane, and now Perth, they're inspired.
We always talk about in this industry about inspiring and informing, the business of event planners of the world so that they're armed with all the right things for them to do their jobs properly, and often new ideas and new destinations. But they were so positive down here, and we had incredible feedback from the buyers, and we had some really good quotes out of that Dreamtime, too. So, we're trying to do exactly the same thing.
Danielle: Right. And can you remind me—I know this is a big incentive showcase—so what percentage of your business is incentives?
Penny: Look, we don't break it down, we have this wonderful way of measuring business events. We always laugh and do our monitoring of what our competitors do around the world. And I think everyone would agree—it's a very hard industry sector to monitor.
So, we monitor our rivals by business event, so we don't get a breakdown of whether or not they're incentive or they're association congress or corporate meeting. But overall, the sector is doing very well collectively. So, $4.9 billion—let's just call it five—contributed, and as we wrap up all of those arrivals, and that spend of that $5 billion, we'd be the second largest market behind China. And China's in league of its own.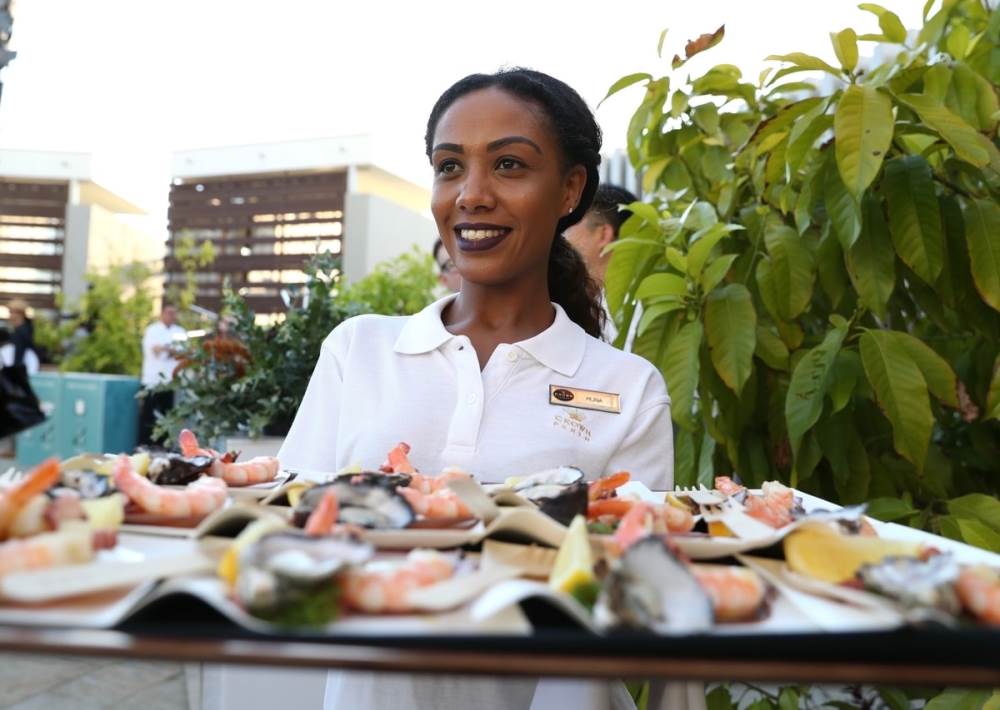 Dreamtime Welcome Event
But if you're to look at that in the real business events terms, North America is doing brilliantly for us. So, the breakdown of that, we get a million visitors into our country for business events. And the U.S. is leading the way, or I'll just call it North America is leading the way in regard to spend as well as—well New Zealand is our biggest revivals—but in regard to spend, the U.S. market doing very well.
And we think the U.S. market offers tremendous opportunity because they're more interested than ever before on going outbound out of region. So, traditionally if it was down into Mexico or up into Canada, they're looking at further field destinations because they produce results for either their incentive trip or for the corporate and/or association meeting. And they're really interested in seeing what's different so that's being seen in the results.
So, it's really positive, it's buoyant, and it's exciting for us.
[Related: Asia-Pacific Events Showcase Cultural Teambuilding Activities]
Danielle: That's great. We've noticed this past year, especially, I think it's been on the on the for the past few years, but almost every category of meetings is being affected by the experiential design and localized experiences sort of trend.
So, it's making picking a really special destination more important than ever before I think. I've heard that a lot by talking to planners. So, I'm guessing you probably hear this from them, too. And so, what's kind of your pitch? How is Australia naturally positioned to deliver that to them?
Penny: Yeah, absolutely. Look, several different layers. I mean, the fact that we're such a big country like the United States, so that offers multiple destination choices, which choice is so important.
But then it's everything about the fact that as far as a country goes, and you'll hear us talking more about this, we think the Australian people have quite a unique personality. And so that becomes memorable, too, because we a 'yes, can do' country and nation very similar to your own. But we do it in a very relaxed fashion. We have that wonderful sign, 'No worries, mate.' And we actually mean it, like we'll get the job done. So, I think that we're someone or as a group of people, we don't over promise and under deliver.
But beyond that—that's important to meeting planners because they've got so much at stake. If they're pitching a destination to their client, they want to know that it's going to actually be delivered as we say it's going to. So, partnerships become important.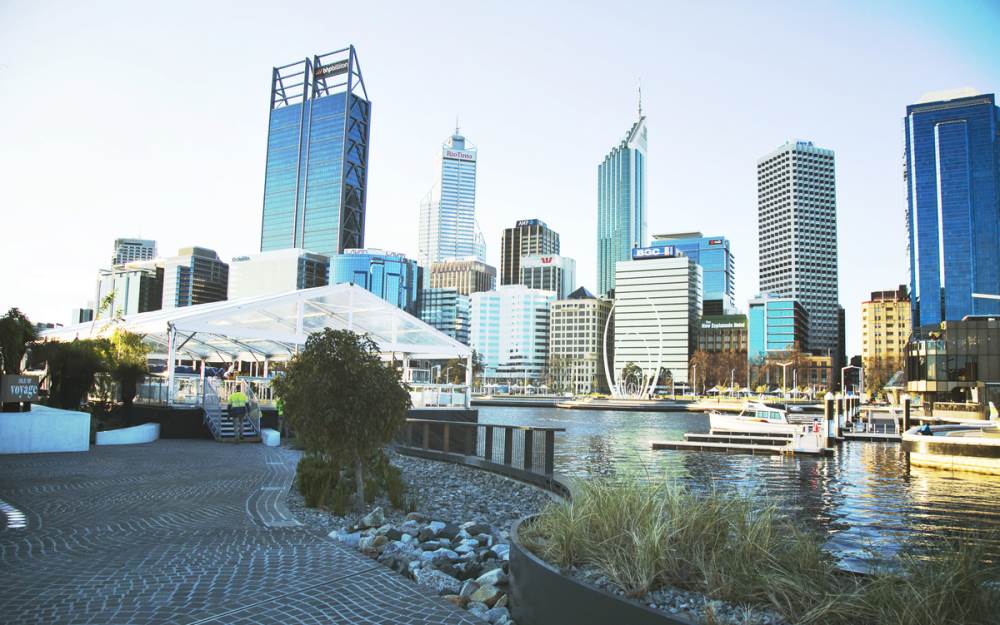 Perth; Credit: Tourism Australia
So, it's not just us as a nation talking about it from a top line tourism Australia perspective, our convention bureaus, all of our destination management companies who actually help put on these events, they really do a hand-on-heart deliver very well. And I'm not just saying that because I've run a huge amount.
My background is a meeting planner. And so, over the years I've done a huge amount of events both here in Australia and overseas, and I'm very proud to say we do things well.
But I think the really hot topic at the moment about unique experiences and making sure that people have something is that connection to place. And because we have this incredible indigenous history here, and how people are looking for legacies or a unique connection to a destination, then that is actually there for meeting planners to understand and tap into.
So, like I said, many different buyers. Yeah, look, I just encourage people to talk to us. I think there's a lot of different Australians that can actually help give that inspiration information and that connection to something unique to whatever those decision makers or the people.
Danielle: Right. Well, I think that's a good note to end on. And I'm really excited to continue to experience Perth. And we're on to Sydney and the Whitsundays later this week.
Penny: You'll love it.
Danielle: So, thank you so much for hosting me.
Penny: Oh, not at all. And reach out to our team members in the U.S. to anyone listening if you need to, because they're there. One in L.A. and one in New York.
Danielle: Exactly. Right. Thank you so much.
[Interview ends]
After chatting with Penny Lion and other Australian CBB's this morning, it seems to me that bringing people to Australia from North America really can deliver on those super memorable, unique bucket list type of experiences.
This is actually my first time making the long trip to Australia and while the journey to Western Australia where Perth is does require a bit of extra effort, my first impression of Perth alone has been excellent so far. As you heard Lion explain and as I've learned during my meetings and tours of the city today, there's a lot happening here and it's kind of an under the radar destination going through a renaissance of sorts.
I am staying at the brand-new Ritz Carlton in Perth and it's just a fantastic, beautiful property. It's overlooking the Swan River. It's steps away from the Perth Convention and Exhibition Centre, which is where Dreamtime one-on-one meetings are taking place. The meeting spaces here gorgeous. And it's just one of many hotels that have come online in the past few years.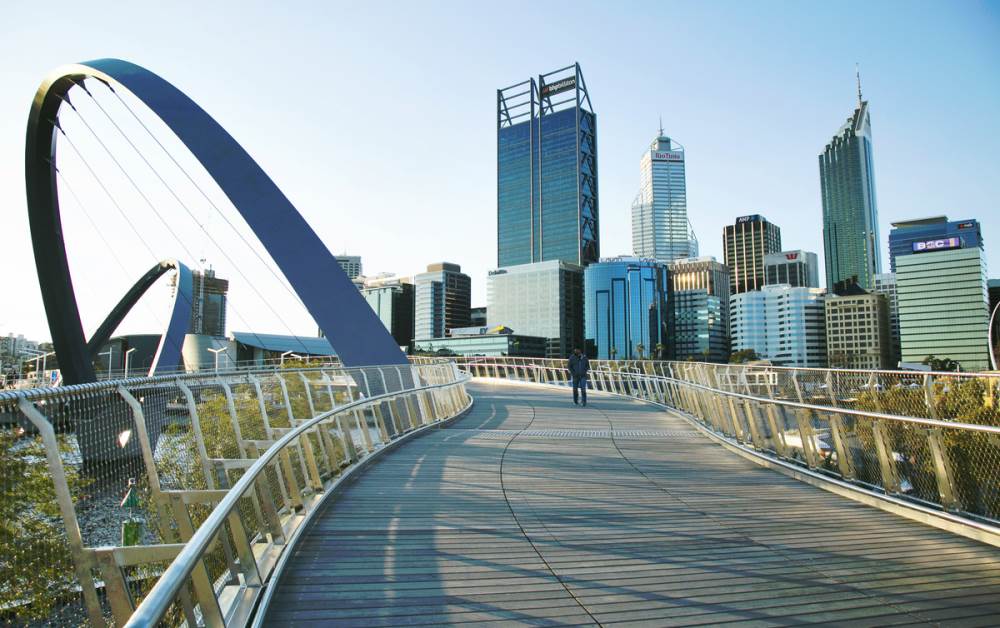 Perth; Credit: Tourism Australia
I learned today that in the past few years over 4,600 rooms and 38 hotels and service departments have been added to the Perth area, and 43 more which totals to over 5,000 rooms are proposed for development.
In addition to that, access to wineries, beaches, a thriving food scene and more are putting the city on the map. And I'm excited to see and experience more of it tomorrow and also travel to other Australian destinations later this week to see firsthand what they can offer.
We will be traveling to Sydney and then we will end our program in the Whitsunday Islands in the Northeastern region of Australia right around the Great Barrier Reef. So, if you want to follow along during this trip and see what it's all about, see what Australia has to offer, you can follow Meetings Today on our social media channels @meetingstoday where I'll be posting about the trip.
And you can also stay tuned for more online media at meetingstoday.com and keep an eye out for a recap of this event in our February 2020 issue of the print magazine.
So, that's it for today. Stay tuned for more this week, and thanks for listening.
[Transcript ends]
Read next: Australia's Natural Settings Paint Perfect Backdrop for Events