4 Indiana Sports Venues That Add Team Spirit to Meetings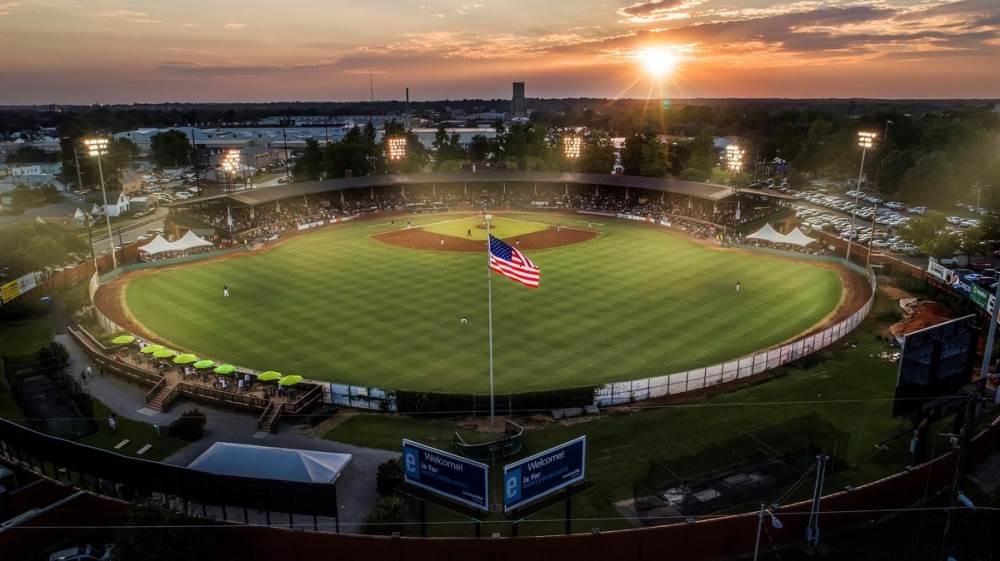 Professional sports teams and college athletics across Indiana attract fans locally and afar. Groups meeting in the Hoosier state can take in a game or host an event at one of these iconic sporting facilities to get a feel for the lively local sports culture. 
From the Indy 500 to Indiana University Athletics, here are four options for groups to experience Indiana sports alongside a meeting or event.
1. Bosse Field, Evansville
Located along the Ohio River in Southern Indiana, Evansville is well equipped to host groups across its larger facilities and hotel properties.
The city's multi-use Ford Center is a 290,000-square-foot arena with seating for 11,000, while the Old National Events Plaza features 280,000 square feet of function space, including a 38,000-square-foot column-free exhibition hall and a 14,000-square-foot ballroom.
For a really unique offsite experience, groups meeting in Evansville can mix sports and history at Bosse Field. Baseball and film fans will recognize Bosse Field from 1992's A League of Their Own. It's also the third oldest ballpark in the U.S. (after Fenway and Wrigley Field) and home to the Evansville Otters, a professional team part of the independent Frontier League.
The entire facility can be rented for private use, including the parking lot, which is a great option for food trucks. Inside the ballpark, The Budweiser Patio can accommodate up to 150 people and there are other outdoor picnic areas, a concourse and the field for any type of event. Groups can even play a little ball with a game on the field.
When the Otters are playing at home, group tickets are available as well.
[Related: These 5 Historic Ballparks Are Made for Hosting Events]
2. Indianapolis Motor Speedway, Indianapolis
The Indianapolis Motor Speedway, home to the Indianapolis, or Indy, 500 as well as multiple other races, is an iconic venue. Equally iconic is hosting an event at the Pagoda, the most recognizable structure at Speedway, centered on the start-finish line. The structure has nine tiers/viewing levels as well as outdoor balconies and can accommodate over 2,000 people for events.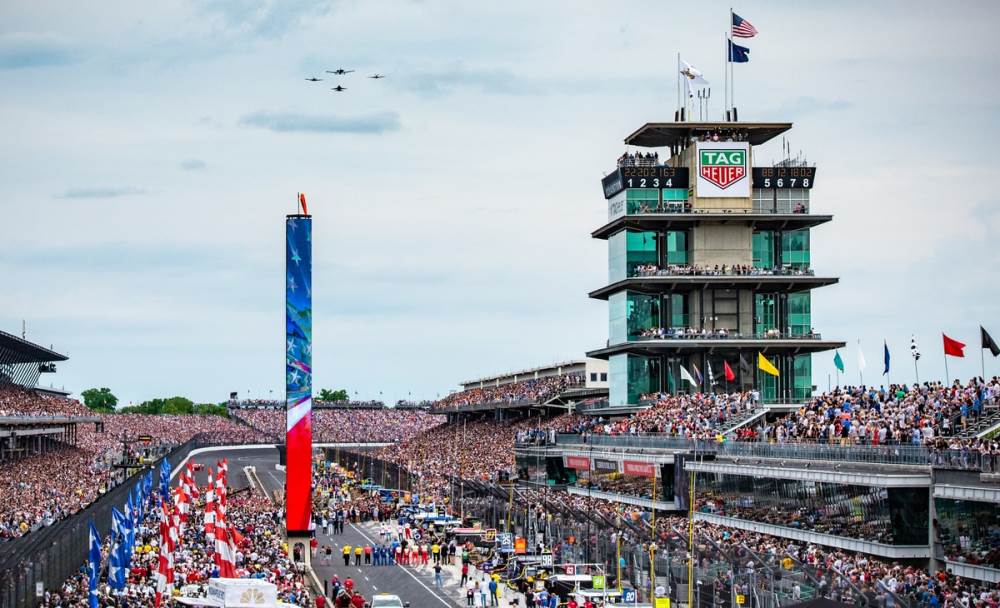 Photo: Indianapolis Motor Speedway, Indianapolis. Credit: Visit Indy
The 18,400-square-foot pavilion at the base of the Pagoda is another venue at the facility for private events. This courtyard setting can accommodate up to 1,500 guests.
For smaller events, or for hosting groups on race day, the Gasoline Alley Suites are along the front straightaway and pit lane near the Yard of Bricks. The Gasoline Alley Suites can be customized to accommodate 25 to 100 people.
In addition to hosting an event at the Speedway, groups can get in the driver's seat to experience what it's like to drive a car that has competed in the Indianapolis 500. The Indy Racing Experience Driving Program can be customized for groups' needs, and speeds are dependent upon each participant's comfort level in the car—up to 180 miles per hour.
Groups can also tour the facility with a Grounds Tour, a 60- to 90-minute look into the history and landmarks of the Speedway. Tours include a visit to the Indianapolis Motor Speedway Museum, which can also host private functions.
3. Allen County War Memorial Coliseum, Fort Wayne
Nestled in Northeast Indiana, Fort Wayne is the second largest city in the state and welcomes groups with 500 restaurants, 60 hotels and the 225,000-square-foot Grand Wayne Convention Center, which has 18 meeting rooms, including the 50,000-square-foot Convention and Expo Hall.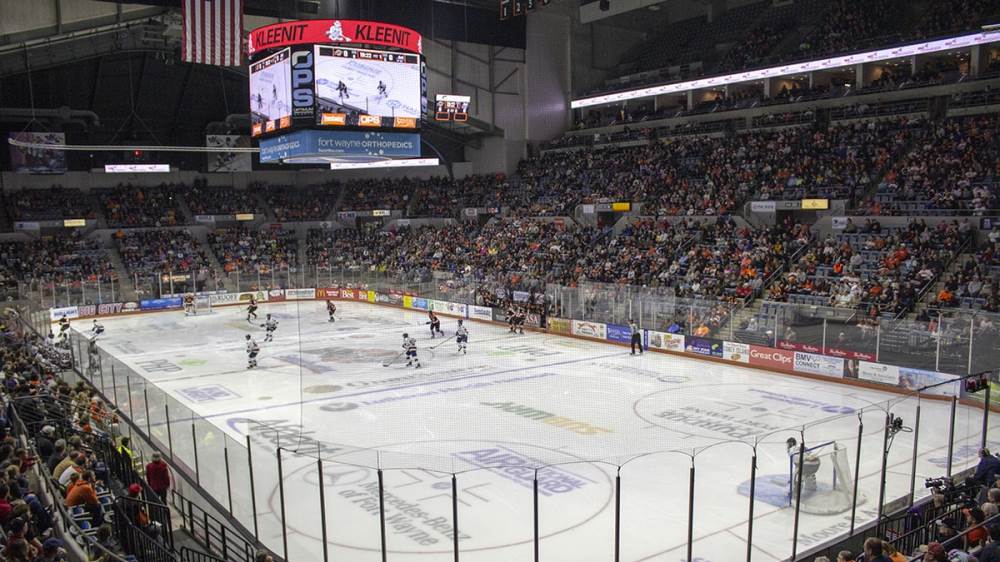 Photo: Allen County War Memorial Coliseum, Fort Wayne
After business is done, groups can join local sports fans for a hockey game, basketball game, or even a roller derby at the Allen War Memorial Coliseum. Home to the Fort Wayne Komets East Coast Hockey League, the Fort Wayne Mad Ants NBA Development League and Fort Wayne Derby Girls, the venue offers one million square feet of event space and plenty of entertainment.
The Coliseum has hosted national and regional tournaments, including gearing up for the NCAA Women's DI Basketball Championship in 2020. Group tickets, including private suite rentals, are available for most events at the facility. The Century Club Room can accommodate 50 to 100 guests and can include an in-room bar and food service for the duration of a game.
[A Planner's Perspective: What It's Like to Host an Event in Fort Wayne, Indiana]
Groups can also rent out the facility for private use. The facility includes a 13,000-seat arena, a 108,000-square-foot Expo Center with flexible stadium seating, a 27,200-square-foot Conference Center as well as several other meeting and event spaces.
4. Indiana University, Bloomington
Bloomington is home to Indiana University (IU), which brings in over 40,000 students each year, nearly doubling the city population. The campus, students and faculty help give the city energy and vitality, which guests can experience when visiting Bloomington.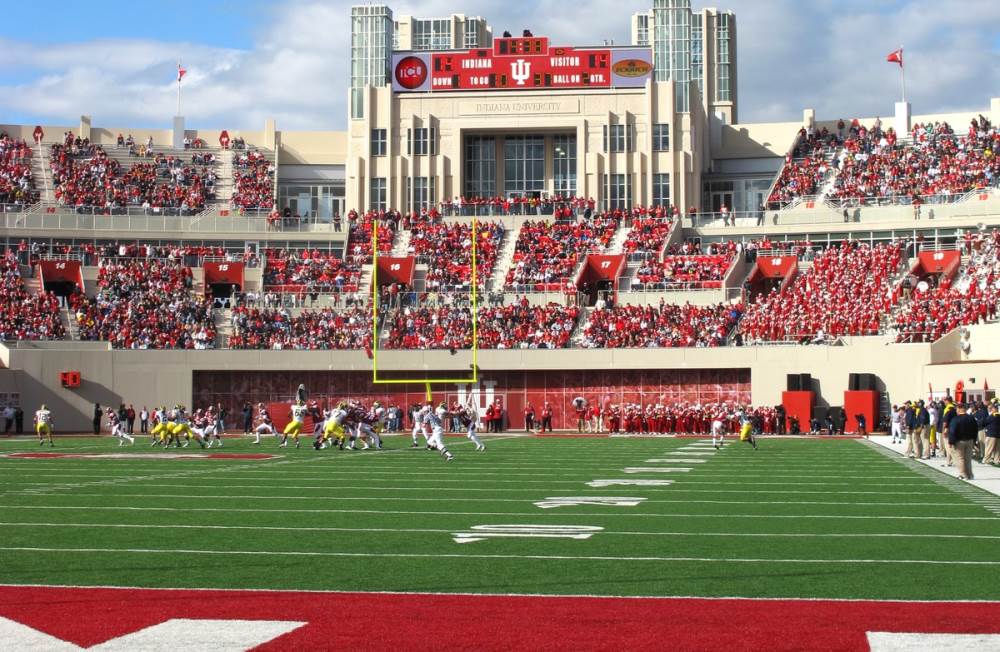 Photo: Indiana University, Bloomington. Credit: Visit Bloomington
To experience Bloomington like a local includes an IU Athletic experience. The university's athletic teams have won 24 NCAA National Championships and nearly 150 Big Ten Conference team and individual titles, so the loyalty of fans—a.k.a. Hoosiers—comes as no surprise.
Groups meeting in the city looking for an "only in Bloomington" experience can take in a game, match, race, meet or competition year-round at the university.
[Check out more coverage of event planning in Indiana]
On home game days in the fall, the community overflows with Hoosier football fans for a quintessential college sports weekend. IU's Memorial Stadium has capacity for 52,626 people and is headquarters for Indiana football. For football, basketball, baseball and volleyball games, group tickets are available.
The university also hosts the Little 500, a bike race modeled after the Indianapolis 500. Since founded in 1951, teams of four race for 200 laps at nearly 25 miles per hour on Schwinn bikes. Held in April, the event draws more than 25,000 fans, which have included Lance Armstrong and President Barack Obama in the past.
Read these next: