4 Impressive Desserts for Holiday Parties and Events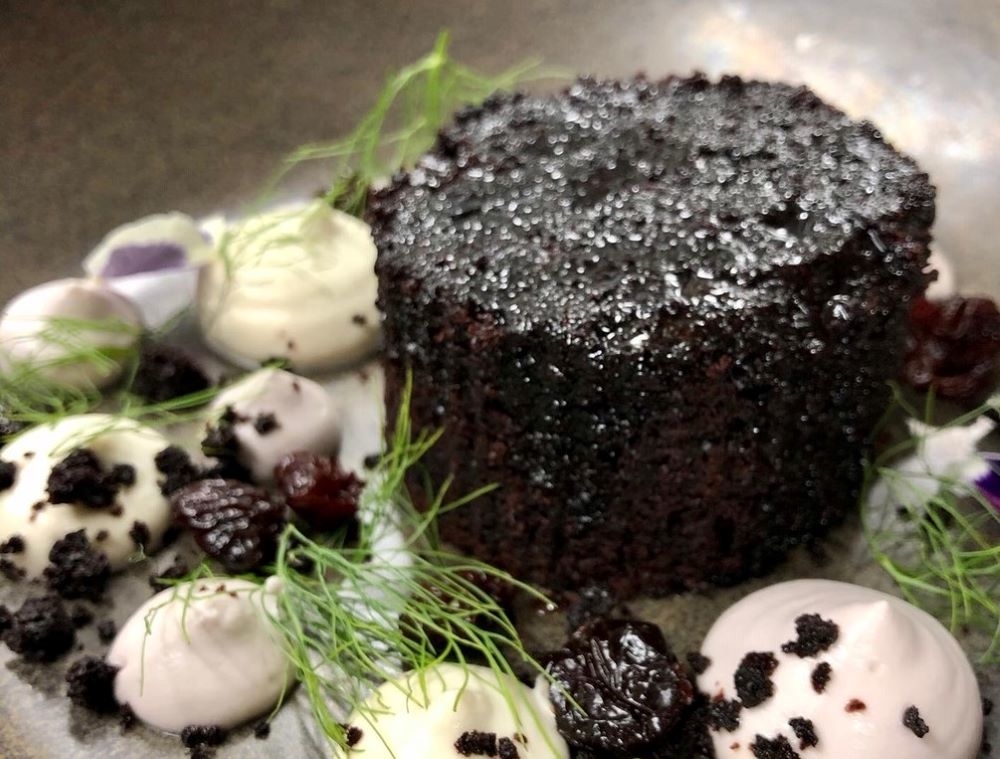 Sweets and indulgence are abound during the holiday season. From festive galas to holiday parties, to celebrations at home, the desserts are often the showstoppers this time of year.
Some of Meetings Today's Top Chefs from meeting and event properties in the U.S. and Mexico shared with us their favorite dessert receipes they like to bake this time of year.
For an impressive finish to your next gala, party or holiday event, give one of these no-fail, expert-tested sweets a try.
Pumpkin Croissant Bead Pudding
Andy de la Cruz is the Pastry Chef at Newport Beach's Fashion Island Hotel. For an indulgent treat, he likes to bake this Pumpkin Croissant Bead Pudding.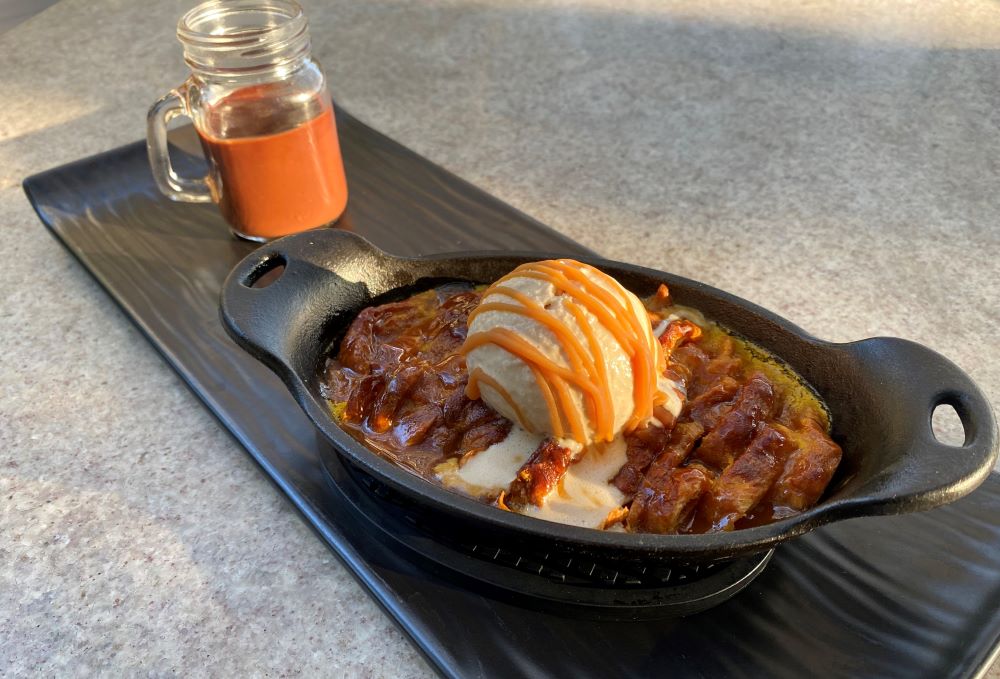 Photo: Pumpkin Croissant Bread Pudding, Chef Andy de la Cruz. Credit: Fashion Island Hotel, Newport Beach, Calif.​
Ingredients:
1 quart heavy cream
2 cups pumpkin puree (canned)
6 eggs
8 oz. sugar
1 tbs. cinnamon
1 tsp. nutmeg
1 tsp. ginger
1 tsp. cloves
1 tsp. allspice
10 to 12 croissants
Directions:
Slice croissants into thin slices and toast in a 300-degree oven until golden brown. Allow them to cool and crisp up.
Place cream and pumpkin puree in small pot and bring to a gentle simmer. Remove from heat.
In a separate bowl, whisk eggs with sugar and spices until combined. Pour one cup of the warm cream mixture into the eggs slowly to temper the eggs and whisk until fully incorporated. Then add remaining cream mixture.
In a baking dish, line toasted croissants overlapping each other. Pour pudding mix over the top. Leave top of croissants slightly exposed for a crispy top or cover entirely for a softer top.
Place baking dish inside a separate dish and add water to the bottom dish to bake in water bath. Place in oven at 350 degrees and bake for 25 minutes. Check if done by using a small knife to move croissants to expose center. If center is wet or runny, place back in the oven for 5 to 10 minutes and check again. Center should be slightly firm with a slight jiggle.
Remove from oven and allow to cool. Serve warm with vanilla ice cream and caramel sauce.
Tip: If the tops get too dark while baking, cover the dish with aluminum foil to avoid over browning.
[Read also: Irvine Company's 3 Orange County Hotels Offer 3 Can't-Miss Experiences]
Bunuelos de Rodilla
Corporate Chef Gerardo Rivera leads all the gastronomical experiences within Posadas' La Colección Resorts. The properties include Fiesta Americana, Grand Fiesta Americana, Live Aqua and The Explorean by Fiesta Americana brands. Chef Gerardo's Bunuelos de Rodilla is a popular Mexican holiday dessert.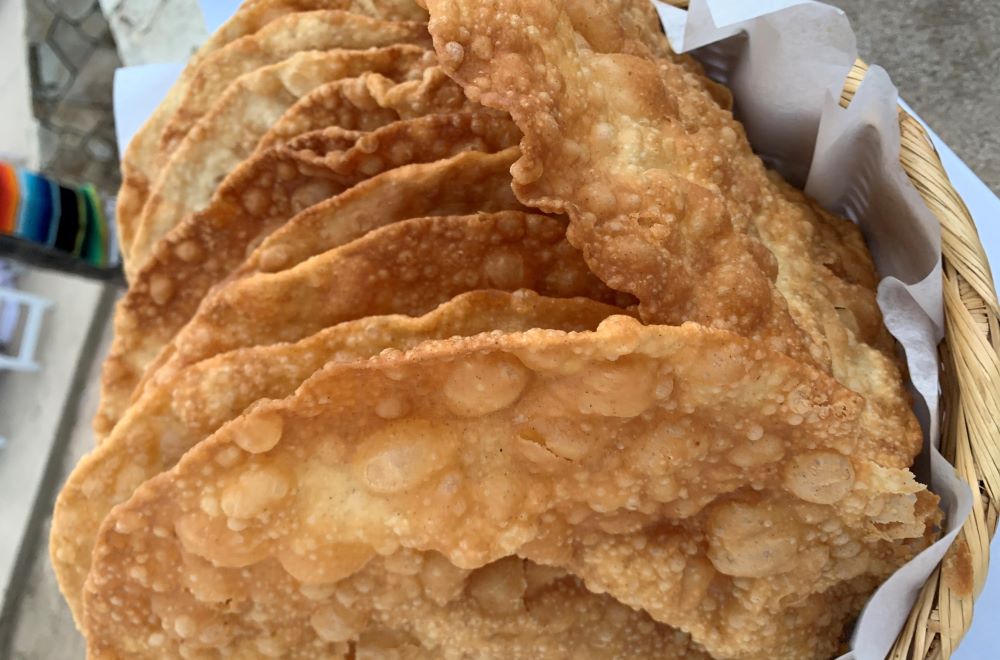 (Pictured: Bunuelos de Rodilla, Chef Gerardo Rivera. Credit: La Colección Resorts)
Ingredients:
2 cups all-purpose flour
1 cup sunflower oil
½ cup water
½ spoonful of anise
¼ cup of sugar
4 tbs. unsalted butter or vegetable shortening
1 pinch of salt
½ teaspoon ground cinnamon
Directions:
Pour the flour in a bowl, sift it so that there are no lumps and sieve it along with the sugar, pinch of salt and ground cinnamon.
In a saucepan, heat the water with the anise so that it aromatizes the water. My mother prefers to aromatize the water with anise, but you can also use the peel of tomatillo or green tomato to give softness to the dough.
Add the butter at room temperature or vegetable butter to the flour, and now it is time to start integrating it. It is easier to integrate the butter with your hands.
Once the butter is mixed in with the flour, add the water flavored with aniseed little by little until the dough is well mixed. Then knead it perfectly until the dough detaches from the hands and is elastic.
Leave the dough to rest for 10 minutes with flour on top so as not to create a crust.
Once the 10 minutes have passed, begin to make little balls to go forming the buñuelos. I recommend that you put a little oil in your hands so that you can work the dough better.
With a roller, stretch the dough in a circular shape, but if you like to follow traditions I advise you that with the help of a wet cloth stretch the dough on your knee and you will see that it is faster to stretch the dough.
Once all the fritters are formed, fry them in a big frying pan and add the 250 milliliters of oil; when hot, add the fritters. Fry on both sides, and try not to burn it. To turn around, I help myself with some skewer sticks.
Once we have fried all the fritters, make a mixture with ground cinnamon and sugar and sprinkle the fritters with this mixture.
Black Forest Cake
Executive Chef Cesar Oceguera leads the culinary team at Watercolors restaurant at Carté Hotel, which opened in mid-2019 in San Diego's Little Italy neighborhood. His classic holiday favorite—Black Forest Cake—might seem daunting with several steps and components but can be done at home as an impressive dessert this holiday. (Pictured at top of article: Black Forest Cake, Chef Cesar Oceguera. Credit: Carte Hotel, San Diego)
Ingredients:
Chocolate sponge cake (genoise):
18oz. dark chocolate
1.5 cups butter
1.5 cups plus 1 tbs. sugar
6 eggs
3 egg yolks
¾ cup sifted all-purpose flour
½ cup water
Pinch of salt
Drunken cherries: 
1 cup dried cherries
1 cup red wine
1 cup sugar
Espresso crème: 
1 cup heavy cream
1 tbs. powdered sugar
1 tsp. espresso extract
Cherry crème:
1 cup heavy cream
1 tbs. powdered sugar
1 tbs. Luxardo cherry juice
Directions for chocolate sponge cake (must be made a day ahead of serving):
Boil butter, water and 1.5 cups sugar. Place chocolate in a large bowl and pour boiling mixture over chocolate. Stir with wooden spoon until smooth.
Whip egg yolks in a separate bowl. Add vanilla extract and 1 tbs. sugar. Whip until you can do ribbons with the mix.
Fold chocolate into yolk mix. Do not whisk. This will deflate the mix.
Fold in sifted flour and salt.
Chill overnight, then bake at 350 degrees for 15-18 minutes.
Bring to a boil the red wine and sugar until sugar dissolves.
[On topic: Kimpton Reveals Its 2020 Culinary and Cocktail Trends Forecast]
Directions for drunken cherries: 
Bring the red wine and sugar to a boil, stirring until sugar dissolves.
Pour over cherries, cover and let steep for one hour.
Directions for espresso crème: 
Whip heavy cream.
Add powdered sugar.
Slowly add espresso extract and whip until mix forms medium peaks. Do not over whip.
Directions for cherry crème:
Whip heavy cream.
Add powdered sugar.
Slowly add cherry juice and whip until mix forms medium peaks. Do not over whip.
Pour drunken cherries and a little extra Luxardo cherry juice over cake and serve with both espresso and cherry crèmes.
Warm Chocolate Bread Pudding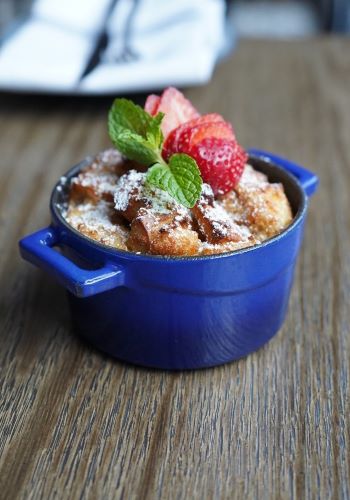 Chef Gilbert Laurie is at the helm of Pacific Hideaway restaurant at Kimpton Shorebreak Resort in Southern California's Huntington Beach. His Warm Chocolate Bread Pudding is sure to be a hit at any holiday event. (Pictured: Chocolate Bread Pudding, Chef Gilbert Laurie. Credit: Kimpton Shorebreak Resort)
Ingredients:
2 cups heavy cream
3 oz. egg yolks (about 5 eggs)
¾ cup sugar
1.5 tbs. Tahitian vanilla bean paste
¾ cup milk chocolate, roughly chopped
12 croissants
Directions:
Toast croissants in a 300-degree oven until lightly browned. Remove and turn oven up to 350 degrees.
Create base by mixing the heavy cream, egg yolks, sugar and Tahitian vanilla bean paste.
Lay croissants in the bottom of a 9-by-13-inch baking dish. Top with milk chocolate cover with the base mixture.
Cover with parchment and aluminum foil and bake at 350 degrees in a steam bath for 35 minutes.
Feeling adventurous and want to try any of these recipes at home or at your next event? Share your photos with us by tagging @meetingstoday on Twitter, Facebook or Instagram for a chance to be featured!
For more food and beverage inspiration from the best culinary minds in the meetings and events industry, head over to our Top Chefs page.