Sage Executive Chef Covelli Talks Flavors, Food and Events in Sarasota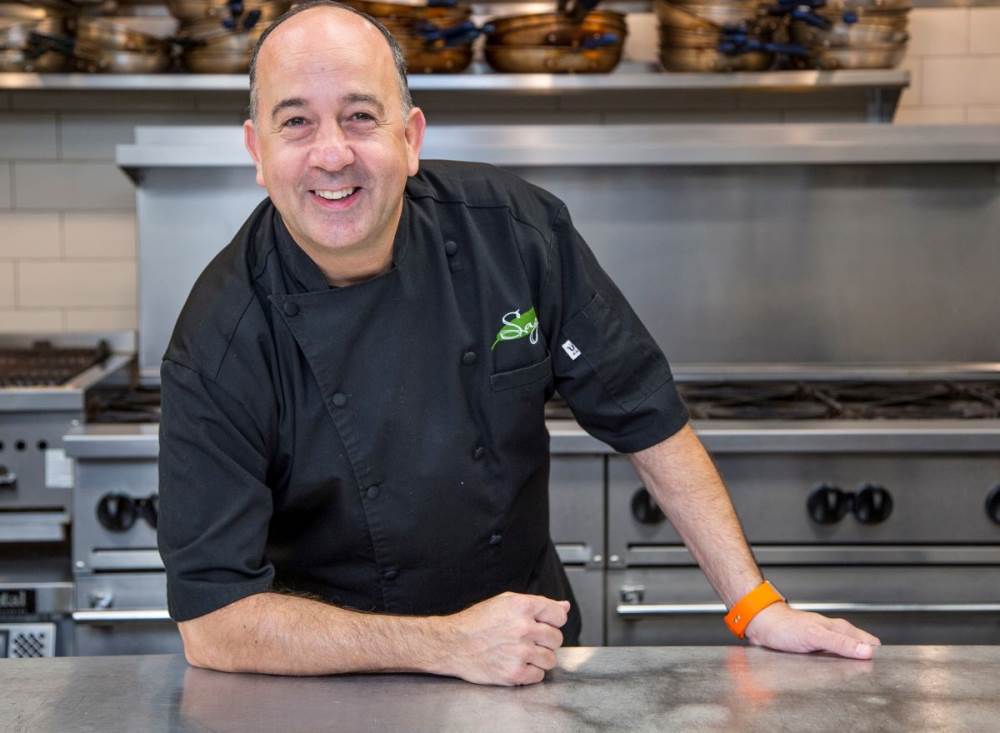 Chef Christopher Covelli didn't start out as a chef. He started out as an insurance executive. Now, he now runs one of the most popular Sarasota restaurants, Sage, in one of the most unique venues—the original Sarasota Times Newspaper building, which was recently renovated.
In this historic building, Sage features a multi-level dining room with a vintage copper cocktail bar, 3,400 square feet of private event space and a covered rooftop lounge with 360-degree views of downtown Sarasota.
A native New Yorker, Covelli is a graduate of the French Culinary Institute in New York City, and was groomed by world-renowned chefs including Andre Soltner, Jacques Pepin and Alain Saihac. He's hosted seven James Beard dinners in New York and was trained in seven different countries. He also speaks five languages. His culinary specialties span Classic French, Italian, Spanish and American haute cuisine.
"My menu changes weekly to keep the flavors bright and fresh," Covelli said.
Just as his menu changes, Covelli said he sees food trends change weekly. "These days steelhead trout is popular and octopus is making a big comeback either broiled, marinated, in a tureen, as Carpaccio, or charred.  But I find the biggest trend is people are moving away from fat again. It's a real issue because fat equals flavor. I can tell you if you drink heavy cream, it's easier to digest than low fat milk."
[On topic: 4 Chefs Dish on Why Groups Should Experience Local Seafood]
He also said potatoes are also going away—again. And the gluten free, vegetarian, keto, crazes? "About 80% of our menu is gluten free, not planned, it just is. As for pasta we make it every day in house, but we can do gluten-free pasta with almond flour and xanthan gum."
Cooking for groups is not a problem for this chef who once did an event at Lincoln Center in New York for 2,500. A more manageable group was a recent party of 150.
"Our event director and I sat down with the planner and literally opened the door and asked her to pick a country—then we come up with several dishes," he said. "They don't choose dishes from a piece of paper, they choose by what they've sampled."
Some of the more popular dishes at the restaurant include:
Scallop Crudo: U10 Scallop, lemon zest, lemon juice, pickled red onion, peppercorns, coriander seed, vinegar
Tomahawk Pork Chop: made with praline, foie gras fat, veal bones, onions, carrot, tomato, red wine, apples, cumin cinnamon, red cabbage
Cinnamon Orange Rice Pudding: a dessert with sesame cocoa nib nougatine, fruit (cranberry or pomegranate) sauce and pate de fruit.
One thing Covelli leaves off the table is bread. "We've had some pushback from guests, but more than half of bread gets thrown out, so I calculate how much we save each quarter by not serving bread and donate that amount to a local homeless shelter." 
To end our conversation, I asked Covelli what his ideal last meal would be, and it's as creative and dynamic as Sage's menu offerings.
"I'd have to do a tasting," he said. "I'd start with lobster and steamers with melted butter, go to a Barolo braised short rib with au gratin potatoes, then go on to an Indian Vindaloo Tikka Masala with Naan Bread."
Lobster Bolognese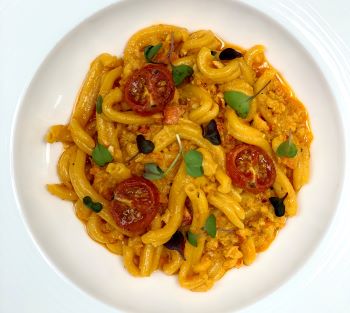 Serves: 4
1 white onions, diced small
3 stalks of celery, diced small
1 each: carrots, peeled and diced small
1 tbs. barlic, minced
1 tsp. cayenne pepper
1/2 cup tomato puree
1/4 cup white wine
½ pound whole butter, cubed
½ pound lobster meat or tails
3 leaves, basil, chopepd
Salt, to taste
Black pepper, to taste
Directions:
1. Sweat down the onions and garlic in a medium saucepan with about a tablespoon of olive oil until translucent. Then add carrots and celery and cook until aromatic, about 8 minutes. 
2. Add cayenne pepper and tomato puree, then deglaze with white wine. Gradually add the butter, letting each piece melt before adding the next one. 
3. Chop the lobster meat, then add to the sauce and let cook for about 15 minutes. Finish with basil, taste to season. Add to cooked pasta and enjoy. 
[Trending: 4 Impressive Desserts for Parties and Events]
Fresh Pasta Dough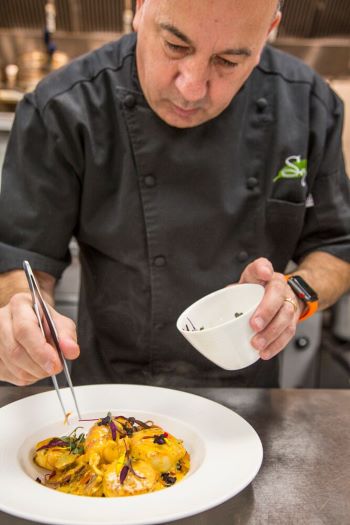 Yield: 2.5-3 pounds
1.5 pounds AP flour or 00 flour
1 pound eggs (+2 yolks)
1 tsp. salt
Directions:
1. In a mixing bowl, place the flour in and create a well in the middle. 
2. In a separate bowl, add the eggs, egg yolks and salt. Whisk well until incorporated. Add into the flour well.
3. Slowly mix the wet ingredients with the flour until a paste forms. Continue to mix until a soft dough ball forms. Transfer the dough onto a floured surface and knead by hand until the dough is firm and springs back when poked. Wrap in plastic wrap and let rest for 20 minutes. 
4. With a Kitchenaid attachment or pasta machine, set up the roller to the widest setting. Uncover the dough and roll out with a rolling pin to fit into the machine. Pass the dough through and fold, adding a little flour. Repeat until dough becomes dense and holds its shape when held.
5. When ready, pass the pasta dough to desired thickness, passing one number at a time. Cut into desired lengths.
6. Switch to the pasta cutter with the desired shape. Pass pasta sheets through cutter and dust with flour. Set aside.
Check out more of our Top Chef coverage.