What to Do if You Get Sick While Traveling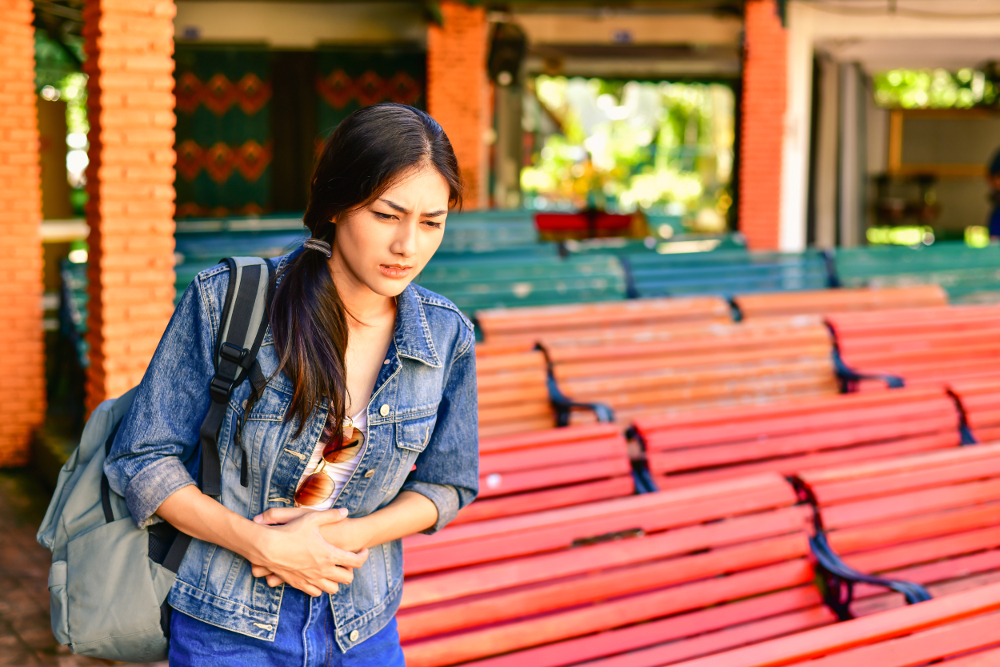 Plenty of issues demand your attention while running an out of town meeting or event, but your health and that of your attendees should be a top priority. Even if you feel well when you start a trip, it's a good idea to take certain precautions when you travel.  
Consider these preventive steps to avoid and manage medical issues on the road so you can stay on point and provide the positive experience your guests expect.  
Learn Before You Leave  
Many planners live by their checklists. Use this checklist to plan for your own health care on the road:  
1. Investigate your insurance 
Checking with your insurance company to learn what providers and/or locations will be in network can avoid hassles and wasted time.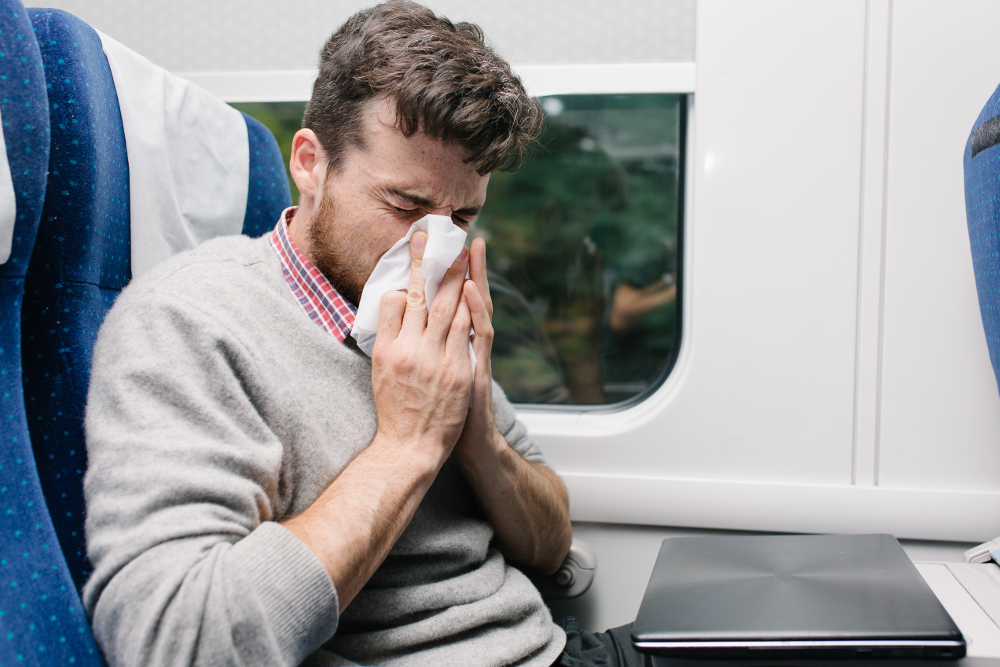 Be sure to check with you insurance company to find locations to access care while traveling.
2. Check into telemedicine
Telemedicine allows you to connect with a provider by phone or video to receive similar care as you would in an office visit. Usually delivered by smartphone app such as MDLive or LiveHealth and frequently covered by health insurance, telemedicine can be a major advantage for travelers with relatively minor ailments.  
3. Look up local clinics and pharmacies
Hotel concierges or convention center information desk workers often have lists of the nearest medical facilities. Your health insurance company may also be able to direct you to covered providers in the area you're visiting.  
4. Consider travel insurance for international trips
If you're traveling internationally, does your health insurance cover you while out of the country? Policies can have a large degree of variance. If you won't be covered abroad, consider purchasing travel insurance and evacuation insurance in case of emergency. 
5. Bring your medications
While some medical items can be purchased abroad, you can save time and worry by making a list of items you need for ongoing or emergency situations. Some of these might include prescriptions, insulin or allergy shots. If you have a medical condition that requires regular management, bring a few days' worth of extra supplies in case travel is delayed.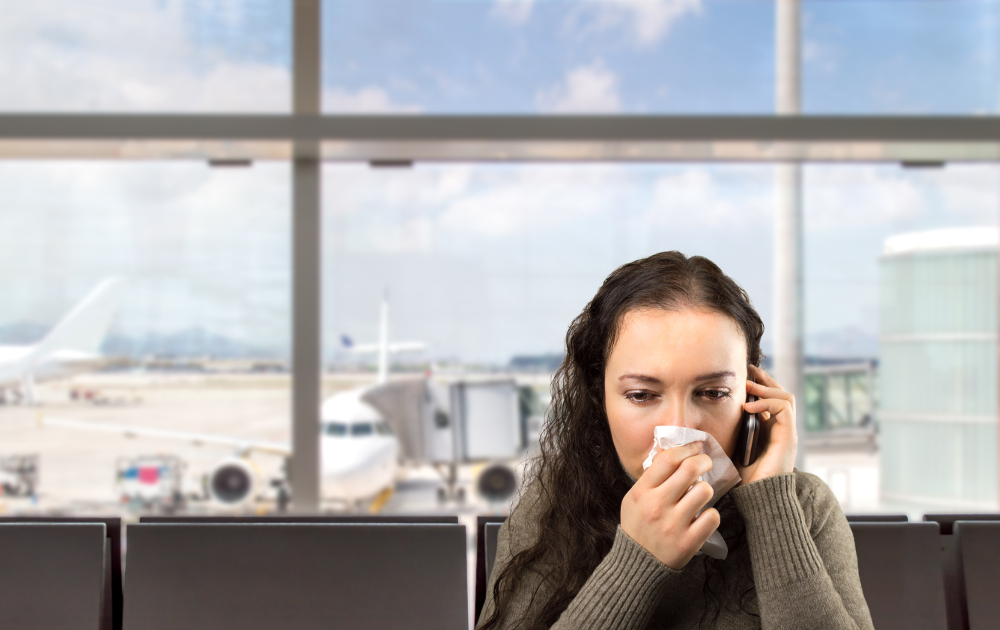 Making sure you bring enough medication can make being sick while traveling easier.
6. Prepare for common illnesses
Less serious illnesses like the flu, a stomach bug or the common cold may not require you to seek immediate medical attention, but they can hamper your ability to perform at a high level. Pack some over-the-counter medications to manage surprise symptoms like nausea, fever or headaches.  
7. Stay comfortable
Bring comfort items such as a travel pillow or comfortable clothes to wear after the workday is done. Creature comforts can make traveling with an illness more manageable.  
8. Be weather ready
If you're traveling to a location with a different climate than what you're used to, you may need to prepare for unexpected issues. For example, for sunnier climates, avoid sunburn by packing or purchasing sunblock and wearing protective clothes. Fight dehydration by drinking plenty of water and avoiding excessive sun exposure. 
[Related: 5 Quick Health Tips for Busy Travelers] 
Support Attendee Health and Wellness  
Making sure meeting attendees stay healthy should always be a significant consideration when planning an event. MaryAnn Bobrow, principal of Bobrow Associates, shared some crucial factors to consider when planning and negotiating with facilities.  
She offered three key focus areas for planners:  
1. Know the requirements 
Some facilities have specific first aid requirements in their rules and regulations, dependent on the size of your event. As an example: for every 100 attendees, they must provide two first aid attendants. If more than 500, one of those attendants must be a paramedic. Keep these rules in mind as you look for a location.  
2. Communicate clearly
Work with the facility to identify and communicate nearby care facilities and provide a list to your attendees through printed programs and/or a mobile app. Include details such as: 
Contact information for the nearest hospital and pharmacy. 
Action plans for emergencies requiring police, fire or other first responders.  
A map of the nearest exits in the venue/hotel.  
Maps indicating where participants should regroup after an emergency. 
Information from the Department of Human Services' (DHS) active shooter pocket card.  
3. Stay Flexible
Most important, Bobrow said, is flexibility, thoughtful preparation and paying attention to possible risks. 
"Planners should be aware of liability issues related to emergencies and ensure the event organizer has adequate insurance coverage," she said. "Anything can and will happen at an event–from a slip and fall to a serious injury or illness. Be prepared." 
It's a hassle to get sick or experience a medical emergency while traveling, but a small amount of preparation can make the experience more manageable. Planning for the most likely scenarios can help avoid interruptions so you can stay focused and rock your event at the top of your game. 
Read next: John Ayo's flu-season travel tips