8 Best Outdoor Event Venues on The Beaches of Fort Myers & Sanibel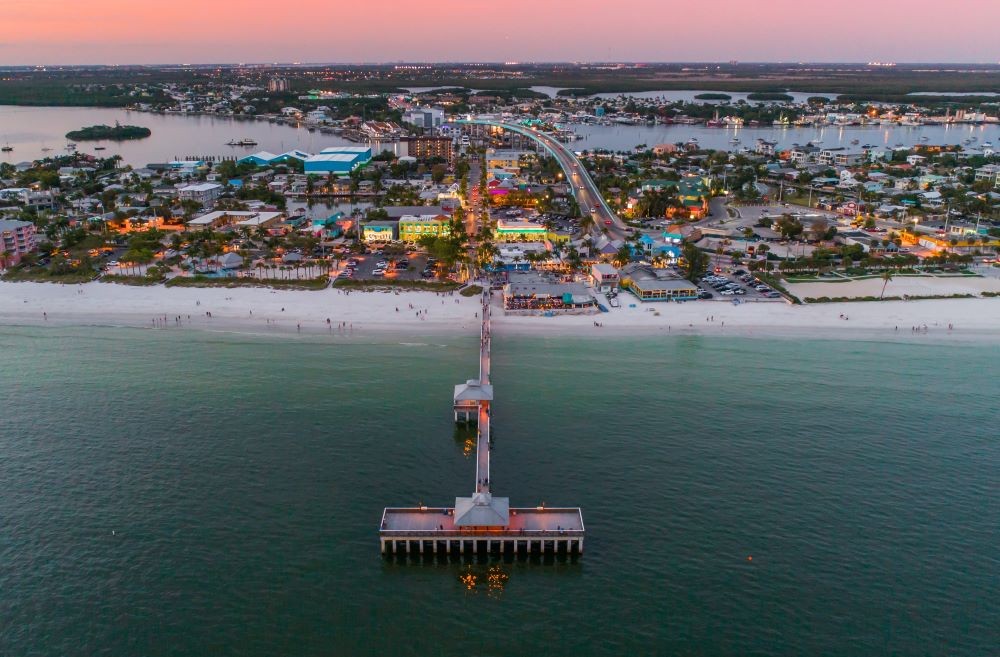 The Beaches of Fort Myers & Sanibel is a natural paradise in Southwest Florida on the Gulf of Mexico, home to unique marine life, over 100 islands and miles of white-sand beaches. The destination enjoys an average high temperature of 85 degrees and low of 65, which makes it a reliably warm and pleasant corner of the U.S.
Its innate beauty and delightful weather make it ideal for vacations, but this slice of paradise is no stranger to meetings. Thanks to a collective 250,000 square feet of meeting space and five conference hotels, it's an excellent destination for association meetings, corporate meetings and incentives of small-to-mid-sized groups.
For any group convening in this tropical destination, there are plenty of ways to take advantage of the outdoors—after all, it's what makes this destination so alluring.
From resorts with waterfront space and historic offsite venues to dining spots with al fresco seating options, these are some of the best outdoor spaces for groups on The Beaches of Fort Myers & Sanibel.
Resorts With Waterfront Space
Jill Vance, director of sales for The Beaches of Fort Myers & Sanibel, points out that groups don't have to leave the hotel to enjoy an impressive outdoor event overlooking the water. Some popular properties on the beach include:
However, there are resorts that have stunning waterfront views and the outdoor events spaces to match.
The Westin in Cape Coral at Tarpon Point Marina has impressive views of the Gulf of Mexico and the Caloosahatchee River. This AAA Four-Diamond resort takes full advantage of its attractive surroundings, with three outdoor pools, access to nature trails and many flexible outdoor event venue options.
The star of the property's outdoor space is the Gazebo Lawn, with prime water views and a capacity for up to 200 guests. The lawn can be easily customized to your occasion; business and social events are some typical uses of the space.
The resort's 12,260 square-foot conference center also features some fresh air, with outdoor pre-function spaces available for cocktail receptions or event registrations.
String lights and a built-in bar make the resort's third-floor Tarpon Terrace another impressive setting for events. The space can accommodate up to 200 people.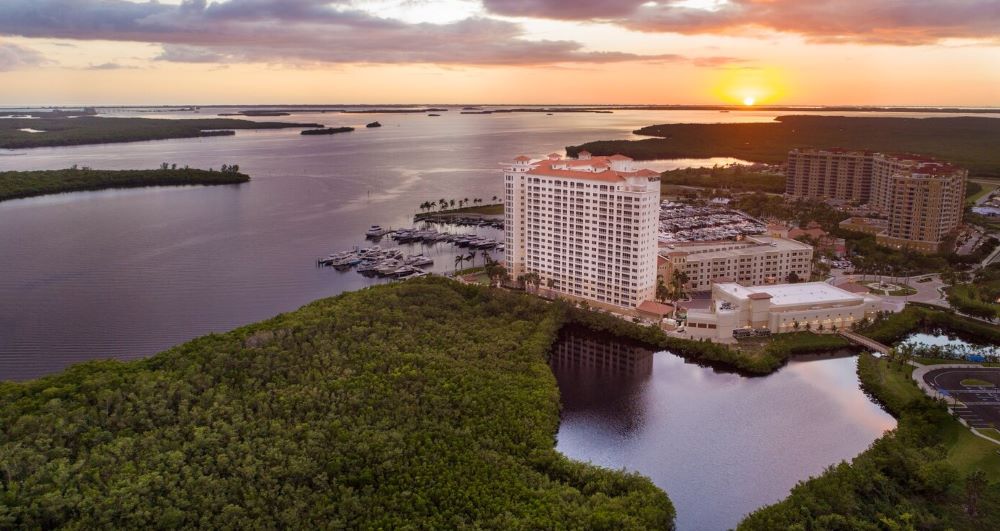 Photo: The Westin Cape Coral Resort at Marina Village
This resort in Bonita Springs has plenty of remarkable outdoor spaces for groups, ranging from outdoor courtyards to pool decks. But the real crowd pleaser? The property's private island.
Every hour, the Hyatt Regency's ferry transports guests across Estero Bay to Big Hickory Island, which is a 15-minute ride away. Intimate events can be held on the environmentally protected island's beach. Lucky visitors may also catch glimpses of dolphins, unique migratory birds and collect a wide variety of shells.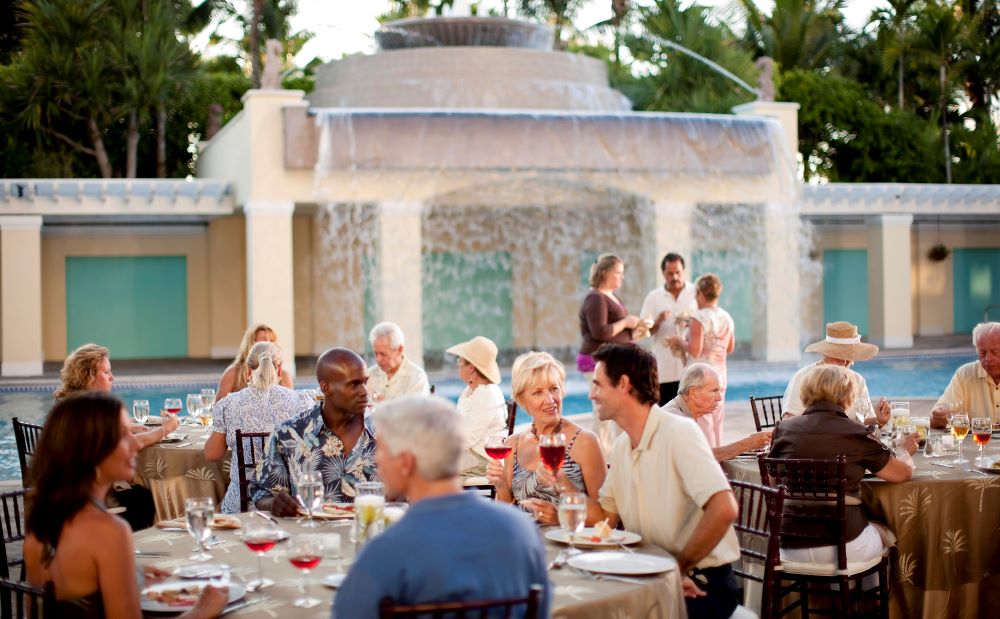 Photo: An outdoor meal at Hyatt Regency Coconut Point Resort & Spa
Located on Punta Rassa, an 85-acre peninsula on San Carlos Bay in Fort Myers, the Sanibel Harbour Marriott Resort & Spa is naturally positioned for beautiful events outside.
Two pool decks are available for rental. The Palms Pool Deck has unbeatable views of the water and sunsets and can accommodate large groups of up to 700. The Everglades Pool Deck, which can host up to 100, offers views of the Gulf's Back Bay.
For a special event, take attendees aboard the Sanibel Harbour Princess yacht for a dinner or sunset cruise. This 100-foot yacht can be reserved for private corporate events and can accommodate up to 103 guests, while offering sweeping views of Fort Myers.
Offsite Outdoor Venues
Just as the resort inventory is expansive on The Beaches of Fort Myers & Sanibel, so is the variety of unique offsite venues for outdoor events. Vance suggests the Edison and Ford Winter Estates and the Mound House, which both offer a glimpse into the destination's intriguing history.
"Thomas Edison and Henry Ford both made their winter vacation homes in Fort Myers, building their homes to escape the cold northern winters," Vance explained. "The properties are filled with botanical gardens, a laboratory and a museum filled with artifacts, inventions and special exhibits."
Attendees will find these historic homes inspiring because of their former owners' accomplishments, and because of their surroundings. Groups can participate in tours of the grounds, and planners can organize receptions and gatherings at outdoor spaces like:
The River Pavilion, which is in the property's Edison Coconut Grove, surrounded by coconut palm trees and boasting sunset views.
Ford's Riverside Lawn, which overlooks the Caloosahatchee River.
Meetings can be taken indoors, too, within the Edison Ford Museum and Edison Caretaker's House.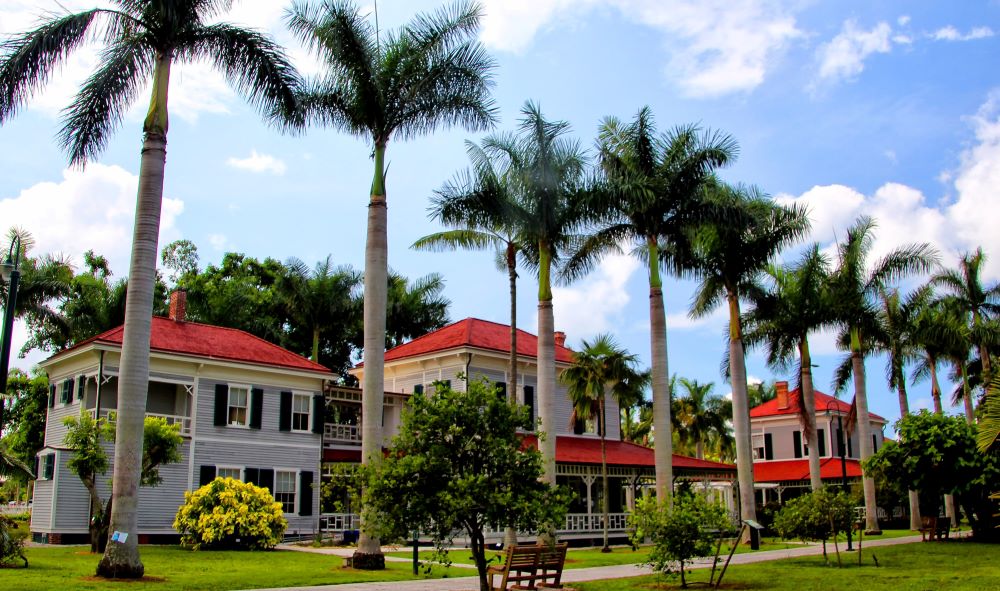 Photo: Exterior of The Edison and Ford Winter Estates, Fort Myers
The Mound House is built on a 2,000-year-old Calusa Indian shell mound on Fort Myers Beach. The Calusa, known as "The Shell Indians," utilized the massive inventory of shells in Southwest Florida to forge tools and weapons, and also to create "mounds" that they lived on for thousands of years.
One of these mounds is what the Mound House is built on today. Its visitors to the Mound House can learn about the native Calusa settlers and how they shaped Southwest Florida.
Both the museum and its patio can be reserved for meetings and events.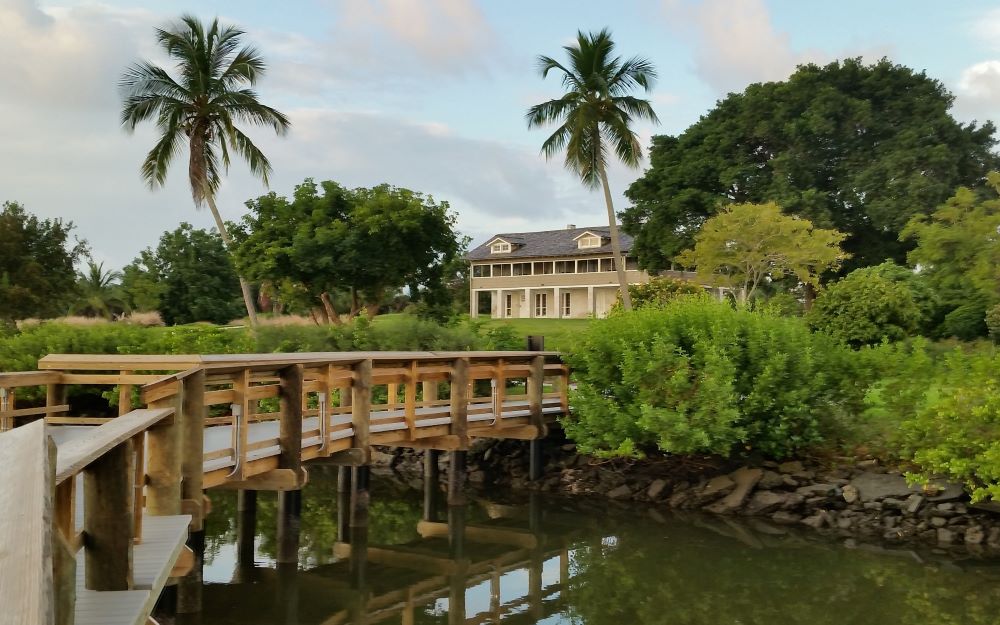 Photo: The Mound House, Fort Myers Beach
Private Dining Al Fresco
Dinner with a view is not hard to find in The Beaches of Fort Myers & Sanibel's naturally beautiful communities. Fort Myers Beach has the largest commercial shrimping fleet in the Gulf of Mexico and produces Florida pink shrimp—also known as "pink gold"—at many local restaurants.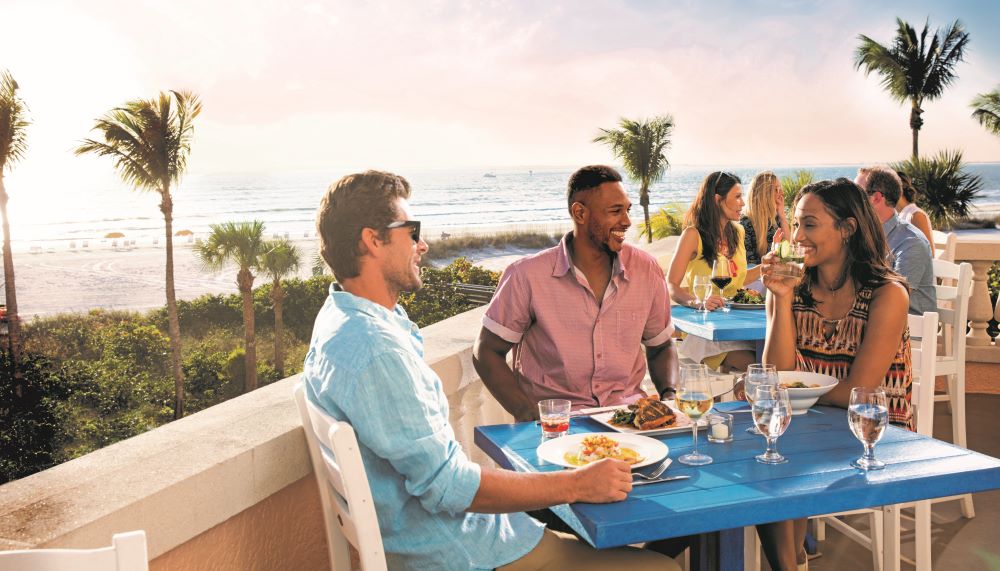 Photo: Waterfront dining, Fort Myers Beach
This, fresh fish and more can be found all over, especially in restaurants along the waterfront. For group dining, here are a few recommended options:
Popular downtown Fort Myers is buzzing with eateries and waterfront cafes. Pinchers is one that is ideal for hungry groups hunting for seafood and sunsets in the area.
"The views of the sunset from its dining deck and bar are breathtaking," Vance said.
The restaurant has a large dining room and seating on its deck, and it also has a large space downstairs that can be used for private dining. The downstairs space still has a sunset view though, giving your attendees dinner with a show on the water.
Doc Ford's on Fort Myers Beach is perfect for large groups, thanks to its expansive indoor and outdoor spaces. The front patio is ideal for group parties, and a private room is also available inside. The venue can host parties for as large as 230 guests. You can work with Doc Ford's catering services to create a custom menu for private parties
Even from some of the indoor space, wall-to-wall sliding glass doors give way to the beautiful waterfront views.
The restaurant specializes in dishes that have a Caribbean island flare, and often pairs plates with entertainment—live music and even surprise appearances from Randy Wayne White, the author of novels featuring Doc Ford, are common.
New Resorts and Renovations on The Beaches of Fort Myers & Sanibel (2020)
The Luminary Hotel & Co., a Marriott Autograph Collection hotel, is set to open in August 2020 in downtown Fort Myers. The 243-room hotel will sit along the waterfront and house 8,000 square feet of meeting space. It will be connected to the Caloosa Sound Convention Center & Amphitheater, which is also under renovation. The hotel will have a signature restaurant, a rooftop lounge, culinary theater, indoor and outdoor fitness facility, and a pool. A local diner and retail spaces will also be located on the first level.
A multimillion-dollar renovation of Crowne Plaza Hotel at Bell Tower Shops in Fort Myers wrapped at the end of 2019. The transformative effort included both soft and hard goods updates of its 225 guest rooms and corridors.
The Westin Cape Coral Resort at Marina Village is planning a renovation of its guest rooms and Marker 92 Waterfront Bar & Grill in the summer of 2020.
Connect with The Beaches of Fort Myers & Sanibel's Conference Services team to help plan your next meeting in Southwest Florida.

This article is brought to you in partnership with The Beaches of Fort Myers & Sanibel.
Enjoy this article? You might also like: