On the Scene in Laughlin, Nevada—A Meetings Magnet Near Las Vegas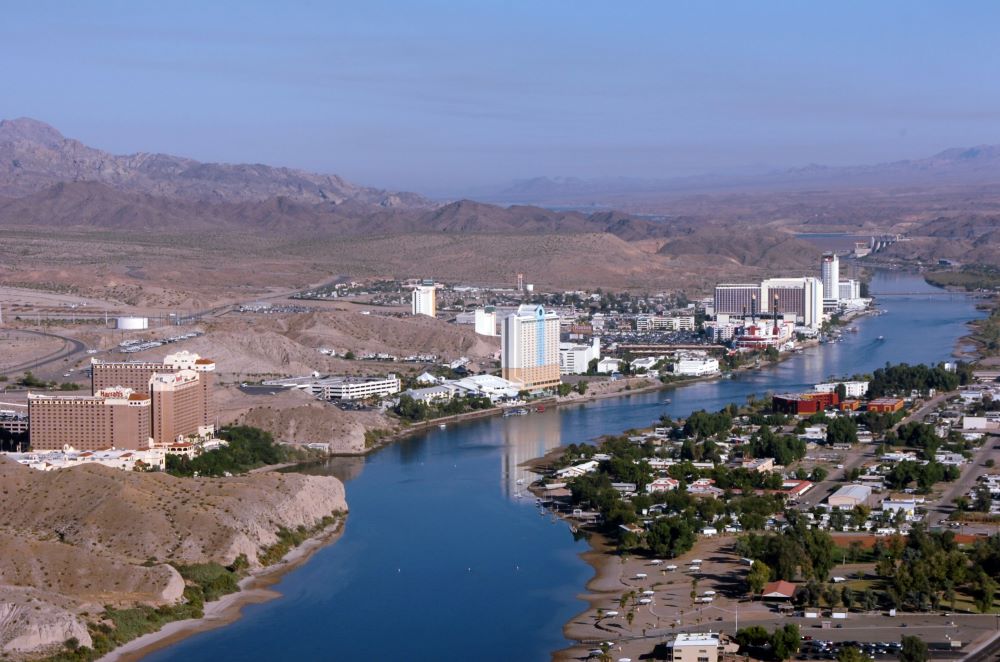 Along with Boulder City, Mesquite and Primm, Laughlin is one of four "extended" LVCVA destinations. 
Like the Vegas mother ship, this satellite, 90 miles to the south, has visionary origins.
Minnesota-born Don Laughlin scored big with slot machines while in high school. In 1954, he moved to Las Vegas and founded the 101 Club. Ten years later, while scouting the Mojave Desert in his plane, he spotted the Tri-State area of the Colorado River Valley.
Only a shuttered motel stood in the then-barren spot where Nevada meets neighboring Arizona and nearby California—which he relaunched in 1966 as his eponymous Riverside Resort. At a postal inspector's request, Laughlin bestowed his name on the locale for mail delivery.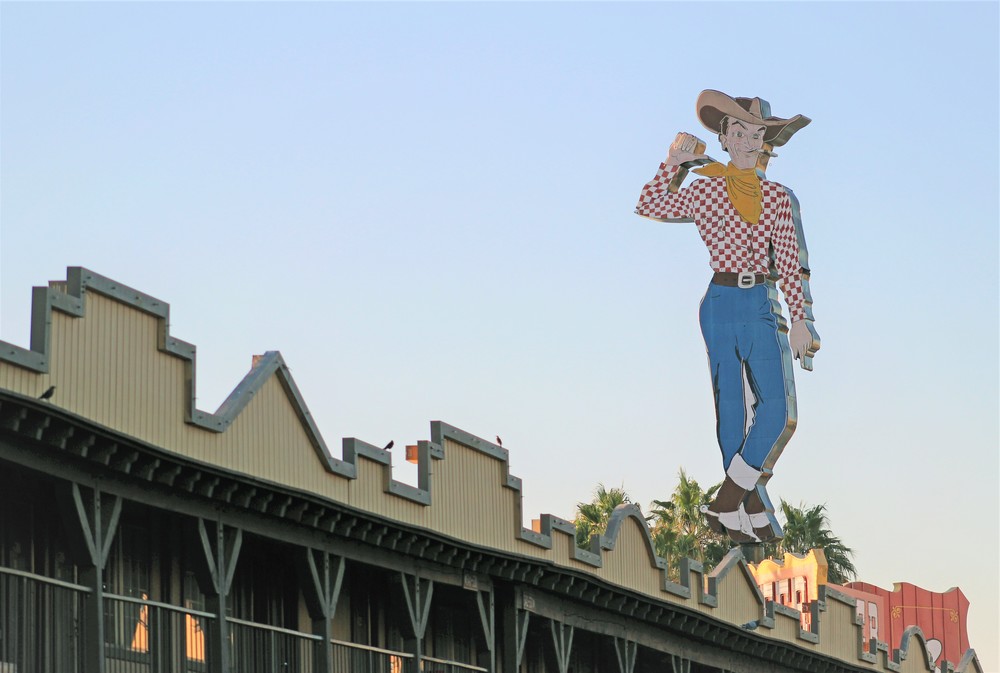 Photo: River Rick. Credit: Jeff Heilman
Readying for a $22 million, 12-month renovation of all 1,352 rooms and suites this April, the amenity-rich Riverside offers stellar event spaces.
[Related: The Mega Projects Expanding Las Vegas in 2020]
The Starview and Bridgeview Rooms offer cinematic river and mountain views, along with fine-dining time capsule The Gourmet Room and the outdoor pool. Entertainment venues include Don's Celebrity Theater, where I saw the legendary Tony Orlando perform. His salute to the service veterans in the audience, from World War II to present-day conflicts, underscored patriotic Laughlin's preeminent appeal for military groups.    
Eight other casino-resorts line Casino Drive. Seven of these, including Riverside Resort, access the Laughlin Riverwalk. Groups have nearly 10,000 hotel rooms and some 185,000 square feet of versatile space destination wide.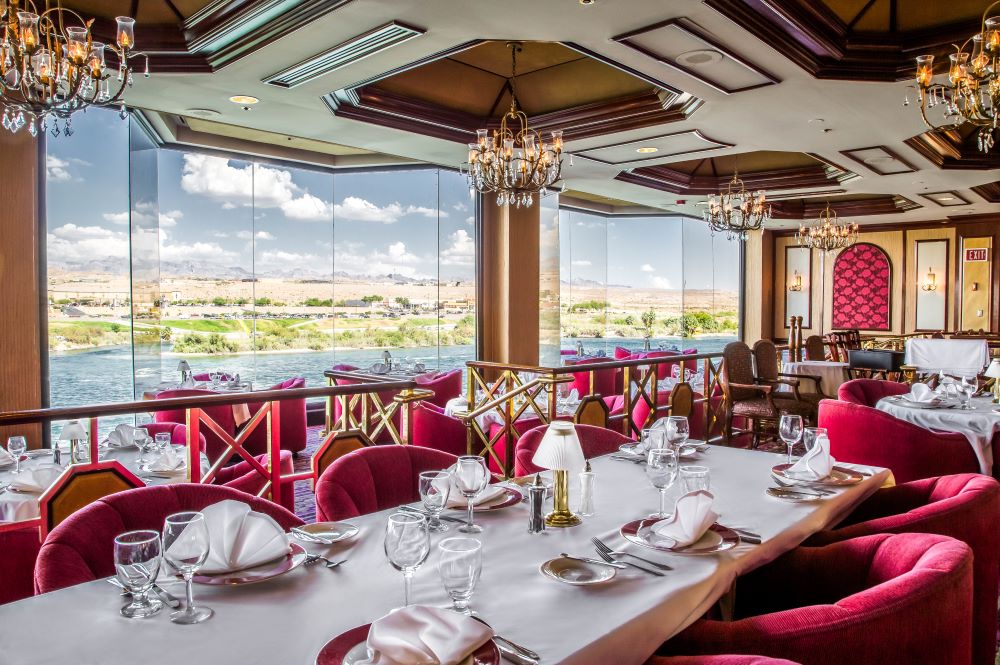 Photo: Riverside Resort Gourmet Room. Credit: Riverside Resort
Familiar brands include Harrah's Laughlin. With nearly 1,500 rooms, resort venues include the Fiesta Showroom and Rio Vista Outdoor Amphitheater. Plus, Guy Fieri's El Burro Borracho, with adjoining event space, and private guest beach.
Distinctive spaces at the 1,483-room Tropicana Laughlin include the Coronado Room, designed after San Diego's Hotel del Coronado, and 400-capacity Victory Plaza for outdoor events.
Golden Nugget Laughlin and New Pioneer both have 300 rooms and function space. The latter features "River Rick," the local version of Fremont Street's iconic Vegas Vic neon cowboy.
Based in Las Vegas, where it owns the rebranded STRAT, Golden Entertainment operates the group-capable Aquarius, Edgewater and Colorado Belle casino-resorts. Plus, Edgewater's 27,000-square-foot E Center is Laughlin's largest stand-alone indoor venue. Nearby, the Laughlin Event Center flexibly accommodates 9,000 to 21,000 people for year-round trade shows and big-name concerts.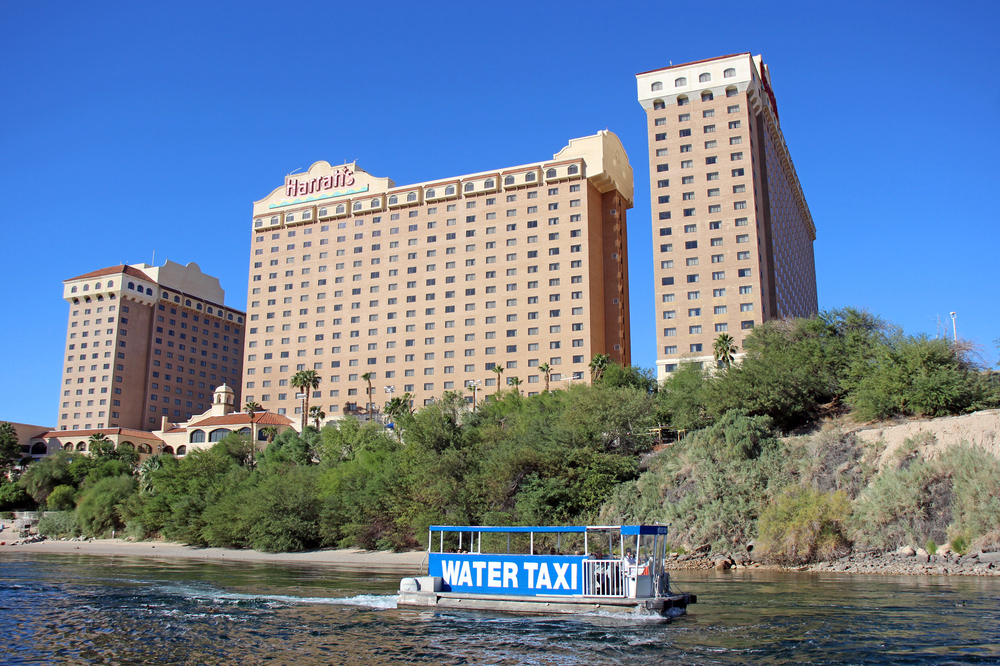 Photo: Harrah's Laughlin. Credit: Jeff Heilman
Outdoor adventures abound. Colorado River excursions include round-trips via jet boat to London Bridge in Lake Havasu, Arizona, private events and dinner cruises with Laughlin River Tours, and guided trips aboard the Riverside Resort's U.S.S. Riverside. Hiking rewards include the ancient petroglyphs of Grapevine Canyon and artist-created Laughlin Labyrinth.
Meg McDaniel, senior manager of extended destinations for the LVCVA, has watched Laughlin evolve since 1993.
"Experienced with catering to small group needs, our destination is especially attractive to SMERF groups," she said. "Laughlin's affordable hotels offer diverse amenities, 24-hour convenience and value-driven benefits including free parking and one low room tax."
I joined McDaniel at the Laughlin Chamber of Commerce's 22nd Annual Community Achievement Awards. Staged at the nearly 20,000-square-foot Aquarius Pavilion Ballroom, the black-tie gala memorably showcased the essence of this proud, tightly knit community.
"As our hotels have enhanced their facilities to meet changing customer needs," said McDaniel in parting, "Laughlin's small-town friendliness remains the constant that ultimately brings groups back year after year."
Read next: 10 Reasons Why Las Vegas Was Made for Your Meeting