Posadas Corporate Chef Gerardo Rivera Reveals Top F&B Trends for 2020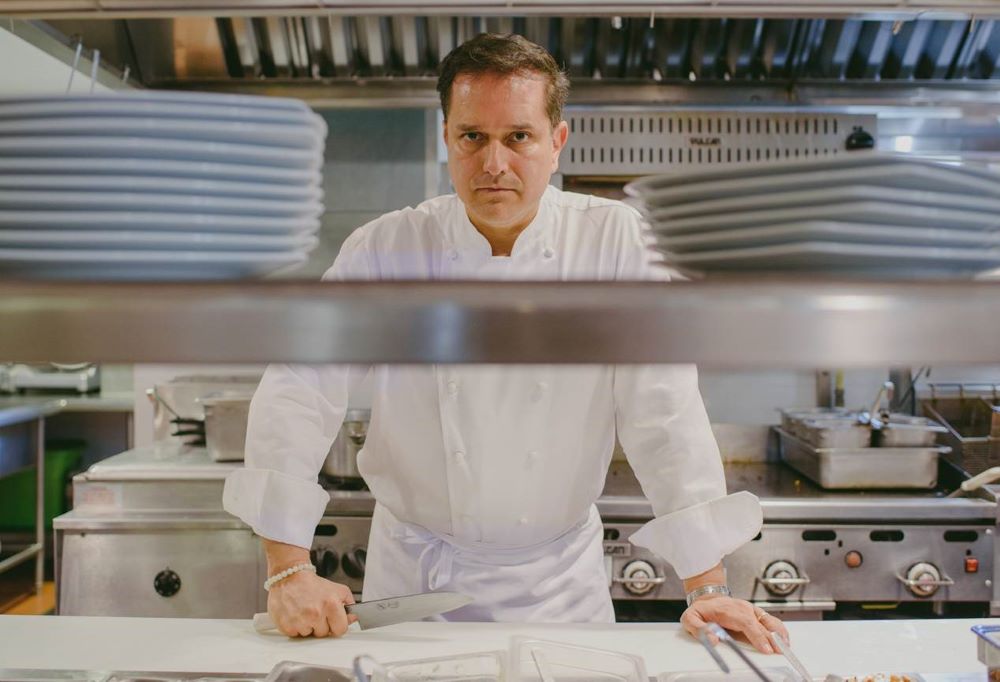 Vested with the responsibility of overseeing the food and beverage efforts of Live Aqua, Grand Fiesta Americana and Fiesta Americana, the premier brands of the more than 180-property Mexico hotel chain Posadas, Gerardo Rivera stakes his living on pinpointing and delivering the latest group cuisine trends.
Before joining Posadas in 2000, 30-year F&B veteran Rivera, who carries the title of corporate chef for Posadas, logged 18 years as executive chef for Leading Hotels of the World, eight years at several independent restaurants and two years as an industrial chef at global food giant Nestle.
Rivera prides Posadas' food and beverage operation on delivering unique experiences that are sure to be lodged in the memories of participants for years, including this one offered at Grand Fiesta Americana Los Cabos All-Inclusive Golf & Spa.
"My favorite one is the Barefoot Wine Experience, which allows guests to be 100% in contact with nature," he said. "This unique experience is a multifaceted way to learn, relax and get to know viniculture. The experience starts with a symbolic grape trampling followed by a foot massage by the resort's SOMMA Wine Spa staff, all in front of the beach, adding to the relaxing sensory pleasure. After the massage, our sommelier leads you through a wine tasting experience, explaining the origins of the wines selected for sampling. All this culminates in a wonderful dinner under the stars in the open air, caressed by sea breezes."
Rivera gathers food-trend information by traveling the world to sample the latest and greatest creations of other top chefs.
"This is field work for me. It feeds me with ideas to take home," he said. "It also gives me a good grasp on the trends in the culinary industry and dining experiences. Food trends are not a foolproof science, of course, but they can be fads that are here today and gone by tomorrow."
Meetings Today asked him to share the top trends he envisions will shape F&B in 2020 and beyond. Rivera cited AZTI-Tecnalia, a Spanish research firm, as identifying six key F&B trends, and provided his input on its findings:
1. Food Telling
The first of these trends is food telling, or food with a message. It's all about providing the consumer with attractive, accessible and transparent information on what goes into the dishes at a restaurant, giving each item more authenticity and identity.
It makes sense to do this. Everybody likes a good story, and, increasingly, people want to know more about what they are eating or drinking and the stories behind what's on their plate. Caught fresh—but from where, how and in what quantities? People want to know about the source and its impact on the environment and global food security.
Telling these stories is a way to connect with the consumer. I like the way Sara Brito, co-founder and president of Good Food Media Network, a nonprofit organization that promotes sustainability in restaurants, has put it: "Food is better when it's fulfilling, not just filling," she said. "We know that to be truly good, food has to be good for every link of the food chain."
2. Super Sense
Another trend is to provide a multisensory dining experience. It's no longer just about satisfying hunger; it's about making meals a full and intense experience that people can savor as original and take pleasure in because it awakens all five senses.
How? That's the challenge for restaurateurs—to control all of the elements in the atmosphere at their establishments, not just the food and drink. Taste is the first step—and what us as chefs specialize in. It's what attracts people in the first place.
But as important is the decor, lighting, the smell wafting from the kitchen, the presentation of a meal on the plate, the air temperature, the music at the venue. All of this is what makes people comfortable—or not.
Do it right and you will heighten their experience and the enjoyment of their meal. This is what more people are looking for—and more chefs are trying to offer. Some are even putting together their own music playlists that enhance the experience at their restaurants.
3. Slowcal
The third trend is slow and local, or "slowcal," an offshoot, in a way, of the slow food movement that started in the late 1980s in Italy and has spread worldwide.
Slow food is about slowing things down so the dining experience can be fully enjoyed, not rushed. It's also about promoting local food and traditional cooking as a reaction to the expansion of fast food chains and their uniform meals.
Slowcal takes it further to make sure what you eat—and how you eat it—is healthy for the environment. This taps into a growing awareness and responsibility in people about the impact of food consumption on society, the economy and the environment. Increasingly, there is a preference for local ingredients such as pollens in craft beer, and for foods to be sustainable and less damaging on the environment, or not harmful at all.
More chefs are coming to understand this by using ingredients from the nearest farmers' market and traditional recipes to promote local growth and reduce their carbon footprints. Eat local, enjoy your meal—that is the emerging motto.
4. Here & Now
With the spread of mobile technology, younger generations fit eating into their on-the-go lifestyles of fast connection internet speeds and multitasking.
Everything is literally at our fingertips on our smartphones, especially in cities. We are living in a "now" that merges both the online and the offline worlds. This, of course, creates more pressure on our time as we seem to be increasingly rushed off our feet.
Here & Now is a response to this as it aims to make life easier for the urban nomads at the forefront of the mobile technology boom. They want to optimize their time, stay healthy and be gratified instantaneously at any moment and any place.
This has been a driver behind the food truck craze. They are easy to access on the street or at concerts, fairs and malls, making them convenient for urban nomads to pop by. In the U.S., food trucks have become a $906 million business serving everything from Greek food to wild boar burgers, and it is expected to reach $1.1 billion in 2022, according to IBISWorld, a market research firm.
The demand for here-and-now food has also led to the creation of vending machines that toss up fresh salads and healthy snacks that appeal to the demand to keep fit while on the run.
5. Eater-tainment
The fifth trend is eater-tainment, or food experience. It's about creating memorable experiences around food. More restaurants are offering adventure, fun, surprise and entertainment to connect with their customers' emotional needs.
What sort of entertainment? There's no end to what can be done, really: A bowling alley that serves great food, movie theater that doubles as a restaurant, mini-golf, stand-up comedy, theater. It's about incorporating a differentiator that not only attracts people but makes the experience all that more memorable; a sort of festival-like experience that people can enjoy for longer than just a meal, that can really spoil them.
[Related: Impressive Desserts Holiday Parties Events]
Bringing in a foreign chef who can create a unique experience, such as Asian street food for diners to relish while playing cards, darts or foosball with friends and family. This is more than the arcade and gaming concepts of the 1970s with Chuck E. Cheese and Dave & Buster's. It's something new, something to try, something to enjoy. A more elevated experience that makes people more willing to go out.
6. More than Novel
In many ways, these trends reflect changes in society. There's a growing awareness for food that's healthy for you—and the environment—that is sourced, processed and packaged responsibly. More local, less global uniformity.
This is what I see when I'm out doing field work. It's not just the Thai basil ice cream with chocolate and cashews that must be unforgettable at a cafe, tavern or bowling alley. It's the whole experience. It is the story that you tell about the food you serve—and the story that your customers take away from the experience at your establishment.
Check out Chef Gerardo Rivera's 3 Sweet Mexican Dessert/Beverage Recipes.
Discover more Top Chefs featured by Meetings Today!