How Chicago's McCormick Place Diverts Almost 100% of its Food Waste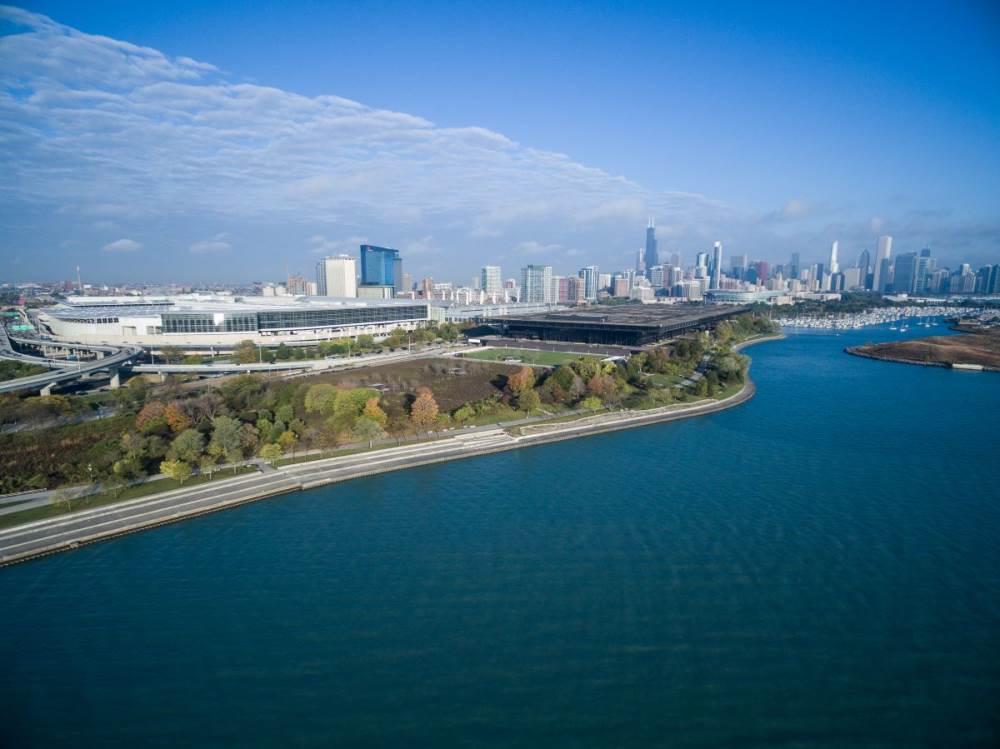 On average, about 3 million visitors walk through the McCormick Place doors in Chicago, one of the country's most popular meetings destinations. The facility is the largest convention center in North America, with 2.6 million square feet of space, hosting some of the biggest conventions in the world.
Massive space and millions of attendees mean many mouths to feed—but as is common with many large-scale meetings, a lot of uneaten food and scraps run the risk of getting tossed in the trash.
Food waste is a big problem at conventions, and while many convention centers have partnerships with food banks for donations—as McCormick Place does—much of the food often doesn't meet the standards for donation. And despite improved recycling and compost programs, it's still hard to avoid throwing actual tons of food away.
So then how does North America's largest convention center now astonishingly divert almost 100% of its consumer food waste? With the May 2019 installation of the Grind2Energy food waste recycling system from Emerson.
Grind2Energy: How it Works
Grind2Energy is a food-waste recycling system from Emerson that helps commercial facilities like convention centers convert food waste into renewable energy through anaerobic digestion.
Prior to the installation of Grind2Energy at McCormick Place in May 2019, the convention center was already paving the way for food waste reduction at meetings, achieving 59% diversion through composting, recycling and food donations. In 2018, that meant about 40 tons of food diverted.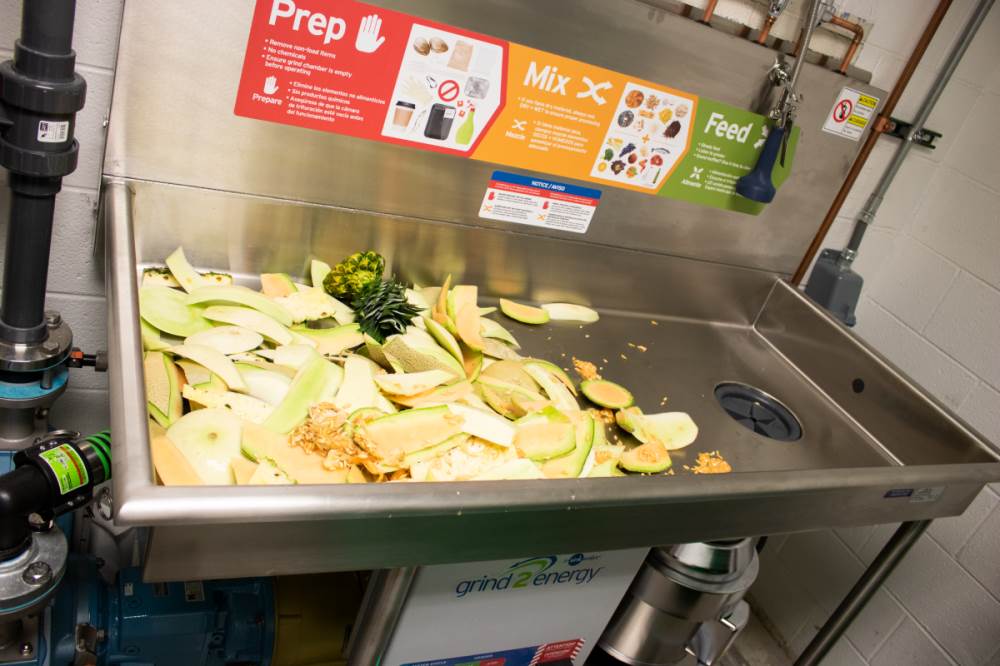 Photo:The Grind2Energy system at McCormick Place helps the facility divert almost 100% of its consumer food waste. Credit: MPEA
"We believe the opportunity to use Grind2Energy technology provides a better and more sustainable process than composting," said Dough Bradley, vice president of culinary at SAVOR, the food and beverage partner at McCormick Place. "Its installation helps commercial facilities on campus divert nearly 100% of the consumer food waste."
The Grind2Energy system can be found in arenas, stadiums, universities, casinos, resorts and hotel, and convention centers. Cleveland's Huntington Convention Center, for example, is another Midwestern destination that uses the Grind2Energy system and was the first convention center in the country to do so in 2018.
Grind2Energy uses a customized, industrial-strength foodservice grinder to convert food waste into an energy-rich slurry that is then transported to an anaerobic digestion facility where methane is extracted for energy production. The remaining biosolids become nutrient-rich fertilizer.
[Related: These 4 Chicago Suburbs Offer Convenience and Personalization for Meetings]
Bradley believes that this extra investment in sustainability will pay off by continuing to bring business to McCormick Place, in addition to also bettering the environment.
"Many of the shows at McCormick have a focus on sustainability," Bradley said. "From the perspective of SAVOR, as well as the Metropolitan Pier and Exposition Authority (MPEA), we have a deep commitment to support McCormick Place in having the smallest impact on the environment that we can. We believe that the degree to which we support sustainability has a definite impact on groups' decisions to come to Chicago and McCormick Place."
America's Food Waste Issue
The U.N. estimates that about 1.3 billion tons of food is wasted every year, and the U.S. is a big part of the problem. The EPA estimates that the U.S. tosses 30-40% of all available food each year, with over 75 billion pounds going to landfills.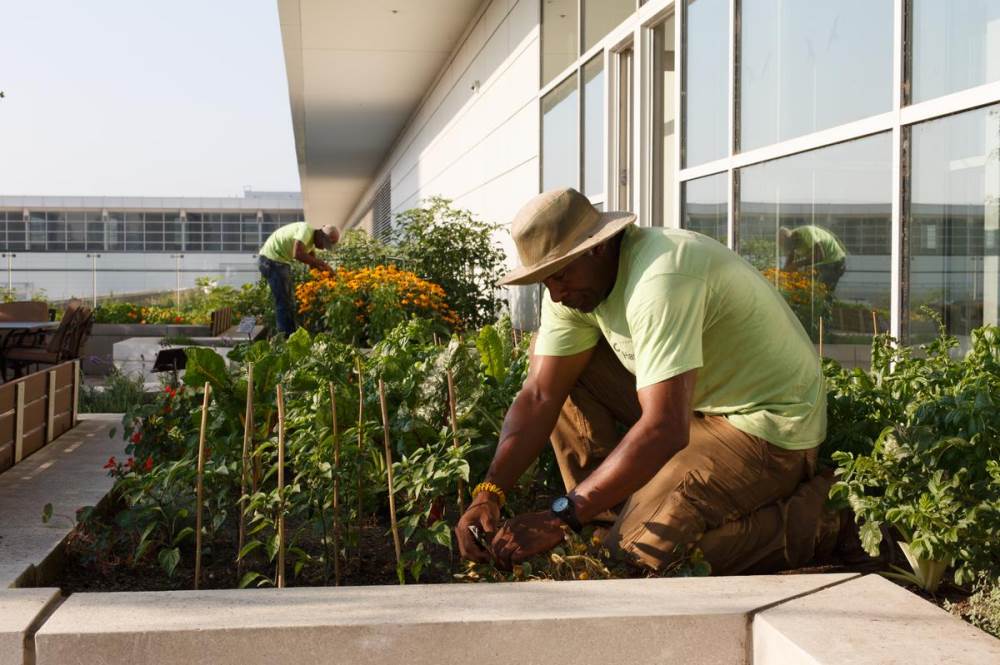 Photo: McCormick Place is a leader in sustainability initiatives. A main feature is its 2.5-acre rooftop garden, which provides ingredients for onsite restaurants. Credit: MPEA. 
Not only does food contribute to the landfill build-up, but it also produces methane gas when it rots, which is a greenhouse gas that can contribute to global warming.
Large-scale meetings and conventions can see meetings as large as the thousands, so convention centers that take strides to combat the food waste problem can have a big impact. And as a bonus, the food waste is used to create clean, renewable energy, which in turn can make convention centers cleaner, more efficient facilities.
Now that the largest convention center in one of America's most popular meetings destinations is throwing significant effort behind combating food waste, it may prompt others to do the same.
Other Sustainability Initiatives
McCormick Place has long been a leader in sustainability. The Chicago convention center has a LEED certification and was the first in the world to receive the Green Seal certification for environmentally responsible food purchasing, operations and management. Additional green initiatives Bradley detailed include:
Rooftop garden: The roof of McCormick Place is home to the Midwest's largest farm-to-fork garden in the Midwest, spanning 2.5 acres. The garden produces about 8,000 pounds of produce each year. The produce is used in dishes and hops are grown that get brewed into beer served on campus, too.

Food donations: McCormick Place donates to local organizations like Chicago Food Depository and Pacific Garden Mission. In 2018, the facility donated over 1,500 pounds of food.

Sourcing locally: A lot of the food that McCormick Place uses that isn't from its roof comes from local suppliers—one third of the food purchased on campus is local, organic or environmentally preferred.

LED lighting: To make McCormick Place a more energy efficient center, it announced in September 2019 a $36-million investment over the next three years to retrofit lights in the building and parking lot to energy-efficient LEDs.
Connect:
McCormick Place
312.791.7000 | www.mccormickplace.com
Choose Chicago
312.567.8500 | www.choosechicago.com
Latest Openings and Renovations News in Chicago (2020)
The 21c Museum Hotel Chicago opened in February in Chicago's River North neighborhood. The 297-room boutique hotel features a multivenue contemporary art museum; an independently branded, chef-driven restaurant; and 10,000 square feet of meeting space. The meeting and event space, which can host up to 300 people and is used for board retreats, receptions and cocktail parties, will be curated with contemporary art and open to the public as museum space when not reserved. 21c is located blocks from renowned arts institutions such as the Museum of Contemporary Art, Design Museum of Chicago and the Art Institute of Chicago.
Scheduled to open in 2021, the 58-story Equinox will have 165 rooms and 370 residential units in the West Loop. It will include an onsite fitness club and parking for 150 vehicles accessible via Court Place.
The Curio Collection by Hilton will debut the 220-room hotel at Chicago's famous Navy Pier this spring. The hotel will feature a state-of-the-art fitness center and a 30,000-square-foot rooftop restaurant, bar and event space, in addition to floor-to-ceiling windows offering views of Lake Michigan and Navy Pier.
Also scheduled to open spring 2020, Nobu Hotel Chicago will offer 115 stylish guest rooms and suites. The hotel will feature a 10,000-square-foot world renowned Nobu Restaurant on the ground level and "Nobu on the Roof" with elegant indoor and outdoor bar space looking out onto Randolph Street.
The Vista Tower has recently taken the spot as the third-tallest building in Chicago. When completed and open in October 2020, this Jeanne Gang-designed building will house the Wanda Vista Hotel, a 192-room contemporary hotel located in the low-rise portion of the tower.
[Related: Off-Site Experiences Give Groups an Authentic Taste of Chicago]
Catalog is the new retail, food and entertainment annex wrapping the base of the Willis Tower. The 300,000-square-foot, five-story space will take over what was once a blank stone wall. The largest tenant will be Convene, a meetings and events space for those who wish to rent flexible meeting rooms. The space is expected to open spring 2020.
The Collection at McCormick Square announced two new meeting venues: The Tap and the recently restored American Book Company (ABC) Building. These venues will serve as multipurpose social and professional gathering spaces for events.  
Jose Andres' ThinkFoodGroup and Chicago's Gibsons Restaurant Group have signed a 17,200-square-foot lease at 110 North Wacker Drive where they will be opening a dining destination with multiple concepts, including a fine dining restaurant and an elevated cocktail bar experience, as well as providing catering for the building's 10,000-square-foot event space. The space is scheduled to open in October 2020.
ThinkFoodGroup also announced that its Jaleo tapas restaurant brand will open in the River North neighborhood of Chicago in mid-2020.
RPM On the Water is now open on the Chicago riverfront in River North. It's an ideal location for private events and weddings, with flexible event space of 6,000 square feet that can host 250 guests for a seated function and 425 for a reception.
Another RPM concept, RPM Seafood, just opened above RPM On the Water. It's the final phase of a giant four-floor restaurant multiplex along the river in downtown Chicago. The two-story second floor is designed for private and semi-private events with three board rooms equipped with flat screen TVs for presentations and business. The board rooms can hold 12 to 20 guests each.
Read next: Chicago's Historic Hotels Transport Meetings to an Era of Opulence