Key Considerations for Planning a Virtual Association Meeting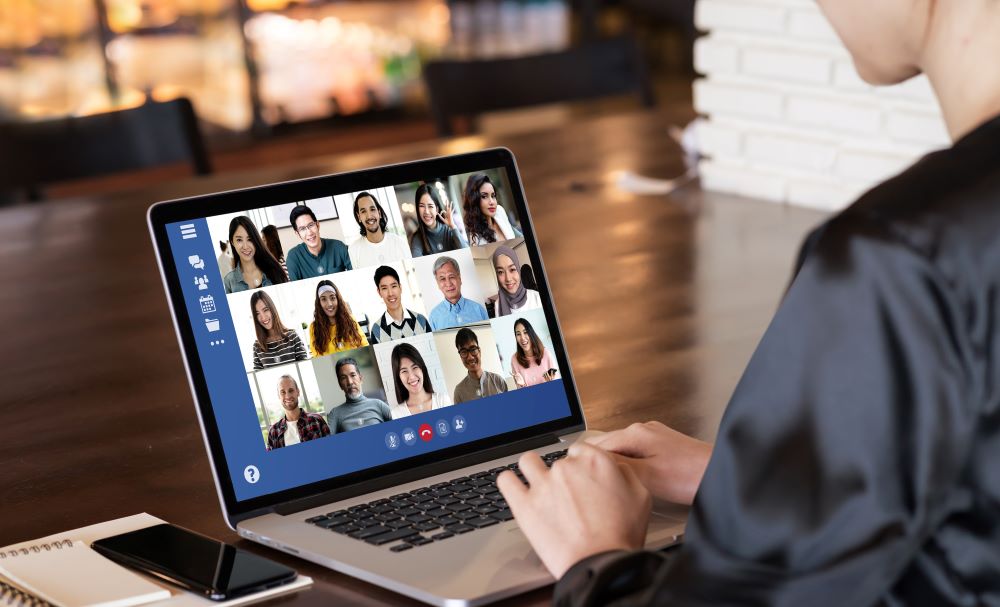 The coronavirus pandemic, and with it the cessation of face-to-face events, has caused many meetings and events planners to consider holding virtual events.
While I, for one, believe virtual events can never fully replicate the personal interaction offered by a face-to-face meeting or event, planners who go the virtual route can gain a great deal of insight—and avoid costly missteps—by heeding the advice of association management writer Paul Bergeron (pictured).
The article below was originally posted on ASAE's Collaborate and reposted here with permission and tremendous thanks to Paul, who has more than 20 years of experience as a director in association communications and publishing, and currently covers multiple industries in his LinkedIn Thought Leadership Today channel. He can be reached at pbergeron333@gmail.com.
I am grateful to Paul because I see so many groups pivoting immediately to all-virtual meetings without thought to what this means in the long term, and my concern is great.
I question what will happen if participants, especially those who would usually attend association meetings "in person" (vs. electronically "in person"), figure out that they have comfort at a distance, there is less cost and no travel, and they can, if needed, still earn CEUs. What then for all those contracts booked for years ahead?
When the MPI Foundation did studies years ago about why people attend meetings, it was learned that much of why people attend is that personal interaction. And I, too, am among those who believe that once we can travel we will be very hungry to be with others. I know, too, that for at least some time, some companies' and individuals' travel budgets will be cut and meetings may be considered a luxury travel expense.
There's much we do not know about the impact of COVID-19 on leisure, business and meetings travel. We need to consider what we are doing and what the short- and long-term impacts will be.
Here is Paul's piece:
Here's a checklist of a questions and critical things meeting planners and their CEOs might not have considered when looking to plan their first virtual meetings, based on comments from a veteran association meeting planner. Caution: There's not a lot of uplifting points made on this list. Rather, it's a sober dose of reality.
Zoom Fatigue
Right now, it's all-aboard for most associations when it comes to holding a virtual meeting now, but what tolerance will your members have for laptop-based communications such as Zoom a month from now, much less in the fall or by year's end?
When does Zoom fatigue set in? It's only mid-April and already some are saying, "I'm webinar-ed out."
Be careful. There is plenty written and shared by association consultants about how to do the perfect virtual meeting. But there is NOT a one-size-fits-all solution. It comes down to what works for your members, your industry and syncing with the country's shifting social lifestyle.
The silver lining taken from COVID-19 is that meeting planners are forced to think differently about their events. Meeting planners who have been doing the same ol', same ol' for 20-plus years are in trouble. They don't know how to plan an annual meeting any other way.
Take a Deep Breath
Don't stress too much if you struggle: Everyone's trying to figure this out right now.
Before spending day after day watching demos from virtual meeting service providers, determine what your goal is: Provide a member benefit? Offer valuable content? Include a tradeshow? Make money? Replace your annual meeting?
Phrases you'll hear often: "Go/No Go" and "Pivot."
If planning the association's biggest event of the year isn't challenging enough, some meeting planners are being asked to construct virtual meetings and in-person meetings simultaneously.
What's the first question that association CEOs are asking their meeting planners?: When do we need to make a decision by?
Attendee Logistics
Come fall, are people going to be willing to jump onto airplanes?
Will their companies have money in their budgets to send employees to events: $700 registration fee; $500 air fare; $300 per night in a hotel. Who's going to approve that during a recession?
What will hotel and convention center social distancing guidelines be? Will everyone have to wear a mask? Gloves?
Buffets? Forget about it.
In big cities, what will attendees do during down time? Are they going to want to jump onto buses (a huge expense to meeting planners) to get around town? Will the restaurants even be open? Will they be able to catch a ballgame or want to attend an opening party or even a small reception?
The Break-Even Budget
If your association's annual operating budget runs July 1 through June, and your annual meeting is this fall, you might not have even set your budget. In this case, it's suggested that the annual meeting budget be set for break-even, or even to operate at a loss, given the unpredictable future.
The first thing you should do: Eliminate any expenses that are based on "hope."
Don't forget: Your show decorator, registration company, convention center, CVB, and hotels have already furloughed or even laid off a lot of their staff due to lack of demand. So, if/when you get a green light to resume effort toward a live event, how long will it take those organizations to staff back up?
Breakout-Session Contingencies
There's nothing like spinning your wheels into the unknown. For meetings scheduled for late September, associations would have posted their Call for Presentations in fall 2019, and either have selected or are close to selecting their sessions now.
If your annual conference is in fall, what will your education look like? All COVID-19 All the Time? Or, will people be tired of hearing the same "these are uncertain times" messages over and over. Will the country have pulled out of its funk by then? If so, will your programming fit the mood?
Associations must have this discussion right now: 
Do we go with some content "as-is?"
Do we go with sessions "as-is" but ask speakers to tweak their sessions using a "COVID-19 filter?"
Or do we re-open the Call For Presentations and ask for new content, focusing on lessons learned, how to prepare for pandemics?
Remember: With virtual conferences, you don't have to jam as much as you can into a three-day window like you do for live conferences.
The hottest keynote speakers are generally booked months and months in advance. It's a big investment. But what message do you want them to carry? Who knows today what mood the country will be in six to nine months from now?
If a live event like the keynote is part of the virtual event, don't forget about time zones. A great keynote speaker kicking off your event at 8:45 a.m. ET will be missed by the West Coast, where it's 5:45 a.m.—and for associations with global membership, timing becomes a greater challenge.
It isn't feasible to expect an attendee to sit at their computer from 8 a.m. to 5 p.m. for three straight days. Break the virtual event into time blocks, such as into 11 a.m. to 2 p.m. and 4 p.m. to 7 p.m. EST. You can then schedule networking events/opportunities in "open" time slots for those who choose to participate in those events.
Check References
Too many firms out there are pitching their virtual meeting services, and yet, many have never put on a virtual meeting. Most won't tell you that until the end of the demo.
Be sure to ask the companies you are scheduling demos with to list the virtual events they have done and for which clients.
SHRM's website does a good job explaining why it is moving to an all-virtual event (in June), and describes what associations can expect.
Saving grace: Does your association already have a smaller in-person meeting in the fall or early next year? Think about combining the annual conference with that if you are fortunate to be in a capable location.
It's also important to remember that you aren't alone. All event organizers—in the U.S. and around the globe—are going through the same thing. Reach out to peers to learn more. Join and participate in industry online groups. Knowledge is power.
Good luck.
Read next: A Coronavirus Communication Lesson From the API Community