Food Tours, Cooking Classes and More in Palm Beach and Treasure Coast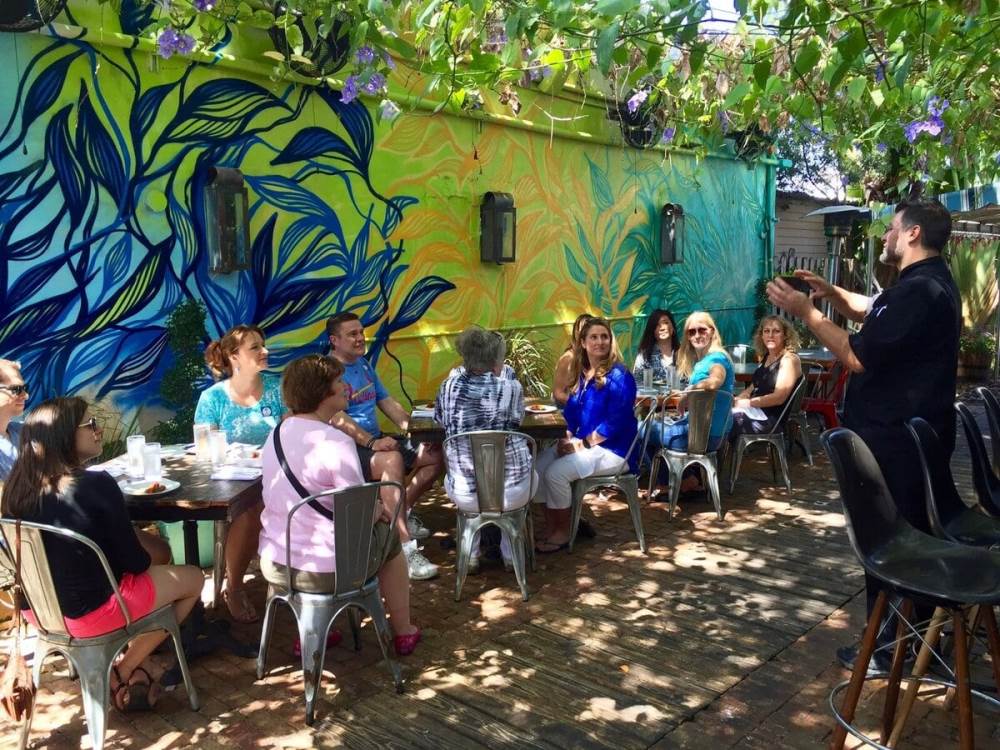 The food in Palm Beach and the Treasure Coast (comprised of Indian River, St. Lucie and Martin) is as varied as the population, featuring a mix of Cuban, Caribbean and more cuisines.
 "When groups meet in The Palm Beaches, our dining scene serves as more than a place for attendees to fuel up in between sessions," said Jorge Pesquera, president and CEO of Discover The Palm Beaches.
"Food becomes part of the experience—offering diners not only a taste of our destination's history and culture, but also a setting for creativity and teambuilding to continue thriving."
"Attendees can take a trip back in time at storied establishments, like dinner at The Colony Hotel, once the stomping grounds of stars like Marilyn Monroe, Frank Sinatra and Sammy Davis Jr., or cocktail-making classes at Steel Tie Spirits, a family-run distillery with roots more than a century old," he said.
It's easy to experience these unique dining spots and cuisines when meeting in Palm Beach or the Treasure Coast. From food tours to interactive classes, here are some of the best ways groups can take advantage.
[Related: 5 Florida Distilleries to Lift Your Group's Spirits]
Food Tours
Kristl Story started West Palm Beach Food Tours almost five years ago after taking her first food tour in Austin, Texas. She fell in love with the idea of combining food with a tour as a way to drink in the sights of a destination, so to speak. 
"If you want to learn about the history of a city and its culture, food is so much a part of that. People don't want to come to Palm Beach and eat at The Cheesecake Factory; they want to sample local foods and experience the cuisine of the area," Story said. 
Food tours can really work for any group, according to Story. 
"Everyone loves these tours; they are crowd pleasers," she said. "We have short walks between restaurants and tours are almost 100% weather-proof. If it rains here, we can wait it out while having a cup of Cuban coffee at one of our local restaurants. Meeting planners appreciate that."  
One of the most popular tours is the Downtown West Palm Beach Tour, which can accommodate 28 people. The tour starts at the Paris Bakery & Cafe for a chocolate croissant to fuel up for the rest of the journey.
"We walk down to the waterfront to the heart of the city and make our way to Hullabaloo, a gastropub with a vintage Airstream on the patio. Chef Fritz Cassel serves fare such as pork belly sandwiches with heirloom tomatoes. It's a very artsy part of town and a favorite among the locals," Story explained. 
Story often takes groups to Dr. Limon Peruvian Ceviche Bar to learn about and enjoy ceviche, a popular dish in South Florida.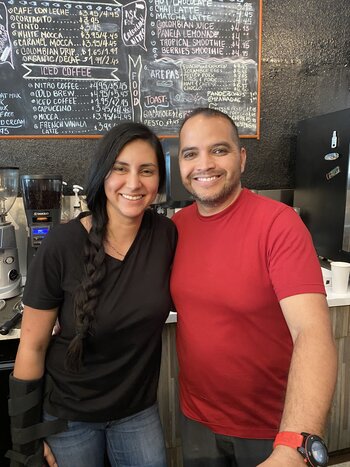 "They also serve ceviche flash fried, which gives it a different twist," she said.  
Salento Coffee is also a popular stop.
(Photo: Salento Coffee owners Jaime and Johanna Lara. Salento Coffee is a popular stop on West Palm Beach Food Tours)
"The owners, Jaime and Johanna Lara, are from Colombia and they love to share a Colombian tradition with our guests on how to make Tinto coffee, and we enjoy it with pandebono, a Colombian cheese bread made with yucca. People love it," Story said.
The Blind Monk, which serves prosecco mojitos and Cuban sandwiches, is another notable stop on the tour. Named one of the top 25 wine bars in the U.S. by Travel + Leisure, the restaurant will reserve its space exclusively for West Palm Beach Tours so participants have the place all to themselves.   
Ganache, a bakery owned by Caribbean-born Jamal Lake, ends tours on a sweet note. Lake infuses tropical fruits in recipes wherever he can. He will also do a coconut opening demo for the crowd while dispensing some history of how the coconut palm came to Florida. Guests also sample its signature Key Lime Tarts, regarded as the best in town.
[Related: 12 One-of-a-Kind Group Experiences in Florida (That Aren't Theme Parks​]
"All the restaurants we take them to have a great connection to Florida," Story said. "Guests get great food, great memories and they'll never look at a coconut the same again!"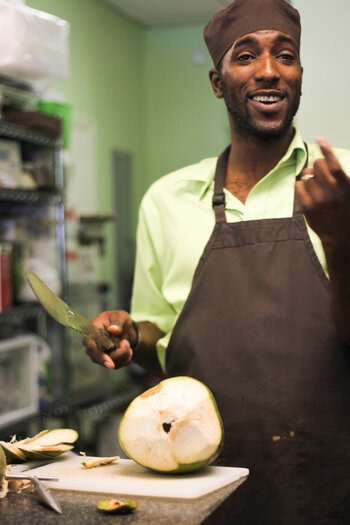 West Palm Beach Food Tours also offers private cooking classes for up to 10 people taught by Judith Olney in her Flamingo Park historic home. Olney is a former Washington Times restaurant critic and cookbook author (The Joy of Chocolate and The Farm Market Cookbook, among others).
All classes are hands-on and Judith will incorporate themes such as "A Day in Provence" or Italian or Middle Eastern fare. At the end of class, the group gets lunch and wine.
(Photo: Jamal Lake of Ganache bakery will often do a coconut demonstration for West Palm Beach Food Tour groups.)
Another notable food tour vendor is Craft Food Tours of Delray Beach, which was started four years ago by Matthew Guidice and his business partner Anthony Guzman after participating in hundreds of food tours around the world. They liked the concept so much they brought it to Delray.
"My partner and I have been fortunate to have traveled all over sampling some of the best cuisines in the world and decided to share our travel hobby with people coming to our neck of the woods," Guidice explained. "We literally tasted our way through town to choose the right restaurants for the tours, which are totally customizable."
One common tour stop is Cabana el Rey. Owner Roberto Aguilar greets guests and talks about the history of his restaurant and the food and cocktails served.
"Chef Aguilar makes something different for every tour because we have a lot of repeat business," Guidice said. "We work with about 12 restaurants, swapping them out depending on the size of the group."
Tours can also bring guests to historical sites in town, including:
Iconic Colony Hotel & Cabana Club, built in 1926 and now on the National Trust for Historic Preservation.
The Old School Square, site of the first school in the area, which has been restored to include The Cornell Art Museum, the 323-seat Crest Theatre and The Fieldhouse, formerly known as the Vintage Gymnasium. It is now a music, comedy and art venue, as well as a place for community and corporate events. 
The Pavilion, opened in 2002, is a state-of-the-art outdoor performance venue surrounded by an open, grassy area and covered walkway.  
Groups meeting in Vero Beach can also take a spin around the city's culinary scene with Treasure Coast Culinary Tours, which runs Monday, Friday and Saturday with five to six tasting stops that can include breweries; Mexican, Caribbean or New England cuisine; fresh seafood; and more.
The walking tours take participants on a leisurely stroll along one-mile journey, which includes plenty of seated restaurant breaks and stops that highlight the unique history of the area. Private tours are available on request.
 
[Related: These 7 Florida Chefs Draw Menu Inspiration from Their Roots]
Hotel Food Events
At Eau Palm Beach Resort & Spa, Director of Special Events Tim Byrne says that when it comes to food experiences, guests want to see behind the curtain and watch dishes made right in front of them.
"We are finding our guests are becoming more and more curious about food and beverage. They are all about the ingredients we use and the techniques chefs use to make dishes," he said. "We slice, cook, grill or torch as much as we can in front of the guests. Additionally, everything has to be 'Instagram' ready, in this social-media-driven world."
The hotel recently introduced an interactive rum tasting with local distillery Steel Tie Spirits Co, based in Palm Beach.
"John Moore is the brand manager and distillery general manager, and it's like speed tasting with 10 people participating in 30-minute sessions. Moore speaks about the products being offered and features their black rum, white rum and spiced rum, as well as their vodka, in the tasting, with all ingredients sourced in Florida," Byrne said. 
Another Palm Beach-area property offering interactive F&B experiences is at Palm Beach Marriott Singer Island Beach Resort & Spa, which offers a Kitchen Table dining experience for small groups of five at 3800 Ocean. The five-course menu is created on the spot by the executive chef and spans three hours with cocktail and wine pairings on request.
 "Our Kitchen Table experience is truly for those with an appetite for surprise. Our chefs welcome the opportunity to create remarkable dishes without boundaries. It's a memorable experience for the chef and guest," said Harvinder Singh, director of food and beverage. 
Led by the Boca Raton Resort & Club's acclaimed head chef, Andrew Roenbeck, Tip to Tail takes seafood lovers on a behind-the-scenes journey through the process of harvesting and serving "fresh off the boat" seafood that they literally picked from fishing boats in the morning. The interactive experience begins with the resort's culinary team taking fish caught hours before, from the pier, and includes a preparation demo, tasting and lunch.
Grandview Public Market
Food courts have become increasingly popular venues across the country—and Palm Beach is no exception. The Grandview Public Market has 12 food vendors that serve everything from coffee to crepes, ramen, pizza and tacos.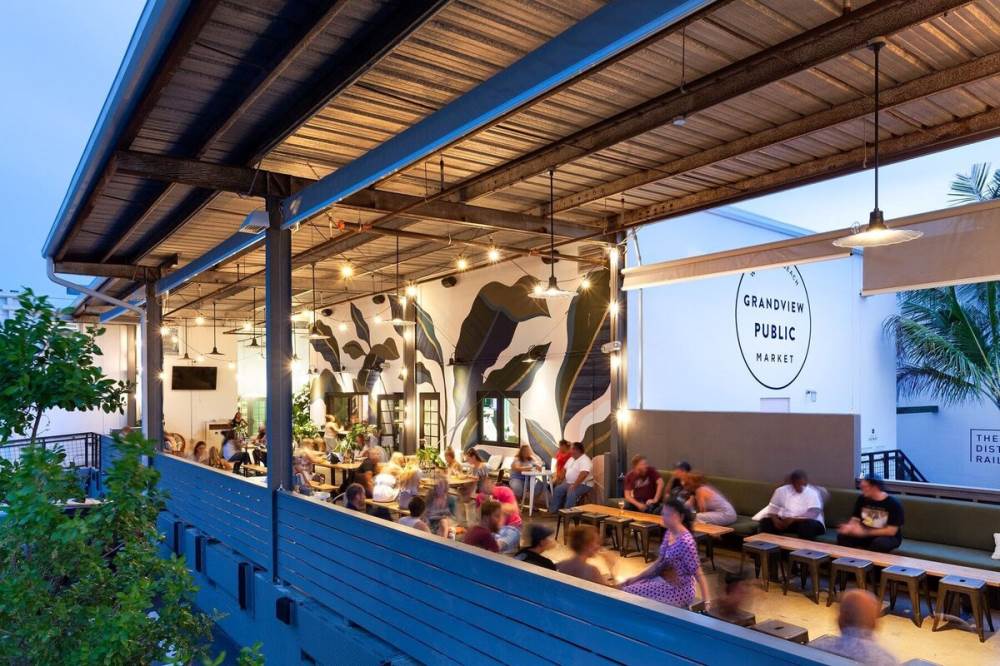 Photo: Grandview Public Market is a popular group dining destination in Palm Beach; Credit: Grandview Public Market
The market also has private areas for groups:
The Living Room can accommodate up to 100.
The Loading Dock up to 150.
The Back Porch up to 75.
Vendors can cater private events or guests can graze for food from one of the 12 vendors. Joe Muniz, general manager, says people often fall in love with the quaint, cozy and relaxing atmosphere.
"People aren't confined to a ballroom. We have had groups that hire music on the loading dock where guests can congregate at tables or wander around the market and pick and choose what they'd like to eat," he said.
The whole market is available for buyout and can accommodate 435 people.
[Related: Celebrated Providence, Rhode Island Restaurants for Future Bookings]
LATEST AND GREATEST
The 208-room Ben, Autograph Collection by Marriott–West Palm Beach opened in February. The hotel has a 24-hour state-of-the-art fitness center, rooftop pool with private cabanas and West Palm Beach's only waterfront ballroom, with spectacular Intracoastal views across to Palm Beach and the Atlantic Ocean from its top floor.
The 8,000-square-foot Blue Heron Ballroom provides event space for up to 500. The hotel has two onsite restaurant options allowing for both fine dining and outdoor dining.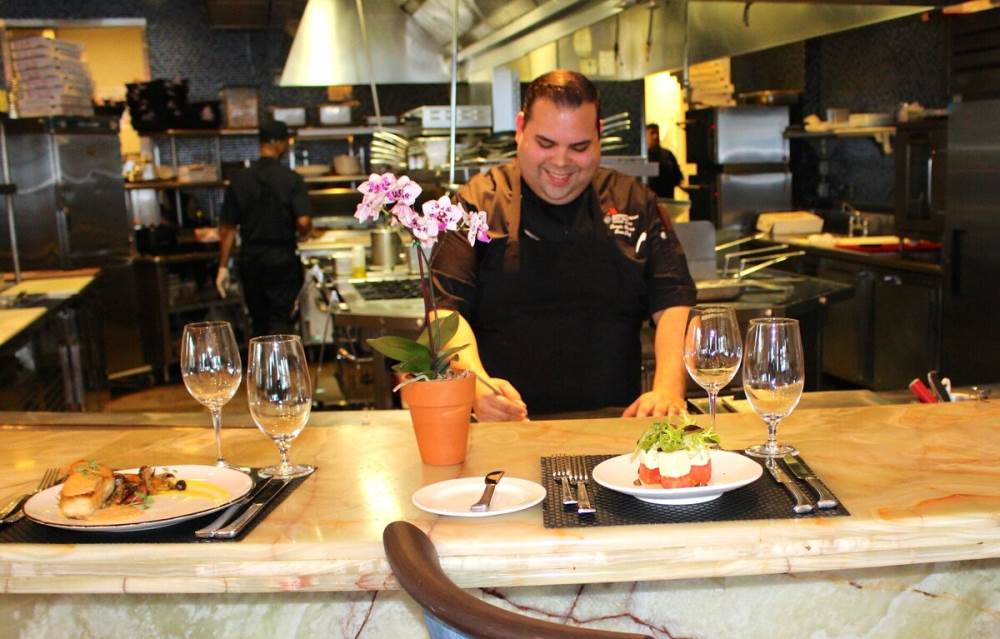 Photo: The Kitchen Table Dining Experience at Palm Beach Marriott Singer Island Beach Resort & Spa; Credit: Palm Beach Marriott Singer Island Beach Resort & Spa
The 150-room Banyan Cay Resort & Golf West Palm Beach is scheduled to open in early 2021. Situated on 250 acres in West Palm Beach, Banyan Cay is home to state-of-the-art golf practice facilities and Jack Nicklaus' 300th Signature Golf Course. By early 2021, a luxury hotel will join the Banyan Cay community with two pools, several dining options, a 5,000-square-foot relaxation and wellness center and more.
The Ray in Delray Beach will open in summer 2021. The new property will be in the Pineapple Grove Arts district downtown. The project, part of the Curio Collection by Hilton, will include 141 smart rooms with balconies, three restaurants (one of which will be a rooftop restaurant), a rooftop pool and lounge area, fitness center, two levels of underground parking, and an elevated, glass-enclosed event space for up to 300 guests.
The 158-room Mandarin Oriental in Boca Raton is scheduled to open in late 2021 downtown. Banqueting and meeting space will include a 4,500-square-foot ballroom and a variety of adaptable conference rooms. The Residences at Mandarin Oriental, consisting of another 92 rooms, will be located in the adjoining tower connected to the hotel by sky bridge.
The Brazilian Court Hotel–Palm Beach, with 80 rooms, has recently undergone its first refresh since the hotel's renovations in 2008, unveiling a collection of studios and suites with a new look. The hotel has 3,500 square feet of meeting space.
Delray Beach Marriott is transforming to Opal Grand Oceanfront Resort & Spa, with an expected completion of early 2021 in the heart of Delray Beach. Overlooking the Atlantic Ocean, the hotel has 277 rooms, including 89 suites and more than 30,000 square feet of meeting and event space, and a new, two-story restaurant overlooking Atlantic Avenue.
Connect:
Indian River County Chamber of Commerce 
772.567.3491
www.indianriverchamber.com
Palm Beach County CVB
561.233.3000 
www.palmbeachfl.com
St. Lucie County TDC
772.462.1539 
https://visitstluciefla.com
Read next: The Most Quintessential Louisiana Teambuilding Activities for Groups