Here's What Hotels and Resorts Are Doing to Enhance Health and Sanitation Standards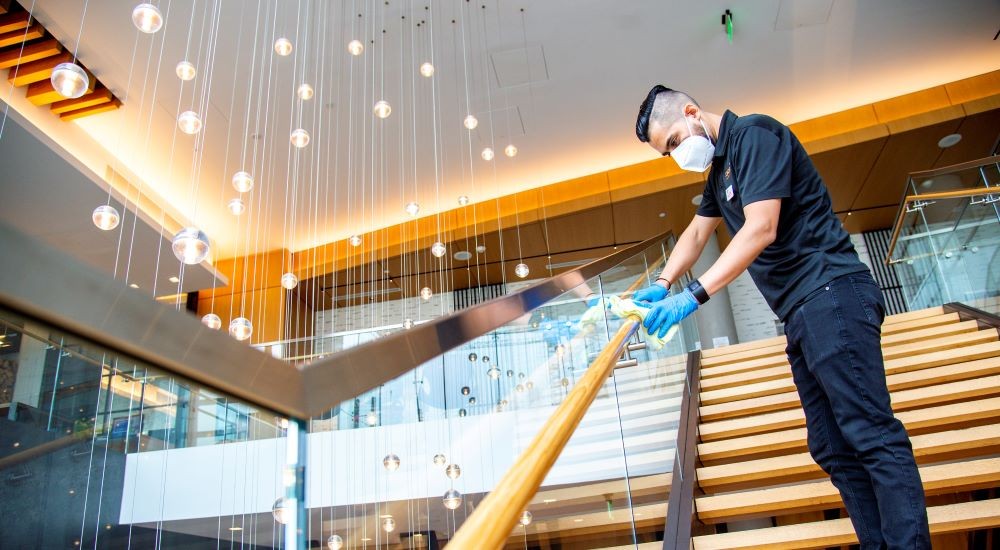 Communities across the globe have worked to curb the spread of COVID-19 and flatten the curve—and some are now beginning to take cautious steps in their preparations to reopen. When it is safe to meet and travel again, it won't be hard to spot the new normal, especially when it comes to hotel stays and events.
In an effort to create a safer environment for guests and employees when doors are open again, major hotel chains and resorts—including Marriott, Hilton and Hyatt—have unveiled some form of a new health and sanitation plan for their properties.
Nearly all plans from the different companies include increased frequency of cleaning and disinfecting rooms and public areas as well as providing additional safety training and personal protective equipment to employees. They differ in other strategies, including some who are implementing new technologies (thermal cameras, UV light) and two chains who plans to appoint Hygiene Managers or Officers at each property.
We break down what you need to know about each plan, and we will update this list as more hotels and meeting facilities share their reopening strategies.
Loews Hotels
Loews Hotels has launched the Welcome You Like Family campaign at its 26 North American properties. The campaign—which uses video, photography, digital experience platforms and on-property touchpoints to express how the brand wants to welcome and care for guests like family—has been under development for more than a year. 
"While deeply ingrained in our DNA, this message resonates now more than ever in the age of COVID-19, and there couldn't be a better time to stand behind what makes Loews unique in the industry," said Jonathan Tisch, chairman and CEO of Loews Hotels, in a press release.
Welcome You Like Family is also the title of the brand's new health and safety protocols, which include:
Guests and employees are required to wear face coverings/masks.
All employees and vendors will undergo temperature checks prior to entering the hotel.
Hand sanitizer stations have been added to front desks, spas, fitness centers, elevator landings, meeting rooms and other high traffic guest areas.
Limiting the number of passengers for each elevator ride (the number will vary in each hotel), and face coverings/masks are required in elevators.
Guests can download the Sonifi app to their smart phone and will be able to turn the television on and off as well as change the channel.
For meetings and events, Loews will re-work your set up, organize your entry and exit flow, collaborate on meals and menus with as much variety and creativity as possible, etc.
Hilton EventReady
Hilton has launched a cleanliness and customer service initiative specific to meetings and events: Hilton EventReady. It's considered the next phase in its Hilton CleanStay (listed below) program. EventReady aims to "arm event planners with tangible, plug-and-play solutions to activating a safe and responsible, as well as engaging, event," according to a press release.
The three key tenants of EventReady include:
Cleanliness protocols: Events and meetings at Hilton properties will follow the cleanliness and disinfection protocols and standards outlined in the Hilton CleanStay program. This includes room seals for meeting rooms and sanitizing stations in public areas and meeting spaces. Planners will also receive an EventReady Room Checklist for assurance.
Book-to-billing flexibility: This includes working with customers to provide flexible pricing, space options and contract terms. The program will also have "responsive offers to meet the needs of customers," such as simplified agreements for small meetings. Hilton will also provide its EventReady Playbook, outlining expert guidance and resources for planning post-pandemic, including options for hybrid meetings to connect with attendees in remote locations.
Safe and socially responsible solutions: Hilton will offer creative physical distancing solutions, from room sets to meal service.
"We've been listening really loudly to our customers over the last many weeks through a variety of forums—feedback sessions, direct conversations, research, surveys," said Frank Passanante, senior vice president of Hilton worldwide sales, Americas. "And what they've been asking for from us are guidelines, leadership and to provide terms and creative solutions around the entire event experience. [EventReady] is a holistic program."
Accor
Accor has launched not only an initiative to ensure enhanced safety and sanitation with ALL Stay Well, the hotel chain has also established an iniative with protocols and procedures specifically for meetings and events, ALL Meet Well. Here are highlights from both of those iniatives:
ALL Stay Well
Mandatory screening for all guests and employees, which may include a temperature check.
Masks provided to all guests and worn by all employees.
Increased cleaning and disinfecting frequency, with continued use of EPA-registered disinfecting chemicals.
Cleaning time sheets displayed.
Welcome letter communicating cleaning procedures, amenities available upon request and protocols in public spaces.
A welcome greeter to manage queues to promote physical distancing.
Hand sanitizer stations in key areas throughout hotel.
No housekeeping service while guest is in room.
ALL Meet Well
Flexible cancellation for all meeting- and event-related room reservations in 2020.
Mandatory screening for all attendees, which may include a temperature check.
Gloved and masked welcome greeter offers hand sanitizer and mask upon arrival.
Larger aisles and directional signage for one-way aisles.
All setups will allow 6 feet between chairs.
Increased outdoor and private spaces available for meetings and events.
Eliminate all buffets and self-serve options.
Provide options that include self-contained vessels for service, or all items either wrapped individually or served individually with a cover on each plate.
Omni Hotels & Resorts
Omni Hotels & Resorts launched the Omni Safe & Clean initiative to update and enhance the company's cleaning guidelines and to implement new processes and procedures to protect guests' and employees' health and safety. The initiative includes:
Conducting health screenings and temperature checks for employees before they begin their shift. Once cleared, they will receive a sticker to wear that says "I'm Cool" so guests know the employee is healthy and permitted to work.
Providing PPE and hygiene best practices training to employees.
Placing signage at properties that detail proper hygiene practices such as hand-washing and physical distancing reminders.
Increasing the frequency of the sanitation of high-touch surfaces such as the front desk counter, guest room keys, elevator buttons and door handles.
Placing hand sanitizer stations throughout properties.
Redefining space capacities in high-traffic areas.
Updating seating capacities and room sets in meeting and event spaces.
Four Seasons Hotels and Resorts
Luxury hospitality chain Four Seasons collaborated with Johns Hopkins Medicine International—the global division of Johns Hopkins Medicine—to create its new health and safety program, Lead With Care, and to provide ongoing guidance as the COVID-19 pandemic evolves. According to a press release, the program will be reviewed and validated by Johns Hopkins Medicine experts and implemented at Four Seasons properties around the world. Protocols in the Lead With Care program include:
Appointing a Hygiene Officer at each property.
Disinfecting guest rooms daily with EPA-approved products and performing blacklight inspections.
Cleaning public areas hourly, with extra attention on high-traffic areas such as front desk counters and public restroom.
Exploring such new technologies as electrocstatic sprayers, ozone technology for air purification and UV technology.
Placing "Lead With Care kits" in each guest room to provide masks, hand sanitizer and sanitation wipes.
Embedding physical distancing measures.
Possibly operating restaurants and bars with reduced capacity.
Training employees on Lead With Care procedures.
Rosen Hotels & Resorts
Operated by prominent independent hotelier Harris Rosen, Rosen Hotels & Resorts utilized experts from its RosenCare healthcare program—established in 1991 as Rosen's self-funded associate healthcare program—to create the company's COVID-19 response plan. Protocols comprising the plan for the company's eight Orlando properties include:
Ensuring physical distancing by implementing space capacity limits, rearranging furniture and using floor decals to promote distancing among guests. 
Using electrostatic prayers with hospital-grade disinfectants when thoroughly sanitizing each guest room.
Screening hotel employees ahead of each shift with temperature checks.
Increasing the amount of hand sanitizer that's easily accessible through the hotels.
Posting reminders from the CDC's guidelines on hand washing, covering coughs and sneezes, etc.
Placing clear protective barriers at the front desk to separate guests and hotel employees.
Marriott
Marriott created the Marriott Global Cleanliness Council, staffed by some of the company's senior leaders as well as food science and infectious disease experts. The goal is to "develop the next level of global hospitality cleanliness standards, norms and behaviors that are designed to minimize risk and enhance safety for consumers and Marriott associates alike," according to a press release.
Changes rolling out in Marriott properties include:
Guest rooms and public areas will be sanitized with electrostatic sprayers with hospital-grade disinfectant. (Pictured; courtesy of Marriott International)
Marriott is testing ultraviolet light technology for sanitizing keys for guests and devices shared by employees.
Furniture will be removed or rearranged to allow more space for physical distancing.
Hand sanitizer will be placed at entrances, reception, elevator banks and fitness and meeting spaces.
Marriott is also working to make masks and gloves available to employees.
Hilton
Hilton developed Hilton CleanStay with Lysol protection, a program where the hotel chain will partner with RB, the marker of Lysol and Dettol, and consult with Mayo Clinic to develop its new standards of cleanliness and disinfection in its properties around the world. RB and Mayo Clinic will advise Hilton hotels on cleaning protocols, training and education programs and quality assurance.
The program is still in development, but new standards under consideration include:
Placing a room seal on doors to let guests know that their room has not been accessed since being thoroughly cleaned. (Pictured; Courtesy of Hilton)
Applying extra disinfection of the most frequently touched guest room areas, including light switches, door handles, TV remotes, thermostats, etc.
Decluttering by removing pen, paper and guest directory—and supplementing with a digital replacement or making items available upon request.
Possibly limiting the number of guests allowed in fitness centers at one time and closing them for cleaning multiple times a day.
Providing disinfecting wipes in key high-traffic areas like primary entrances and elevator landings.
Doubling down on its Digital Key technology for contactless check-in. Guests can check-in, choose their room and access their room with a digital room key. They can also check-out using their mobile devices through the Hilton Honors mobile app at participating hotels.
[On Topic: What Will Hotels and Conferences Look Like Post COVID-19?]
Hyatt
Hyatt established a Global Care & Cleanliness Commitment to build on its existing health and safety protocols. It will include an accreditation process by the Global Biorisk Advisory Council—GBAC STAR accreditation—as well as employee training and support resources, and a working group of medical experts and industry professionals.
New plans include:
By September 2020, appointing trained Hygiene Managers at every Hyatt hotel, an employee who will be responsible for their hotel adhering to the new operational guide and protocols.
Administering employee surveys to gauge their comfort, the hotel's cleanliness, working order, customer service, etc.
Exploring purification and sanitization device installation in an effort to ensure enhanced air quality.
Implementing physical distancing guidelines in public areas.
Increased frequency of cleaning with hospital-grade disinfectants on all high-touch surfaces, guestrooms and shared spaces.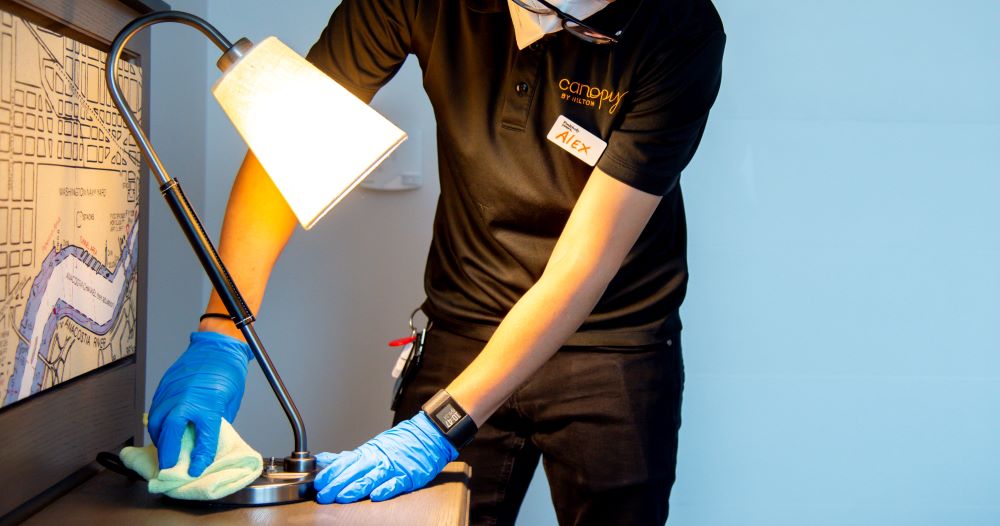 Image courtesy of Hilton
Wynn Las Vegas
Wynn Resorts' reopening health and sanitation plan includes:
Using thermal cameras at entry points to detect if an employee or guest has a temperature of more than 100 degrees F.
Restaurant tables, slot machines and other physical layouts will be arranged to support physical distancing of no less than six feet apart. Guests will also be advised to distance themselves no less than six feet from those who are not traveling with them.
Hand sanitizer will be at entry points and other areas of contact (reception, lobby, casino floor, meeting and convention spaces, pools, elevator landings, etc.).
Employees will receive COVID-19 training on safety and sanitation protocols.
No more than four guests per elevator.
Guests will receive an amenity bag during check-in that will include masks, hand sanitizer and a COVID-19 awareness card.
Disinfecting wipes and spray sanitizer will be available in each room, subject to availability.
[Related: Wynn Las Vegas Unveils Health and Sanitation Plan]
The Venetian Resort
New protocols for the Las Vegas resort include:
Using thermal cameras at every resort entry point—including at the Congress Center and Sands Expo Convention Center—to discreet temperature checks. Those with a temperature at or over 100.4 degrees F will be subject to a secondary screening.
Guests will receive a personal care amenity kit with hand sanitizer, disinfecting wipes, gloves and a personal face mask.
The resort has a team of 25 EMTs available 24 hours a day. One-third of this EMT staff are on site every day.
Administering physical distancing guidelines between guests not traveling together as well as restaurant tables and slot machines.
Exploring UV light to disinfect select shipments arriving at the resort and equipment such as bell service carts and luggage.
Making hand sanitizer readily available in high-traffic areas throughout the resort as well as in meetings rooms in use at the Congress Center and the Sands Expo Convention Center.
Reviewing seating capacities and floor plans on an event-by-event basis.
[Check this out: The Broadmoor Ups Its Tradeshow Game With New Broadmoor Exhibit Hall]
Stay up to date on the evolving coronavirus situation and its effect on the meetings, events and hospitality industries with this guide displaying the latest news and analysis.
This article was updated July 24, 2020.