Chef Paul's Virtual Chocolate Experiences Are a Sweet Treat for Groups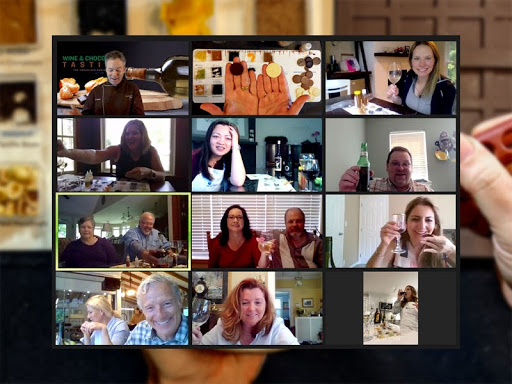 The Cerbelli Team has traveled the world with celebrity chocolatier and chef Paul Joachim, THE CHOCOLATE GENIUS, who has overjoyed audiences with chocolate sculpting and culinary experiences on five continents.
Now, Paul is bringing his chocolate magic into attendees' homes. Add a premium interactive chocolate experience to your streaming events and video conferences—with Hands-on Kits including luxury ingredients and recipes.
Whether a Wine & Chocolate Pairing or a Chocolate Bar Making Event, participants are raving, "This is the most fun I've had in months!"
The feedback we've received from event planners and clients have been really positive, such as, "They loved the first-class perk we were able to give them, and we all got to know each other on a whole new level. Just perfect. Thank you."
Get Your Chocolate!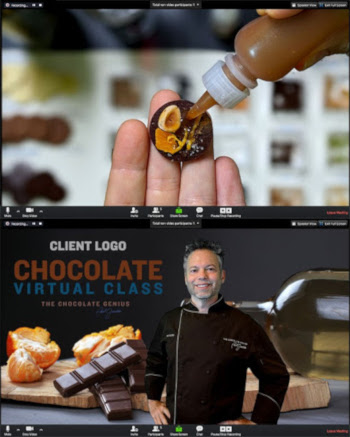 THE CHOCOLATE GENIUS: Virtual Chocolate Experiences includes a Hands-on Kits, that is shipped to all the attendees. It includes all ingredients and recipes to work with Chef Paul in a live virtual setting.  Some options to choose from are Wine & Chocolate Pairing Interactive Experience or a Chocolate Bar Making Interactive Experience. YUM!
THE CHOCOLATE GENIUS: Virtual Chocolate Experiences are formatted to be custom-tailored to video conferences or streaming events. Work groups appreciate the indulgence and teambuilding interaction of a Chocolate Bar Making Event.
The events are also a great marketing opportuning for organizations to create a new connection with their clients through handmade, branded Hands-On Kits. Each client will feel spoiled and engaged by participating in a delicious and interactive experience led by a world-class performer and "foodie" expert.
The online group video engagement is relaxed and fun yet upbeat and educational. Participants leave with fond memories, new culinary experience and knowledge, and strengthened brand loyalty. The brand host benefits from engaging with participants in a unique and compelling experience, and then can leverage the digital images and video assets from the event as well.
Post-event follow-ups include luxurious prizes shipped to winners of Chocolate Trivia, and also recipes and reviews sent for email distribution to everyone.
[Related: View More Michael Cerbelli's Hot List!]
Why Attendees Crave This Confection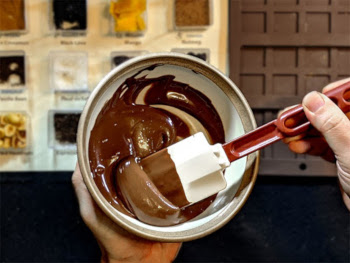 In a nutshell—or chocolate shell, as the case may be!—the benefits of THE CHOCOLATE GENIUS: Virtual Chocolate Experiences include:
Fun and compelling engagement between internationally celebrated Chef Paul and participants, as well as free-spirited participant-to-participant interaction.
A world-class interactive learning experience with surprisingly elegant Hands-on Kits that include a variety of luxury chocolates, ingredients and recipes.
Exclusive and luxurious ingredients are provided, including, Felchlin Swiss chocolate, Madagascar vanilla bean and Ceylon cinnamon.
Participants experience a relaxing, joyous and educational event that results in a unique opportunity for brand loyalty and team camaraderie.
There are several variations on the theme, but all chocolate events include:
30-, 45- or 60-plus-minute sessions
Up to 20 screens per event for maximum interactivity between participants and Chef Paul
Custom-branded experience
Two different camera angles, including one from above where guests can easily follow along, just like in a live cooking show
An audiovisual professional operating behind the scenes
Screenshots or video for use in digital marketing
Chef Paul loves to keep everyone's audio "unmuted" to encourage maximum banter and fun!
Hands-On Kits are elegantly designed to allow up to two participants - shipped to directly to each participant's doorstep
Chocolate Trivia, with prizes shipped directly to winners, including exclusive and luxurious chocolate gifts
Branded copies of recipes and pairings
High-end, first-class premiums are available for upgrading your event, including custom-engraved wooden chocolate box kits with the highest-end ingredients available for VIP clients and participants
Look for more Cerbelli: Hot Virtual Event Ideas in the upcoming weeks, and most of all stay healthy, stay safe, stay home and stay #EventStrong.
Please sign up for Cerbelli Creative's inspirational bi-weekly newsletter at eventstrong@cerbellicreative.com.
Contact
Cerbelli Creative
Sara Meletis or Meagan Shipley, CMP: 212.256.1518
info@cerbellicreative.com
Read Next: An Online Event Act That Aims to Deceive