Landmark L.A. Sights and Sounds for When Meetings Roll Again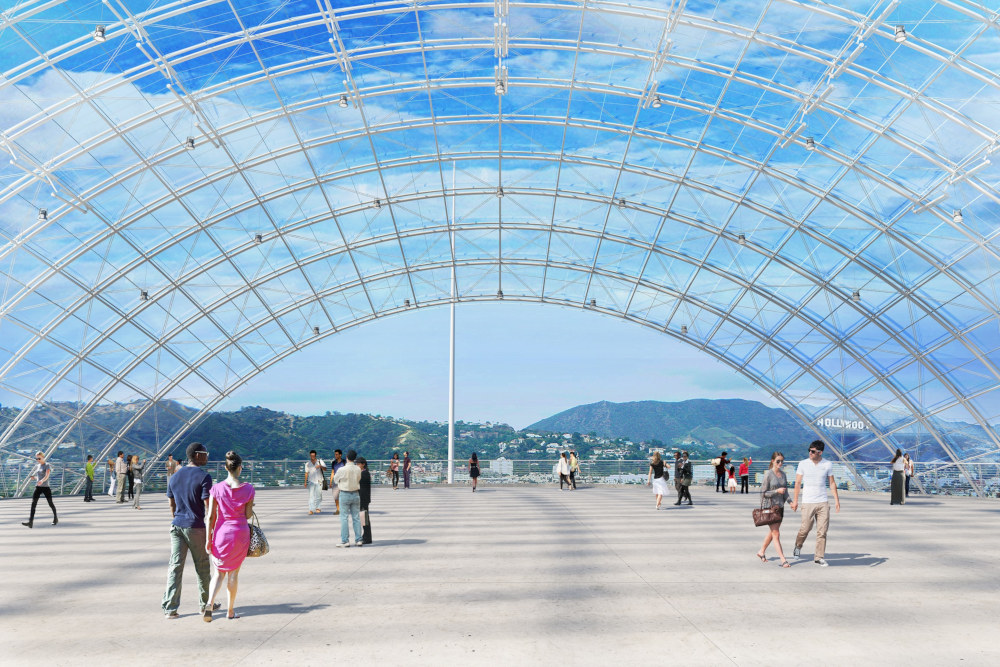 For now, the pandemic has temporarily closed many venue doors across Los Angeles. When the time comes to break through to the other side, here's where and how to chase your pleasures and make the most of this iconic part of the country. Whether returning or discovering this dizzying city of 469 square miles for the first time, come dig the treasures that define the spirit, history and legend of four famed locales.      
Westside Museum Marvels
Stretching from the Miracle Mile to Westwood, L.A.'s glamorous Westside is a dream date for cultural encounters.
Slated to open in April 2021, the Academy Museum of Motion Pictures will be the ultimate factory for cinephiles.
Pritzker Prize-winning museum architect Renzo Piano's reimagining of the landmark 1939 May Company Building includes six exhibition floors, special event spaces, 1,000-seat David Geffen Theater, and 288-seat Ted Mann Theater. Plus, a dramatic glass-and-concrete sphere with an outdoor terrace offering stunning views of the Hollywood Hills.
The adjacent Los Angeles County Museum of Art is the largest art museum in the western United States. Event venues at this 1965 Miracle Mile landmark include the 600-capacity Bing Theater and 900-capacity North Piazza.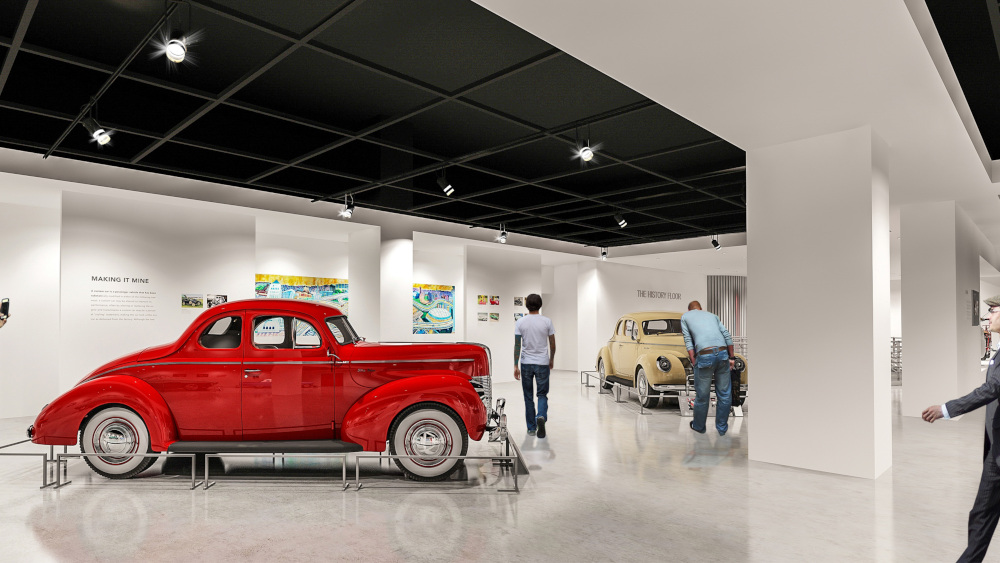 Petersen Museum 3rd Floor Making It Mine Gallery; Credit: LA Tourism
Groups can gear up at the nearby Petersen Automotive Museum. Wrapped in wavy stainless-steel ribbons, this globally acclaimed museum features 300-plus dream machines and 50,000-plus square feet of event space. Rentals include the 300-capacity rooftop terrace and combined gallery space for 2,000-person receptions.
With tour highlights including the Wizard of Oz soundstage, Sony Pictures Studios in Culver City is the real deal for cinematic meetings and events. Rentals include the Rita Hayworth Dining Room, small-town sets and the commissary where stars once dined. 
[Related: 4 Orange County Beaches That are Perfect for Small Groups]
Beverly Hills: Famous Venues
Following the Civil War, oil exploration attracted two waves of speculators to L.A. ranch land then known as Santa Maria. Around 1900, the latter group hit water instead of oil. That wellspring, sacred to the Tongva people who once inhabited the area, spurred development of a town named Beverly Hills by the lead investor after Beverly Farms in Massachusetts and the hilly surroundings. 
The 1907 street plan, inspired by legendary landscape architect Frederick Law Olmsted, included now world-famous Rodeo Drive, where today, the Via at Two Rodeo is a landmark location for outdoor events. Lined with high-end restaurants and boutiques, this European-style cobblestone corridor is for cocktail receptions, intimate dinners, car shows, award ceremonies and more.
Incorporated in 1914, Beverly Hills' renown as a Hollywood haven includes starring roles in countless TV and film productions.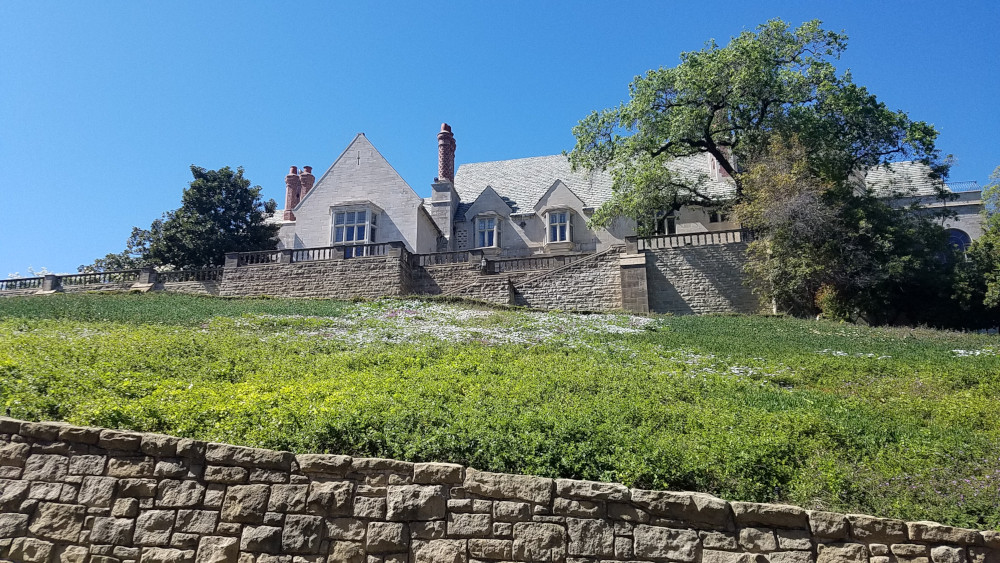 Greystone Mansion; Credit: City of Beverly Hills
A celebrated location is Greystone Mansion & Gardens. Built in 1928 by an oil tycoon for his son, this 55-room estate was purchased by the city in 1965 and dedicated as a public park in 1976. Set on 18-plus acres, the venue flexibly hosts indoor and outdoor meetings, events and functions. Notable film appearances include The Social Network, X-Men, Spider-Man and There Will Be Blood. 
Beach Cities: Outdoor Paradise
All conveniently reached from LAX, L.A.'s laid-back coastal cities are for exceptional people-watching, vibrant outdoor art, glorious sunsets and oceanside dining and events.
Perched on a Pacific-facing promontory in Rancho Palos Verdes, luxurious Mediterranean-style Terranea Resort offers more than 135,000 square feet of flexible indoor and outdoor space on 102 acres.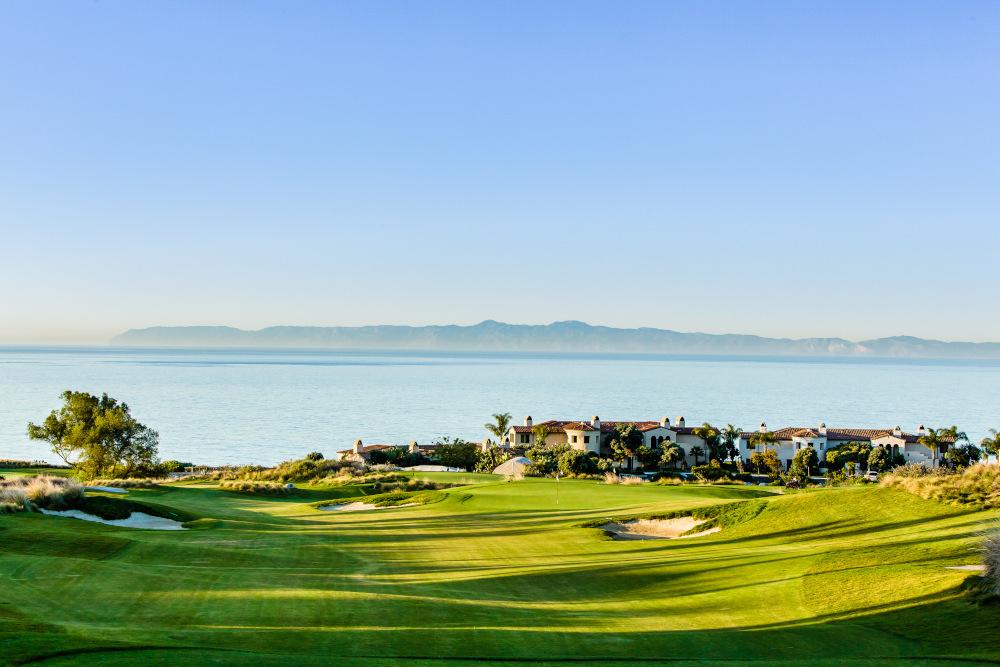 Terranea golf course; Credit: LA Tourism
Memorialized in the Beach Boys' timeless "Surfin' U.S.A.," Manhattan Beach keeps groups coasting along at venues including the Strand House and StrandBar.
Customized group programs by yacht with leading operator Hornblower Cruises & Events are ideal for experiencing Marina del Rey, one of L.A.'s most storied recreational destinations.  
After meeting at UCLA, Jim Morrison and Ray Manzarek founded The Doors while strolling Venice Beach in 1965. With Morrison's mural at Speedway and 18th among the destination's many lures, group bases include Hotel Erwin, a funky beachfront boutique offering rentals including the 250-capacity High Rooftop Lounge.
Neighboring Santa Monica was another Doors headquarters. Rentals include partial or full pier buyouts of historic Santa Monica Pier and adjacent Pacific Park.
[Related: 8 of California's Finest Outdoor Group Dining Experiences]
Malibu magnets include private dining at seafood-driven Geoffrey's Malibu. Home to zebras, giraffes and other exotic animals, the 1,000-acre Saddlerock Ranch offers safari and vineyard tours, yoga classes and event hosting.  
For activity-minded groups, top-ranked Bikes & Hikes LA offers private guided tours of the beach cities.
West Hollywood: Let the Good Times Roll 
Established around 1895 as a railyard for the Los Angeles Consolidated Railroad, the town of Sherman started out soberly enough as a modest farming community. By 1925, the renamed West Hollywood was walking on the wild side.
Unincorporated and largely unregulated, the town was an early hotbed of speakeasies and clandestine casinos. The action developed along a former dirt road section of Sunset Boulevard known as the County Strip. As the movie industry flourished, the renamed Sunset Strip, which connected neighboring Hollywood and Beverly Hills, blossomed with glamorous hotels, restaurants, nightclubs and cafes. Mobsters ruled the 1940s, followed by a revolutionary renaissance in art, music and counterculture.
Veering from lawless to fabulous to turbulent to decadent, these formative eras invested West Hollywood with larger than life personality. Rooted in the 1920s, the city's thriving LGBTQ community is one cultural constant. Another is live entertainment, with a quartet of world-famous music clubs perpetuating West Hollywood's legend as a rock 'n roll headquarters.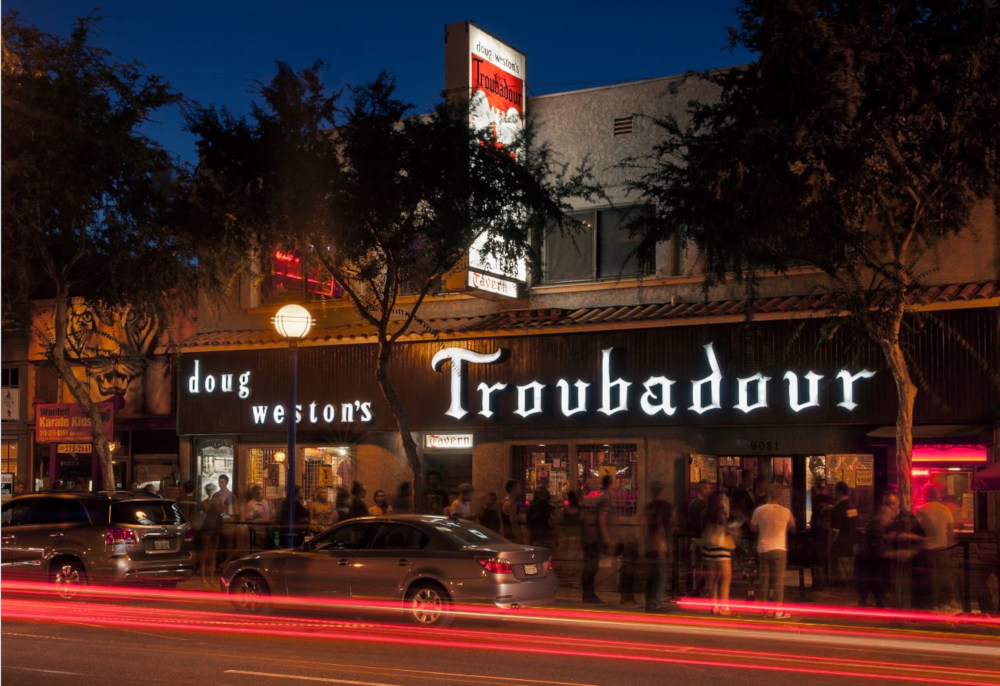 The Troubadour; Credit: Ryan Forbes
Holding court on Santa Monica Boulevard since 1957, The Troubadour hosted early performances by Bob Dylan, Joni Mitchell and Neil Young. The year 1970 saw Elton John's U.S. debut, Glenn Frey and Don Henley meeting and forming The Eagles, and the discovery of comic duo Cheech & Chong.
In January 1964, Whisky a Go Go revolutionized the Strip scene as an anti-establishment venue devoted to rising talent and the emerging youth culture. Inspired by French discotheques, the club famously introduced go-go dancing to America. In 1966, when The Doors were the house band, the club was a flashpoint during the Sunset Strip Curfew Riots, which derailed the scene for a spell.
Revival came in April 1972 with the debut of the nearby Rainbow Bar and Grill.
Exclusively catering to musicians and the rock lifestyle, the Rainbow kicked off with parties for Elton John, Rod Stewart and the Rolling Stones. Later, the venue became party central for the likes of Led Zeppelin, Ozzy Osbourne and Motley Crüe. Memorialized with a plaque, the upstairs bar and performance space was home of the "Hollywood Vampires," Alice Cooper's "last man standing" drinking club for rock stars including Ringo Starr, Keith Moon and Micky Dolenz of The Monkees.
Opened next door in September 1973 with three sold-out shows by Neil Young, The Roxy Theater staged the U.S. debut of "The Rocky Horror Picture Show" in 1974. Spanning decades and genres, A-list headliners range from Smokey Robinson and Muddy Waters to Guns 'n Roses and Pearl Jam.
In 2019, the West Hollywood Historic Preservation Commission officially designated the Strip trio as "local cultural resources."
You can harness these iconic venues and their rich history when meeting in West Hollywood—The Roxy and The Whisky offer formal event rentals, while The Rainbow and The Troubadour are for more informal outings. Get ready to rock when the good times roll again—these shrines can get raucous.
Read Next: 3 L.A. Neighborhoods Get Creative on Group Dining
CONNECT
Beverly Hills Conference & Visitors Bureau
310.248.1015
www.lovebeverlyhills.com
Los Angeles Tourism & Convention Board
800.366.6116
www.discoverlosangeles.com/meetla
West Hollywood Travel + Tourism Board
310.289.2525
www.visitwesthollywood.com