Meetings Today Hosts First LIVE! Event of 2020 in Orlando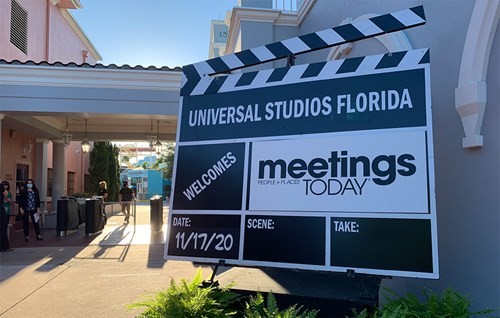 If there's one sentiment to sum up our sole in-person Meetings Today LIVE! event of 2020, it's that Orlando is open for group business and prepared to host it safely.
Before wrapping up the tumultuous year that was 2020, Meetings Today held its one and only in-person LIVE! event of the year (our previous two were virtual) down in the Sunshine State's meetings mecca, Orlando, at the Walt Disney World Swan and Dolphin Resort.
From November 15-18, planners and suppliers met at our Meetings Today LIVE! South event for one-on-one appointments, site visits of some of the most exciting meetings-ready hotels in the area and, of course, a trip to one of Orlando's famous theme parks, Universal Orlando Resort. The group also listened in on informative education sessions from Michael Cerbelli of Cerbelli Creative, Kelly Teneyuque Chaco from Eurofins and Lori Pugh Marcum of MPI.
Throughout the four days, all of our event partners were eager to show planners and suppliers that meetings and events in the era of the pandemic are possible, when safety protocols are top of mind.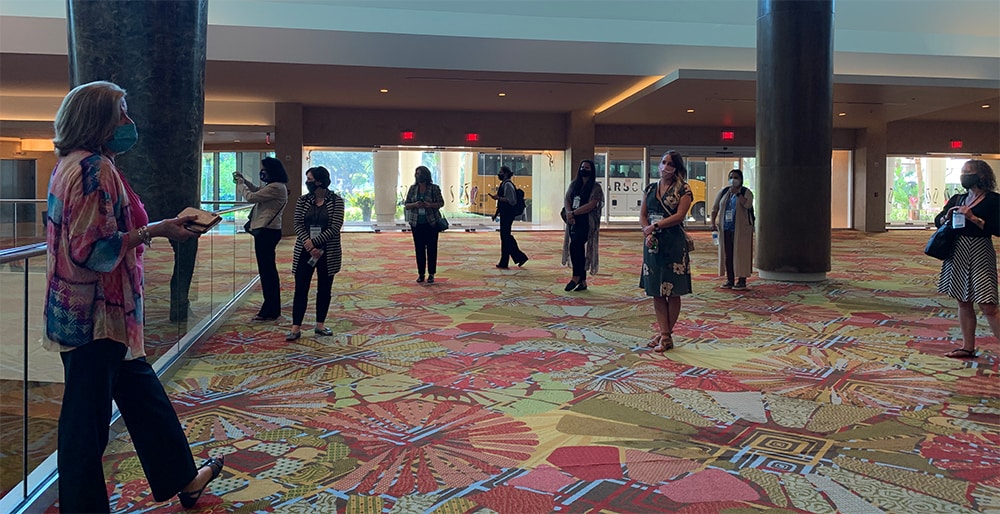 Safety First
Our event partner and host hotel, the Swan and Dolphin, made sure our group felt safe, with socially distanced F&B and education setups, hand-sanitizing stations throughout the convention wing and floor decals to mitigate foot traffic flow.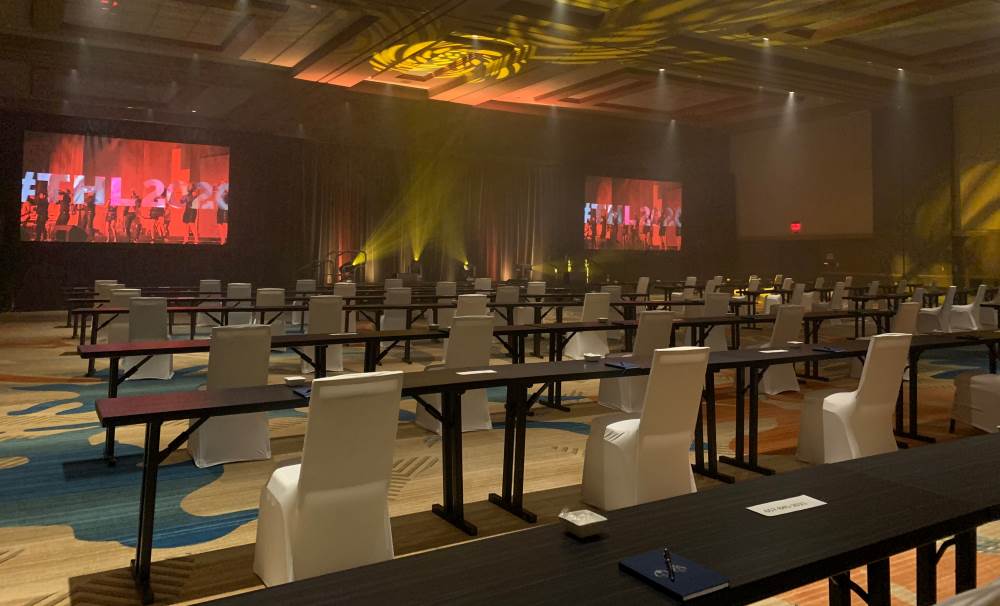 Meetings Today also had The Medical Concierge on hand at the event, with associates who took attendee and staff members' temperatures before they were allowed to enter the convention rooms each morning. Through The Medical Concierge, a nurse was also on call 24/7 throughout the event should an unexpected illness or injury occur.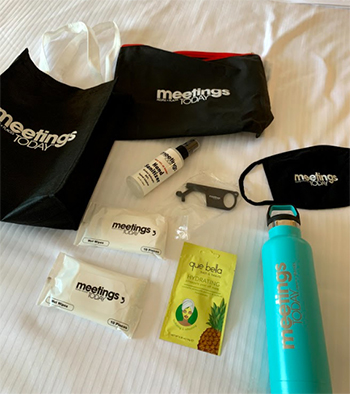 Attendees were required to wear masks throughout the event (unless actively eating or drinking) whether it was in their one-on-one appointments or listening in on education sessions. All attendees also received a welcome safety kit complete with a mask, hand sanitizer and disinfecting wipes.
A week prior to the event, Meetings Today held two Zoom calls—one for planners and one for suppliers—to go over safety protocols and all of the steps we and the host hotel were taking to keep everyone safe and make them comfortable. The pre-event calls were also a chance to let participants ask any questions.
"This is my first time traveling since COVID-19, and we were so nervous to get on the plane, but you guys have made us comfortable and gave us a lot of information prior to the meeting to give us that calmness to be here, and I'm happy that we made the decision to be here," said attendee Alana Seelal, director of NA business events for Henry Schein Inc., during the event.
Orlando's Impressive Hotel Portfolio
The Swan and Dolphin hosted our group and is a prime, convention-ready property in Orlando (just ask Major League Soccer), with 2,270 guest rooms and more than 333,000 square feet of meeting space that includes 87 meeting rooms, a 110,500-square-foot contiguous convention/exhibit space and a beautiful outdoor Lake Terrace.
The property also has expansion plans in the works. A 14-story hotel, the Walt Disney World Swan Reserve, is scheduled to open in summer 2021 with 349 guest rooms and a top-floor event space with floor-to-ceiling windows.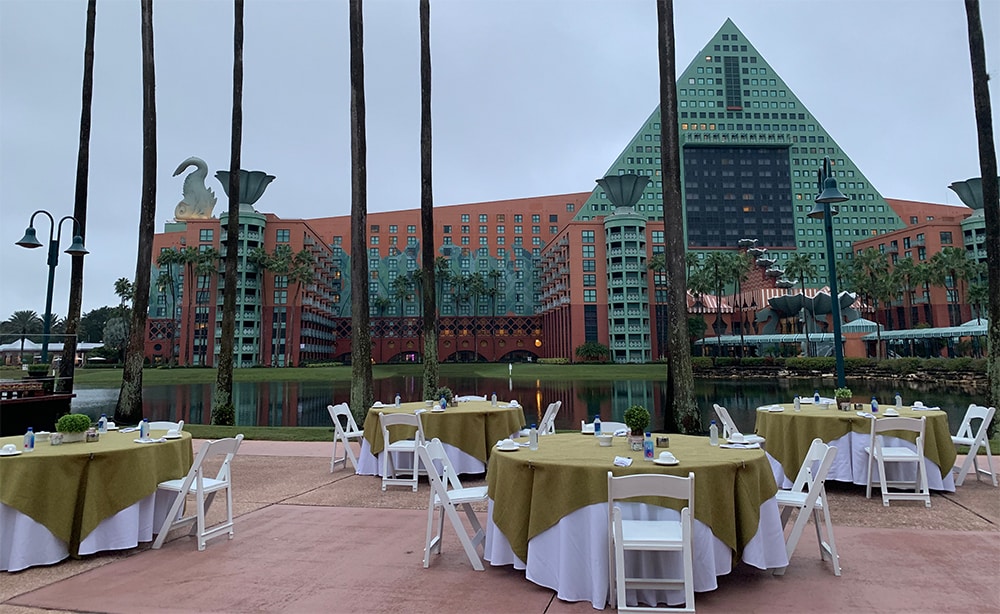 All together, the Reserve will boast 22,000 square feet of function space, making it ideal for small to mid-sized groups. Additional space, of course, for larger groups is available just a short walk away at the Swan and Dolphin.
Planners were also given site tours during our LIVE! event at three different area properties that also boast impressive meeting and event offerings.
1. Hyatt Regency Orlando, where the group toured its expansive convention wing, offers 315,000 square feet of meeting space and five ballrooms. The hotel also has three bridges connected directly to the Orange County Convention Center. For lunch, the hotel hosted the group socially distanced at rounds and with food stations with servers behind plexiglass. On the menu? Delicious poke bowls, fresh salads and to-go, individually wrapped desserts.
2. Wyndham Grand Orlando Resort Bonnet Creek, which is one of two Wyndham properties across its portfolio that's owned and managed by Wyndham Hotels & Resorts, hosted our lunch on Tuesday with an impressive fall-themed ballroom design and decor from Imprint Group.
"It was a big collaboration with us and the hotel," said Gabby Mourino, senior account manager for Imprint Group. "Communication was key in understanding their safety standards and knowing what their plans were for food and beverage so we could create the right atmosphere that complemented their concepts. It was also important for us to understand the audience which we knew would be a social bunch. We knew networking would be the focus and the mixed seating felt like the best way to create a welcoming environment while adding dimension to the room." 
While the Wyndham Grand Orlando Resort Bonnet Creek was closed during the early COVID-19 shutdown, it underwent a revamp with brand new furniture, lighting fixtures and accents in the lobby as well as new carpet for some of the meeting spaces. Health and safety protocols in place include air filters in the elevators, contactless delivery of food to guest rooms from the hotel's restaurants and enhanced cleaning of high-touch surfaces.
"We're going to adapt based on the group's needs," said the hotel's director of sales, Suzanne Moore. "As a state, we're open for business, so we're going to do what we need to do to keep the safety in mind of our guests and associates…We're going to make sure that we can have flexible terms and do the things that need to be done to keep both the group and the hotel sound, in the sense for what works for both sides."
3. Hard Rock Hotel Orlando is just a short walk from Universal Studios, which is exactly how our group accessed the hotel after experiencing the theme park on Tuesday night. Dinner and drinks were served in its music-infused lobby bar and lounge and outdoor terrace, with pre-packaged appetizers and food stations with servers behind plexiglass for dinner and dessert.
The hotel offers 7,200 square feet of meeting and function space as well as plenty of opportunities to host events outdoors, including on the 9,000-square-foot Woodstock Lawn.
More from this event:
After-Hours Fun in Orlando
They say you can see all of Orlando from the top of The Wheel at ICON Park, an open-air entertainment complex located on the city's lucrative International Drive. We'd have to agree—beautiful views and attractions for miles, 400 feet up, can be seen from the observation wheel, including some of the city's natural lakes, Walt Disney World and Universal.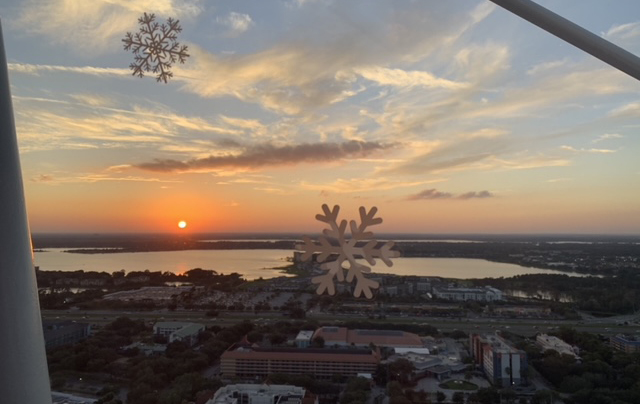 Our group enjoyed the 18-minute ride around the wheel (with no more than five masked people in each of the roomy pods, which are sanitized after every use), then dined on fresh paella at Tapa Toro, one of ICON Park's 40 restaurants, bars and shops.
ICON Park president and CEO Chris Jaskiewicz said the complex's accessibility and variety of attractions makes it an ideal spot for groups.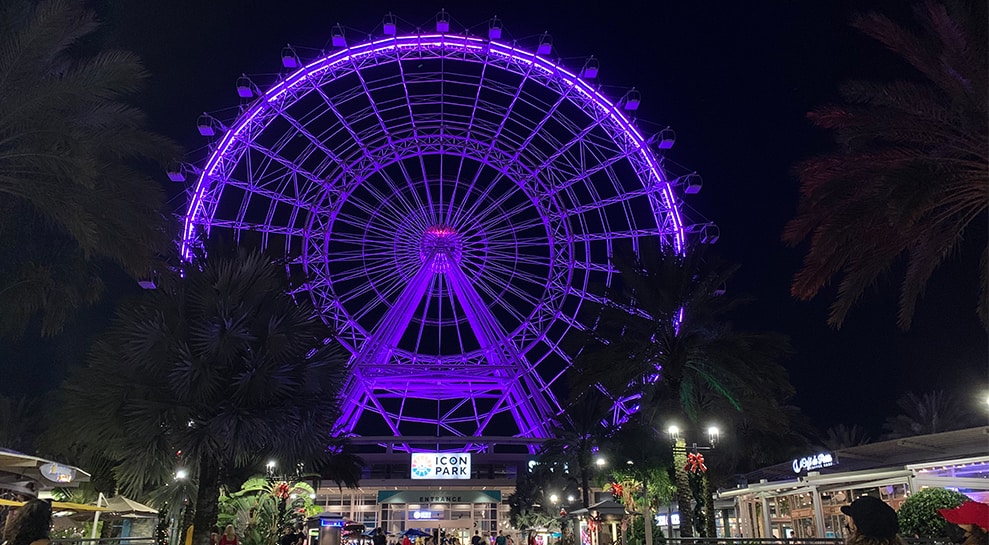 "It's very easy to host events on our property and in conjunction with our restaurants," he said. "Plus, we have attractions that are very easy to access. There are so many fun things to do, and locals, too, are rediscovering this part of International Drive."
The park currently has three ongoing construction projects to add new attractions, including a drop-tower and slingshot ride, a museum of illusions and In The Game at ICON Park, a 7,000-square-foot gaming space with an interactive mirror maze, themed escape room and a Bob's Space Racer game.
On Tuesday night, the Meetings Today LIVE! 2020 group got the red-carpet treatment (literally) at Universal Orlando Resort, with an exclusive showing of one of the park's newest shows, The Bourne Stuntacular, a combination of a virtual and live performance of some gnarly action movie-esque stunts, inspired by the Bourne trilogy of movies starring Matt Damon.
The park had closed during the show, so while walking to the Hard Rock, planners got a taste of what it's like to be at Universal after hours.
"Universal Orlando Resort was thrilled to host attendees from Meetings Today LIVE! this week," said Universal's Allison Frohmann-Bolanovich, director of resort sales and marketing, and Pat Tracey, senior manager of event sales. "Since our reopening in June of 2020, we have welcomed back both leisure guests and over 100 groups at our hotels and parks in a safe and responsible manner by instituting strict safety protocols throughout the destination to protect our guests and team members. It was very gratifying to partner with Meetings Today to showcase our ability to host a safe in-person meeting or event."
Face-To-Face Again
Throughout the four-day event, it was evident that everyone was excited to be face-to-face again with the proper health and safety protocols in place.
"Meetings Today has done a phenomenal job of making us feel safe, and the [Swan Dolphin] is absolutely immaculate," said attendee Debby DuBose, CEO and event specialist of Conference Solutions International. "I consider Meetings Today and the attendees here at the conference pioneers in our industry, as far as being some of the first people in the industry to get out there and start networking and keeping these relationships alive and going, so that when the industry does come back, we'll be ready and we'll be stronger. It's not a matter of if it will come back, it's a matter of when."

Along with feeling energized after the event, suppliers had the opportunity to walk away with RFPs while planners could walk away with new ideas on host properties and off-site activities for their next programs.
A contract signing for 208 rooms at the Swan and Dolphin even took place during Meetings Today LIVE! 2020. The event, Ride the Wave, hosted by LiveSotori, will be a two-day conference of live workshops, held this December, where attendees can learn affiliate marketing skills and how to "transform their life into that of a successful entrepreneur," according to a press release. Ride the Wave will also take place at the Swan and Dolphin December 2021.
"Not only are we open for business—we're doing it safely and we're doing it extremely well," said Sean Verney, area general manager of the Swan and Dolphin, adding: "I want to thank the entire Meetings Today team for partnering with us to show the world that we are open for business and that we can conduct meetings here today."
Watch more from Meetings Today LIVE! 2020 South: Highlights and Testimonials
If you are interested in attending Meetings Today LIVE! in 2021, we are off to the Island of Hawaii; Louisville, Kentucky; Myrtle Beach, South Carolina; and Tucson, Arizona! Learn more on our events page.