How Planners Are Hosting Large Meetings In Small Ways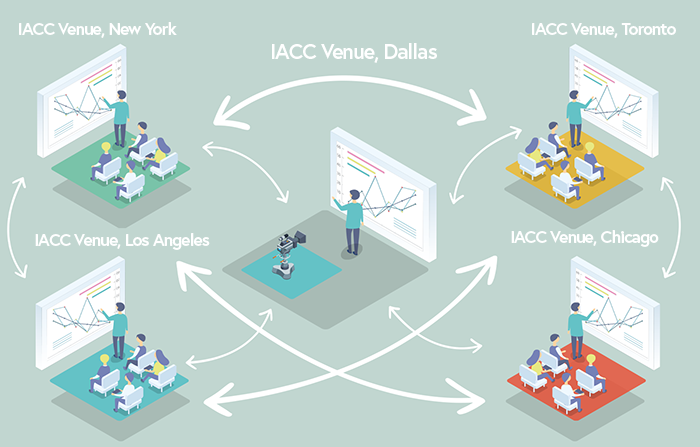 In late September, a directive from the Nevada governor allowed the state—including meetings mecca Las Vegas—to host up to 1,000 people at an event. But (and a major "but" at that), a venue would have to meet certain requirements to do so, including dividing attendees into separate groups or rooms that hold no more than 250 people or 50% capacity, whichever is less.
As some government regulations like this at the time of this writing are still intact around the country to curb the size of meetings and events in response to COVID-19, smaller meetings—sometimes held in multiple rooms or locations—with a virtual component are becoming an appealing choice for planners.
This is where creativity and collaboration can really abound for MICE professionals when it comes to hosting a large meeting in a small way.
Multi-Location Meetings
This fall, global conference centers association IACC introduced MultiPod, a multi-location connected meetings approach where a planner can host a live meeting with anywhere from two to 10 IACC-certified venues around the globe to lessen the number of attendees in one location and separate them by region. The different groups, or "pods," can then interact virtually.
This not only reduces the perceived or real risk of bringing a large group together in the time of COVID-19, it can also be more cost effective and broaden an organization's reach.
"You're also just being a more forward-thinking organization," said IACC CEO Mark Cooper. "If you adopt this process, and your organization has a culture or objective to be seen as a thought leader or pioneer in any industry, then this is embracing a more modern way of doing something and can really add to the objectives of the meeting, as opposed to being seen as a traditionalist organization that's finding it difficult to break away from the way we used to do things in 2019."
Cooper said the MultiPod approach was inspired by a planner with whom he worked, and the two realized it still might be difficult to bring a large number of people together in one location even if government restrictions were lifted.
With MultiPod at IACC-certified venues, attendees can expect well-developed technology solutions and a dedicated in-house AV staff to help steer the virtual ship. Cooper says that IACC venues also have the propensity to collaborate with each other.
"They already have this openness to working together," he said. "Even though the venues are not aligned in terms of ownership or brand in any way, they share customers and have a good relationship. So we thought of it much like the peeling of an onion—there's multiple layers to this approach that involve more than just technology."
Cooper said the standard number of locations for potential MultiPod events so far, from planners looking into the approach, has been around two or three. IACC plans to host its annual conference next March in five different locations: Toronto, Chicago, Philadelphia, Dallas and Los Angeles. People will be able to attend virtually as well.
Drive-To Meetings
As planners look to ease attendees' minds about the risk of COVID-19, some CVBs in smaller locales are finding that their ease of accessibility by car and smaller size are becoming more of a selling point.
"That's definitely a twist that we're putting on our sell," said Jessica Bittman, director of sales for Delaware's  Greater Wilmington CVB. "We're advertising even more to our drive-to market—not just for meetings, but also for leisure travelers and things of that nature.…The fact that people can drive here and not have to go on an airplane is going to be a huge sell for us, as planners look into future years. And also the fact that we are a smaller city."
Bittman added that she always likes to remind planners that Delaware is tax free.
"Right now, ROI is really important," she says. "[Being tax free means] it's a quick savings right off the bottom line, to not have to pay tax on your room rentals and whatnot."
Farther north in Albany, New York, director of sales for Discover Albany Jay Cloutier said that lead activity has been somewhat drive-market related.
"We are getting those regional RFPs that view Albany as reachable by a bigger number of attendees because of centrality," he said. "We have seen lead activity based on that. It's an easier drive market for a bigger block of potential attendees."
This past August, Albany hosted an event for a hockey association at the Capital Center, where 25 people met in person to discuss pressing issues pertaining to their sport and COVID-19. The other half of attendees were conferenced in via Zoom.
"I would point to that as a success story," Cloutier said. "These individuals are incredibly passionate, and they saw some challenges with their work that required them to get together in person."
Creative Solutions
With some travel and meeting restrictions still in place, creative solutions like MultiPod and putting more focus on regional, drive-to destinations has proven to be a boon for planners when it comes to in-person opportunities.
 For more information on MultiPod, visit Iacconline.org.
"This isn't a commercial operation for IACC," Cooper said. "This is IACC helping to bring together the best solutions and create the framework…So do come to us, even if you're only thinking about it conceptually, because we'll be happy to talk through the approach."
Read next: Conference Centers Are Primed for the Post-Shutdown Meetings Environment