Flashy Tech, Modern Design and Plentiful Space Give CAESARS FORUM a Meetings Edge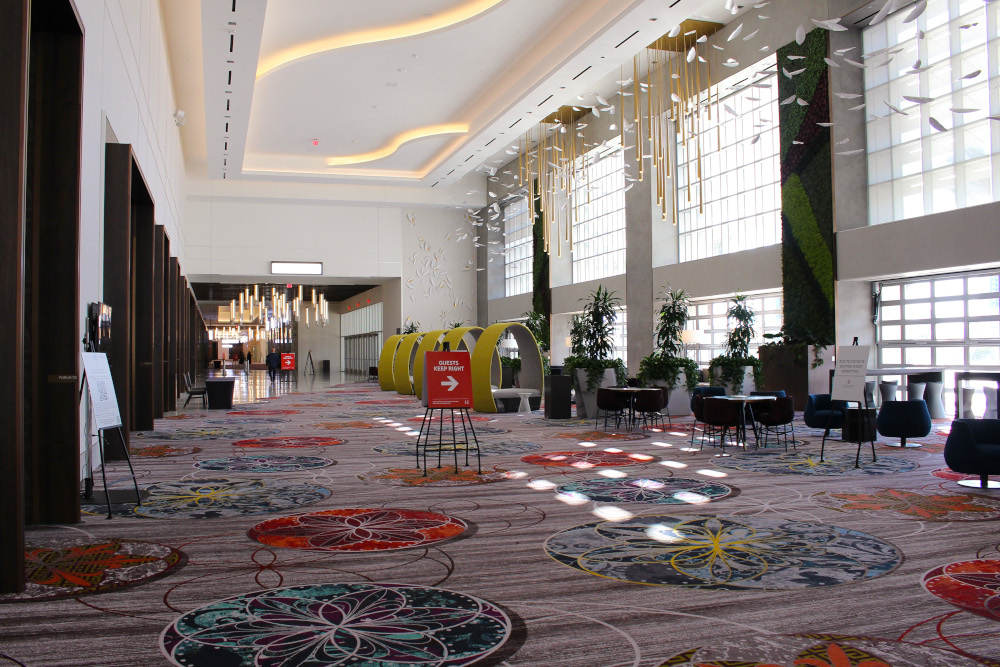 The brand-new CAESARS FORUM was one of 2020's highly anticipated openings, but—like so many others—its plans were thwarted by the COVID-19 crisis. In October, the venue opened its doors at last, hosting its first meeting ever.
Meetings Today took a tour of the facility as it hosted this inaugural event—a hybrid program for ConferenceDirect's Annual Partner Meeting (APM)—and its offerings for meetings both large and small don't disappoint.
To reintroduce planners to this game-changing venue, here are the highlights.
Massive Spaces
CAESARS FORUM is big—more than 550,000 square feet big. The venue is home to the two largest pillarless ballrooms in the world at 110,000 square feet each, with their doors steps away from windowed walls that open up to a 100,000-square-foot outdoor plaza.

Photo: CAESARS FORUM is home to two 110,000-square-foot pillarless ballrooms; Credit: Caesars Entertainment
This amount of space is game-changing for Las Vegas in both "normal" times and pandemic times. As the 130-person APM hybrid conference proved, ample open space indoors and outdoors to properly distance is crucial during the pandemic. And when COVID-19 is behind the meetings industry, the FORUM will have the capability to host up to 10,000 attendees at once—with 8,500 rooms directly connected to the FORUM via Harrah's, LINQ and Flamingo hotels.
The outdoor plaza in particular is a big advantage, said Don Ross, vice president of meeting operations for Caesars Entertainment, who noted that typically, the only outdoor spaces near the Las Vegas strip that can host large events are pool areas.
"We have gorgeous pools, but we're always fighting with the hotel operators," he said. "You don't want to close, even if it's a 3,000-person group. At Caesars Palace, there could be 2,000 people in the hotel that want to be out at the pool that are not part of the [meeting] group."

Photo: CAESARS FORUM's outdoor plaza is steps away from the ballrooms and the LINQ promenade; Credit: Caesars Entertainment
Two additional junior ballrooms, 40,000 square feet each.
More than 100 breakouts.
Six 1,250-square-foot boardrooms.
Though not as glamorous, the size of the "back of the house" is also an essential space feature of the FORUM, according to Ross. "Finally, I'm working in a facility that seems to have been created and managed by operators, instead of engineers or design/construction team people. It's just easy to get in and out of this building," Ross said. "Time is money, right? That's a big difference."
The FORUM's meeting spaces are all on one level and have two large loading docks that make setup and tear down easy and efficient for meetings.
[Related Podcast: A Look Inside the New CAESARS FORUM and Its First Event, Hosted With ConferenceDirect]
Technology Infrastructure
Many experts predict that hybrid events are here to stay, and planners will be paying careful attention to the technology capabilities of venues. The FORUM comes with all the sought-after bells and whistles.
Anchoring the experience is the 104-by-26-foot LG LED wall at the FORUM's entrance. "It can be separated into quadrants, so you could just have one picture or separate it into different projections," explained Stuart Falk, vice president of strategic accounts, Caesars Entertainment for Encore Event Technologies.

Photo: The large LED wall at the CAESARS FORUM entrance can be customized for groups; Credit: Caesars Entertainment
"Say at an expo, there's about 20 or so people that want to sponsor on the wall. We can really break that down into different spots and can rotate throughout it as well. And just the wrap around visual of when you come in is just so impressive."
Additionally, the FORUM's high-tech features are also big energy savers. Highlights include:
Laser projectors, which replace expensive bulbs often used in projectors that burn out more frequently and end up in landfills. Short-throw laser projectors at the FORUM also help open up more space for attendee seating, since they only need to be six feet away from the screen.
Paperless flipcharts that store information digitally. Meeting content is saved and never thrown in the trash after a brainstorming session.

Photo: Meeting room setup at ConferenceDirect APM; Credit: Caesars Entertainment
More flashy items include:
Lights and sound in meeting spaces all controlled via iPad.
"Intelligent" glass in boardrooms that can be frosted for extra privacy with the flip of a switch.
Ability to project from anywhere in the ballrooms, because they are pillarless, which opens up possibilities for more meeting space setups.
To help produce hybrid events, Falk's team at Encore Event Technologies works behind the scenes for events at the FORUM and other Caesars properties to keep the virtual programs running, in addition to having workers on site to assist with the live event tech.
Modern Design
Perhaps the most striking feature of CAESARS FORUM is its design. The interior design, led by Chelsea Lavell, partner, conventions and events, and Caesars director of interior design at KGA Architecture, infused the building with modern light fixtures and furniture, plus biophilic elements like:
Living walls.
Natural light, including windowed garage walls that open up to the plaza.
Succulent displays in the boardrooms.
Carpets in the ballrooms meant to reflect the colors of the seasons (winter, spring, summer, fall).

Photo: A few of the FORUM's boardrooms have garage walls that open up to the plaza, plus biophilic elements like succulents. Credit: Danielle LeBreck
Restaurant-Quality F&B
Caesars Entertainment has long aspired to have its meeting and event menus reflect fine restaurants, and Ross says that idea hasn't been abandoned at CAESARS FORUM, even when it means prepping food for thousands of people.
"Our kitchens are right behind the ballroom, so things can be cooked like in a restaurant à la minute, like last minute, and not hours before, pushed down the hall and forgotten," Ross said. "Whether throwing an event for 300 or 1,000 people to 6,000 people, those people deserve the same quality. So we tried to create a back of house that supports that."
For example, some of the first reception plates served at the FORUM during the 2020 APM hybrid conference included:
Lamb kofta kabobs, chicken kabobs and eggplant and bell pepper kabobs.
Prawn saganaki with ouzo, tomato, cippolini onion and feta.
Charred octopus with shaved celery, olives, Meyer lemon and parsley.
For dessert: Ekmek Kataifi (custard and whipped cream); fanouropita (raisin and spice cakes); yiaourtopita (yogurt cake) and more.
Menus such as this were designed under the leadership of culinary director Eric Vaughn, who was previously director of culinary operations for Paris Las Vegas, Bally's Las Vegas and Planet Hollywood. Vaughn has also worked with celebrity chefs like Gordon Ramsay to open restaurants in Las Vegas.
Ross says that CAESARS FORUM banquet chefs and teams are all familiar with the menus and can execute the high-quality dishes at 85-90% of Caesars' properties, including the FORUM.
Big Events in 2021-2022
If COVID-19 doesn't derail plans, the FORUM is set to host some key events in 2021 and 2022, where many attendees will see the new conference center on display for the first time. These include:
MPI WEC 2021
Cvent Connect 2021 and 2022
PCMA Convening Leaders 2022
NFL Draft 2022, in conjunction with the city of Las Vegas
Read Next: Discover Which Virtual Events Software Is Right for You