Discover Which Virtual Events Software Is Right for You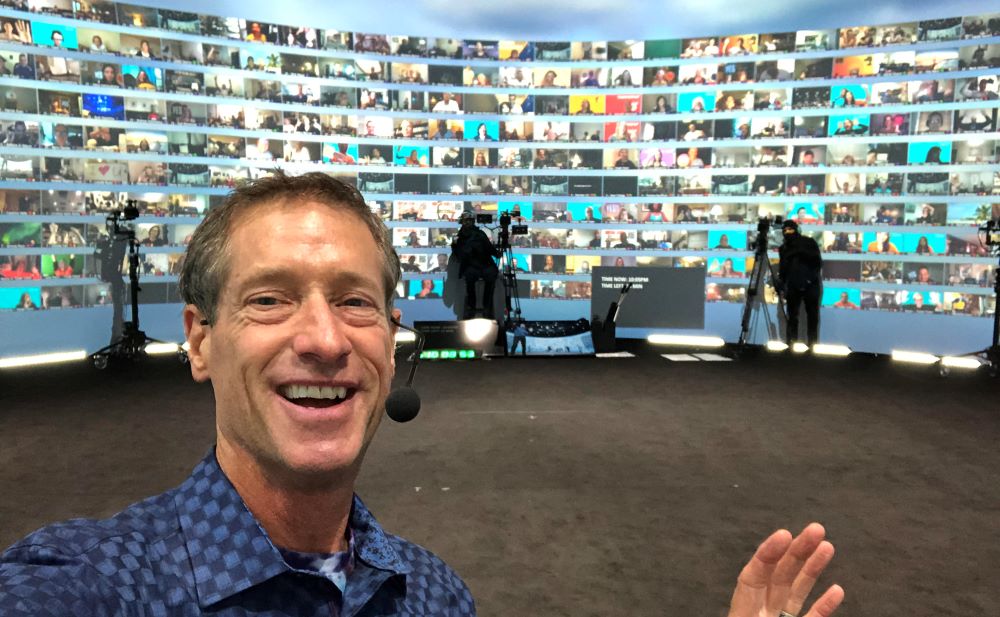 In just the first two months of 2020, David delivered talks to thousands of people at 10 different in-person events on three continents. Michelle's organization had a dozen events planned for the year; topics set, locations booked, contracts signed. And she'd already agreed to participate in many others.
Then COVID-19 hit. David's last in-person speaking engagement in 2020 was on March 3. In mid-March, Michelle's organization sent everyone home and went into wait-and-see mode. We both soon realized that for the foreseeable future, there would be no in-person events.
But, like many of you, we also quickly saw the need to embrace the potential of virtual events. Between March and September, David delivered talks at 25 virtual events. During that same period, Michelle helped produce a dozen virtual event sessions and participated in several others. In the process, we got to test out a wide range of platforms and features and see how different speakers and organizations used them.
Without doubt, neither of us landed on a perfect solution, but that isn't surprising, given the fact that the virtual events business has been a small slice of the industry—until now.
That said, because of the flexibility and opportunities that virtual events offer, they are likely to remain a permanent part of the industry. Given these dynamics, many organizations are trying to select a solution that will work for their needs.
[Download our free A Hybrid Meetings How-To eHandbook!]
And certainly, in light of growing industry demand, new solutions will crop up, and those already on the market will quickly evolve. However, many organizations need to find something that will work right now.
When you move an event online (or launch a new virtual event), the technology component will be one of the first things you consider. Some organizations will build from the ground up, but most will look for purpose-built or existing solutions to use out of the box or customize. So, based upon our experience and the research we did for our book, Standout Virtual Events, here are some key things to consider as you select a technology platform for your event.
Webinar Software for Basic Events
If you are hosting a basic event where you're not charging a registration fee in the platform, you might consider webinar platforms such as Microsoft Teams, Zoom or GoToWebinar. You are probably already familiar with these companies' tools for collaboration or meetings. However, webinar software from these types of online meeting companies differ a bit from the base tools many people use to collaborate with colleagues.
At its core, webinar software is a fairly straightforward, one-to-many solution. It allows a presentation to be shown and, generally, an image of the presenter to appear alongside it. Many of us are familiar with the basic free-to-attend webinar.
As you evaluate the options out there, some features you want to consider are administrative controls such as muting and unmuting panelists, selective recording of the event, Q&A moderation, polling, breakout rooms, registration, reporting and so on.
You will want to consider the ability to customize the setting (branding), as well as the ability to optimize the presentation. For example, you may want the speaker's slides to appear in a specific part of the screen. You may want to set a default view for attendees. While a webinar platform might satisfy you out of the box, just know that not every platform provides customization of the presentation layer.
One of the biggest concerns with webinar platforms is that most are not optimized for interaction. They are designed, essentially, to broadcast information.
However, you will want to understand exactly what you can do in this context and whether the tool allows you to provide the level of community and interaction that is appropriate for your audience. We believe that interactivity among attendees and interaction with a presenter elevate static presentations to standout virtual events.
Some webinar platforms include the ability to live stream to social sites like Facebook Live and YouTube (a few even include LinkedIn). Social integration can increase engagement and feedback, so this is worth considering as a lower cost way to provide interactivity, as well as to increase the reach of your webinar.
Other technological issues to consider are installed base and popularity. Will your audience already have familiarity with your platform? Is it easy to use? And, of course, you should weigh the requirement that attendees will need to download and install specific software to enjoy the event versus something that is browser-based.
Integrated Platforms for Larger Events
To provide a much more integrated approach for a virtual event, similar to larger in-person events, you may need a virtual event platform. You will also want to consider a virtual event platform if you are going to charge admission to your online event.
There are dozens of virtual event platforms. Some that we have used include BigMarker, Bizzabo, INXPO, ON24 and Cvent, as well as custom-built platforms. Hoppin.io is a new player on the market. Its differentiator appears to be in its networking and social solutions, so it is worth a look as well.
Virtual event platforms offer a wide variety of features and experiences. These include facilitation of multiple presentation tracks, roundtable discussions, a virtual tradeshow or expo floor, breakout rooms, virtual press center, networking and more.
The multiple presentation track feature, for example, allows for several simultaneous presentations to happen at one time so that attendees can choose the one that is best for them. These can be presented live, recorded in advance, or be a combination of the two.
Some platforms also have either their own smartphone app or seamless links to a partner app where participants can manage registration, connect with others and more. Note that an app allows the organizer to better control the experience and may facilitate networking. However, it may also inhibit virtual attendees who want to multitask during an event.
Interestingly, some virtual event platforms work seamlessly with webinar platforms like Zoom. The best way to think of this approach is that the presenters use Zoom with the resulting feed (or recorded talk) delivered to the virtual event platform where participants view the presentations. Using this approach, the virtual event platform handles attendee user interface, registration, permissions, credit card fees and so on.
Registration and Participation Management
If you are hosting a simple webinar, the platform you choose can be used to register people to attend.
However, if you are running a larger event with multiple tracks, an event where people come and go over hours or days, and/or a paid event, you will need more.
These events are much more complex and require software to process credit card payments and manage people's credentials to be able to see the content. This later bit is important if you opt for a tiered model in which, say, some sessions are free but others are premium/members only, etc. For a large event, you will also likely want a solution that integrates with your existing CRM and analytics tools.
You will need to manage the customer throughout the sales process, throughout the event, and afterwards. Thus, when you are evaluating platforms, be sure to identify all of the aspects that will touch the attendees and sponsors. You want to optimize the entire experience for these key stakeholders, and, of course, you want to ensure that any new customers become lasting ones.
Technology for Speakers
As a professional keynote speaker and virtual event speaker, David has presented using a dozen or so virtual event platforms. As a presenter, moderator, interviewer and event organizer, Michelle has tested and worked with about a dozen as well. Each of these platforms has pros and cons.
However, the one aspect that is extremely limiting is when the platform is hardcoded so that presenters' slides are significantly bigger than the video stream of the presenter. This is a throwback to the early webinar days and is not suited to keynotes for a large event.
Ideally, your software solution will offer the ability to customize the presentation settings for different types of speakers. In the case of marquee names and featured keynotes, you want to be sure that the virtual event audience can see the speakers. That may sound obvious, but many digital presentation platforms make the presentation slides big and the speaker tiny, with no options to modify the view.
As you are evaluating platforms, make sure that you have the ability to show the speaker in full screen and the speaker can present without the platform's slide presentation feature. Remember: Humans connect with humans, even virtually. Being able to control this presentation layer will be a critical differentiator for event producers.
Finding a Fit
Right now, there is no one platform that does it all; a clear leader has yet to emerge. It feels a bit like the early days of search in the late 1990s to early 2000s. At that time, Lycos, Alta Vista, Yahoo!, Excite and many others competed. As search became more and more important to the world, Google came along and the market found a clear winner.
Frankly, it's like that with virtual event platforms right now. The market is fragmented with no best-in-class solution. Expect consolidation and a winner to emerge in the next few years. 
For the time being, though, you need to give careful consideration to how any given solution aligns with your audience needs and expectations, as well your organization's objectives. Then, of course, you will need to factor in constraints such as budget and technical support or acumen, for integrating with your existing systems, providing real-time tech support during an event, and for optimizing any platform to best suit your needs and audience expectations.
We believe that the best virtual events, those "Standout Virtual Events," are a result of rethinking what is possible.
No virtual event can replicate an in-person experience. Nor should it try to. With every move from an analog paradigm to digital, there are those who fail to embrace the potential that digital offers. However, as event organizers continue to approach virtual events creatively—and technology solutions evolve—we will see virtual events take their rightful place as a first-rate experience that audiences will love.
About the Authors:
David Meerman Scott is a marketing and business growth strategist, entrepreneur, advisor to emerging companies, author of 12 books (including four international bestsellers) and public speaker.
He has delivered in-person talks in 46 countries and on all seven continents and has presented at hundreds of virtual events.
Michelle Manafy is the editorial director of media trade association Digital Content Next where she is responsible for content initiatives and programs member events, as well as a regular contributor to Inc.
She focuses on digital media, marketing and entrepreneurship and promotes best practices in a variety of venues.