Virtual Tools and Hybrid Meetings in Raleigh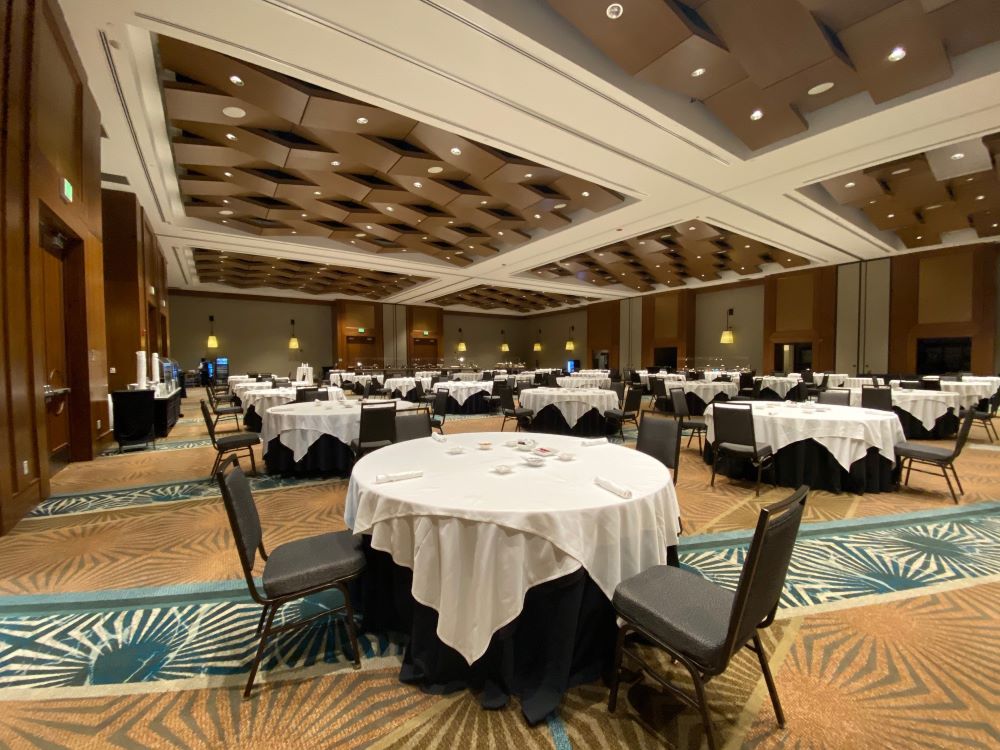 Credit Raleigh Marriott Crabtree Valley
COVID-19 has upended the meetings industry in many ways, but perhaps one of the most significant shifts is in how we use virtual technology to do business. With face-to-face meetings at a near standstill in 2020, experimenting with virtual tools and exploring future hybrid meeting solutions are hot topics for planners.
In Raleigh, N.C., this investment in the virtual and hybrid experience is serious. Following are some of the ways Visit Raleigh is assisting planners with virtual tools to conduct site inspections and explore the city, and learnings from a hybrid meeting case study held at a Raleigh hotel in June.
Virtual Tools for Site Inspections and Destination Exploration
In many cases in 2020, planners have not been able to travel to conduct site inspections to aid in destination selection for future meetings due to travel restrictions in place by their employers or personal safety reasons.
This has propelled virtual technology to the forefront. Many CVBs have been experimenting with these tools so planners can still interact and immerse in different destinations. Visit Raleigh has invested in this strategy, offering a host of tools.
360-Degree Tours and Drone Technology
Visit Raleigh has been working with Threshold 360 and Destination Virtual Tours to create virtual tours and aerial drone footage of key tourism assets to assist local hospitality partners with marketing and selling their venues to planners. Through this, the CVB expects more than 100, 360-degree virtual tours will be created of major meeting hotels, venues and other businesses around Wake County.

360 Tour of RCC Credit: Threshhold360-Courtesy visitRaleigh.com
Earlier in the pandemic, the Visit Raleigh sales team also conducted walk-throughs of hotels and the Raleigh Convention Center for groups of meeting planners via GoToMeeting, an online meeting and video conferencing software. Hotel or convention center sales staff walked around the venue streaming content to planners, showing off meeting rooms and answering questions in real time.
In addition to event venues, over 90 aerial drone videos and photos have been created to capture local attractions, municipalities and a long list of other county assets, to give planners a holistic view of the destination and plan out a full itinerary.

Drone video tour screenshot Credit: DVT-Courtesy visitRaleigh.com
Hybrid Meetings: A Case Study
Many meetings experts predict that hybrid meetings—live meetings with a virtual participation option—will be an industry norm in 2021. Raleigh experimented with this meeting model earlier this summer to help a corporate group move forward with their meeting at the Raleigh Marriott Crabtree Valley hotel.
The hotel welcomed 10 in-person attendees and over 100 virtual attendees for the two-day meeting in June, according to Farrah Staub, director of sales and marketing at the hotel. This marked the first time the hotel had ever hosted a virtual audience.
The meeting served an educational purpose and streamed the content live to virtual attendees. Those attending in person were regional drive-in participants.
Staub said that the meeting went smoothly with no glitches, and her team walked away with a lot of firsts, as well as many learnings to apply to future hybrid meetings. Some of these include:
Connectivity
"When we first were approached to do this, it was difficult because of the connectivity portion of it, not knowing what the group needed and what the expectation was," she said. "We got our third-party AV company on property involved early on." She noted that knowing the bandwidth of your venue and working closely with AV partners is imperative to moving forward with clients interested in hybrid meetings.
Food & Beverage
As many venues and planners try to figure out the safest way to serve food and beverages to in-person participants, Staub said her team went with a conservative approach. "We decided to do meals in the meeting room, offering a continental breakfast menu and pre-ordered lunch," Staub noted, saying that it was important to the client to eliminate movements and close contact with other in-person attendees. "We had one chair per eight-foot table, and they had their meals at the same spot."
Flexibility
"The biggest thing is having flexibility with your client. It's no longer, 'It is what it is, this is the setup you're getting.' Clients really want to see proof that we can do six-feet distancing in our meeting space." Staub added that the hotel has over 20,000 square feet of meeting space and two large ballrooms, and she sees that as an advantage for small live meetings that need to spread out.
Ultimately, in addition to these key learnings, Staub said the end goal of hybrid meetings is to create a meaningful experience for all participants. "You have to ensure the people at home are having a similar quality experience as the people in the room are having," she concluded.
Get in Touch
Plan your next hybrid meeting in Raleigh or arrange for a virtual tour!
Visit Raleigh | 919.834.5900 | sales@visitraleigh.com
Raleigh Marriott Crabtree Valley | 919.571.5345 | farrah.staub@marriott.com
Read next: Through Certifications and Safety Training, Raleigh Is Poised to Welcome Back Groups
*This article was created in partnership with Visit Raleigh