How Large Resorts Are Set Up for Social Distancing Success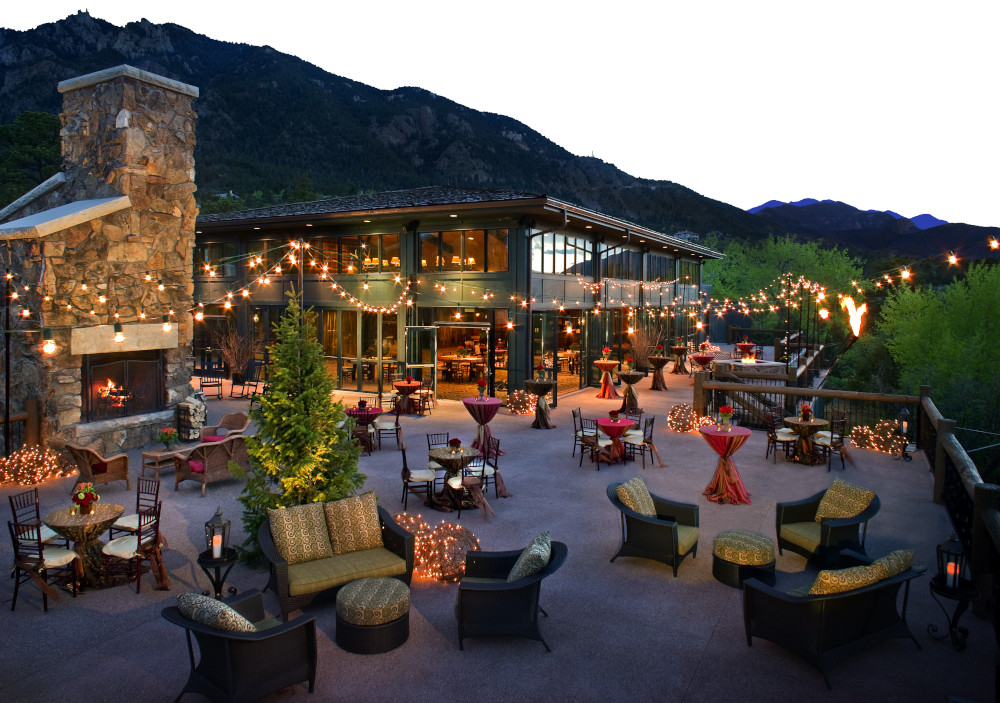 Outdoor space at The Broadmoor's Cheyenne Lodge in Colorado Springs, Colorado. Credit: The Broadmoor
The COVID-era has devastated business at all types of meeting venues, leaving many convention centers, offsite venues and others with little foot traffic. One type of venue, however, may have the ingredients needed to thrive early as attendees tentatively step back into face-to-face meeting environments in 2021: large resorts.
Thanks to their many amenities, onsite leisure activities and an abundance of space, the buildings originally envisioned to hosts hundreds of attendees for a multiday conference or retreat may find themselves busy catering to a smattering of small groups that utilize their properties in different ways.
Space to Spread Out
Undoubtedly, one of the biggest advantages for resorts is the amount of space they have available. In the age of staying six feet apart from others, ballrooms originally built for hundreds of people may now need the same amount of space to safely host 50.
"The two words you don't want to hear 10 years from now are 'social distancing.' But the fact is that these buildings are big," said Mike Wainwright, vice president of Gaylord Hotels and Marriott Convention Resort Network (CRN). "The entire footprint is made for these social distancing opportunities. You can do meetings of all sizes—you can spread a meeting of 300 people in a 50,000-square-foot ballroom or use the outdoor spaces if you need to. Within Gaylord, our spaces are really like a blank canvas and you can paint them however you need to based on customer sentiment, customer needs and state guidelines."
Gaylord properties are indeed large—the average amount of meeting space available at a Gaylord resort totals over 500,000 square feet.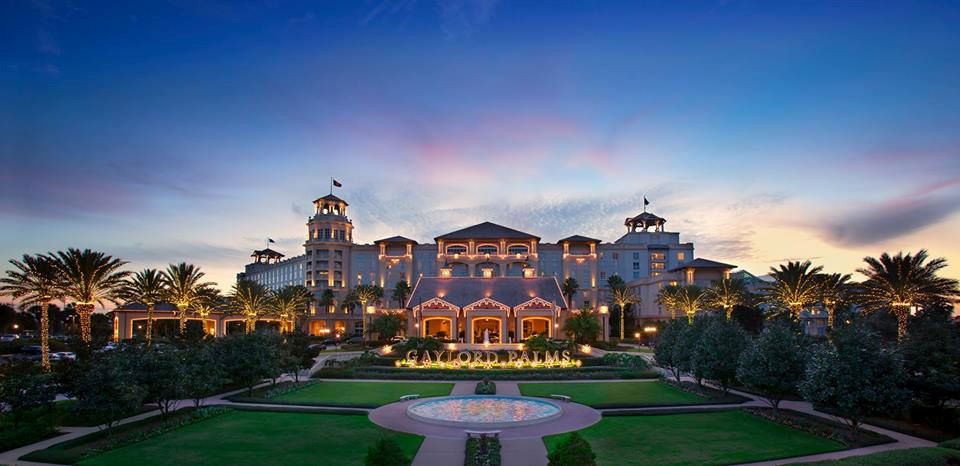 Other resorts traditionally used for large events, such as Mandalay Bay Resort & Casino, which is connected to the Mandalay Bay Convention Center, have pivoted to using large spaces for smaller groups. 
"With Mandalay Bay's tradeshow and exhibit space, [we asked] 'How do we do something fun in that space that we wouldn't have traditionally done?'" said Stephanie Glanzer, SVP and chief sales officer for MGM Resorts International, noting that the resorts in the MGM portfolio have been thinking creatively this year, within Nevada's state guidelines.
[Listen: How COVID-19 Is Changing Meeting Space Design]
Although business as usual is down because of the pandemic, large resorts are still seeing a lot of meeting foot traffic. Glanzer said that MGM Resorts has had over 100 events since the pandemic, within state gathering guidelines at 50 or 250 pending the timing. 
Similarly, The Broadmoor—a luxury resort in Colorado Springs, Colorado—has seen over 200 events, leveraging its 90-plus meeting spaces of varying shapes and sizes, plus its newly completed 125,000-square-foot Bartolin Hall.
Socially distanced layouts have the potential to look sterile, but in-house production teams like MGM Resorts Event Productions can work with meeting planners to ensure layouts in these large spaces adhere to guidelines, while still feeling inviting and creative.
"Because we are fortunate to have MGM Resorts Event Productions, our internal company, we are able to utilize things like furniture or decor to go from a traditional room to offering comfortable chairs with personalized desks in front of them, six feet apart.…Multiple groups have used furniture and decor to give a unique experience," Glanzer said.
Everything Under One Roof
Not only are large resorts home to a lot of meeting space, but everything you need for a meeting—from the guest rooms, to the restaurants, to the recreation activities—are on-property. And that's a big plus in pandemic times, when keeping track of attendees and their interactions to mitigate the risk of COVID-19 transmission in the community is paramount.
"Really, attendees don't have to leave the facility from the time they arrive from the airport until they leave [the resort]. So, it's minimizing that risk by staying within one facility," Glanzer said. 
She also noted that, because of MGM Resorts' Convene with Confidence program, the properties can also provide groups with COVID-19 rapid testing onsite, if they want it. 
"There's a benefit to staying, meeting and recreating in one location—thereby lessening your interaction with others—especially when you consider that a large resort (especially one in a mountain setting) offers plenty of room to spread out," added Pierre Stone, director of conferences and catering for The Broadmoor. "In 2021, even as things improve, people will still have a great appreciation for space and being outdoors—something a standalone conference center simply can't provide like we can."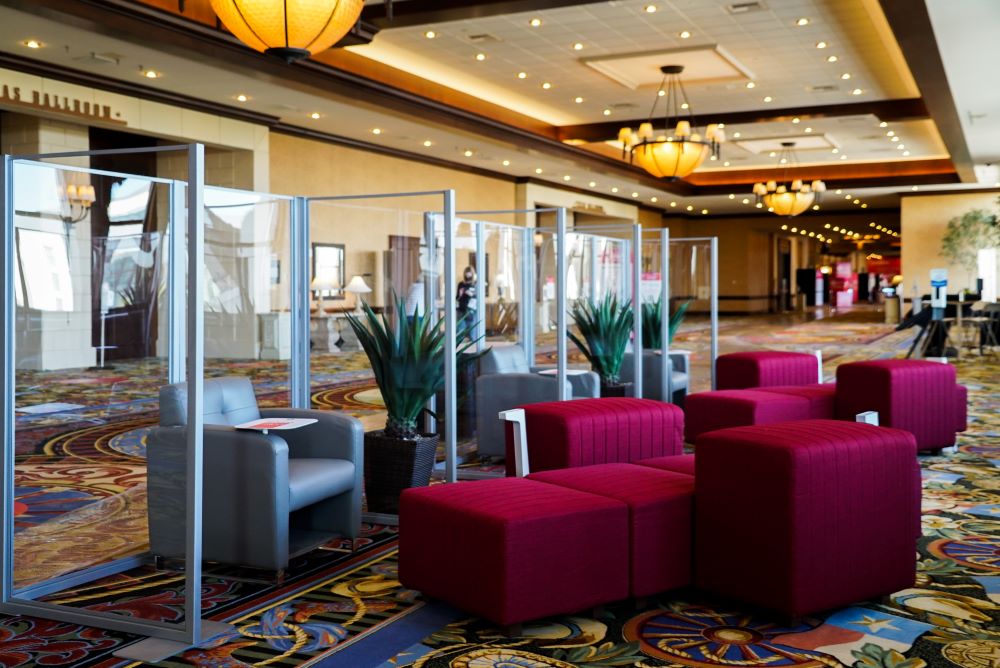 Stone said that The Broadmoor has seen an uptick in interest in outdoor activities provided on the resort's property, too, such as fly fishing, horseback riding, hiking and archery. With more than 5,000 acres to spread out for meeting and recreation, there is little need to leave the grounds in between meetings.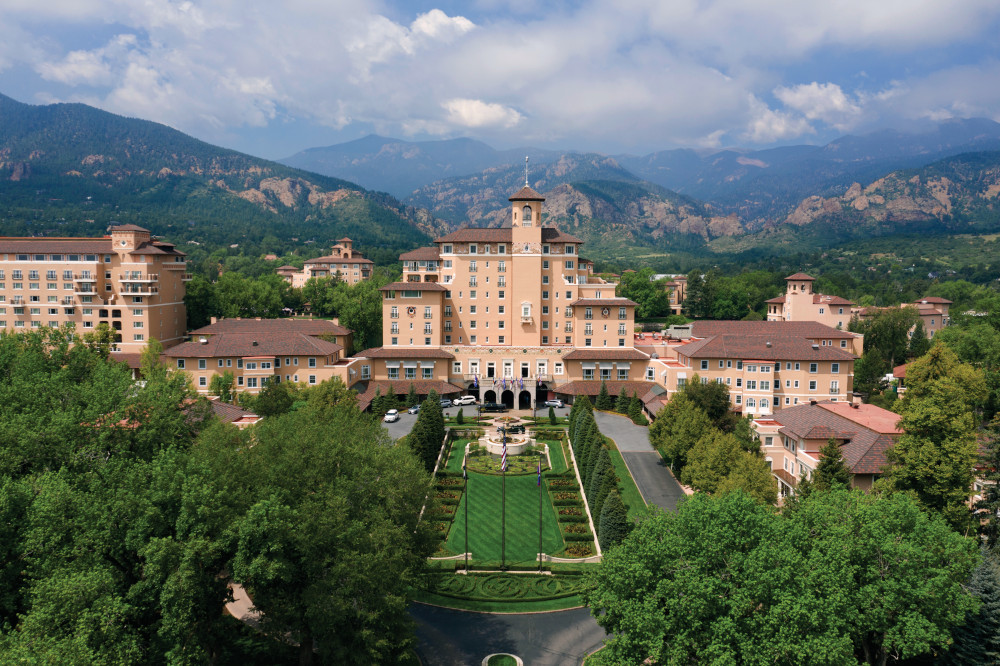 That idea extends to food and beverage. Resorts often have onsite restaurants and in-house culinary teams that can provide exceptional dining experiences and banquet meals, eliminating the need for groups to go off-property. 
[Related: 10 Tips for Creating a Safe, Socially Distanced F&B Program]
"The culinary teams in the [Marriott] CRN network are really creative people, and they had a riddle to solve: How do you provide awesome-tasting food that's packaged a little differently?" Wainwright said. "It's not always a boxed lunch. They have created vessels and containers, and ways to serve food that provides safety that people want and confidence that people need, but it does not sacrifice the creativity and quality that our chefs need to put out."
Plentiful Outdoor Options    
Resorts are often planted in locations surrounded by scenic landscapes, whether it be mountains, white-sand beaches or near iconic parks and historic sites. This proximity to natural beauty is more than enough reason to factor in outdoor meeting spaces into resort construction—and with the demand to gather outdoors on the up, more resorts are leveraging these spaces than ever before.
Wainwright mentioned that the JW Marriott Marco Island Beach Resort, which is set on three miles of private beachfront on the Gulf in Florida, has made good use of its access to the beach for unique group gatherings this past year. 
"Marco Island did a breakout on the beach for 1,000 people," he said, noting that everyone maintained social distancing while wearing headphones to hear what was going on  —akin to a scene of a silent disco. "It required creativity on the hotel, and customer as well."
Similarly, The Broadmoor has found many creative ways to leverage their mountainside outdoor spaces to cater to groups' needs.
"We hosted full meetings outdoors in 2020, with presentations on 60-inch monitors," Stone recalled. "We have also moved as many meal functions outside as possible—it lets guests enjoy the Colorado weather and helps them feel safe."
Evaluating attendee comfort levels is key to organizing successful, safe meetings during these uncertain times. Glanzer said that some MGM clients have also asked for full programs outdoors. Popular spots include the patios off the Monet Ballroom at the Bellagio in Las Vegas, where in October MGM's largest group meeting during the pandemic so far held everything from their pre-con to their food and beverage events.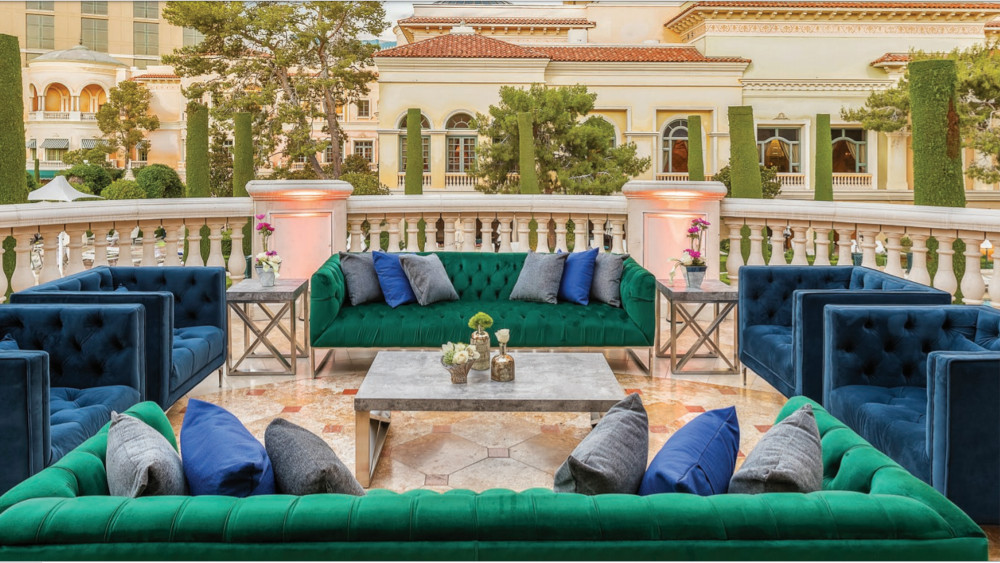 "You need to think outside the box—literally," Wainwright asserted. "Groups are using beaches, tennis courts, outdoor restaurants, and some hotels have purpose-built lawns, like the Gaylord Palms in Florida. I've even heard of a group using a golf course on a day it was closed for play."
"Every hotel has a hidden gem or some sort of unique space that they can operate."
Read This Next: How Planners Are Hosting Large Meetings in Small Ways