Serve Up Virtual Confectionery Classes from 'The Sweet Genius'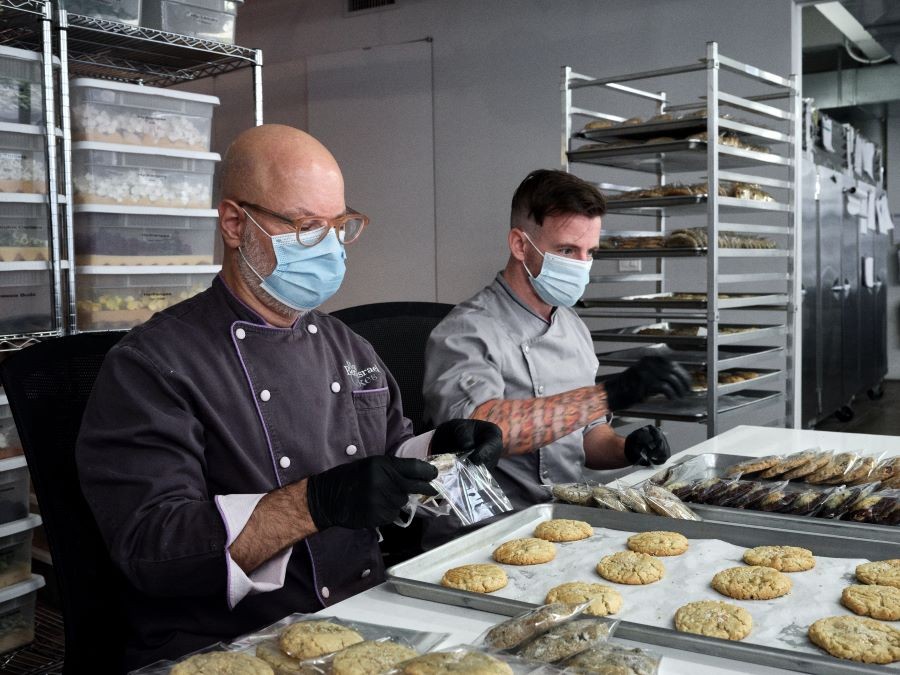 Photo courtesy of Ron Ben-Israel Cakes.
I'm a lucky guy—I get to meet a lot of people through my career. But do I remember everyone's name? That's a big "no!"  
One person I have the privilege of knowing is Ron Ben-Israel. When I tell people that I know celebrity pastry chef Ron Ben-Israel personally, they are always shocked. Yes, every New Yorker knows RBI! One simple "Hello" to Ron and you have a friend for life.  
Ron is one of those people that when I see his name pop up on my phone, no matter what I'm doing, I know I have to answer! This is precisely what happened last week. Ron called me one morning and said he had to come by our Manhattan headquarters at "TwoFortyThirty"—treats in hand!— to tell me about his new project.
[Related: Chef Paul's Virtual Chocolate Experiences Are a Sweet Treat for Groups]  
And since he bribed me with treats, I'm letting all of you in on a secret: The AMAZING Ron Ben-Israel is hosting virtual baking experiences and shipping his delectable baked goods to audiences across the country! 
Meet The Sweet Genius   
In case you don't know "The Sweet Genius," whom Modern Bride Magazine calls "A Piece of Perfection!," let me introduce you…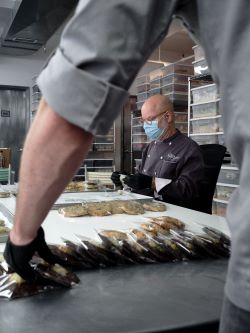 Known for their innovative and impeccable creations, Ron Ben-Israel Cakes is one of the finest couture cake studios of our time. Founded by Ron in 1999, RBI Cakes' trendsetting cake masterpieces have been featured in countless books, TV shows, films and publications, and can also be spotted in many of New York's premiere hotels and venues. 
The bakery received additional accolades in 2011, when Ron became the host and judge of the Food Network's hit show Sweet Genius for three seasons. Since then, the show has been syndicated around the world, and Ron had the opportunity to be a judge for three seasons on the Food Network's hit show Cake Wars as well as several holiday specials. This journey has allowed Manhattan event venue Above Twelve, a partnership between Ron Ben-Israel Cakes and Marica Selden Catering, to position itself as a leader within the industry and to partner with and promote charities such as City Harvest.   
A Pandemic Pivot Partnership 
With the onset of the pandemic, all orders for celebration cakes stopped in March 2020, leaving Ron in an empty bakery-studio with no clients nor employees.  
The need to bake and provide sweetness to fellow New Yorkers (and the country) had not stopped, though. A new venture was formed to channel the need to keep baking and creating during a period of uncertainty. With the help of his colleague, pastry chef Thomas Smallwood, who is a graduate of the famed Ferrandi culinary school in Paris, a previous sous-chef at Dominique Ansel Bakery as well as the executive pastry chef of Creative Edge Parties, Ron created a whole new pastry venture: RBI Treats.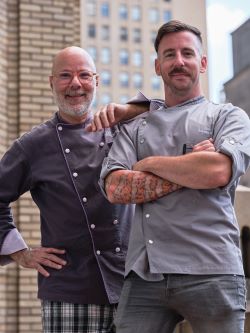 The chefs began delivering a range of "RBI Treats" to all boroughs using bicycles and allowed curbside pickups from their bakery-studio in Midtown Manhattan. In July 2020, they added nationwide shipping of their cookies and have since expanded the line to include more sweet offerings, such as mini-cakes and special holiday treats for December holidays, Valentine's Day, Passover and Easter, to name a few. 
Besides the retail outreach, Ron and Tom have been providing hundreds of boxed treats to accompany Zoom weddings, charity events and educational appearances. Prior to 2020, the only way to try a delectable taste of RBI Cakes was to receive an invitation to a highly coveted event serving one of his masterpieces—or order one for yourself!  
With RBI Treats, incredible seasonal cookies, gorgeous macarons and mini cakes are just a click away. Send your friends a celebratory treat, order some for yourself or custom order branded boxed treats for virtual event attendees! 
Virtual Group Baking Classes 
Along with their online retail shop, Chef Ron and Chef Tom host intimate virtual baking experiences like The Secrets to the Best Chocolate Cake and Mastering Macarons. Hosted in studio with a full production team and professional videography, RBI's virtual baking experiences are an opportunity for groups of any size to learn the most guarded pastry secrets and chat with Ron and Tom.  
RBI Treats can customize the colors of any icing, macaron or cake to match your branding for a sweet treat for employees or clients. Add your branding to the box and ship each gift box directly to your audience or include in an event experience kit.  
Chefs Ron and Tom will capture your heart with their kindness and joyful personalities—and they'll create unbelievable desserts just for you. Your attendees will thank you!  
Please sign up for Cerbelli Creative's inspirational monthly newsletter at eventstrong@cerbellicreative.com.
Contact
Cerbelli Creative 
212.256.1518 
info@cerbellicreative.com 
See more of Michael Cerbelli's: The Hot List™ 
Read Next: 1 Year Into the COVID-19 Pandemic, The Hot List Remains #EventStrong