Florida's West Coast Chefs Talk Post-Covid F&B, Upcoming Food Trends and More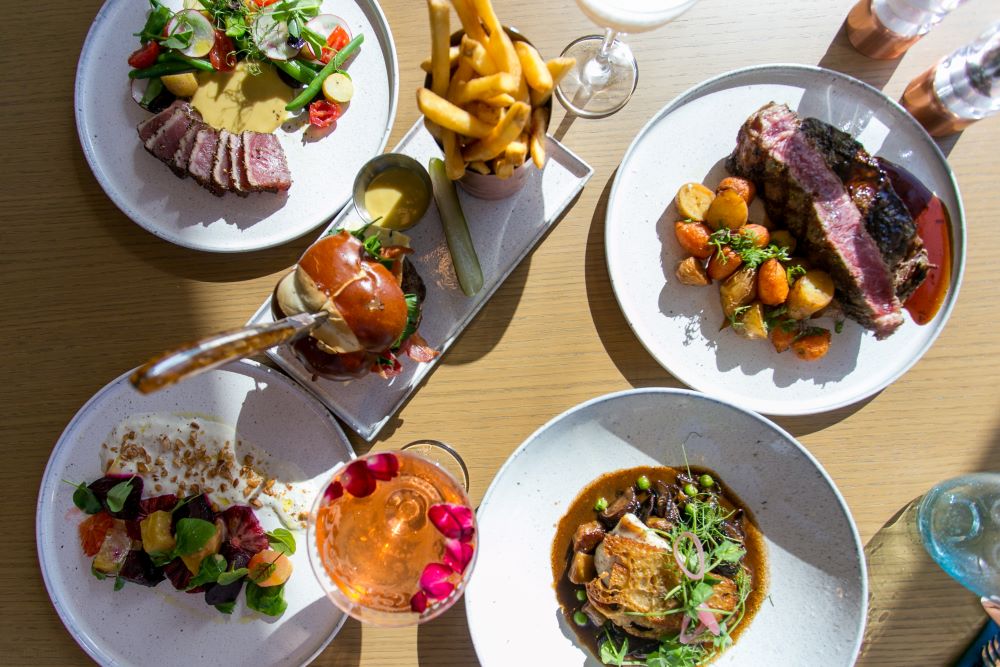 Food spread from JW Marriott Tampa Water Street
Food and beverage is often one of the biggest highlights for attendees at meetings and events, and following a long break from in-person gatherings, it's likely there will be a lot of pent-up demand for delectable F&B experiences. 
How has the food and beverage experience changed in the COVID-19 era, and where is it going? And what can planners expect to see on menus as bookings rise? We talked to some chefs in Florida's popular west coast destinations like Tampa, Clearwater and St. Petersburg to sniff out the trends.
Claude Rodier, Wyndham Grand Clearwater Beach
Claude Rodier, executive chef at Wyndham Grand Clearwater Beach, attended L'Etincelle Culinary School in Nimes, a city in the south of France where he was born. Coming from French and Italian backgrounds, he watched his mother and grandmother cook and was captivated. Throughout his career, he has worked in restaurants at luxury properties all over France, many with coveted Michelin stars.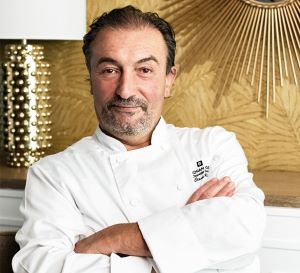 "I've worked at Moulin de Vernegues in Provence, Moulin de Mougins under Roger Verge for a few years, Negresco Hotel in Nice, France, under Chef Jacques Maximin, and many more top restaurants," Rodier said.
Today, at Wyndham Grand Clearwater Beach, a luxury property on the Gulf of Mexico, Rodier oversees all restaurants on-property and collaborates with his culinary team on menus for the groups they have in house.  
"We work with groups to personalize each dish, review any special requests or specific dietary restrictions attendees may have, the overall vision for the function and what they would like to accomplish through the food and beverage experience," he said. 
Rodier has also hosted high-profile clientele, including a White House dinner benefiting the Gettysburg Festival Foundation, National Basketball Association, All-Star Baseball, The Walt Disney Company and the First Induction of the Rock & Roll Hall of Fame.  
"I've also had the great honor to host events with the George & Barbara Bush Foundation where renowned authors were honored," he said. 
"Recently, we hosted a very special event for a group, which featured a stunning 25- to 30-pound gourmet cheese display on our pool deck with different kinds of honey, chutneys and a large variety of breads, which was a major centerpiece of the event."
Welcoming back groups is a priority and Rodier said it has been "safety first" since the pandemic began.  "Masks are mandatory, social distancing and hygiene is of utmost importance. This is not new in our profession, but now more than ever a major importance in our line of work," he said.
With group sizes being smaller these days, Rodier said that Ocean Hai's private dining room, which seats 10, has become a popular option.
"It has been great for intimate group dining experiences," he said. Asian-inspired dishes at Ocean Hai include Chicken Pot Stickers, Mongolian Meatballs, Crab Rangoon, Kung Pai Calamari and Wagyu Beef and Peppers. 
"We use the best ingredients available to us from local fisheries and bakers and much more," he noted.  
Alex Reyes, Don CeSar
Executive Chef Alex Reyes of the Don CeSar, on the beaches of St. Petersburg, studied at the Florida Culinary Institute, but said his love for food started from times he spent around the table during family meals. 
"Great food and good laughs are what brought us together growing up and this sense of community still drives my passion today," he said.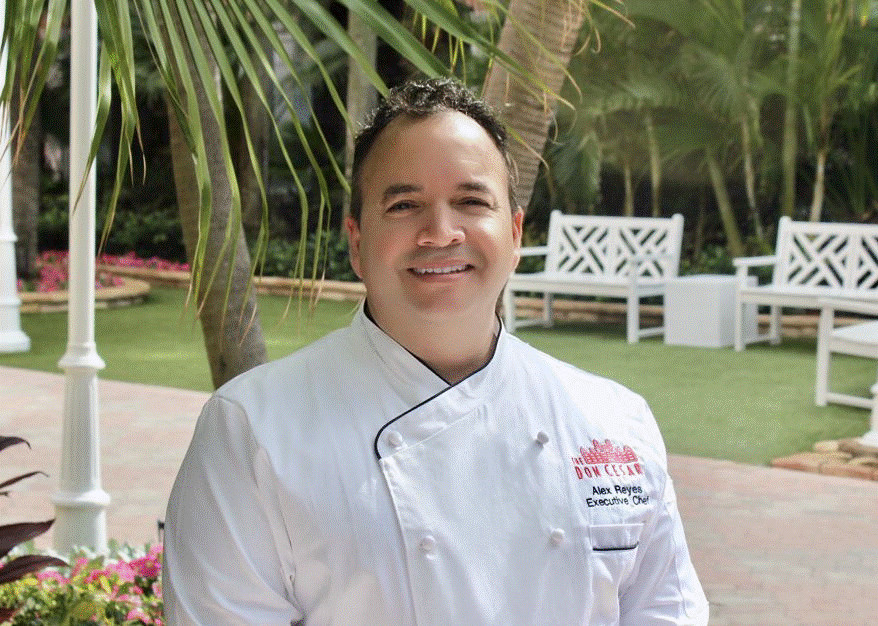 Reyes says he is entering one of the most exciting and challenging times in his career, as the industry tries to define post-pandemic culinary expectations.
"Prior to COVID, people considered themselves foodies, and wanted to explore a bit more into fun flavors and spices with a healthy edge. Moving forward, we believe comfort food and the idea that enjoying life and splurging a bit will be priorities for diners. 
"High-quality comfort foods presented in a single-use capacity will be very important to event diners, in addition to expanding their global palate from the comfort of their event spaces," he said.     
A main priority at the hotel is sustainability and local sourcing, so the culinary staff at the Don CeSar are working hard to ensure single-use plastics and compostable materials can be utilized to display and offer a luxury dining experience. 
"Food presentation has changed dramatically now that health and safety are more important than ever. Enhanced chef attendant experiences, individual food stations and tray-served individual packaged servings are now expected, versus larger multi-item buffets," Reyes said. "At the Don CeSar we are aggressively measuring our food waste. We're utilizing new technology, which photographs and weighs every single piece of food waste; the system identifies exactly what is being thrown away. This allows us to balance our preparation and portion with a goal to eliminate major food waste, an issue that exists throughout the restaurant and lodging industry. Our goal is to be more sustainable and environmentally innovative moving forward."
Sourcing local is also a priority for the resort. 
"We source local seafood like stone crabs and get amazing greens and produce from regional farms; many people don't realize Florida is a leader in cattle and pork production, offering amazing access to fresh chops," he explained.
New to the hotel is a demonstration room at restaurant Society Table providing a setting where guests can interact with a chef on specific culinary experiences such as oyster shucking, cake frosting, charcuterie and cheese pairing, and specialty wine and liquor tastings.  
Reyes also said he's created many beach events for diners from around the globe.
"There is something truly special about a blazing Gulf sunset with your feet in the cool white sands of St. Pete Beach," he offered. "Decadent slow-roasted pigs, rotating all day for attendees to see, smell and taste, and fresh seafood stations where you get your hands a little dirty cracking and shucking, colorful produce and greens where all it takes is a little seasoning—and the products are the star of the show! Wash it down with a little local 3 Daughters Beach Blonde Brew and it's paradise at the Pink Palace."   
[Related: 18 Showstopping Outdoor Venues in Florida]
Joseph Pankrath, JW Marriott Tampa Water Street
Chef Joseph Pankrath was recently named executive chef at the newly opened JW Marriott Tampa Water Street. He takes his inspiration for cooking from his mother, who he used to help in the kitchen, but he really got excited about working in a restaurant while employed at his first "real job" as a dishwasher.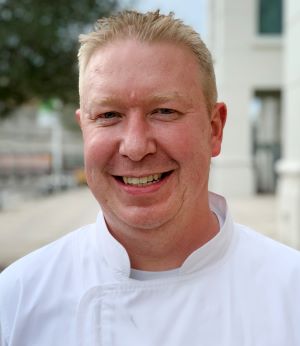 "I thought it was so cool working in a kitchen and going through the rush of service, and how it was orchestrated chaos and then it was over. Loved it!" he said. 
Working two jobs after high school and cooking as much as he could while he got his associates degree in business at Tampa's Hillsborough Community College, Pankrath took a different path. He traveled—and cooked—in restaurants in New York, Chicago, Marco Island and Bangkok. He started working for Marriott in April 2006.
Pankrath continues to see the trend toward healthy eating and said avocado toast, grain bowls, juicing and vegetarian food are still very popular. He likes to work with groups to see what they are comfortable with as far as cuisine. 
"I can do big, high-end fare with food stations and small plates or a five-course, sit-down, plated lunch or dinner," he said.  
Because of the pandemic, he's seeing more of a change with buffets and to-go lunches and dinners. 
"More people are requesting a boxed lunch versus a plated lunch at the moment, and also, in an effort to minimize food contact, we are also seeing a trend in serving buffets versus the more traditional where you walk through and serve yourself."
Pankrath said he especially likes when clients give him direction and they can create dishes off the menu. 
"It's really fun for us to do that and showcase our culinary team's creativity," he said.
In fact, when chef Pankrath interviews prospective cooks, he asks them to make him a dish. The Focaccia Crusted Grouper with Potato Gnocchi and Fresh Peas was one of those dishes, which is now on the menu. 
He also likes showing off when hosting meeting professionals when they can go "all out" and have fun curating great dishes, as well as pair them with cocktails complementing the dishes. 
Geraldo Bayona, Columbia Restaurant Group
Chef Geraldo "Jerry" Bayona became corporate chef of Columbia Restaurant Group in 2006, overseeing the company's 14 restaurants. The restaurant's original restaurant, founded in 1905 in Ybor City, Tampa, is said to be the oldest continuously operated restaurant in Florida.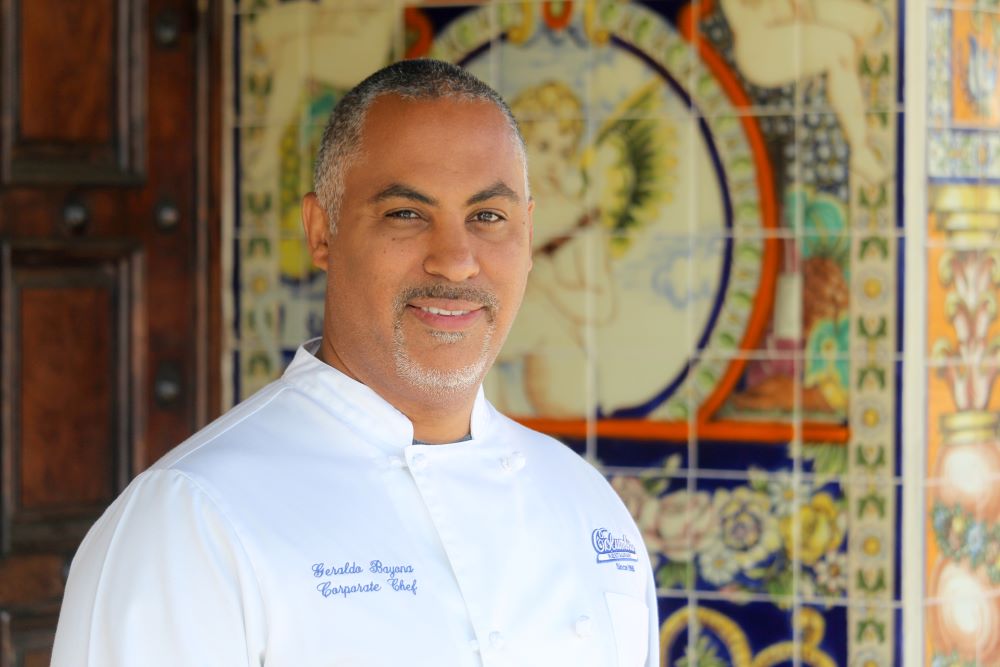 Bayona has come a long way from cooking at age 13 for his brothers and sister while his parents toiled in a factory in Long Island, New York.
"When we got home from school, we had to fend for ourselves in a way. That's how a lot of cooking for me started. In the beginning it was Beefaroni and breakfast on weekends. I learned more on weekends because I was helping out my mom. But I still didn't know cooking was my thing. 
"When I finished high school, we had moved to Port St. Lucie, Florida, and I was thinking about computer programming. My first job was at Applebee's and then I worked at Club Med resort for a while. Club Med was good for me because every six months, they have new chefs come in who always brought with them their European influences."
The trend now, he says, is to-go orders. 
"You have to cook differently for to-go orders. The biggest challenge now is how do we make to-go food taste great? We even do to-go sangria, where we give guests separate containers of sangria and fresh fruit to build a perfect drink themselves." 
Columbia's restaurants have always been known as a place for groups to gather, Bayona said. 
"Coming out of COVID, we're slowly adding more group events to the Columbia Restaurants, as well as Ulele (on Tampa's Riverwalk) and Casa Santo Stefano (housed in a former 1925 macaroni factory in Ybor City, Tampa) as more customers become vaccinated and feel safer," he offered.
One of Bayona's favorite dishes is Paella "a la Valenciana." 
"It's prepared in a traditional paella pan, with clams, mussels, shrimp, scallops, calamari, chicken and pork, baked with La Bomba Spanish rice, extra virgin olive oil, green peppers, onions, tomatoes, garlic, spices and splashed with white wine. It's the national dish of Spain," he said. "It was the first dish I had when I came to the restaurant and I have always loved it. Me being Puerto Rican and growing up with arroz con pollo as our thing, having that dish with all those ingredients and flavors meld together is just wonderful." 
Bayona sources his ingredients from all over Florida: Ruskin for tomatoes, Plant City and Winter Haven for strawberries, and seafood from the Gulf of Mexico. 
"We've also used Cuban bread baked by La Segunda Central Bakery in Ybor City in Tampa for more than a century and products by Sunny Florida Dairy for more than 100 years," Bayona said.
[Related: Florida CVB Veterans Talk Pandemic Recovery and Beyond]
Thomas McKinney-Stehr, Innisbrook Resort
At Innisbrook Resort in Palm Harbor, north of Clearwater, Thomas McKinney-Stehr, executive chef, has been cooking practically his whole life, starting in the restaurant his parents owned in Germany.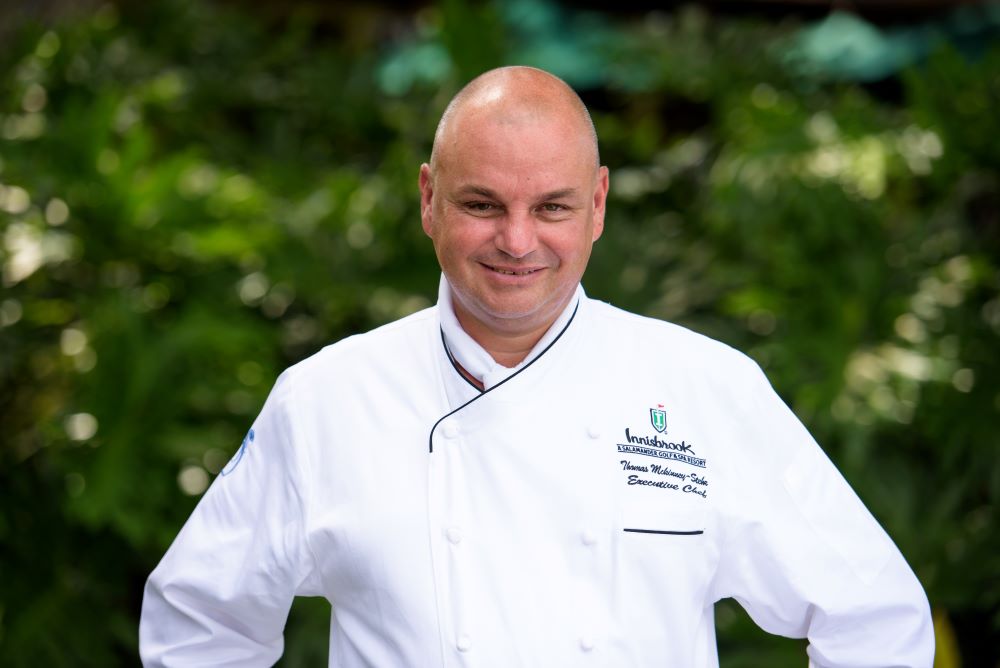 "I decided at 11 I wanted to be a chef, but my mom fought me. She gave me a ton of work at the restaurant, but I didn't break," he said. "She was in hospitality for 30 years, so she knew how hard it was. At the end of the day, I'm stubborn, and so my mother gave up and got me an apprenticeship at a restaurant. Food is not just a career but my passion in life."
That passion was so strong he survived one chef throwing hot sauté pans at him at the slightest infraction and another chef who decided to travel on a champagne tour, leaving a 16-year-old McKinney-Stehr to run the restaurant by himself. 
"These things gave me a sense of toughness and creativity. Doing the right thing and putting quality food on the plate," he said." I don't think I have ever served a bad meal." 
One of his mentors, Jack Campbell, owner of Tampa's Jackson's Bistro Bar & Sushi, who he calls his 'American dad," taught him, "When you start thinking in the box you're lost. So now, when a guest comes to us with an idea for a menu—and they can pay for it—I make it happen."
McKinney-Stehr worked in a variety of four-star and four-diamond kitchens in Germany and Italy, but when his girlfriend (now wife) Ursula announced she wanted to move from Germany to Tampa to be with her brothers and mother who had emigrated here, Thomas and Ursula married in 1997 in Germany and made the move. When he first came to Tampa, despite all of his experience, he started as a $10 an hour line cook at Donatello Italian restaurant in Tampa. 
"It wasn't easy," he said. "I had my green card, but I didn't speak English."
With Christmas approaching, he went looking for a second job and applied at the Grand Hyatt Tampa where the head of human resources suggested he apply for the sous chef position at their Armani restaurant. From there he's held many other top chef positions around the country. 
He started at Innisbrook in May 2016 and today oversees four restaurants at the resort and the extensive catering services the resort offers for banquets and corporate events in three conference centers. 
"We listen to the customer. Every month I look at the data. If a dish isn't selling, it comes off the menu," he said. "I'm also inspired by other chefs on property. I have a great chef at Packard's Steakhouse who came from Los Angeles and brought L.A. flair with him."
McKinney-Stehr loves using as many local ingredients as he can, which are readily available in Florida.
"I have the best micro greens coming from Cahaba Clubs and the best seafood from Lockhart's Seafood Fish and Stone Crab Market in Tarpon Springs," he said "It's my belief to be original and to have honest food on the plate."
He's noticing people want more homemade items these days. 
"I cook the marinara in house, for example. I have recipes from my grandmother I still make," McKinney-Stehr offered. "We try and put those experiences in our food. 
"What I've enjoyed about coming to the States is I've pursued the American Dream in the kitchen," he said. "In Germany it was strictly classic French cuisine. Here we can mix East meets West and combine yellowtail snapper with red curry and jasmine coconut rice and creamy cucumber sauce—the sauce recipe from my grandmother."
McKinney-Stehr has, on occasion, gone back to his roots. 
"For one group we made sauerbraten, with homemade spaetzle, red cabbage and sauerkraut," he said.
Adam Hyatt, Epicurean Hotel
Adam Hyatt, executive chef for the Epicurean Hotel in Tampa, said he doesn't have any formal culinary school training, but attributes his love and passion for food and service to his family.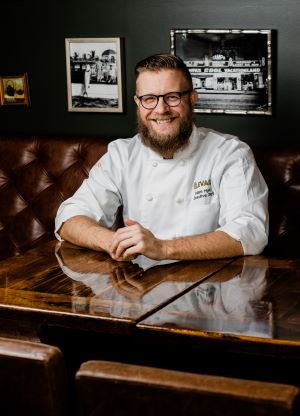 "We were the family that made dinners every night and sat with one another," he said. "We said please and thank you, we drank our glass of milk; we excused ourselves when we were finished and cleared our plates.
The memories around a dinner table are some of my favorites of all time and I wanted to be able to provide that setting for others to make memories."
Hyatt said one trend he's seeing is increasing produce and reducing meat intake for sustainability and health. 
"It's one I've noticed and appreciate," he said. "With this, we as chefs need to allow for the engineering of smaller cuts of proteins and more variety of fruits and vegetables."
When groups come to the hotel, Hyatt said his philosophy is very simple: "Use fresh, seasonal ingredients and make it look and taste great. When you start with the best possible product, you don't have to do much to it in order to have amazing food. I love having some amazing seasonal ingredients in front of the team, and me bouncing things off one another and coming up with some great dishes together. Being in Tampa, we do try and source local sustainable seafood when possible. Also, we show love to local farms with produce and animals whenever we can."
Because of COVID-19, the staff has become more cautious when it comes to food service. 
"We are much more open, receptive and cautious with our staff. The constant conversations of how they are feeling and what they are feeling to ensure safety take place frequently," Hyatt said. "This industry was built on the backs of people working through the pain and not feeling well and I think COVID has changed that. Whether it's a common symptom or not, if they aren't feeling well, we tell them they should stay home and get rest.
"We are really focusing on making 'the new normal' feel more like 'the good ol' days!' We are toying around with some family-style service options," he said about welcoming groups back.
"Going back to making memories around the dinner table, I feel the interaction between people and the food being the vessel in order for them to interact is something we need to continue to do," he added. "Friends and family members sitting around a table, enjoying delicious meals, sharing stories, asking for seconds, toasting their glasses is what I think we all need right now.
"When it comes to groups, I love working with them and giving them what they need or want and more," Hyatt continued. "Trying to take a business meeting to the next level to impress clients is important. We are in the food and hospitality industry, but to be great, we need to be in the people industry!"
Eric McHugh, Fenway Hotel
Chef Eric McHugh at HEW Parlor & Chophouse at historic Fenway Hotel in Dunedin grew up cooking alongside his grandmothers, who he thinks were fantastic cooks. "I love putting Southern American comfort themes into food in new and different ways."
He is a graduate of the IUP Academy of Culinary Arts, outside of Pittsburgh, so McHugh's culinary journey has taken him around the country from Pittsburgh, to Key Largo, to Philadelphia, and finally into the Tampa area for the past 10 years.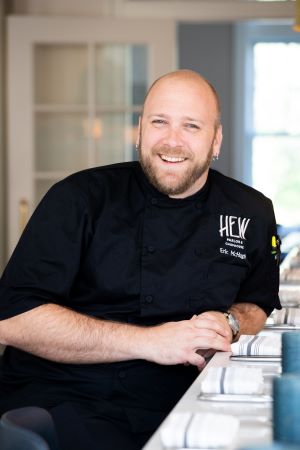 One food trend McHugh is seeing is simplicity.  
"My Virginia Peanut Soup is one of those things that ties back to my growing up in Virginia, the comforting nostalgia of the dish, and the years I put into tweaking and tweaking a recipe until I was able to find a beautiful balance of southern comfort dish drawing its roots from slave cooking and fine-dining haute cuisine," he said.
"While the molecular gastronomy trend was a big thing a few years ago, I just love the inspiration of locally sourced food, classic comforting food themes, and simple old-school techniques to bring a sense of approachability and nostalgia to diners through the food," McHugh said. 
"Currently, we are sourcing fresh fish from the Gulf right at our doorstep and produce and honey from a local farm down the street. I'm always looking for ways to expand our locally sourced products, and trying to add on more and more," he said. "We have also taken a more streamlined approach to how the menus are written, focusing a little more on quality over quantity in regard to the number of items and dishes on the menus.
"Faced with staffing and product shortages over the last several months, we have had to take a much more streamlined approach. But we are slowly getting back to what was normal beforehand, and increasing offerings and options little by little."
If the COVID-19 pandemic taught him anything, it's that necessity is the mother of invention. 
"Just the number of changes restaurants have had to go through, the creative ways to keep businesses afloat by embracing the delivery, to-go and take-out markets, the exploration of outdoor spaces for seating, the maximizing of resources to uphold social distancing and safe places for diners to still be able to go out, has been enlightening and mind-blowing to me," he said. "The restaurants that thought outside of the box and have thrived throughout are the true innovators right now." 
For example, Fenway still offers a "chef's counter" where guests can sit and dine right along the counter of the kitchen, but they have removed seats to keep parties socially distanced. 
"We also changed our banquet menus to expand on our meeting packages and offerings to include a lot of boxed, plated and grab-and-go style offerings to minimize the use of any sort of communal utensils needing to be shared for service. If we do have buffets, we staff those to have the food served to guests, so nobody is having to go through and touch serving utensils," McHugh said. 
Read this next: The Latest Openings and Renovations in Florida Planners Should Know About (2021)