Top Chefs Share Their Moms' Love With These 18 Inspiring Recipes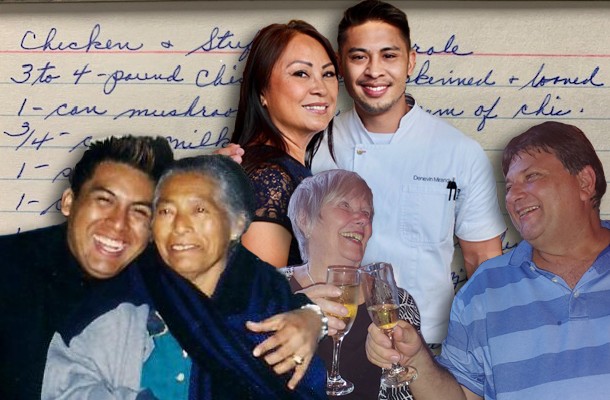 Graphic by Evan Brownfield.
One common thread we at Meetings Today have noticed when writing about chefs is how many of them drew inspiration from their mothers or grandmothers in the family kitchen while growing up. These formative experiences led to a lifelong passion, and career, in the culinary arts. 
In celebration of Mother's Day May 9, below are sentimental-favorite recipes from some of the top chefs in the hospitality industry. Pick one and prepare to show the mom in your life how much you care!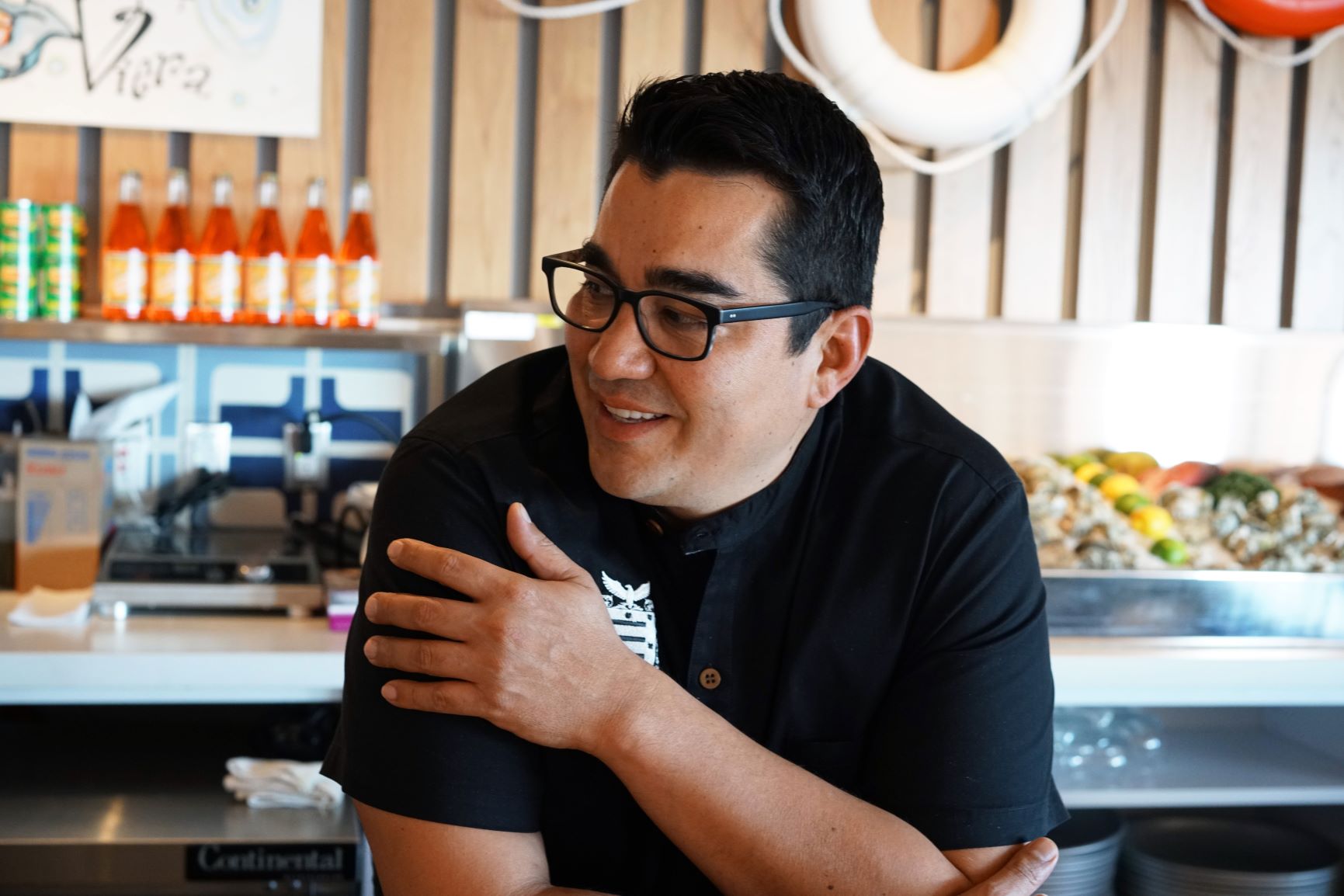 "When I was in third grade, I started giving my mom a hand in the kitchen. I'd get home from school at 3:30 in the afternoon and had about an hour to unwind before mom walked in the door. From that point forward, it was a mad rush to get dinner on the table inside of an hour, as my father would be home at 5:30.  
"Most days, we'd have some sort of stew served over white rice, but one of my mom's favorite springtime dishes is a Warm Hominy Salad, with fresh garbanzos and fava beans. "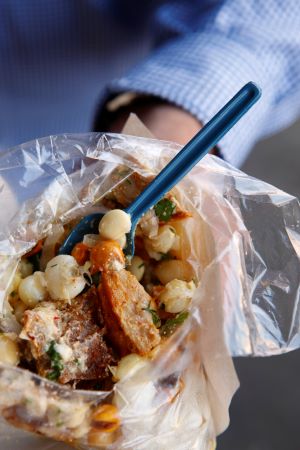 Recipe: Warm Hominy Salad (from The Latin Road Home, Lake Isle Press 2012) 
Ingredients: 
2 lb. fresh English peas, shelled 
2 cups canned hominy, drained and rinsed 
1 jumbo carrot, peeled and finely diced 
1 tbsp. minced fresh cilantro 
2 or 3 cloves garlic, minced 
6 tbsp. extra virgin olive oil 
2 tbsp. freshly squeezed lime juice 
Kosher salt 
Instructions: 
1. Bring a saucepan of generously salted water to a boil and prepare an ice bath in a large bowl.  
2. Cook the peas in the boiling water until just tender, 2-3 minutes.  
3. Drain and immediately transfer to the ice bath to cool.  
4. Drain and set aside.  
5. Combine the peas, hominy, carrot, onion and cilantro in a large bowl and mix well.  
6. Stir in the garlic, oil and lime juice and season to taste with salt. 
[Discover More Meetings Today Top Chefs]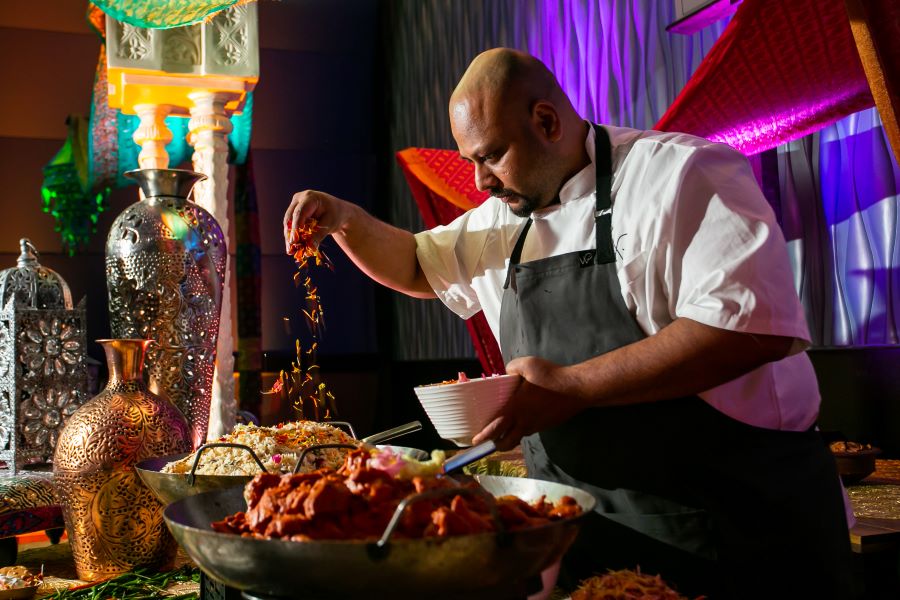 "I have so many fond memories of my mom—she was a one-pot wonder. No matter how busy she was teaching her special needs class, she loved to use her pressure cooker. She always had fresh food for me, my younger sister and my dad, and anyone else that came home. There was always plenty to share. 
She helped me to be confident in my skills, helping me throughout my culinary journey. I remember standing beside her, grinding aromatics on a grinding stone while she made dinner. My all-time favorite is fish curry with steamed rice and lentil wafers (papadum). Simply delish!" 
Recipe: Fish Curry With Steamed rice and Lentil Wafers 
Ingredients: 
2 lbs. fresh fish fillets (any fish works here, including red snapper, bass or butter fish) 
1 large onion, peeled and diced  
2 tbsp. coconut oil   
1 tbsp. chopped ginger  
4 cloves of garlic, chopped  
1 Thai chili pepper (green), chopped  
1 cup diced tomatoes  
½ tsp. chili powder  
½ tsp. turmeric powder  
2 cups coconut milk  
2 tbsp. tamarind concentrate* 
Salt to taste 
For the tempering: 
1 tbsp. coconut oil  
1 tsp. black mustard seeds* 
4 small pearl onions, peeled  
6 fresh curry leaves*  
Salt to taste 
*Available at any Asian grocery store 
Curry instructions: 
1. Wash the fish fillets, patting them dry with paper towel. Sprinkle the fillets with salt and set aside.  
2. Blend the onion, ginger, garlic and Thai chili pepper in a spice blender or coffee grinder until it forms a paste.  
3. Heat a sauce pan over medium heat. Add coconut oil. Once hot, add spice paste and sauté for one minute, stirring continuously.  
4. Add the chili powder and turmeric powder; stir to combine. Sauté for 2 minutes. 
5. Add diced tomatoes and mix well. Reduce heat to low and cook for 15 minutes, stirring every 3 minutes or so to avoid mixture burning. Using a whisk, break the tomatoes until they have a chutney consistency. 
6. Add the coconut milk, whisking slowly to blend. The mixture should look like gravy.  
7. Add in the tamarind and stir to combine. 
8. Add fish and simmer on low for 7 minutes.  
Tempering instructions: 
1. In a small saucepan over medium heat, add coconut oil.  
2. Once hot, add baby pearl onions, mustard seeds and curry leaves.  
3. Quickly temper, until curry leaves are translucent. Remove from heat. 
4. Place fish curry in a bowl. Top with tempered spices. Enjoy with steamed rice.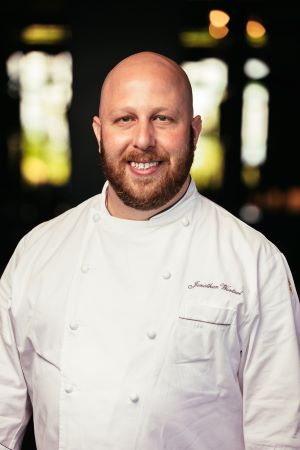 "A lot of chefs get into cooking either because their mother can cook, or they can't cook. Luckily for me, my mother is an excellent cook. I grew up cooking with my grandmother and mother. The green chile shakshuka is my mom's favorite dish, and the happiness that we both feel when sharing it together is a wonderful feeling." 
Recipe: Green Chile Shakshuka 
Ingredients: 
¼ cup olive oil, plus more for garnish 
1 large onion, medium dice 
6 cloves garlic, thinly sliced 
1 New Mexico green chile, roasted, seeded and medium dice 
2 green bell peppers, medium dice 
4 roasted red peppers, pureed 
4 cups tomato puree 
8 whole raw eggs 
¼ cup crumbled feta 
¼ cup cilantro, rough chopped 
1 tbsp. Za'atar spice mixture 
4 pieces of warm pita or naan bread 
Salt and pepper to taste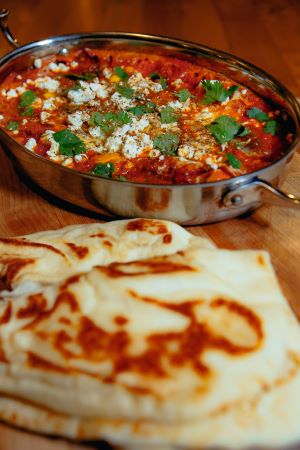 Instructions: 
1. Heat olive oil in a medium cast-iron pan or roasting pan on a medium flame. 
2. Add onion, garlic, green chile and green bell peppers. Sauté for 5 minutes until softened. Season lightly with salt and pepper. 
3. Add the paprika, onion powder, garlic and cumin. Stir until all vegetables are evenly coated in spice. 
4. Add pureed red pepper and reduce for 2 minutes. 
5. Add in tomato puree and simmer for 4 minutes until completely hot. Season to taste. 
6. Make eight small wells in your shakshuka sauce about 2-3 inches apart. And crack eggs into each well. 
7. Simmer coved for 5-10 minutes until egg whites are set and your desired yolk consistency is reached. 
8. Garnish on top with crumbled feta, olive oil, cilantro and za'atar. Serve alongside with warm pita. 
[Related: Check Out More Top Chefs Recipes]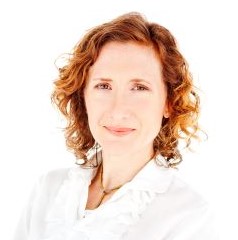 Elizabeth Johnson, Pharm Table, San Antonio 
Growing up in San Antonio as the eldest of four children, Chef Johnson spent countless hours in the kitchen with her restaurateur grandparents. Their contracts notably included the Tower of the Americas, the theme structure from the 1968 World's Fair. 
"The kitchen was too small for baking ovens, so my ever-resourceful grandmother Mimi created no-bake desserts. At the same time, my mother, who was a tree-hugger and health food advocate, never used refined sugar in her cooking. Decades later, those influences arose from my subconscious as I started creating my raw, no-bake dessert recipes for Pharm Table. It all started with Mimi and my mom." 
Recipe: Avocado Chocolate Mousse 
Ingredients: 
4 avocados 

Avocado Chocolate Mousse. Credit: Pharm Table
 

 

8 tbsp. local raw honey 
1/2 cup unsweetened cocoa powder 
2 tsp. Mexican vanilla extract 
Pinch pink salt 
Instructions: 
1. Cut the avocados in half and remove the pit.
2. Using a spoon, scoop out the flesh and put into a small blender or food processor. 
3. Add the honey, cocoa powder, vanilla and salt. Blend until very smooth. 
4. Taste and adjust for desired sweetness. 
5. Garnish with seasonal fruit and pollinator herbs.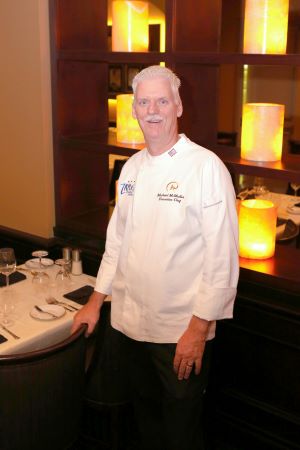 "My grandmother Marie was an incredible cook and passed down everything she knew through my mother Jeanne. Unlike most of my friend's mothers, Jeanne had a shelf in our kitchen with nothing but cookbooks, and an extensive array of ingredients in our pantry readily available to make any recipe.  Mom cooked and baked everything from scratch. And always with precision. 
"As a young boy and the baby of the family, I was not allowed to play unsupervised outside with my three older siblings, so I would hang around with mom in the kitchen. I came to appreciate this time with her as I was able to see how recipes were prepared and cooked, as well as enjoy the best part for a young boy—tasting! To me, this was the ideal way to learn. She taught me to respect food, leaving nothing to waste, and to be exacting when it came to recipes. These experiences inspired my desire to cook with perfection and create the finest fare for others, just like my mom and grandmother. 
"Mom passed away in 1998. However, I have the box with all of her handwritten favorite recipes. It is very dear to me." 
Recipe: Chicken and Stuffing Casserole 
Ingredients: 
3- to 4-pound chicken, cooked, skinned and boned 
1 can mushroom soup or cream of chicken 
¾ cup milk 
1 stick margarine 
1 cup chicken broth 
1 small package seasoned stuffing mix  
Instructions: 
1. Spread chicken cut in bite-sized pieces. 
2. Mix soup and milk and pour over chicken. 
3. Mix stuffing, melted butter and chicken broth and crumble over chicken and soup mixture. 
4. Bake uncovered at 350 degrees about 20 minutes, until hot and bubbly (makes 8 to 10 servings). 
Bonus Recipe: Strawberry Mile-High Pie 
Filling ingredients: 
1 10 oz. package of frozen strawberries 
1 cup sugar 
1 tsp. lemon juice 
Pinch of salt 
2 egg whites 
½ pint whipping cream 
1 tsp. vanilla 
Graham cracker crust ingredients: 
3 cups graham cracker crumbs 
6 tsp. sugar 
2/3 cup melted butter 
Instructions: 
1. Thaw berries slightly in mixing bowl. 
2. Add sugar, lemon juice salt and egg whites. 
3. Beat at medium speed for 5 minutes and at high speed until mixture forms stiff peaks. 
4. Beat whipped cream in separate bowl and fold in vanilla. 
5. Add this to the strawberry mixture, slowly folding it in. 
6. Pile into a pie shell and put into freezer until time to serve (at least 2 1/2 hours). 
7. Form graham cracker crust in a 10-inch pie tin and bake at 350 degrees for 10 minutes. 
8. Allow to cool and pour strawberry mixture into pie crust and serve.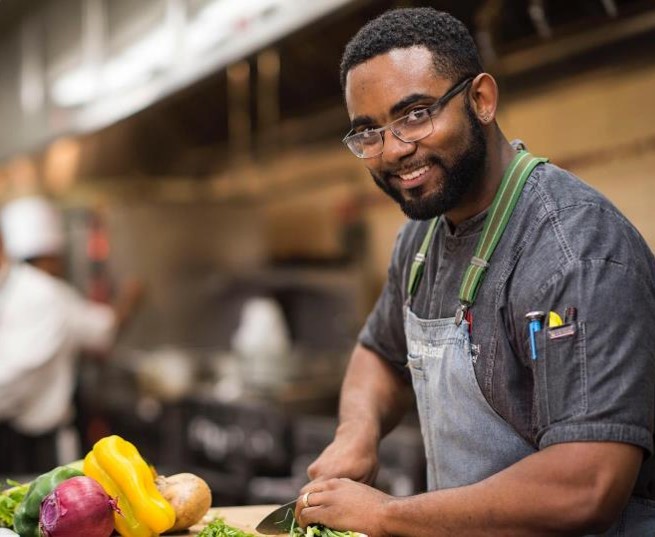 "There was never a dull moment growing up in a house with another chef, my father. Unfortunately for me, my mother was the one who had to be the deciding factor on who was better every time we had a cook-off--my father or me. Regardless of who would win each time (me), my mother has always been one of my biggest cheerleaders. I make this dish by request for my mother a few times per year and there is nothing more comforting to me than to have the love of my mother accompanied by slow roasted 'spoon tender' Red Wine-Braised Boneless Short Ribs." 
Recipe: Red Wine-Braised Boneless Short Ribs 
Instructions: 
1. Marinate your short ribs the day before with kosher salt, pepper, rosemary, thyme, 1 tbsp. garlic and jerk seasoning. Let them marinate for at least 24 hours.  
2. Take your short ribs that have been marinating for the last 24 hours and lightly coat them with seasoned flour. In a medium size-braising pan over medium high heat, add your olive oil and short ribs and begin to brown the ribs on each side.  
3. Once the short ribs are browned on each side, remove the short ribs from the pan and turn down the heat to medium. Add your onions, carrots, celery and begin to sauté, loosening up all of the fond from the base of the pan. Once the onions are translucent, add your short ribs back to the pan and deglaze the pan with red wine.  
4. Once the red wine is almost dry, stir in the remaining amount of garlic and tomato paste. Make sure that those ingredients are nicely incorporated. Add the beef stock and rosemary stems. Reduce heat to medium low and cook for 2-3 hours or cook in oven at 365 degrees for 2-3 hours or until "spoon tender." 
5. Once the short ribs are "spoon tender," remove them from the braising liquid and serve with homemade Cola BBQ sauce. 
Ingredients for Cola BBQ Sauce: 
3 cups cola  
1 ½ cup ketchup  
¼ cup apple cider vinegar  
2 tbsp. Worcestershire sauce  
3 cloves roasted garlic  
1 tbsp. chili powder  
½ tsp. crushed red peppers or hot sauce  
½ tsp. dry mustard  
½ tsp. allspice  
1 tsp. paprika  
Kosher salt and black pepper to taste 
Instructions for Cola BBQ Sauce: 
In a medium saucepan over low heat, add all ingredients into the pan, slowly mixing them together. Bring the sauce to a slight boil and season to taste with kosher salt and pepper. If the sauce does not have the desired thickness, continue to reduce over low heat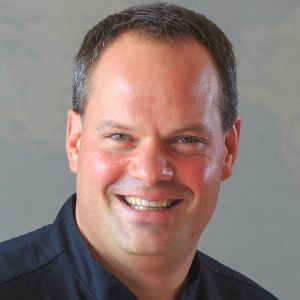 "My childhood memory is a large kitchen, a warm stove, a simmering pot and my beautiful mom." 
Recipe: Seafood Gumbo 
Ingredients:  
2 lbs. 71/90ct shrimp, peeled and de-veined 
1/2 lbs. crawfish tail meat 
1/2 lbs. crab claw meat  
1/2 lbs. chicken andouille sausage, diced 
0.8 lbs. okra, sliced, frozen 
1 cup yellow onion, diced 
1/2 cups green bell pepper, diced 
0.5 cups celery, diced 
1/2 small can tomato puree  
1/2 small can diced tomato 
0.8 gallon fish stock (bouillon)  
1 pinch cayenne pepper 
1 tsp. Tabasco sauce 
2 tsp. Worchester sauce  
1 pinch gumbo file powder 
1/2 tsp. each onion powder  
1/2 tsp. garlic powder 
1/2 lbs. dark roux (equal parts of oil and flour) 
Salt and pepper to taste 
Instructions: 
1. In a large pot, bring stock to a boil, add cold roux and whisk to remove any lumps.  Continue to boil for 20 minutes.  
2. Add tomato product, seasonings and okra. Cook for 20 minutes. 
3. Add andouille and seafood and simmer for 15 minutes.  
4. Serve with steamed rice and sliced green onion. 
Fred Vlachos, Rosen Centre Hotel, Everglades Restaurant, Orlando 
While Fred's grandmother Marge was revered for all of her legendary, made-from-scratch fare, none was more popular than her famous spaghetti and meatballs. Oftentimes, her daughter Barbara joined her in the kitchen, learning how to prepare the family's favorite dish.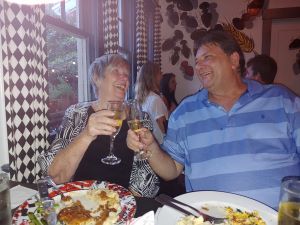 Years later, it was a young Fred who bonded with his mom Barbara while excitedly learning the secrets to recreating the family's hallmark recipe. Most every month, together they crafted the most perfectly round meatballs and simmered aromatic sauce while sharing stories and spending quality time together in his family's kitchen. These special memories led Fred to cement the tradition when he had his own young family, including daughter Heather and son Nick.   
Recently, now-grown Heather requested the family recipe for her own loved ones, fondly recalling those times in the kitchen with her father. While the spaghetti and meatballs dish has proven its tasty popularity, Fred credits its true success to the family bonding time and "labor of love" it inspired through the years. These invaluable gifts fueled his desire to create more fond memories for hotel guests with an illustrious career in the kitchen.   
Recipe: Spaghetti and Meatballs 
Meatball ingredients: 
1 lbs. ground beef 
1 cup bread crumbs 
½ cup Parmesan cheese 
1 tbs. parsley 
1 clove garlic 
½ cup milk 
2 beaten eggs 
Salt and pepper to taste 
Sauce ingredients: 
2 tbs. parsley 
2 medium onions 
2 cloves garlic, minced 
¼ cup olive oil 
2 8 oz. tomato puree, or Italian tomatoes 
2 4 oz. tomato paste 
2 tsp. Worcestershire sauce 
Salt and pepper to taste 
1 cup water 
Instructions: 
Meatballs: Combine all ingredients in a large mixing bowl and form into small round balls. Saute in pan on low to medium heat until cooked through, turning to brown all sides. 
Sauce: Combine parsley, onions and garlic in a saucepan and saute, then add rest of ingredients. Simmer at low heat for 2 hours. Boil pasta until finished, and then top with meatballs and sauce and serve. 
Planted generations ago, the roots of Filipino-American chef Denevin Miranda's devotion to food and sustainability reaches from his family's farms in the Philippines to the backyard garden of childhood home in Long Island, New York. Nurturing that love and showing him the way were his late grandmother Liberata and her daughter Lilibeth, Denevin's mother. 
"Liberata was the anchor, immersing me in Filipino culinary tradition, while Lilibeth was the explorer, bringing NYC's melting pot of cuisines into our home. Our times together in the garden, the kitchen and at the table inspired my career and my lasting appreciation for culinary arts and origins.  
"During the COVID-19 closure, I spent three months at home with my mom in Tampa. We cooked up a storm. She loves pasta dishes, so I showed her how to make ricotta agnolotti from The Osprey restaurant at the hotel. It was the latest great bonding experience for us." 
Recipe: Ricotta Agnolotti 
Ingredients for fresh pasta:  
5 whole eggs  
1 egg yolk  
1½ cups 00 flour  
1/8 cup semolina flour 
For filling: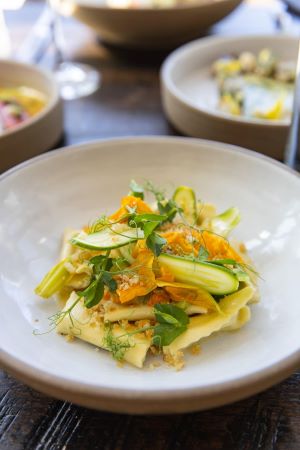 2 cups ricotta, strained 
¼ cup Parmesan cheese, grated 
2 tbsp. parsley, finely chopped 
1 tbsp. chives, finely chopped 
½ tbsp. chervil, finely chopped 
1 zest of a lemon 
1 tsp. kosher salt 
½ tsp. fresh cracked black pepper 
1 whole egg 
For lemon butter sauce: 
1 stick softened unsalted butter 
1 zest of a lemon 
2 tbsp. lemon juice 
2 tbsp. parmesan cheese, grated 
For assembly: 
3 oz. zucchini blossom, petals pulled apart 
3 baby zucchinis, thinly shaved 
1 tbsp. extra virgin olive oil 
3 tbsp. parmesan cheese, grated 
Picked herbs such as chervil and/or parsley for garnish 
Instructions for fresh pasta:  
1. In the bowl of a food processor, combine all ingredients and process until combined, and then for an additional 3 mins to "knead." 
2. Wrap dough tightly in film and allow to rest in the fridge for a minimum of 30 minutes. 
3. Take dough out of the fridge and allow to sit out at room temperature for 15 minutes before rolling. Using a pasta machine, roll dough at largest setting; use bench flour as needed as you pass the sheet of dough through the machine, gradually reducing the thickness of the sheet until it is about the thickness of a manila folder. 
4. Using a piping bag filled with the ricotta filling, pipe a 1/2-inch-diameter rope down the center of the dough horizontally. 
5. Apply a little bit of water with your finger just above the line of the filling. Fold the bottom portion of the sheet over the filling and gently seal the filling tightly. Using a pasta cutter, cut ½ inches above the sealed filling and discard the excess dough. 
6. Using your thumb and pointer fingers, pinch about every inch down the line of the filling, sealing small pockets of filing and beginning the shape of the agnolotti. Once the line of filled dough is pinched from one end to another, use the pasta cutter to cut between each pinched section to separate the individual shaped pasta, which should look like a half ravioli folded on itself. 
For filling: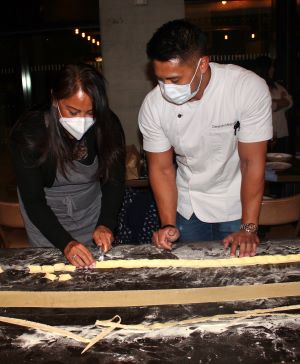 Combine all ingredients in the bowl of a food processor and process until just combined. Taste for seasoning then set aside until ready to use. 
For sauce: 
Gently melt butter in a few tablespoons of pasta cooking water in a saucepan over medium low heat, whisk in the rest of the ingredients and continue whisking until emulsified. Season with salt and pepper. 
For assembly: 
1. Boil pasta in salted water for about 2 minutes or until just al dente. Strain from water while reserving some of the pasta water for the sauce.  
2. Add pasta to sauce in a sauté pan over medium heat and gently toss to coat; add more grated parmesan cheese as needed to create an emulsified sauce that coats the pasta well. 
3. Plate the pasta in a shallow dish, and in a separate bowl dress the shaved zucchini and blossoms with olive oil and salt. Arrange the garnish over the top of the pasta, grate more parmesan cheese over the top to your preference and add additional picked herbs. Serve immediately.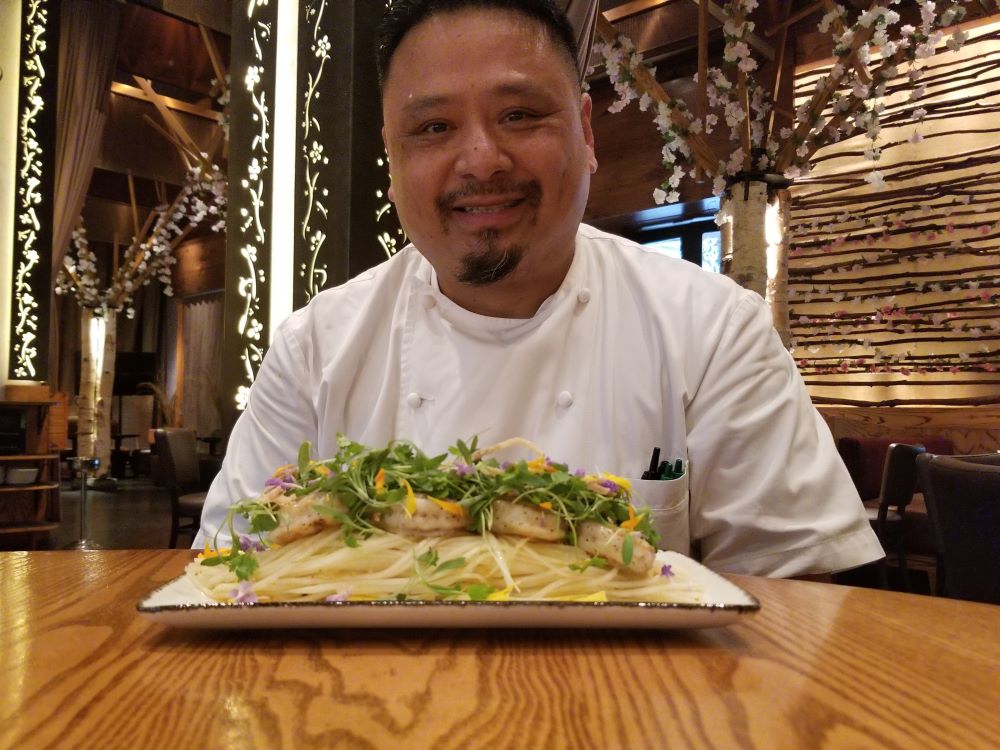 Hotel Crescent Court Executive Sous Chef Mike Luong's family immigrated from Vietnam in 1975 when he was three. Coming from a large family, his family made it a point to have family dinner together every night, which Luong would help prepare. His mother began teaching him traditional Asian cooking techniques like how to stir fry, braise meat and even the proper way to make a classic pho broth when he was just nine.  
"It was very satisfying to me, when my family came home for dinner every night, to know I helped create that daily meal for my loved ones." 
His mother's traditional Asian cooking techniques served as a base for Luong's long culinary career. To this day, her influence can be found sprinkled throughout Hotel Crescent Court menus, even when the cuisine isn't overtly Asian. His Green Papaya & Mango Salad, for example, features nuoc mam, a traditional Vietnamese garlic ginger fish sauce, as the base of its vinaigrette. 
Recipe: Chef Mike Luong's Green Papaya & Mango Salad 
Ingredients 
4-6 shrimp 
4 oz. green papaya 
2 oz. mango 
0.05 oz. microgreens 
0.05 oz. edible flowers 
0.5 oz. fried shallots 
1.5 oz. garlic lime vinaigrette 
Garlic Lime Vinaigrette 
1 cup fish sauce 
¼ cup garlic chili 
1 qt. simple syrup 
½ cup fresh lime juice 
½ cup rice wine vinegar 
½ cup minced garlic/ginger 
Instructions: 
1. Make the garlic lime vinaigrette and set aside. 
2. Cook the shrimp until no longer transparent. 
3. Mix rest of the ingredients in a medium bowl.  
4. Top with shrimp and vinaigrette and serve. 
Tim Rowland, Chateau Elan, Braselton, Georgia 
Raised in an Italian household, cooking has always been a part of Tim Rowland's life. Mastering recipes from his Italian grandmother, Fortunata Muscara, Rowland learned at a young age that good food has the power to bring love, joy, laughter and lasting memories to families and strangers alike. 
Originally from Southern California, chef Rowland moved to the Atlanta area in 2001 to join The Art Institute of Atlanta. Upon receiving his Associate of Science in Culinary Arts degree, Rowland worked as the Executive Chef at the Hilton Cabana Miami Beach Hotel, where he won many awards for his culinary excellence. Now residing back in the Peach State, chef Rowland leads the culinary department as chef du cuisine for Chateau Elan Winery and Resort. In this role, Rowland oversees each outlet's menu from recipe development to execution. 
 
Recipe: Seared Sea Scallops With Parmesan Grits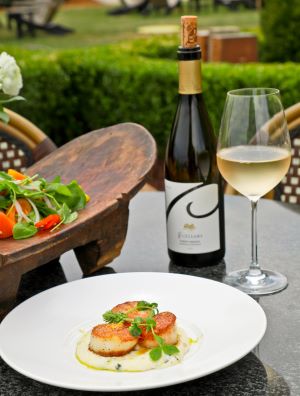 Ingredients: 
1 1/2 cups stone ground grits 
2 cups water 
2 cups chicken stock 
1/2 cup Chateau Elan brut champagne 
1 oz. parmesan cheese  
1/2 cup heavy cream
8 tbsp. unsalted Butter 
Fresh ground black pepper 
1/2 tsp. kosher salt 
Fresh basil 
2 sea scallops U-10 
2 tsp. olive oil 
1 lemon 
Instructions for the parmesan grits: 
1. Chiffonade fresh basil to yield 1 teaspoon.  
2. Microplane grate parmesan cheese to make yield ¼ cup.  
3. Combine stone ground grits, chicken stock, water, and salt and pepper in a small, uncovered stockpot. Bring to rolling boil over medium-high heat for two minutes. Remove stockpot from heat and cover.  
4. Let grits rest for 15-20 minutes. 
5. After resting, uncover and return grits to medium-high heat.  
6. Boil for 20-22 minutes, stirring regularly while make sure to scrape the bottom of your stockpot to ensure grits don't starch.  
7. Add in champagne and continue cooking for 1 minute.  
8. Remove grits from heat and gently stir in butter (8 tablespoons), cheese, cream and basil.  
For sea scallops: 
1. In cold water, clean scallops. Dry and remove the side muscle.  
2. Add olive oil and butter (2 teaspoons) to a stainless-steel sauté pan and bring to a low smoke point over medium-high heat. 
3. Lightly season scallops with salt and pepper all around and sear scallops for 2 minutes on the first side. Then flip over and sear on the other side for 1 minute. Immediately pull off heat and let rest in the pan, for 2 minutes.  
4. Plate in a shallow bowl, starting with a generous spoonful of parmesan grits as the base. Then, top with seared sea scallops and finish with lemon zest.  Chef 's Recommendation: Add a drizzle of your favorite EVOO, I personally enjoy an artisan-made Eureka Lemon from 'North Georgia Olive Oil Co.' 
Emeterio Luna, Rosen Centre Hotel (98Forty Tapas & Tequila; Harry's Poolside Bar & Grill Rosen), Orlando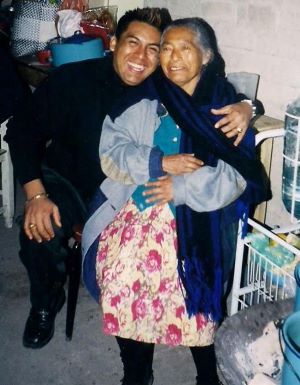 Chef Tello was inspired by his Mama Epifania to be a chef and credits her for his commitment to using only fresh ingredients. 
"My first memories are those of my mother cooking. She always chose fresh ingredients and did everything by hand. My mother always used fresh ingredients as she refused to use anything processed. She would say that fresh ingredients make everything taste better and I completely agree. 
"She made fresh tortillas daily. I remember she would grind the soaked corn by hand in a metate, or grind stone. She would grind it by hand until perfect. Then she would take the masa and flatten it in a tortilla maker. It was hard work, especially having 13 kids, but mom always made it happen.  
"Another great memory I have is of mole. It was only made on special occasions, usually for Christmas. It took an entire day to make mole. My mother would grind over half a dozen spices by hand in her metate to be able to create the rich mole sauce. You could smell the fresh spices being grinded and creating a fusion of delectable aromatics." 
Recipe: Lamb Barbacoa 
Ingredients: 
5 lbs. lamb  
1/3 cup white vinegar 
4 tbsp. ground cumin 
2 tsp. ground oregano 
1 tsp. ground black pepper 
1 tsp. salt 
½ tsp. ground cloves 
2 tbsp. Manteca (lard) 
¾ cup chicken broth 
3 bay leaves 
3 tbsp. lime juice 
3-4 chipotle chiles in adobo 
Banana leaves (optional) 
Instructions: 
1. Preheat oven to 275 degrees. 
2. To make the adobo sauce, combine vinegar, lime juice, chipotles, garlic, cumin, oregano, black pepper, salt and cloves in a blender at high speed until smooth. 
3. Cut into large chunks. 
4. Put Manteca (lard) into a frying pan. When melted, sear all sides of meat on medium-high heat until browned. 
5. In a large hot pan, place banana leaves, and place meat on top of the leaves. Mix the meat with adobo sauce.  
6. Pour the chicken broth and add the bay leaves. 
7. Cover with banana leaves. 
8. Place the hotel pan in the oven and cook for 8 hours. 
9. When cooked, remove from the oven and shred the meat with two forks. 
10. Can be served with, rice, pinto beans, cheese, pico de gallo, and sliced avocado, limes and warm tortillas.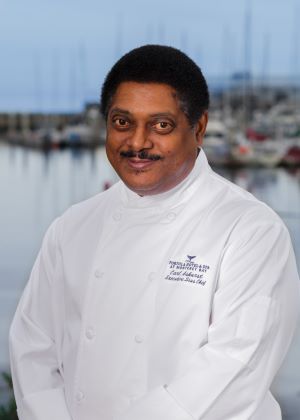 Portola Hotel & Spa, Executive Sous Chef Carl Ashurst is a veteran of the culinary industry with over 40-plus years of experience. Launching his career in Monterey on Cannery Row at age 15, Carl attributes a fondness for cooking to his mother, Juanita.  
Spending time with his mom and watching her cook was a special time in Ashurst's childhood. He grew up watching his mother cook a variety of dishes as a child. His earliest memories of spending time in the kitchen were around the 5th grade. His mother would make salmon croquettes and his favorite dish, meatloaf. 
Ashurst's culinary career began as a breakfast cook before working his way up to executive sous chef. A memory he will never forget from his childhood includes making pancakes for breakfast with his mother. While making simple syrup, he spilled the syrup on his hand and learned a thing or two about safety in the kitchen.  
In honor of the salmon croquettes, chef Ashurst is sharing a salmon-inspired dish, available at Jacks Monterey inside the Portola Hotel & Spa. (Jacks Monterey is re-opening mid-May 2021.)
Recipe: Monterey Bay Salmon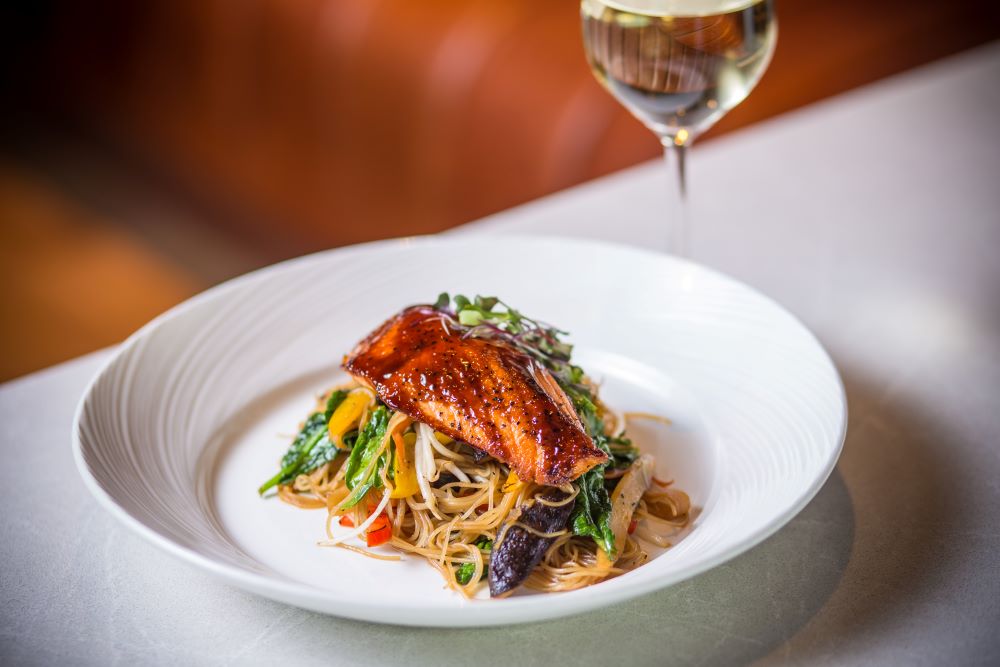 Ingredients: 
2 king salmon filets 
2 oz. hoisin glaze (make this first, recipe below) 
4 oz. rice vermicelli  
Salt and black pepper 
2 tbsp. olive oil  
1 clove garlic 
1 tsp. minced shallots 
3 shitake mushrooms 
1/4 cup red or yellow bell pepper 
6 opal basil 
1 oz. bean sprouts  
Handful of microgreens  
Instructions: 
1. Pre-heat oven to 350 degrees. Prepare a tin foil-lined baking pan for the salmon. 
2. In a medium pot, bring 2 quarts of water to a boil. Stir in a pinch of salt until dissolved. 
3. Add the rice vermicelli to the water; stir a few times to prevent the noodles from sticking together. Boil for 6 minutes. Remove the rice vermicelli and set aside.   
4. Salt and pepper the salmon filets. 
5. Heat a sauté pan on the stovetop. Once hot, add olive oil and wait 20 seconds before adding the salmon filets. Sear both sides of the salmon. Remove the salmon from the stovetop and finish cooking the salmon in the oven for 10 minutes. 
6. Heat a second sauté pan over medium-high heat with 1 tablespoon olive oil. Add bell pepper and shitake mushrooms. Sauté 1 minute.  
7. Add the minced garlic and shallots to the vegetable mix and sauté for an additional 2 minutes until vegetables are almost tender. 
8. Add the rice vermicelli for 1 minute. Add the opal basil and bean sprouts for an additional 30 seconds. Remove from heat and divide the rice vermicelli and vegetables onto two plates. 
9. Brush the salmon filets with the Hoisin Glaze and bake for 30 seconds. 
10. Remove the salmon from the oven and plate over the rice vermicelli and vegetables. Top with microgreens to serve. 
Hoisin glaze ingredients: 
1/4 cup hoisin sauce 
1 tbsp. unsalted butter  
Hoisin glaze instructions:
1. Using a small saucepan, combine the hoisin sauce and unsalted butter over low heat.   
2. Cook the hoisin butter mixture until it is smooth and syrupy. Remove from heat and set aside. 
Executive Chef Jason Routzahn says the greatest cooking lesson he learned from his mother was to not be ashamed of things that are quick, easy and delicious.  
"Lipton onion soup mix in ground beef for a tasty burger, Good Seasons or Wish Bone Italian dressing mix for a fast steak marinade, and vanilla pudding mix in the middle of your cream puffs..."I'm not saying this is the route I would take cooking in a professional kitchen, but for a good, fast meal at home why not…Plus, gives you more mom time!"  
 
Recipe: Juicy Onion Burgers 
Ingredients: 
2 lbs. ground beef (Mom always used 80/20)  
1 packet onion soup mix  
2 tbsp. lukewarm water  
¼ cup mayonnaise  
Hamburger buns (Moms favorite brand is Martins Potato Rolls)  
Instructions: 
1. Using a large bowl, combine onion mix, mayonnaise and water. Mix till no lumps.   
2. Add ground beef with onion mix.  
3. Form beef mix into patties, should yield 8 patties.  
4. Cook burgers your favorite way…skillet or grill to the temperature you desire!  
5. Serve with your favorite toppings and condiments.  
6. As mom would say... "Let's Eat!" 
Executive Chef Denis Depoitre grew up in the post-WWII suburbs of Paris. Born in 1957 and one of five children, he lived with his parents in a small apartment where the kitchen was the heart of the home. 
"Food was in our DNA; we didn't even really think about it as kids. It just was."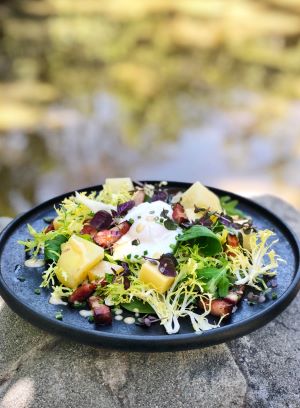 His mother visited the local market three times a week, and the entire family went together on Sundays—a huge event where they bought everything from vegetables and bread to shoes and candy, a special treat for the kids. On a daily basis, the whole family could be found in the kitchen helping mom wash, cut and prepare whatever seasonal vegetables she had found, and whatever could be purchased with a small budget. The family had to be efficient with very little, so they made careful use of each item, consuming it quickly since their small refrigerator barely fit just a bottle of wine and some butter. 
Lardons Salad with Eggs was always a favorite, and his mother added potato and cheese to make it more filling as a meal for the family. Depoitre remembers that even though it's a simple recipe, making it brings back memories of the family preparing it back in France—the smell of the bread and butter, everyone sitting around the table breaking eggs, dipping the bread in the runny yolks. It's a recipe he still makes today, and it works beautifully with whatever greens and vegetables are in season, just the way his mom used to make it when she returned from the market. 
Recipe: Salade aux Lardons du Dimanche (Sunday Lardons Salad) 
Ingredients: 
6 eggs 
4 large Yukon gold potatoes 
3 heads blonde frisee 
10 oz. arugula 
6 oz. baby spinach 
6 oz. lardons 
Olive oil 
1 tsp. Dijon mustard 
Apple cider vinegar 
White vinegar 
6 oz. gruyere cheese, diced into small cubes 
6 thick slices country bread 
2 oz. salted butter 
Salt and pepper 
Instructions: 
1. Boil the potatoes in salted water for 20 minutes until cooked, then drain. Allow them to cool before removing the skin. Dice and set aside. 
2. In a non-stick pan, cook the lardons until they are crispy and golden. Remove from the pan, set aside and save the fat to use in the dressing. 
3. Rinse the frisee, arugula and spinach and mix together. 
4. Place the mustard, some apple cider vinegar, salt and pepper in a small bowl. Mix together and slowly add olive oil until creamy; set aside. 
5. In small saucepan, bring 2 cups of water and 2 tablespoons of white vinegar to a boil. Poach the 6 eggs for about 3 minutes until they are soft, or longer if you prefer them more cooked-through. 
6. Grill the country bread and lightly butter it. 
7. Mix the greens together with the rest of the dressing and arrange on plates. Add the potato mixture, top with poached eggs and lardons, plus some of the reserved lardons fat. Serve alongside grilled country bread. 
Kirsten Seltzer, The Wigwam, Phoenix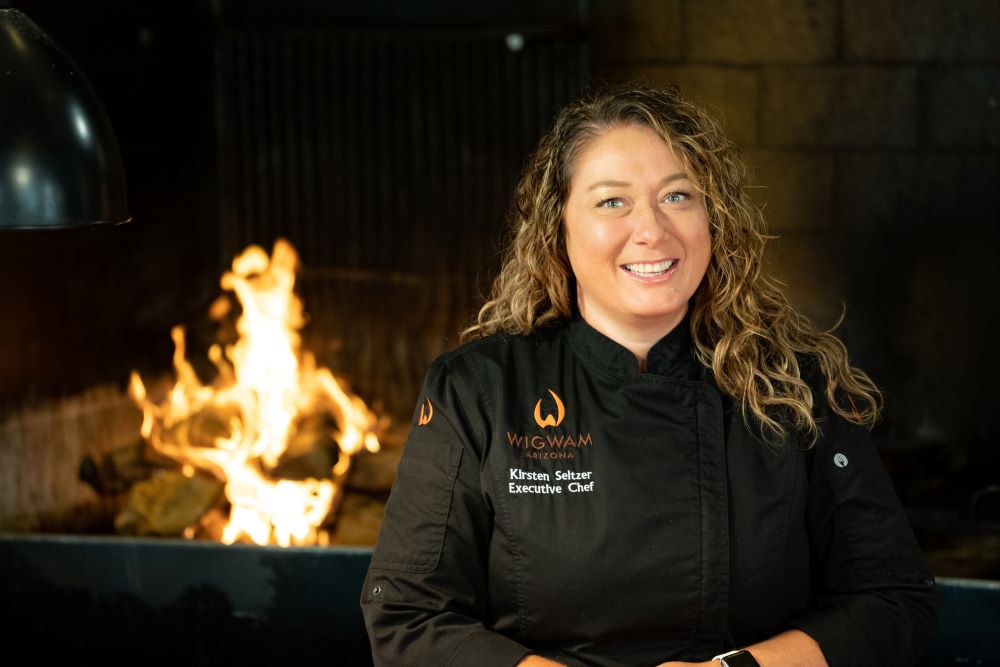 The Wigwam's executive chef, Kirsten Seltzer, learned to cook from her Granny. Seltzer would go to her Granny's house after school, where they would cook and try new recipes together. Seltzer's Granny sparked her passion for cooking and later encouraged her to go to Culinary School.  
Recipe: Granny's Banana Bread 
Ingredients: 
2 cups of flour 
¾ tsp. of baking soda 
Pinch of salt 
¼ cup of butter 
1½ cup of sugar 
1½ cup of mashed bananas 
2 eggs well-beaten 
1 tsp. vanilla 
½ cup of buttermilk 
¾ cup of walnuts or pecans 
¾ cup of dates or golden raisins 
Instructions: 
1. Cream the butter and sugar. 
2. Blend in the bananas. 
3. Sift flour, baking soda and salt. Add mixture to buttermilk. 
4. Add nuts and dates/raisins. 
5. Fold into a loaf pan (makes 2 8x4x2 loaves). 
6. Bake at 325 degrees for 1½ hours. 
Still hungry? Explore more recipes from top chefs!