How Groups Can Experience the Diverse Waterways of Coastal Virginia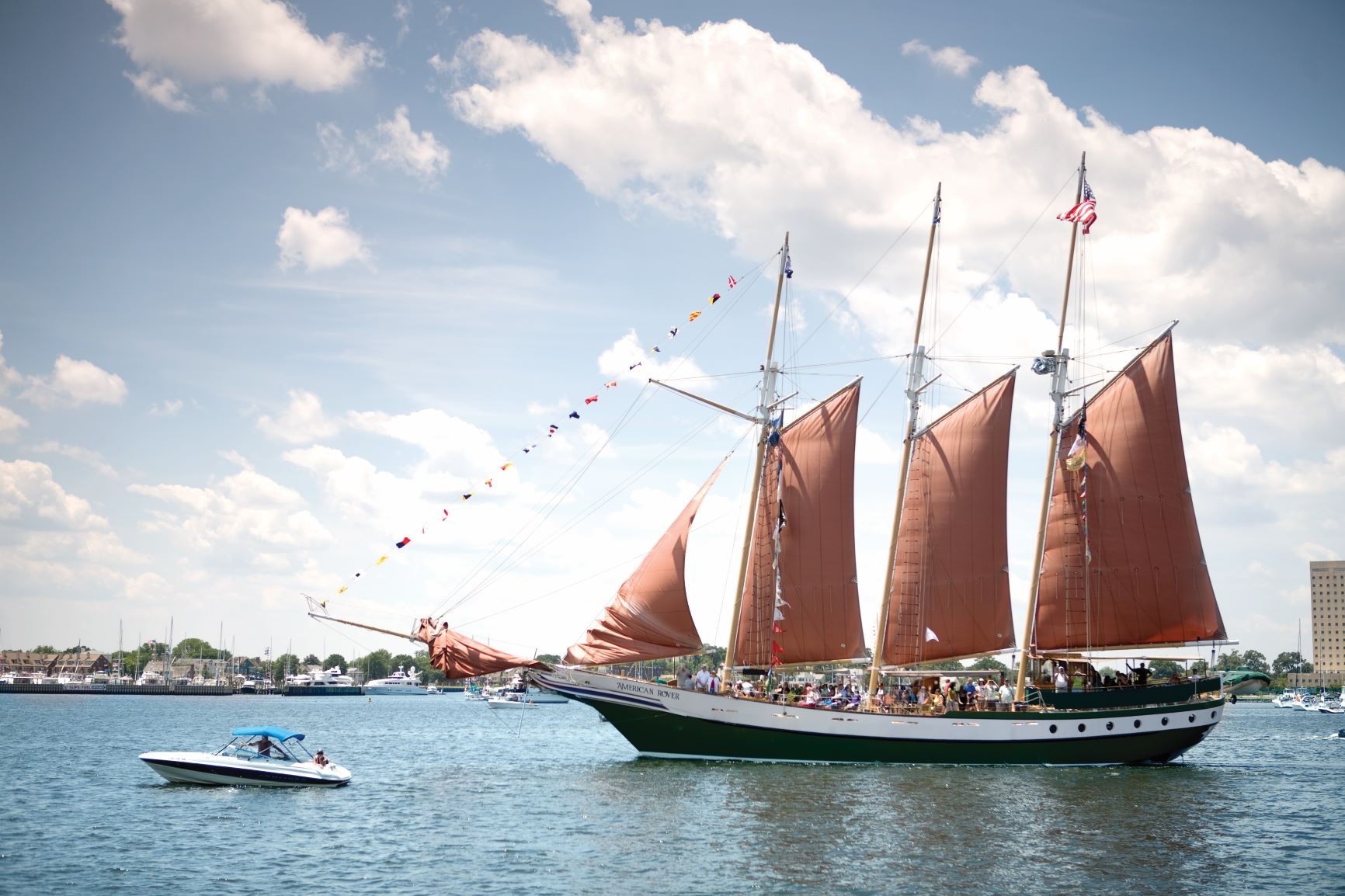 American Rover Sailing Cruises in Norfolk, Virginia. Credit: VisitNorfolk
One of the most intriguing aspects of Coastal Virginia is its wide range of waterways—there's the enormity of the Atlantic Ocean, the utility of the Chesapeake Bay, the gateway of the Elizabeth River and the rich ecosystem of the Back Bay National Wildlife Refuge.  
All of these natural attractions make the region an exciting destination for meetings and events, especially when the weather is warm. Who doesn't want to hit the beach after a long day of meetings? 
"People are always looking to get out and explore the destination, and waterfront activity is always very prevalent," said Mary Fugere, director of the Hampton Convention & Visitor Bureau.  
The variety of waterways throughout the Hampton Roads region—which includes Virginia Beach, Hampton, Norfolk and Newport News—means there are myriad ways attendees can get out on the water, from dolphin cruises and naval base cruises to kayaking the Back Bay.  
Below, we break down some of the most popular waterfront activities in those four locales. 
Hampton 
One of Hampton's signature cultural attractions is Fort Monroe National Monument, which is now decommissioned, but originally guarded the navigation channel between the Chesapeake Bay and Hampton Roads. 
The waterfront attraction is located about five to 10 minutes from the Hampton Roads Convention Center and a majority of the downtown hotels. Fort Monroe can offer attendees spectacular views of ships entering and exiting the Hampton Roads harbor. In 2020, the attraction also unveiled its visitor and education center, where attendees can explore more than 400 years of history and culture.  
"There's such a rich history at Fort Monroe, and you have these beautiful natural resources between beach, creek and harbor," Fugere said. "You also have this very formidable stone fort that is the largest ever built in the U.S."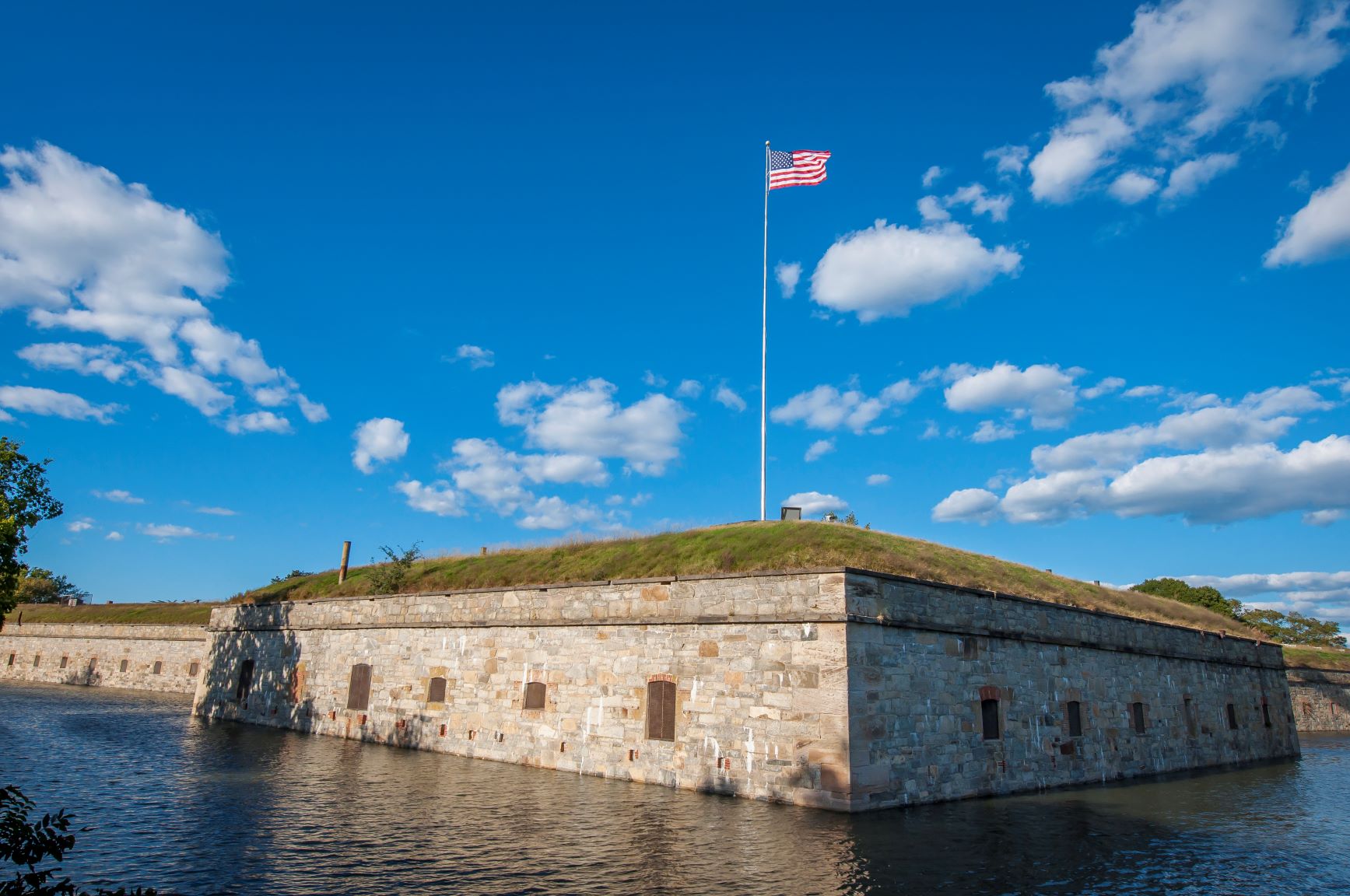 After a tour of Fort Monroe, planners can work in a dinner or event at Paradise Ocean Club, located on its grounds. There, attendees can enjoy a private beach, cabanas and a tiki bar. 
"Groups can easily drive into Fort Monroe, take in the history and then go to Paradise Ocean Club for a special event, where you have all of the infrastructure needed set up for you," Fugere said. 
Fugere also recommended a newer Hampton outfitter, Shored Up, which offers eco-tour experiences that focus on the health of the Chesapeake Bay. Different tours are available, including one all about oysters, where attendees can learn about replenishing oyster beds, visit an oyster garden and—of course—experience the flavor of Virginia oysters. It's not uncommon, Fugere added, for Shored Up to end its tours at one of Hampton's microbreweries, including Bull Island Brewing Company on the downtown waterfront. 
For more environmental education, planners can also look into tours of Virginia Tech's Hampton Roads Agricultural Research and Extension Center, which Fugere said is expanding its aqua center on the downtown waterfront.
"Tours allow visitors to see the growth of different fish species like flounder and cobia," she said. "They're farming fish to replenish but to also serve the restaurant industry." 
[Related: Coastal Virginia Offsite Venues That Celebrate the U.S. Military]
Newport News 
Newport News is home to the Virginia Living Museum, a popular attraction and open-air museum that combines the elements of a native wildlife park with a science museum and planetarium. Along with immersive indoor exhibits, visitors can venture outside to enjoy an elevated boardwalk that loops across Deer Park Lake and through 10 acres of woods and creeks, where they might spot river otters, red wolves and beavers. 
The Virginia Living Museum can also host private events outdoors with groups from 10 to 75 people. Add-ons include a private animal show, a planetarium show or a scavenger hunt. 
Farther north, Newport News Park also offers numerous ways to get out on the water, including at the 265-acre freshwater reservoir Harwood's Mill. There, attendees can look into boat rentals, fishing, hiking trails and a 5-mile bike trail. Elsewhere in the park, groups can rent canoes and look for wildlife or organize a scenic game of disc golf. 
Norfolk 
With its downtown district on the Elizabeth River, Norfolk offers plenty of opportunities for groups to stretch their sea—er, river—legs. 
"Because we're surrounded by the Elizabeth River, which is our downtown landscape and primarily where most of the action happens in the city, the water is very attractive [for groups]," said Dawn Whittaker, director of sales for VisitNorfolk.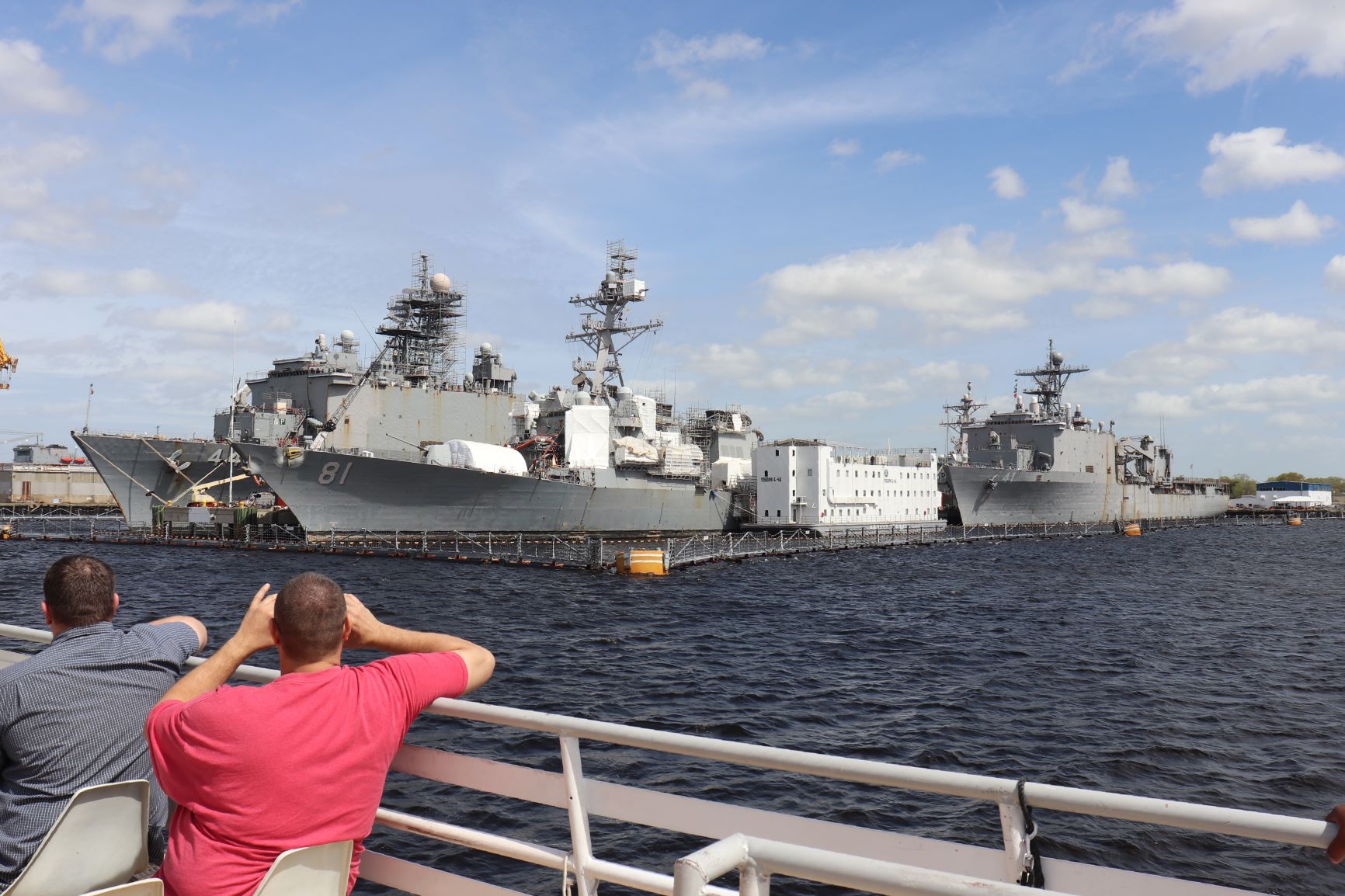 Because of the large military presence in Norfolk, Whittaker said groups are usually interested in touring the city's naval base, which they can do with Victory Rover Naval Base Cruises. These cruises can give attendees up-close views of one of the busiest seaports in the world, Naval Station Norfolk; and they can catch glimpses of different types of ships such as destroyers, aircraft carriers, guided missile cruisers and submarines.  
For a more laidback atmosphere, groups can also participate in sunset or harbor cruises with American Rover Sailing Cruises. For cruises with an F&B component (either brunch, lunch or dinner), groups can enjoy a cocktail and a bite to eat with spectacular views on Spirit of Norfolk. Looking for a little more freedom on the water? Planners can take advantage of kayak rentals off of the Lafayette River, which offers many inlets ripe for exploring.  
Virginia Beach 
Anything outdoors—whether teambuilding or dining—is especially popular this time of year in Virginia Beach, said Erin Goldmeier, director of public relations for the Virginia Beach CVB. "We offer a little bit of everything, when thinking of what you can do in a beach destination," she said.  
This includes kayaking the Back Bay National Wildlife Refuge, a 9,000-acre freshwater refuge near Virginia's outer banks. Planners should look to outfitter Surf & Adventure Co., which offers guided kayaking tours, including the popular Blue Pete's Tour. There, kayaking guides will take attendees through Back Bay, spotting local wildlife, to Blue Pete's (a mainstay since 1972) for a seafood dinner.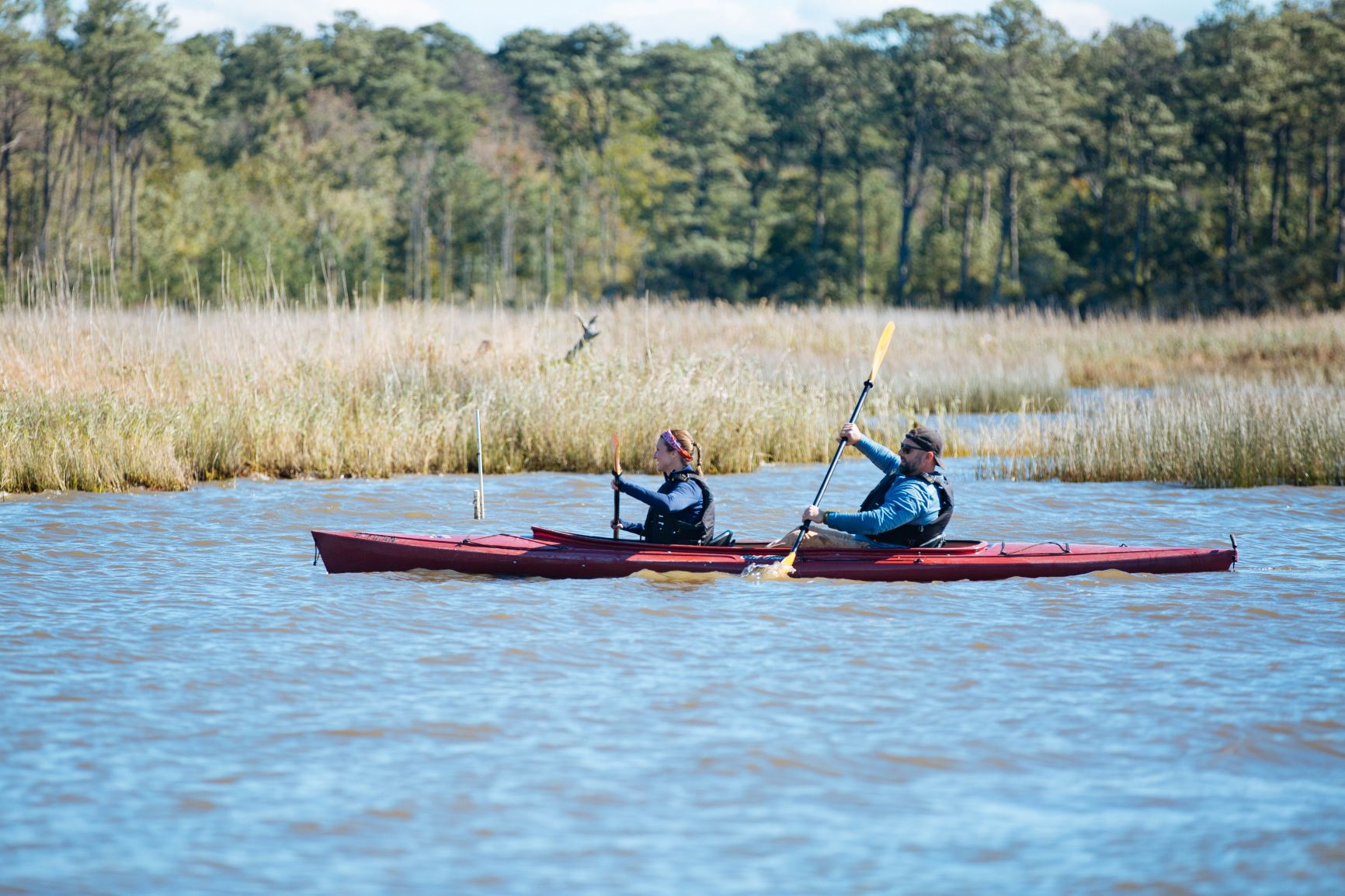 Spotting dolphins is another popular water-based group activity in Virginia Beach. Attendees can hop aboard the Atlantic Explorer, operated by the Virginia Aquarium & Marine Science Center, which will take them on a 90-minute excursion for up-close sightings.  
And for those interested in typical beach fanfare, the city of Virginia Beach operates three oceanfront parks, including Little Island Park, which boasts 122 acres in Sandbridge, just north of Back Bay. And First Landing State Park is an oceanfront natural area offering more than 19 miles of hiking trails and guided kayak eco-tours for exploring lagoons and spotting large cypress trees and rare plants. 
Connect 
Hampton Convention & Visitor Bureau | 757.727.1102 
Newport News Tourism | 757.926.1400 
VisitNorfolk | 757.664.6620  
Visit Virginia Beach | 757.385.4700  
Read Next: Bayfront Breakout Sessions, Historic Openings and More on the East Coast