Drivability, New Amenities and Lots of Space Make Wisconsin Dells Meetings-Ready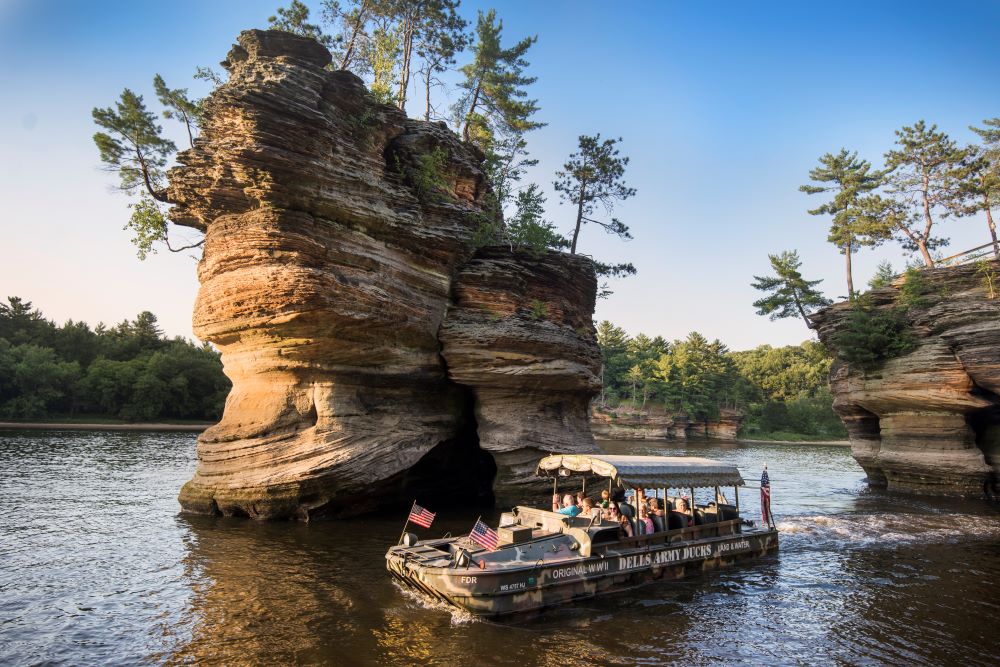 Dells Army Duck Tours. Credit Wisconsin Dells Visitor and Convention Bureau
The Wisconsin Dells has long been a Midwest meetings magnet. The eclectic Waterpark Capital of the World in south-central Wisconsin is home to both the largest outdoor waterpark in America—Noah's Ark—and the largest indoor waterpark in the state, at Kalahari Resorts & Conventions.
The Dells overflows with meeting space options, too, offering over 500,000 square feet of total meeting space in the destination, with over 212,000 of it at Kalahari alone. In the age of social distancing, this amount of space is proving to be a big plus. 
"We've been fortunate to have a handful of successful large conferences under our belt," said Kyra Popp, assistant corporate director of sales for Kalahari Resorts & Conventions. "With the amount of space we have at Kalahari, we are able to spread out… with 212,000 square feet of space and also wide prefunction space and hallways, we can really manage the flow of attendees."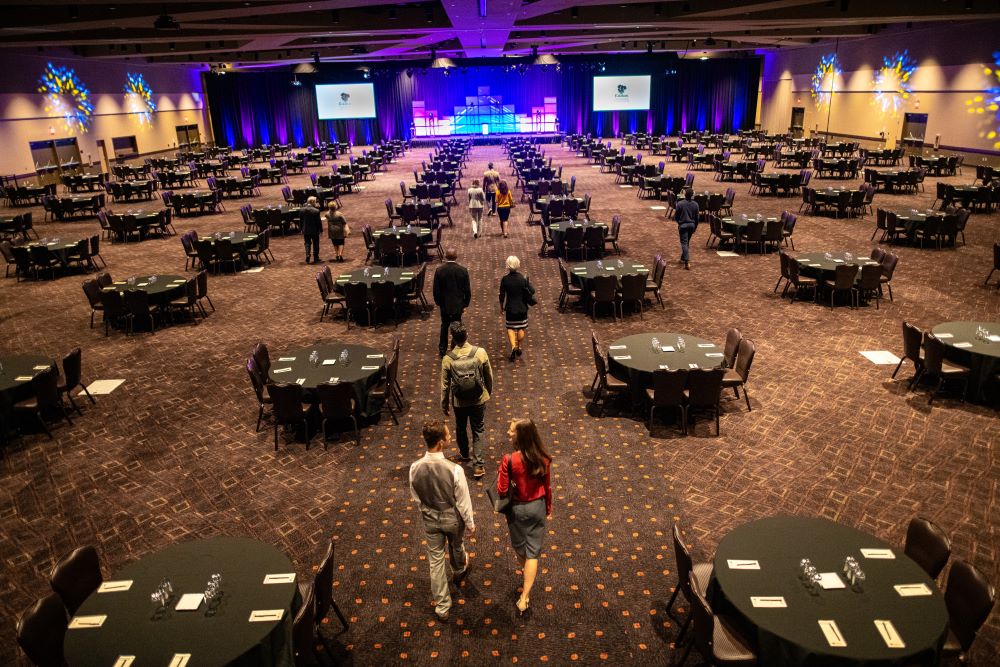 Space is just one of a few unique edges the Wisconsin Dells has over its Midwestern counterparts. From its drivable location to new amenities coming online, here's a breakdown of what you need to know about meetings in the Dells this year and beyond.
Drivability
Drive-to meetings are proving popular with attendees dipping their toes in the waters of in-person meetings again, avoiding increasingly busy airports and crowds of travelers. But even before the pandemic, the Dells touted its drivability.
"We've always been a great drive-to destination for meetings," Popp said, noting that now her team is leaning into this segment more than ever. "Getting in your own car and driving to a meeting, parking and being able to walk into an event is safer," she emphasized, especially for folks who don't feel comfortable flying yet."
The Wisconsin Dells also enjoys a central location in the Midwest—anywhere from under an hour from the state's capital to a quick three-hour trip from Minnesota. Distance from major markets include:
55 miles north of Madison
123 miles northwest of Milwaukee
195 miles north of Chicago
Roughly 215 miles southeast of metro Minneapolis-St. Paul 
The Dells also provides an alternate meeting location to the aforementioned busy urban areas where group business has particularly suffered during the pandemic due to dense populations and city restrictions.
"We've gotten a lot of business from Milwaukee and the Madison area," Popp said. "Also, the cost is lower to have the meeting [here]," she added, noting that just driving to a smaller-tier city like the Dells, rather than flying attendees to big metros, nets significant cost savings. 
[Related: 4 Reasons Groups Consistently Return to Wisconsin Dells]
Refreshed Spaces and New Attractions
With few live meetings happening in 2020, visitors returning to the Dells in 2021 and onward will find refreshed meeting spaces and an array of new attractions for offsite relaxation.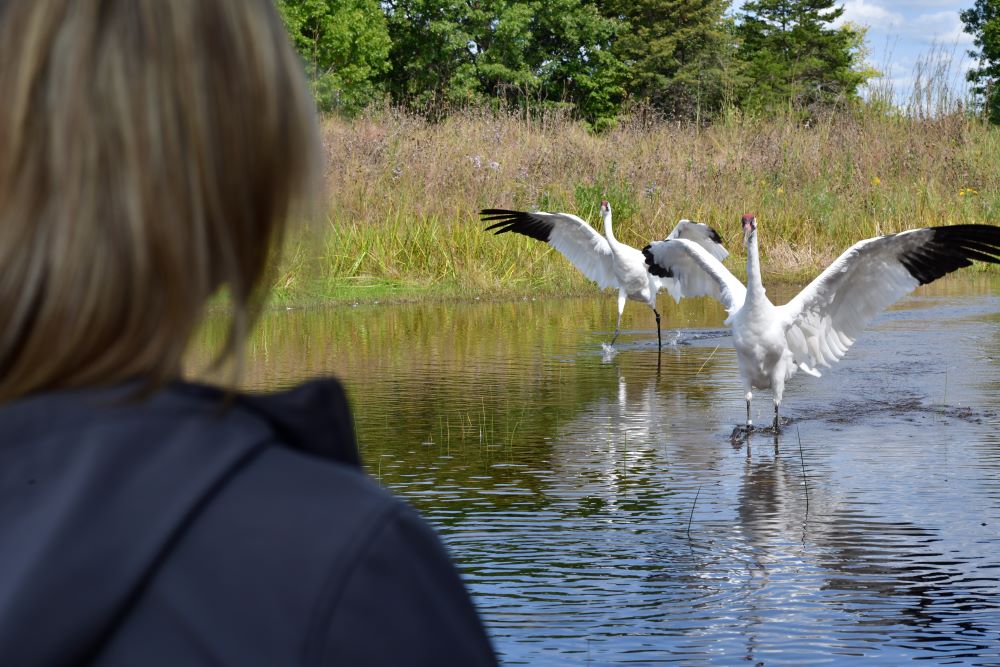 "Despite COVID-19, a lot of our member businesses have continued to innovate and add on to their businesses," said Jessica Rieflin, sales manager for Wisconsin Dells Visitor & Convention Bureau. Some of the most notable attractions include:
Asgard Axe & Tap, an axe-throwing attraction, has relocated to larger space in downtown Wisconsin Dells, with 10 throwing lanes spread out over 8,000 square feet of space. For a nostalgic gaming experience, Asgard Underworld Arcade & Bar, a vintage arcade gaming venue, opened this spring in the lower-level space.
Los Corrales, a new authentic Mexican restaurant, opened this winter three blocks down Broadway Avenue from the Ripley's museum. It features 7,000 square feet of space on two stories with two bars with retractable doors that open to the sidewalk, offering a unique indoor/outdoor dining space.
Chula Vista Resort, in addition to its recent resort renovation, added Soar Like an Eagle, a 10-story dual-racing zipline where guests fly face-forward, superhero-style at speeds of up to 25 mph. The parallel zipline is the longest racing zipline course in the U.S. Also new to the Chula Vista Resort complex is a 15-story launch ride called The Ultimate Rush, which catapults two riders at a time into the sky before bouncing back to the ground. 
International Crane Foundation opened in May after a $10 million renovation and expansion. It's the only place in the world where all 15 species of crane can be seen.
Trapper's Turn is debuting a 12-hole short course designed by former U.S. Open winner Andy North called 12North, offering par-3 holes from 50-120 yards. This summer, Trapper's Turn will also offer a fully lit putting course and new 1,000-bottle wine cellar with a private gathering space.
On top of these additions, meeting- and convention-goers will be able to experience Kalahari's expanded convention center, which opened in August 2019.
"When you think about the time we had from August until everything came to a halt in March, it hasn't even been broken in yet," Popp said. "We just hosted an MPI Wisconsin event, and many planners hadn't seen it yet. It has lots of natural light, and huge prefunction space."
Popp also noted that the resort hadn't closed its doors in 20 years prior to the pandemic, and took advantage of the downtime in 2020 to refresh its indoor waterpark and guest rooms and conduct maintenance work.
Attendee Booster
The Dells has many family friendly new and existing attractions, and the destination sees a direct impact of this on event attendance at meetings.
"Even pre-COVID, planners would consistently tell us how the Wisconsin Dells would help boost their attendance because of the amount of attractions in the area," Rieflin said. "We are an ideal bleisure destination, with spas, restaurants, waterparks—we have such a customizable and unique experience here.
"We can work with planners and work with attendees to help them find fun things for families to do in the area. We are seeing there is a pent-up demand for travel; people are willing and wanting to travel now and into the summer months," she said.
Popp added that before the pandemic, planners reported to Kalahari that they experienced a 20% increase in meeting attendance when bringing groups to the resort. 
"There's a whole energy and atmosphere and experience that our resort provides that you can't find everywhere. Historically, that's been a huge selling point," Popp said, noting that after 2020, this work-life balance idea and overall meeting experience with families will be more pronounced than ever before.
"People are much more willing to consider a destination like Kalahari, where you have this balance of [work and] 'let's get out to go where everyone can really enjoy and have a mini vacation.' It aligns with the flood in demand we are seeing from the leisure traveler."
To that note, Popp said the resort has already noticed small corporate retreats bouncing back. "We are seeing a lot of board meetings—for the events that have their annual fall events with us—[board members] are coming and having their board meetings with us to see how it looks and feels."
Rieflin echoed this sentiment, saying other Dells resorts have been seeing a lot of smaller meetings and last-minute bookings for things like association committees and board meetings.
Connect
Wisconsin Dells Visitor & Convention Bureau
800.223.3557
Read this next: 8 Group-Friendly Activities in Wisconsin Dells—Beyond Waterparks