3 Health-Screening Solutions for the Return to In-Person Events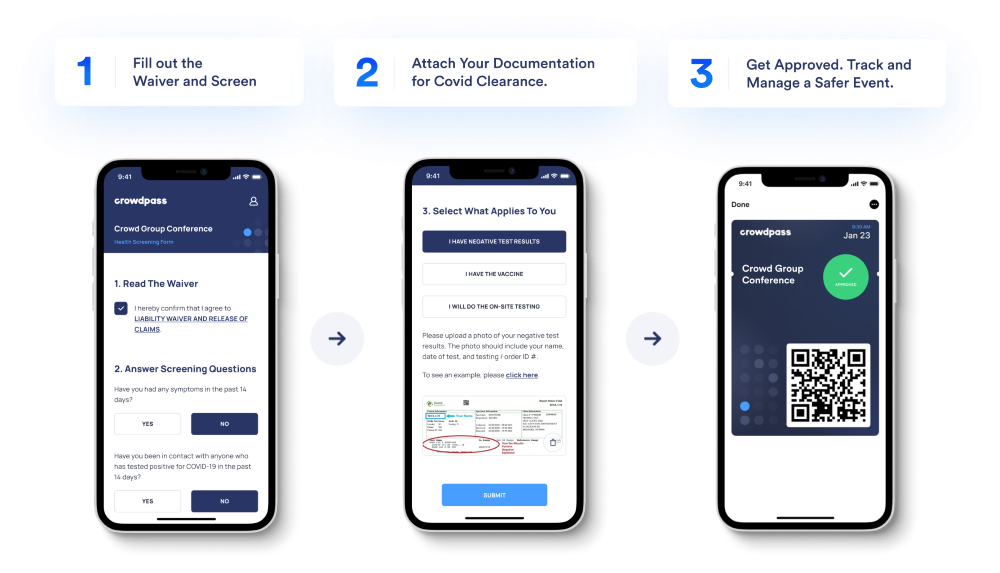 As in-person meetings and events resume, planners will face a new environment in the initial stage as clients restart travel to gather in groups. 
In varying degrees, many expect that monitoring the health and safety of all attendees in real-time will be a reality for many meetings.
Here are three companies that offer solutions to keep attendees and event staff safe, secure and confident of the protocols in place.
CrowdSync/CrowdPass/CrowdHealth
The ability to pre-screen every attendee before they arrive onsite for an in-person meeting can open up a lot of possibilities regarding the degree of protocols that are implemented, such as the requirement to wear masks and social distance. All of this, of course, is dependent on the comfort level of the event organizer and attendees, but the ability to confirm the COVID-19 status of all attendees can help inform that decision.
CrowdSync is a six-year-old company that made its name providing large live events like concerts services that include registration integration, access control, cashless payments and their cornerstone product, offering LED wearables and social activations. 
[Read More Back to Business Content in our Back to Business eHandbook]
In 2020 it rose to meet the challenge of COVID-19 and its erasing effect on the events industry by launching CrowdHealth, a healthcare supplier that now boasts more than 15 million PPE Units, COVID-19 testing kits and the provision of certified medical supplies.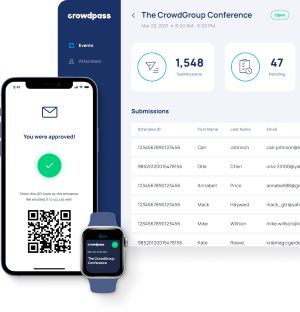 The next step was to launch CrowdPass, an innovative health-clearance platform used for in-person assemblies that lets event organizers pre-clear attendees and manage events onsite.
"It brings that peace of mind when you attend a big event, as you know that those people that are attending that event have a negative test result, have the vaccine, and they don't have to wear the mask if they don't have to, and can go back to doing handshakes and hugs," said Tim Littrell, director of business development for CrowdSync. "It eliminates that extra worry that I can do these fun things that I haven't done in the last year or so."
The HIPAA-compliant (Health Insurance Portability and Accountability Act) CrowdPass solution offers a mobile app interface in which attendees fill out a waver and answer health screening questions, and then attach any documentation that confirms negative text results and/or vaccine information. After completion, the app can approve the attendee to attend the in-person event and give them a QR code for confirmation. Results are available in real time via an access-controlled dashboard.
Related: Read Next: Vaccine Passports? Meetings and Events Experts Chime In
CrowdHealth is the onsite solution that delivers certified medical supplies and personnel to events, such as onsite testing.
Some of the biggest benefits of CrowdSync's solutions are the following:
Certified EMTs onsite to administer tests to attendees and staff
Fully HIPAA compliant, so CrowdPass can receive private attendee medical information and dispose of it securely afterward, or "wipe it" from the records if attendees have privacy concerns
Real-time attendee tracking and analytics modules to collect data on attendee behaviors, using RFID technology and scanners, and visible on an access-controlled dashboard
Branding opportunities for masks and RFID bracelets, creating sponsorship opportunities
Ability to create custom packages using various elements of its three core offerings
CrowdPass was recently used for the May 23-26 eCap 21 healthcare conference in Miami, a 1,500-attendee-strong annual event that took a year hiatus due to covid in 2020.
Littrell said that many organizations are particularly interested in CrowdPass because it can help limit perceived liability for in-person events, and said that CrowdPass can also be used as a white-label service.
"These organizations are responsible to show due diligence, that they have done everything they can to keep people safe, such as waivers," he said. "There's a very strong compliance angle. These large companies want to get back to work, so we partner with them. There are three core issues: safety, due diligence and compliance."
VeriFLY
Planners, attendees and travelers might also find use in VeriFLY, an app that can confirm a destination's COVID-19 requirements (such as a negative test or vaccine verification) and ensure that the user meets them before departure. The app now offers the ability to upload vaccination cards as part of a user's health credentials.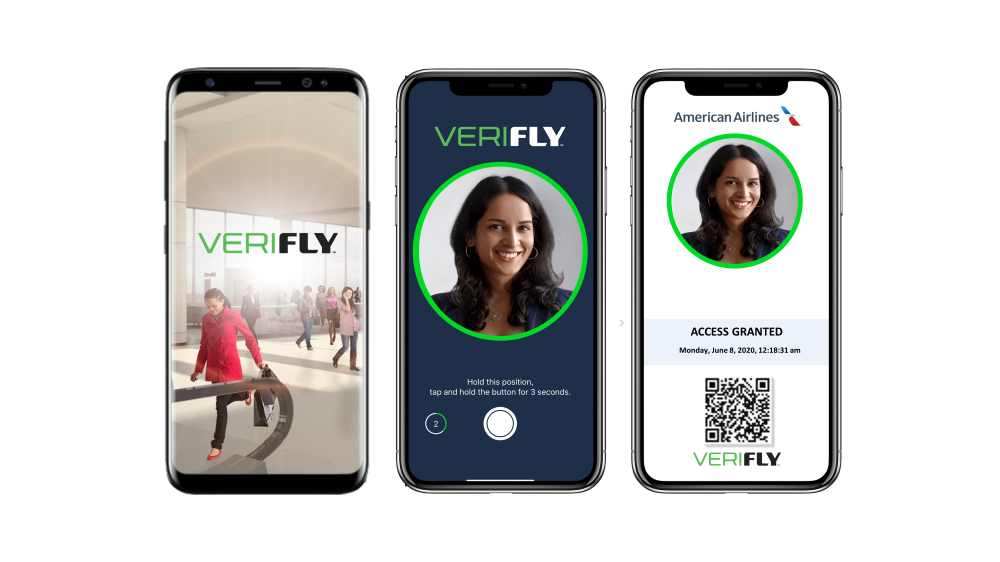 According to the app's owner, Daon, VeriFLY now has more than 800,000 active users departing from more than 60 countries on six continents.
"We are gratified that travelers and event attendees around the world have turned to VeriFLY to assist in their life journeys as we begin to see a return to normalcy," said Daon CEO Tom Grissen in a recent press release.
"The VeriFLY app will help not only with air travel, but also at conventions, sporting events and concerts. We envision a world where your VeriFLY digital wallet will provide access to the places you and your family want to visit. And the ability to accept a vaccine health credential will accelerate opportunities to resume activities we've all dearly missed."
American Airlines is the first airline to offer VeriFLY services to its customers and is currently providing travelers the option to use the app to securely upload their vaccine documentation for travel to El Salvador, Guatemala and the Bahamas. Users simply need to upload a photo of both sides of their COVID-19 vaccine card into the app before the VeriFLY team reviews it.
[Related: How the Onsite AV Landscape Has Changed as In-Person Meetings Resume]
CLEAR Health Pass
You might recognize CLEAR from the airport, where it started as a contactless way to accelerate the airport security process with its secure identification technology. Passengers can enroll in the program to ditch their ID documents in favor of biometric tech to confirm their identities. Now, over 50 airports, stadiums and other special venues are in CLEAR's network—and it's expanding its capabilities to meet the COVID-19 challenge at meetings and events as well.
The company has introduced the CLEAR Health Pass, allowing individuals to download an app to their phones, where they can upload lab results (like from a COVID-19 test), take health survey screenings for possible symptoms, and—coming soon—a vaccine validation program in which users can upload their COVID-19 vaccine records.
Many organizations have adopted the Health Pass since its launch, such as the State of Hawai`i, major league sports and popular meeting and event venues, including The Venetian Resort Las Vegas, which offers the service as parts of its "Venetian Clean" protocol. With this mobile technology in place, the planning process for events moving forward requiring negative COVID-19 tests or proof of vaccination can be expedited and easier to manage.
Some conferences on the 2021 calendar already plan to utilize CLEAR's Health Pass—the HLTH 2021 healthcare conference, for example, which takes place in Boston in September, will require all attendees to be fully vaccinated and plans to use the Health Pass to facilitate proof of vaccination.
Additionally, in a notable move, Los Angeles Tourism announced in late May that it will be the first destination marketing organization in the country to partner with CLEAR, giving meeting and event planners booking business in LA priority access to the Health Pass.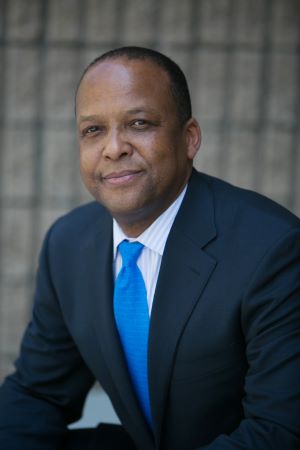 "While we may not have been the first destination to reopen, we remain committed to being the safest," said Darren Green, senior vice president of sales and services for Los Angeles Tourism. "This partnership reflects our passion toward providing the safest destination…We've heard from planners that for the foreseeable future this is something that will be a priority. So having a tool like CLEAR Health Pass to offer our clients is essential."
Green noted that the partnership news has been welcomed with relief and excitement from planners thus far, adding that shortly after announcing the partnership, Los Angeles Tourism began speaking with a few fall citywide events that are interested in implementing the tool. Whether local or out-of-state clients, big or small, Green thinks that the partnership will also help planners working with strained budgets in the wake of the pandemic.
"This is a big logistical and financial challenge for planners who are ready to move forward with events but are dealing with different levels of requirements and restrictions in each state," he said. "We pride ourselves on providing the tools and resources that save planners time and money."
Green concluded by saying that tools like the CLEAR Health Pass may help ease attendee reservations and worries about meeting in person again, allowing for meaningful face-to-face connections to resume.
"We want our clients to know the environment they are coming into is safe, and that everyone has demonstrated the same level of commitment to health and safety," Green said. "This will allow groups to meet much more freely and comfortably, with fewer restrictions and the enhanced ability to interact."
Read this next: Pandemic Update: 5 Industry Experts Chime in on the State of the Industry