Inside Allegiant Stadium's Event Hosting Capabilities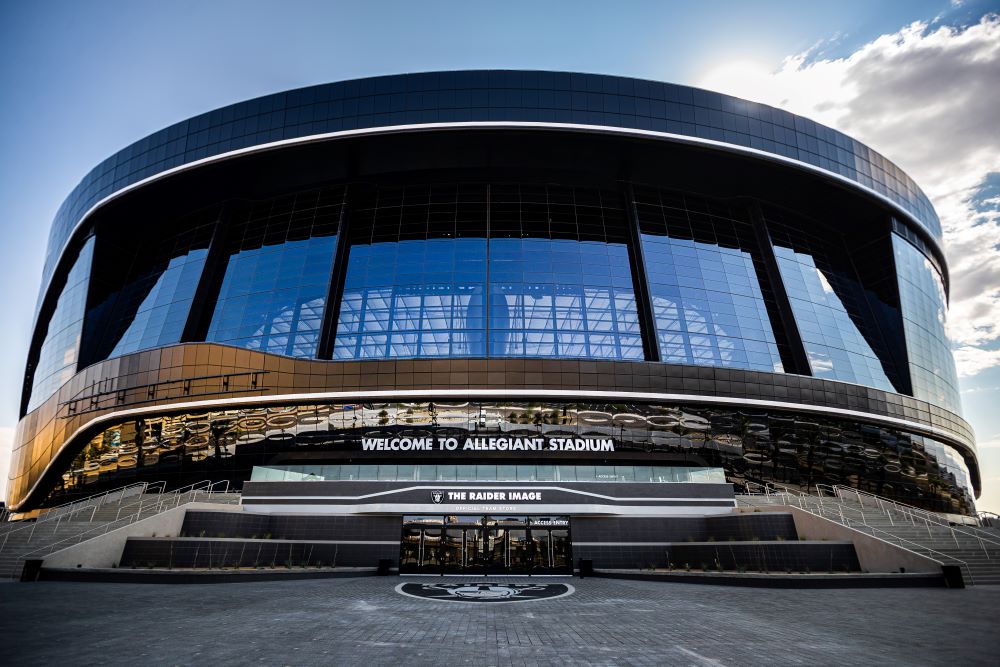 Allegiant Stadium exterior. Credit: Michael Clemens
From 1963 to 1991, immortal words, "Just win, baby!" from late coach-owner Al Davis inspired the former Oakland Raiders to achieve the best record in professional sports, including winning Super Bowls XI, XV and XVIII. 
Signature moments and players from those glory days are rendered in murals and giant photographs lining the spacious corridors of the suite level of Allegiant Stadium, the new $1.9 billion home of relocated Las Vegas Raiders. 
Another famous Davis quote, "The fire that burns brightest in the Raiders' organization is the will to win," inspired the namesake Memorial Torch dedicated to his honor. Commanding the event-capable interior Coors Light Landing, the 85-foot-tall Vegas update of the Oakland original from 2011 is visible from outside through the 65,000-seat stadium's massive retractable doors. Views of the Strip from inside are breathtaking. 
The artfully designed, ultra-modern venue, featuring a sliding tray of natural grass, is also purpose-built for group success. 
[Related: The Latest News and Updates on Facilities in Las Vegas]
A Global Stage for Sports and Events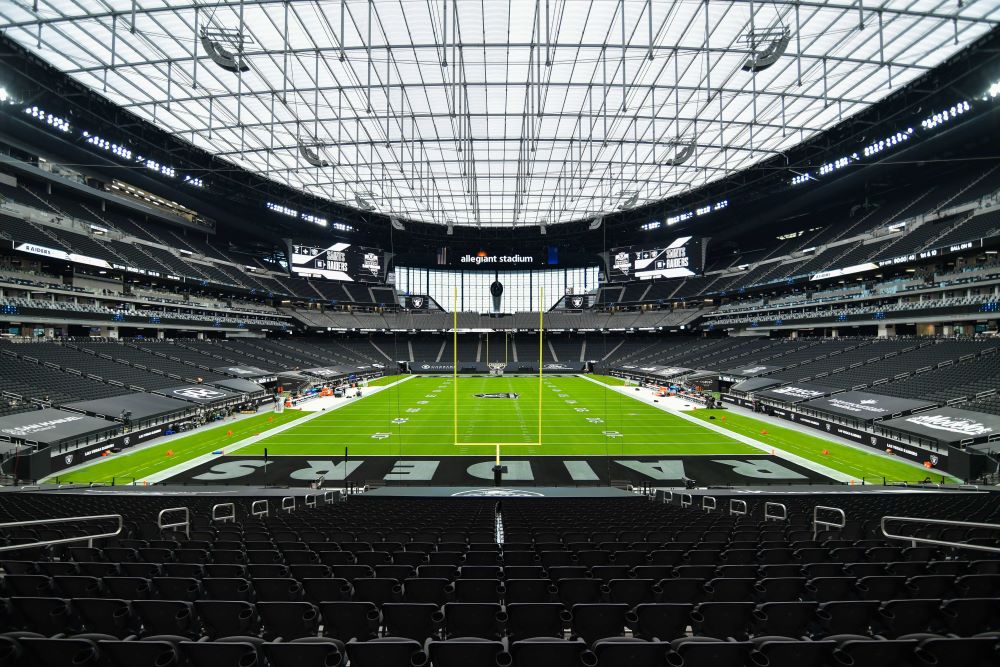 As Raiders President Marc Badain explained to start our Global Meetings Industry Day (GMID) '21 tour, the stadium fulfills an ambition that "the Davis family has thought about, cultivated and designed…for 60 years."
The process began in earnest in early 2016, when Sheldon Adelson, the visionary late owner of Las Vegas Sands Corp. , introduced the Raiders organization to "what Vegas was about."
The experience was eye-opening for the veteran NFL executive and his team.  
"We came in every week, and every week the town was like a chameleon," Badain said. "Amazed at how quickly the town could turn from one show to another, we started talking about what we could add to this economy and this market."
The Raiders saw a two-fold opportunity: investing in a state-of-the-art multiuse venue would provide the last piece of critical infrastructure to make Vegas both the Sports and the Entertainment Capital of the World, while also augmenting Vegas' group economy.
"Adding a robust new experiential venue to the Las Vegas meetings and events landscape, Allegiant Stadium offers a range of energizing additions to the programming available just across the highway on the Strip," said Director of Sales Samantha Johnson. "With 10-plus versatile spaces for groups of 50 to 65,000 guests and expanded opportunities such as guided behind-the-scenes tours, appearances by the Raiderettes and Raiders alumni and current players, and branding on our cutting-edge digital signage assets, there is something for every gathering or event."
Groups also have the Raiders Tavern & Grill at M Resort Spa Casino, the team's official headquarters hotel. Opened in April, the $2.5 million, 200-seat venue offers indoor and outdoor dining areas as well as the Remy Martin Lounge for private 20-capacity dining and events.
Allegiant Stadium Facility Details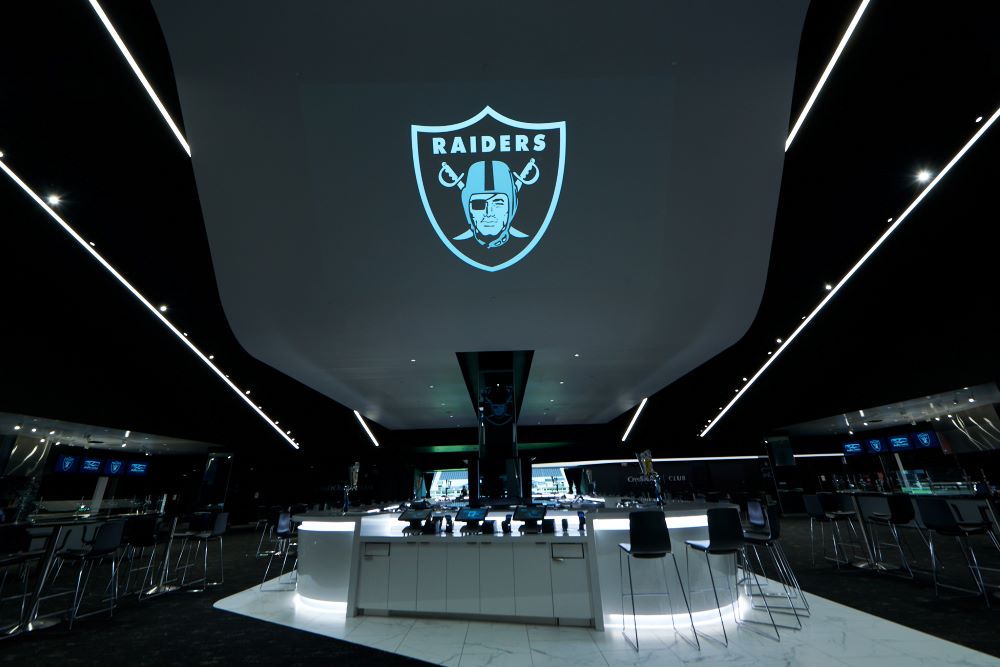 Allegiant Stadium is able to host corporate meetings, tradeshows and everything in between—65,000-person buyouts included. Soon, MPI's WEC event in June will take advantage of the dynamic venue for its opening night celebrations in June.
Here are some winning X's and O's for making an impact on event attendees at Allegiant Stadium:
On-field receptions and banquets for 3,500-plus and 2,500-plus guests, respectively.
Other large-scale venues include the 2,000-capacity Coors Light Landing and the Modelo Cantina Club and Twitch Lounge, each 20,600 square feet with space for 3,500 guests. 
Inviting spaces for 300-capacity meetings, receptions and breakouts include the Credit One Club, Champions Club and Aristocrat Club.
100-capacity receptions and 50-capacity banquets in the futuristic Raiders locker room.
Outdoor events on the 44,500-square-foot Ford Plaza.
Silver & Black Hospitality, a collaboration among the Raiders, Allegiant Stadium and Levy Restaurants, provides a range of F&B experiences throughout the venue. These include outposts from popular local restaurants such as Japanese-meets-American burger joint FukuBurger; family-run Ferraro's Italian restaurant; and Pizza Rock, from 13-time World Pizza Champion Tony Gemignani.
Read this next: 5 New Top-Shelf Events Facilities Help Las Vegas Up the Ante