New and Improved Meeting Offerings Set Las Vegas Up for Post-Pandemic Success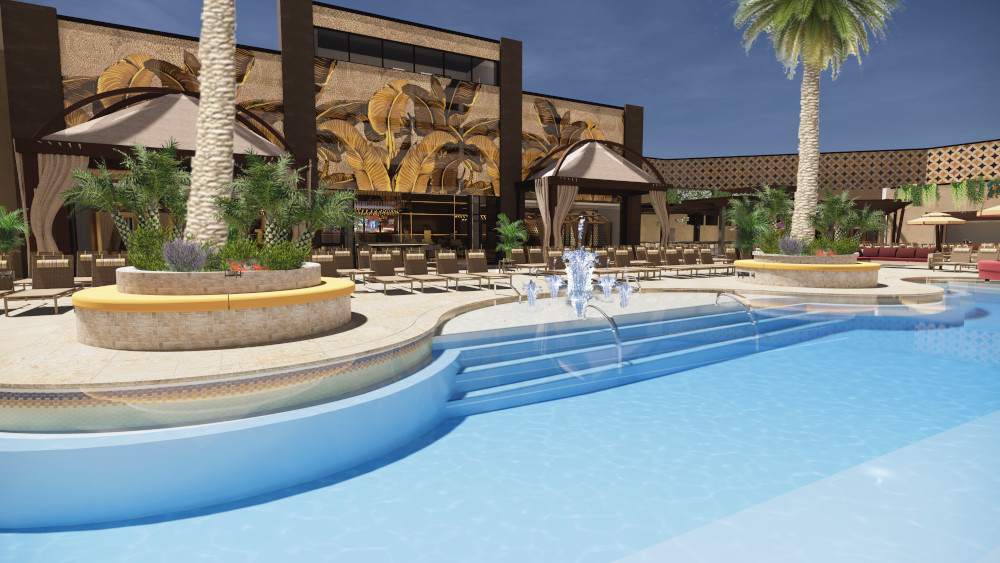 Azilo Ultra Pool pool deck, SAHARA Las Vegas. Courtesy SAHARA Las Vegas
When Las Vegas went dark in March 2020, art gallery owner Tony Carnevale and his photographer friend John Mastrogiacomo set forth to "showcase the depth of a stage with no audience."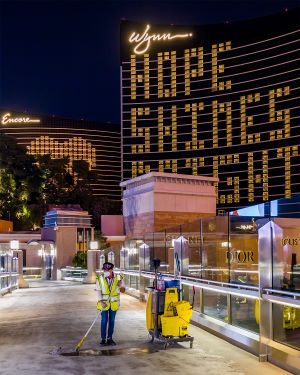 The duo roamed the mostly deserted Strip and, at the invitation of Caesars Entertainment's marketing team, several darkened Caesars' properties. Their resulting documentary series and Las Vegas Shutdown 2020 e-book vividly portray the surreal atmosphere. Arresting images include "Hope Shines Bright," revealing a solitary worker cleaning the Sands Avenue pedestrian bridge backed by Wynn Las Vegas' display of the titular message.
"I felt a responsibility to inspire reopening sooner than later and show the city's beauty and resilience in a way never experienced before," said Carnevale, with two namesake galleries inside Caesars Palace. "I never once felt the city was ready to surrender or succumb."
Stakeholders across town were similarly lion-hearted. Behind a citywide effort, spearheaded by comprehensive health and safety plans and robust vaccination programs, Vegas achieved its goal of fully reopening on June 1. 
Resorts are confidently emerging from their own behind-the-scenes missions. 
"We're ready to welcome back meetings and events in a very big way," said Chandra Allison, senior vice president of sales for The Venetian Resort Las Vegas, during the Global Meetings Industry Day 2021 executive panel discussion in Vegas. 
On the entertainment front, "The Sun Rises" again for Cirque du Soleil with the reopening of "Mystère" at Treasure Island and "O" at Bellagio. Bruno Mars' return to the Park MGM's Park Theater on July 4th weekend ushers back in superstar residencies.
Groups will discover a new physical landscape with a new set of offerings. In the punch-up between COVID-19 and progress, the indomitable Vegas spirit of continual reinvention had the upper hand.
The North Strip Gets Fabulous Again
With World of Concrete 2021 inaugurating the Las Vegas Convention Center's new $980 million West Hall expansion and Elon Musk's underground Loop system in early June, the North Strip is a hub of new excitement.
In the neighborhood's Golden Age, the 1958 Stardust, with its Atomic-lettered galactic façade, was an era-defining supernova. Implosion in 2007 cleared the way for a new high-rise era, following nearby Wynn Las Vegas's 2005 debut on the former Desert Inn site.
That June, Boyd Gaming broke ground on its planned $4.8 billion redevelopment of the 88-acre Stardust site into 5,300-room Echelon Place. Other projects included Fontainebleau Las Vegas, started in early 2007, and Wynn's sibling Encore, underway from 2006.
When 2008 hit, only the $2.3 billion Encore opened, while the unfinished Fontainebleau and Echelon became the epitomizing eyesores of the downturn.
Renamed Drew Las Vegas, the former remains a towering question mark. This February, Koch Real Estate Investments announced plans to purchase 75% of the unfinished resort. For an added twist, Koch is partnering with Fontainebleau Development—which originated the project in 2005.
Acquired by Malaysia's Genting Group in 2013, Echelon has been reborn as Resorts World Las Vegas.
Opening on June 24, the $4.3 billion integrated resort is the Strip's first ground-up development in more than a decade and includes a landmark partnership with Hilton.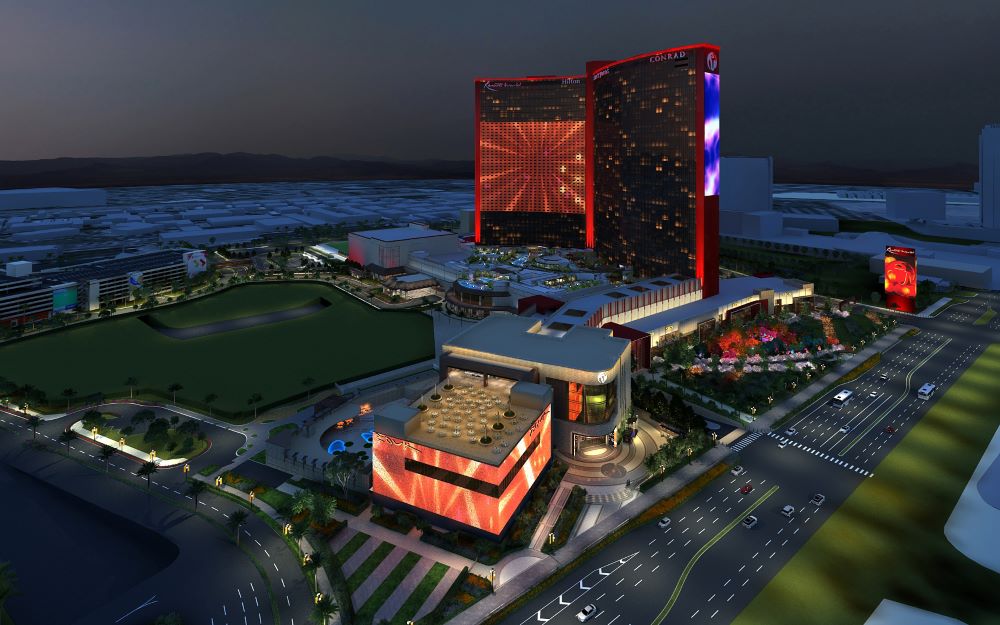 Following past glories at the Las Vegas Hilton (now the nearby Westgate Las Vegas Resort & Casino) and in its Flamingo days, the famous flag returns to the Strip with the largest multi-brand deal in company history. 
Three premium hotels comprising 3,500 keys, all on the Hilton Honors program, include the 1,496-room Conrad Las Vegas at Resorts World; 236-room Crockfords Las Vegas, part of Hilton's independent ultra-luxe LXR brand; and 1,774-room Las Vegas Hilton at Resorts World.
Groups have 250,000 square feet of flexible space, a 5,000-capacity entertainment venue and swift transport to the Las Vegas Convention Center via an onsite Loop station.
Other highlights include the West Tower's 100,000-square-foot LED screen and 40-plus F&B concepts. Announced residencies include two Vegas fixtures, Celine Dion and superstar D.J. Tiësto, who appear in the resort's "Stay Fabulous" ad campaign. 
Reborn 1952 icon SAHARA Las Vegas is generating its own excitement. Offering 85,000-plus square feet of flexible space, the 1,615-key integrated resort's ongoing $150 million transformation program includes new dining concepts such as Ballo from James Beard winner Shawn McClain. 
Scheduled for this summer, the new 35,000-square-foot Moroccan-inspired Azilo Ultra Pool, featuring a two-story, 10,000-plus-square-foot wraparound LED wall, offers a dreamscape for private events.
Across I-15, art and entertainment district AREA15 houses "a wondrous mash-up" of immersive groups venues and experiences, from the 10,000-square-foot, two-level Emporium Arcade Bar Las Vegas to the mind-bending "Wink World: Portals to the Infinite." The indoor-outdoor facility is available for 8,000-capacity buyouts.
[Related: 5 New Top-Shelf Events Facilities Help Las Vegas Up the Ante]
Partnerships Continue to Thrive
By the end of 2021, Hilton expects to offer 11,000-plus Vegas rooms in more than 30 hotels across 12 brands. Notable properties include the under-renovation Waldorf Astoria Las Vegas and new off-Strip draw Virgin Hotels Las Vegas.
Described by CDC Gaming Reports as "a casino of collaboration," the latter is emblematic of the third-party operator relationships woven throughout the Vegas scene.
Trusted partnerships with hoteliers, celebrity chefs, nightlife operators and retailers can enhance customer experience, brand loyalty and revenues while allowing resort operators to concentrate on core functions such as gaming and meetings.
Becoming Nevada's first, and still only, Radisson-affiliated hotel in 2019, Treasure Island Hotel & Casino gained access to 20 million-plus Radisson Rewards members worldwide.
"We also offer Radisson Rewards for Business, which provides competitive loyalty benefits for meetings professionals at TI and over 1,100 hotels in the Radisson Hotel Group portfolio," said Don Voss, TI's vice president of hotel sales and marketing, who "looks forward to confirming multiple events and groups through this program in 2021 and beyond."
Earlier this year, Dreamscape Companies made Aimbridge Hospitality their operating partner at Rio All-Suite Hotel & Casino.
Acquired by Dreamscape from Caesars Entertainment in 2019 under a continuing lease-back deal, the 2,150-plus room off-Strip resort, offering 220,000 square feet of space, is converting to multiple Hyatt full-service flags. The phased repositioning includes transforming one tower into a 1,501-room Hyatt Regency hotel. 
"Between our fast-returning meetings business and new Hyatt and Aimbridge Hospitality partnerships, we anticipate being a major group market player in Las Vegas," said Amy Riley, director of group sales. "Hyatt Regency is synonymous with outstanding group experiences, so we feel confident that this will be a go-to destination for business travelers."
In 2020, SAHARA Las Vegas partnered with premier global group sales organization Teneo Hospitality Group to help expand its meetings and conventions business.
In acquisition news, Rhode Island-based Twin River Worldwide Holdings, now Bally's Corp., purchased historic South Strip anchor Tropicana Las Vegas in April. Caesars Entertainment retains ownership and the name of Bally's Las Vegas.
[Related: 4 New Tech and Design Standouts on the Las Vegas Meetings Scene]
Downtown Las Vegas Makes Major Group Market Moves
Hosting honors for the first in-person trade show in Vegas since the March 2020 lockdown went to downtown's new $103.5-million Expo at World Market Center.
Days after opening in April, the new 315,000-square-foot gateway to International Market Centers' (IMC) 5-million-square-foot World Market Center campus hosted the five-day Las Vegas Market.
Attracting attendees from all 50 states and 30 countries, the returning twice-annual gift and home temporaries show was a hit.
"Everyone was ready to get back to business at Las Vegas Market," IMC CEO Bob Maricich told leading industry publication Gifts & Decorative Accessories. "Increased buyer and seller confidence coupled with an unprecedented desire to source in person created a sense of optimism and excitement that led to a robust buying and selling event."
Unique spaces at the new 777-room adults-only Circa Resort & Casino include the 60th-floor Legacy Club. Featuring busts and photographs of 11 founding Vegas legends, this swank cocktail lounge's outdoor terrace features sweeping Valley views. Circa's massive sportsbook and rooftop pool amphitheater also offer private rentals.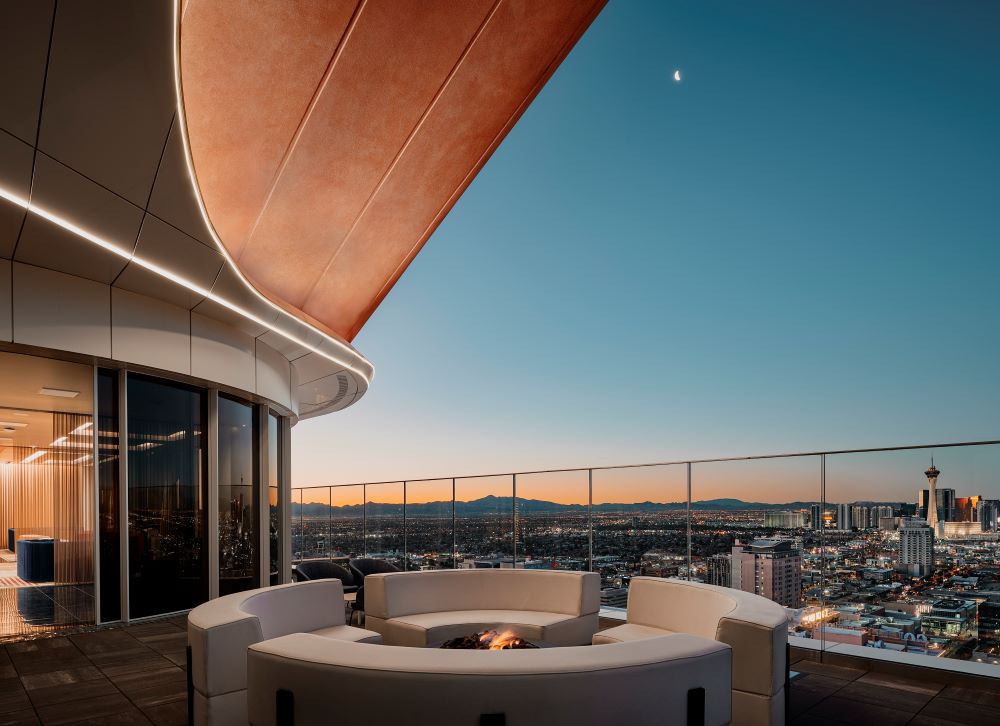 Opened in 1971, adjacent Plaza Hotel & Casino celebrates its 50th anniversary this year as Fremont Street's historic gateway.
Group-ready downtown cultural attractions include the reopened Smith Center for the Performing Arts and the Neon Museum. The Mob Museum is a "Best History Museum" nominee for the USA Today 2021 "10Best Readers' Choice" awards.
Plus: LVCVA's Steve Hill on Vegas' Solid Foundations and Restart
Three decades before becoming LVCVA president and CEO, Steve Hill supplied concrete and aggregates for major Las Vegas investments starting with the Mirage in 1989 through his company Silver State Materials.
"It's both appropriate and ironic that World of Concrete, which I first attended in 1982, is the first in-person show in our expanded Las Vegas Convention Center," he said. "What matters is the progress though. Vegas was on a roll before the pandemic. We were creating a new era. As tourism and hospitality shut down, there was the specter of halted construction and unfinished work. Gov. Sisolak had tough decisions to make, but Vegas' signature perseverance saw us through. Our leadership and the workforce did a phenomenal job in working safely through the pandemic and keeping everything on track as planned."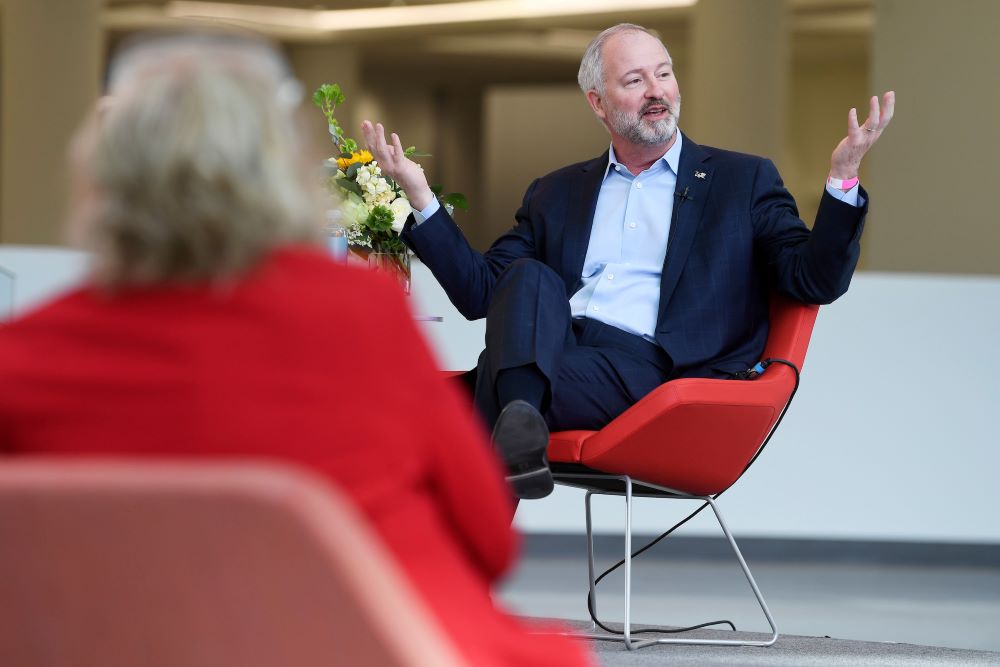 Hill, who served Nevada as the first director of the Governor's Office of Economic Development, credits the state's pro-construction culture.
"One real selling point for Nevada and Vegas especially is our ability to efficiently build large projects on budget and on time," he explained. "Our construction industry, elected officials and governing agencies share the philosophy of figuring out how to responsibly get projects done. Unnecessarily delaying returns on billions of invested dollars makes no sense. And our approach proved especially beneficial during the pandemic."
Hill has high expectations for Vegas' restart.
"We missed our customers as much as they missed being here," he said. "When things are taken away, there is much greater appreciation for having them return, and I think we will see amplified energy and passion for both what people missed about Vegas and the new offerings in town. The pandemic has been a defining generational moment that reshaped us all, and it is incumbent on our industry to remember what we learned and focus on more enduring positive outcomes than simply getting back to business."
Read this next: Inside Allegiant Stadium's Event Hosting Capabilities