Las Vegas Leaders Share Stories of Managing COVID-19 and Welcoming Meetings Back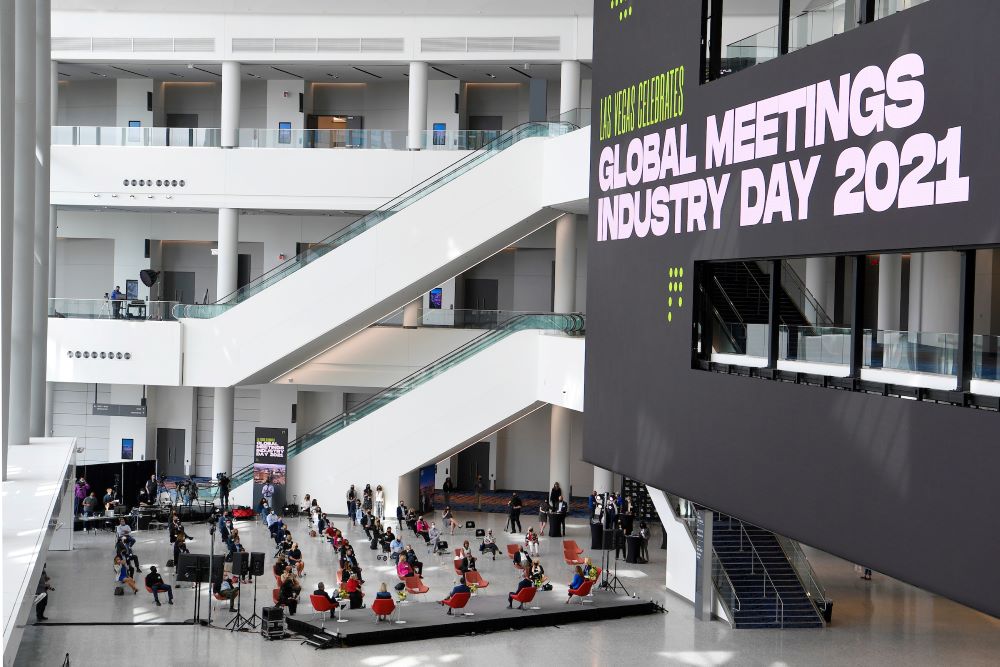 GMID '21 at the newly expanded Las Vegas Convention Center's West Hall. Credit: Las Vegas News Bureau
Co-hosted by Caesars Entertainment and the Las Vegas Convention and Visitors Authority (LVCVA) with partner support, the Global Meetings Industry Day (GMID) program in April I attended included a tour of the former Techatticup Mine (1861-1942), an hour southeast of Vegas.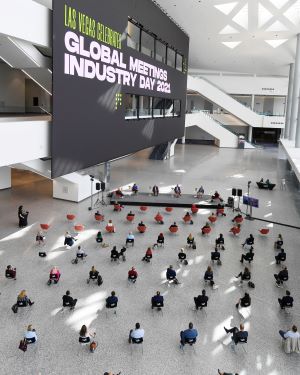 After learning how prospectors endured scorching heat, scorpions and other hardships to extract gold from solid rock, we headed deep into the mine. For the finale, our guide extinguished all the lamps. From the total darkness, we exited to the light at the end of the tunnel. 
The symbolism was irresistible: Vegas emerging from the pandemic, group gold in hand. 
CAESARS FORUM, offering the world's two largest pillarless ballrooms, exemplifies the bounty. Walking the floor with Chief Sales Officer Michael Massari, the $375 million colossus felt alive with anticipation of the flagship events ahead, from MPI's WEC Las Vegas 2021 this June to the NFL Draft in April 2022 on the 100,000-square-foot outdoor plaza. 
Days after GMID, Caesars Palace welcomed 850 attendees, half of them in-person, for the 54th Mattox/Vegas Trauma, Critical Care & Acute Care Surgery Conference. Launched in 1967, it is the longest running conference at the resort and in town. 
Leadership made the restart possible. Throughout the pandemic, Massari and co-GMID panelists Chandra Allison, Chris Flatt and Stephanie Glanzer, convened every week, in close contact with the LVCVA, to share ideas, talk strategy and coordinate plans. 
Following, they and more key Las Vegas stakeholders share their stories of decisively managing through the uncertainty.
Stephanie Glanzer, Chief Sales Officer & Senior Vice President of Sales, MGM Resorts International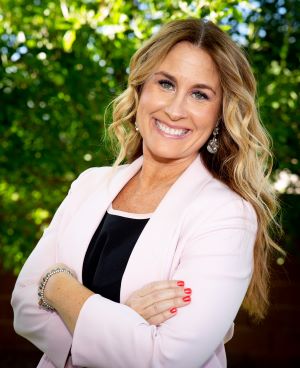 When COVID-19 hit, Glanzer was just 90 days into her new chief sales officer role. 
"That added a unique dimension to my onboarding process," she recalled. "How do you lead in the unknown?"
Clarity came from constant communication and collaboration. 
"Aiming to unite my property and global sales teams, we met more than ever and are now more bonded than ever," Glanzer said. "It was demanding and often stressful, but their passion and dedication saw us through."
The same went for clients: "While working on customer experience, digital innovation, and other ways to reemerge stronger as an industry, we also focused on relationships. Facing the pandemic together brought us all closer."
"What I love most about this business is that everybody wants to help somebody else, and that was never truer than in the pandemic," Massari said. "Anything is possible when you are surrounded by good people."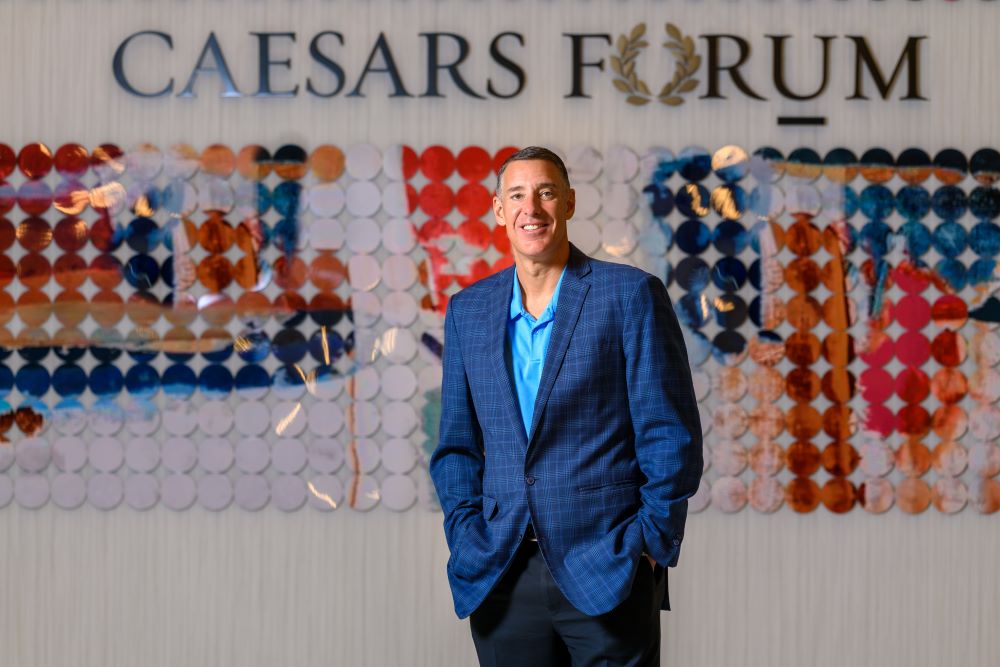 He led his team through the months of uncertainty and empty venues by taking decisive action. 
"This was not a time for wavering or knee-jerk reactions," he said. "We assessed the situation, determined a path forward, and stuck to what we could do."
Massari believes that the discovery process came out on top. 
"How we best meet customer needs makes this industry great and unique, and so understanding people's thoughts and perceptions should be a top priority going forward."
Chris Flatt, Executive Vice President, Hotel Sales and Marketing, Wynn Las Vegas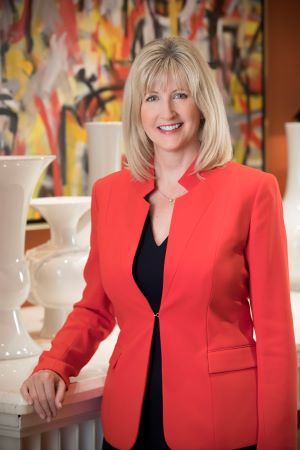 Likening Vegas to Oz, Flatt said the lever-pulling behind the COVID curtain often felt "truly unreal." There was no trickery to the Wynn response, however. 
"From the outset, our CEO Matt Maddox  directed us to be as flexible as was necessary," she said. "The confidence and character that inspired saw us through."
Facing closure within days, Wynn's IT team immediately set up remote access.  
"Staying connected with each other and customers was critical in managing the uncertainty, and we emerged with stronger bonds and trust than before."
Flatt is "immensely proud" of how Wynn gave during the crisis. 
"From virtual volunteerism to supporting food banks, we never lost sight of helping our community," she said.
Voss lost friends to COVID. Others suffered health issues. And staff furloughs and layoffs only compounded the stress. 
"These experiences only deepened my appreciation for people and personal connections," said Voss, who is most proud of being able to bring staff back.
"My fullest gratitude goes to my team. They rose to the challenge in every way. Our strong client relationships paid off, with many rebooking and committing to future dates. And our ownership's commitment to completing upgrades includes new technologies to enhance service for our guests and clients."

[Related: As Las Vegas Reopens, Compression Means the Time to Book Is Now]

Christopher Bond, Vice President of Sales, Catering and Convention Services, SAHARA Las Vegas 
"Business has gone from zero to 100 over the last two weeks here," said Bond in mid-April. "I feel very alive right now." 
Proud to have been "empathetic and supportive" for his team in the lockdown, the 31-year Vegas veteran used the pause to "reset for enhanced operational and experiential efficiency" for returning groups.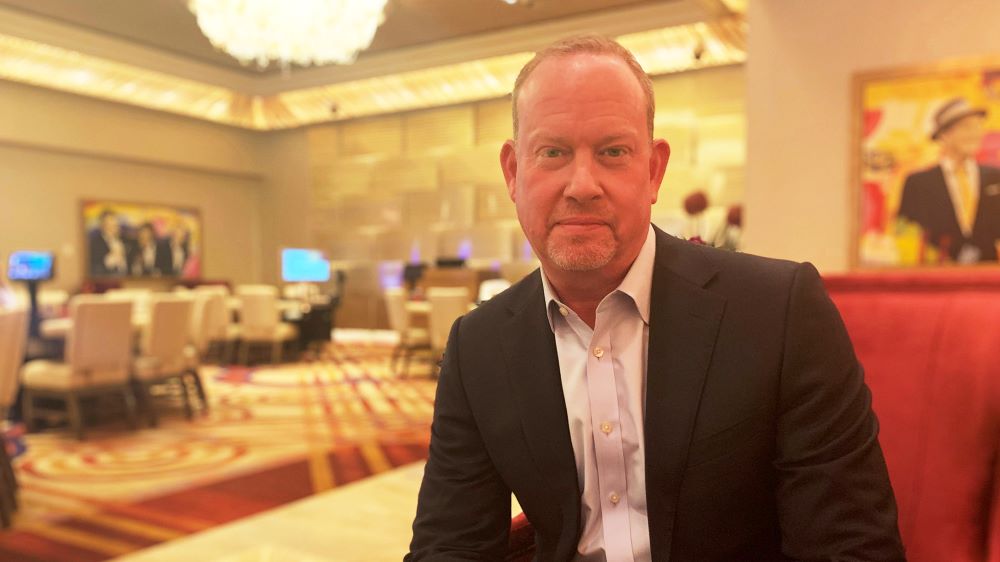 He has high praise for the GMID panelists, including former colleagues Chris Flatt and Stephanie Glanzer. 
"Their proactive efforts, including presenting safety plans to the governor and reinforcing the value of meetings and hospitality, made a huge difference," he said. "Vegas is a small town at heart with a tightly knit industry like nowhere else."
In June 2020, his guided VIP culinary experiences restricted by the pandemic, Contursi launched Finger Licking Foodie Tours, his innovative self-directed, e-assisted dining tours of the Strip, Downtown and a new neighborhood, Chinatown. 
"That allowed me to expand our portfolio of restaurant partners and be ready to offer even more enticing group experiences when the time was right," said Contursi, who had just hosted a 35-person corporate group at ARIA when we spoke in April.
"The reinvigoration of our hospitality industry is inspiring," he added, ahead of hosting a 250-attendee event at MPI's WEC Las Vegas 2021.
"This harrowing episode taught us all to never accept the status quo, to consistently strive to be better, and to always have swords sharpened for whatever comes our way."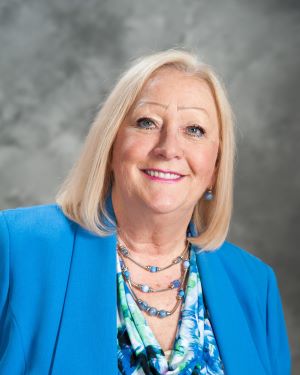 While often "disheartened" by the lockdown's impact on business, Robinson could always count on her team. 
"The experience strengthened our personal connections," she said. "My happiest moment was bringing them back."
Her client relationships also thrived: "It's amazing how not chasing numbers relieves the stress! Recognizing that were all in the same boat, it was a time to patiently, flexibly focus on caring for their needs." 
Positives for moving ahead include "appreciating what everyone brings to the table" along with "streamlining sales procedures, empowering managers, and enjoying the business of travel!" she said.



Tara Russell, Senior Vice President of Sales, Catering & Conference Services, The Cosmopolitan of Las Vegas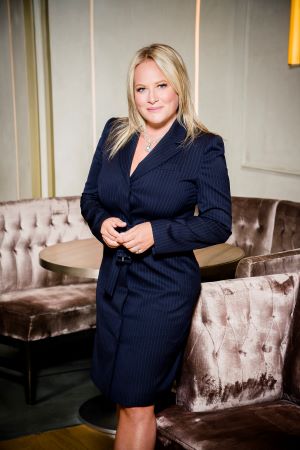 Accustomed to the fast pace of sales, Russell geared down in the pandemic. 
"I quickly learned to be more patient, taking everything day-by-day and adapting to changes with understanding," she said. "Finding work-life balance and mindfulness were also silver linings."
Her CoStars (Cosmopolitan employees) in sales rose to the occasion. 
"Many served on the resort's Covid Incident Response Team," Russell said. "Their effort and dedication in helping other CoStars and their families navigate through the pandemic were my proudest moments."
Her biggest takeaway? 
"Ask and you shall receive help," she offered. "I made it through on the strength and unity of my friends, family and work family."

Plus: 6 Questions for The Venetian Resort Las Vegas' Chandra Allison 
Chandra Allison, senior vice president of sales for The Venetian Resort Las Vegas, spoke with senior contributor Jeff Heilman about navigating the pandemic and lessons The Venetian will apply to the meetings moving forward.
What course did you set for navigating the pandemic?
The past year challenged everyone across our industry, but from challenges come great opportunity. Our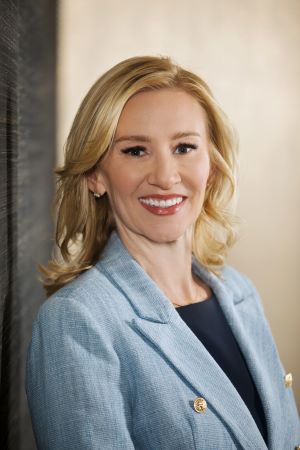 answer was to remain actively engaged throughout, from training and adapting to virtual presentations to moving and rescheduling groups.
While working remotely, our team stayed connected with our customers as we charted the pathway of recovery. By doing so, I am proud to say that we maintained our close customer relationships and were able to recover more than 85% of the business that was lost during the pandemic. Now, we are working on additional future commitments and the resurgence of in-person meetings.
 
How did dealing with the pandemic broaden and deepen you as a leader?
For me, being able to lead my team at The Venetian through good and bad times alike is a source of continuing pride and reward. One remarkable aspect of the pandemic for me was tuning into how it magnified and amplified the human side of our business in ways that we do not normally see. That required a sensitive and perceptive ear as I maintained the balance between keeping my remotely dispersed team focused while accounting for what each team member was going through personally. It was a great learning experience, and I am confident that we have all grown from this and emerged even stronger.  
 
Your proudest achievement over the last year? 
What my team has been able to accomplish. We came together, kept our spirits high, and celebrated our wins. We worked together to understand the new protocols and what they meant to moving forward and bring meetings back safely. We continued cultivating our relationships with our clients throughout the shutdown, which I think that speaks highly to the relationships we have and how we have been able to rebook these events in the future.
 
Top silver lining for you coming out of the pandemic?
Before the pandemic, we heard much talk about how virtual solutions were going to become the frontrunner for meetings and events. I think the silver lining here is that the pandemic solidified that people want to meet in person. While technology will certainly remain part of meetings and events, we know now more than ever that it will not replace them. Secondary to that, this time allowed us to accelerate several technology-driven initiatives that previously would have taken more time to complete. In that respect, this time has helped us to expand our capabilities.
[Experience The Venetian Resort at Meetings Today LIVE! in July!]
What is the biggest lesson learned from answering the pandemic challenge that you will apply going forward?
I always knew that we had a strong and resilient sales team, but the last year really proved that. No matter what they were faced with, they came together to get through it. So going forward, I will continue to build our team with individuals that thrive no matter the circumstances and work together for the greater good.
 
What is most important to you now going forward?
As we begin to move forward, I think that our priority focus should be on continuing to educate people on the value of in-person meetings. As an industry, we need to tell the stories and advocate for all the positives that we create, from generating significant economic and changing the shape of our communities to building and strengthening relationships and bringing people together.
Read all of the stories from this year's Meetings Today Las Vegas.