Colorado Springs Has Undergone a Mountain of Changes for Its Meetings Offerings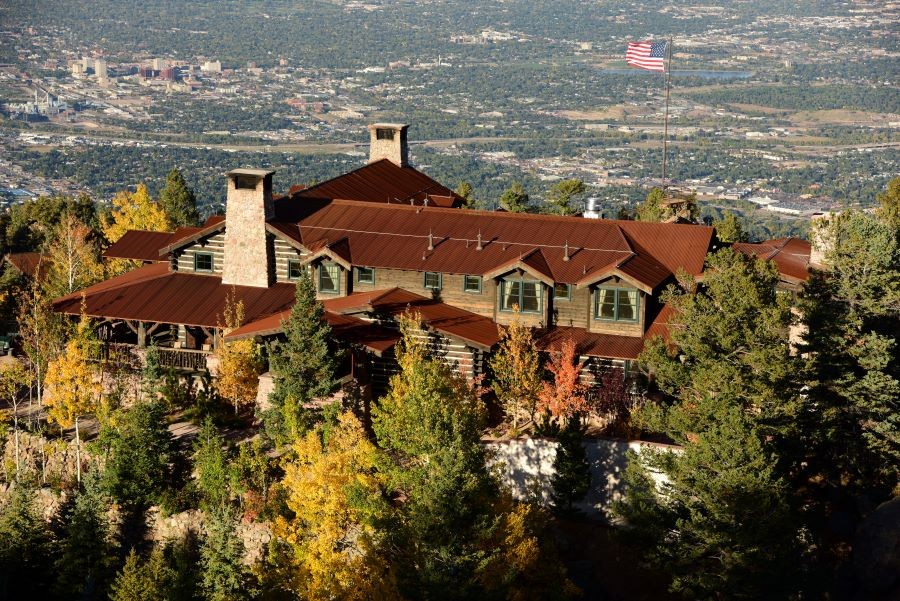 Some things in Colorado Springs, Colorado, never seem to change or disappoint, with five-star historic resorts such as The Broadmoor and the IACC-certified Cheyenne Mountain Resort Colorado Springs, boasting luxurious accommodations and ample top-shelf meeting space with a backdrop of the towering Rocky Mountains.
And any destination would count itself fortunate to be beautiful enough to inspire what many consider a competing national anthem for the U.S.—the lyrics for "America the Beautiful" were taken from the 1885 poem "Pikes Peak," penned by Katharine Lee Bates after being inspired by the "purple mountain majesties" rising up outside of Colorado Springs.
[Related: 8 Ways to Incorporate the Colorado Springs Art Scene Into Your Event]
Colorado Springs is certainly blessed with spectacular scenery and top resorts, but until recently, it really lacked a vibrant downtown dining and entertainment district that would round out its offering for leisure travelers and groups alike, and even tried-and-true attractions have undergone significant improvements.
"Even in the six years I've been here, it's changed and grown so much," said Alexea Veneracion, communications manager for Visit Colorado Springs. "We still have our iconic attractions that have been around forever, but sort of the biggest story for us is around Pikes Peak this summer."
Veneracion is referring to the major renovation of Pikes Peak Summit Complex, the highest ongoing construction project in North America at more than 14,115 feet. The new $60 million-plus Summit Complex replaces the existing Pikes Peak Summit House and will feature an immersive visitor experience that will be a popular offsite activity for groups, who can access the facility by highway or, more spectacularly, the Broadmoor Manitou and Pikes Peak Cog Railway.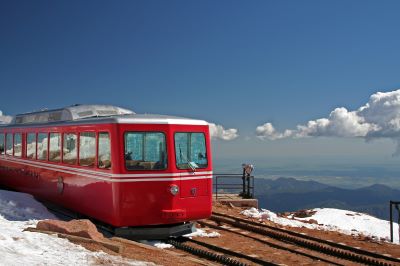 Managed by The Broadmoor resort since 1925—it began service in 1891—the cog railway resumed service in late May from its depot at scenic Manitou Springs, located about 15 miles west of Colorado Springs at the base of Pikes Peak.
Groups can reserve spots on the highest cog railway in the world, which is fresh off a $100 million renovation of its tracks, cogs, railcars and Manitou Depot.
Groups would be remiss not to arrange for a round of Pikes Peak Summit Donuts, a quirky, iconic treat, once they reach the top of the peak that is the most successful of the state's 58 "Fourteeners," or mountains whose elevation exceeds 14,000 feet.
While lofty Pikes Peak always steals the show, downtown Colorado Springs is also on an upward trajectory.
"There is a shift that has been happening," Veneracion said. "Downtown has expanded exponentially in five years, and one of the driving factors is the City for Champions effort, projects which have been in the works for almost a decade, and this year and last year they're really starting to open up around the expansion of downtown and new sports venues."
Started in 2013, the City for Champions tourism project is funded by state and local tax funding and private sources, and is a collection of four unique venues that showcase the area's reputation as a military training ground and sports and fitness hub. 
The project has also lured many dining, entertainment and other hospitality businesses, including the eclectic new Kinship Landing hotel, as part of the New South End district. The area also features a new pedestrian bridge that connects the United States Olympic & Paralympic Museum to America the Beautiful Park, allowing for easier access to its many trails from downtown.
Major City for Champions facilities include:
The United States Olympic & Paralympic Museum, dedicated to highlighting the values and historic moments of the Olympic and Paralympic movements.
Colorado Sports and Event Center, serving and showcasing professional and amateur athletes, with two unique stadiums that host regional and national sporting events associated with the Olympics, as well as being home to two professional teams. 
Gateway Visitor Center, a destination that engages visitors with exhibits about the contributions of cadets at the U.S. Air Force Academy.
The UCCS William J. Hybl Sports Medicine and Performance Center, a facility that serves as a destination clinic for training and healing elite athletes and wounded military personnel and also studies aging in conjunction with the University of Colorado Springs.
Big News at The Broadmoor
The most prestigious, and historic, Colorado Springs property is The Broadmoor, a AAA Five-Diamond and Forbes Five-star resort—the only one in the U.S. to operate a fully owned convention center space—on 5,000 acres that is a sprawling, luxurious world unto its own. Starting out as a dairy farm and then turned into a casino by a Prussian count in the 1890s, the property was purchased by Spencer Penrose in 1916 and formally opened in 1918.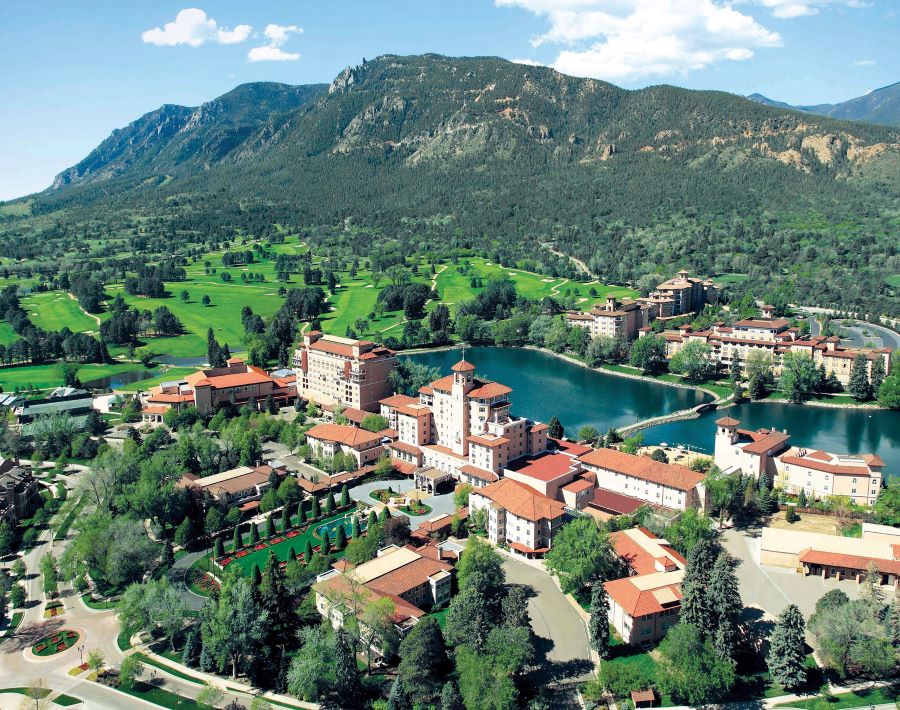 Still privately owned—now by the Anschutz family, of Anschutz Entertainment Group notoriety—The Broadmoor has made significant waves as it prepares to open a luxury-grade conference center on property, allowing it to attract groups who were previously sized out of the property because its tradeshow space was not adequate.
With a ribbon cutting scheduled for August 20, the new Bartolin Hall will add 125,000 square feet of space to the 784-room property's convention offering (bringing the total amount of space to just over 315,000 square feet), a 93,500-square-foot exhibit hall with six loading docks and 32 meeting rooms across two levels. Another popular feature will be an 8,000-square-foot terrace that will allow groups too drink in the amazing mountain views surrounding the venue.
[Related: The Broadmoor Ups Its Tradeshow Game With New Broadmoor Exhibit Hall]
Originally scheduled to make its big splash in mid-March 2021, COVID-19 arrived to rain on the parade. 
"The good news I see in this, going through the pandemic right now, a lot of the groups we were working with that ended up cancelling in 2021 are now rebooking those conferences," said Scott Flexman, vice president of sales and marketing for The Broadmoor. "We're very excited the space is open, and it's beautiful, and people are coming out to look at it. With vaccinations, people are far more comfortable to see it and are amazed at the amount of meeting space we have here.
"Everything that is done here is done in the Broadmoor five-star, five-diamond style," he continued, "and it's 100% of the consideration when we build anything, that it has to be that Broadmoor quality or we won't be involved with it."
Flexman said that the new venue is drawing a new range of clients, just as intended.
"Some of the unexpected tradeshow business that we're getting is very exciting," he said. "The addition of the 32 breakouts that Bartolin Hall has is drawing a lot of pharmaceutical business and tech meetings that are very breakout heavy."
Besides being bullish on Bartolin Hall, Flexman also pointed out three unique Broadmoor-operated offsite attractions that are perfect for upscale groups, such as executive retreats, that really want to immerse themselves in the natural offerings of the area.
"Our Broadmoor Wilderness Experience properties, The Broadmoor Cloud Camp, The Ranch at Emerald Valley Ranch and The Broadmoor Fly Fishing Camp, feature great meal services, hiking, horseback riding, archery, falconry," he said. "It's amazing when you see these corporate board meetings, especially during COVID, where you can buy the whole camp out, and they have meeting rooms and you can experience outdoor breaks and hikes.
"When you look at it, it's something that nobody else in the world has," Flexman continued, "and they're anywhere between a half hour and hour away, and Cloud Camp is 14,000 feet up."
Other Major Happenings in Colorado Springs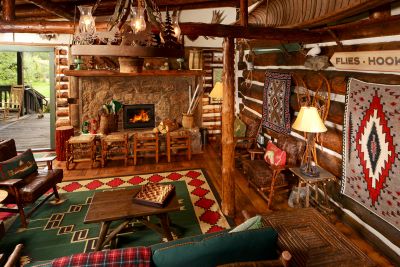 Colorado Springs has benefitted from a number of new additions to its hospitality offering in the last two years, including the following:
Flying W Ranch, which started as a mountain cattle ranch in 1947 and became one of the most popular destinations in the state, attracting more than 1,400 nightly visitors at its height drawn to its chuckwagon dinners and Western stage shows. The Flying W was completely destroyed by fire in 2012 but reopened with a completely new facility in July 2020, welcoming more than 18,000 visitors during the 2020 "chuckwagon season."
Weidner Field is home to the Colorado Springs Switchbacks FC professional soccer team and is a popular special event facility, offering nearly 120,000 square feet of event space and multiple indoor and outdoor options for groups up to 400, with customized food and beverage options. 
Water's Edge: Africa exhibit at Cheyenne Mountain Zoo is a new special exhibit for the zoo's African penguins and Nile hippos. The zoo is available for private events, with in-house catering and alcohol service.
Hip Hood: New South End
Sparked by the city's City for Champions development drive, Colorado Springs now boasts a growing New South End sports, entertainment and dining district that groups can pair with its traditional ample offerings of jaw-dropping scenery, top-shelf resorts and inspiring activities.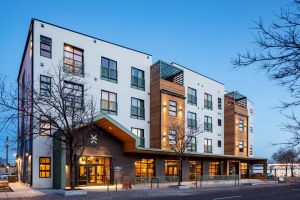 Sports-related facilities anchor the district, with Weidner Field home of the Colorado Springs Switchbacks soccer team and 117,000 square feet of event space, and the U.S. Olympic & Paralympic Museum offering great offsite options for groups.
Other New South End standouts include CO.A.T.I. food hall, a group event favorite featuring multiple restaurants, art installations and live entertainment, with meeting space upstairs. The new European-style Kinship Landing boutique hotel offers meeting space for smaller groups, including the Greenhouse (maximum capacity 150), with garage doors that open to outside space with spectacular views of Pikes Peak.
Connect
Visit Colorado Springs
719.635.7506
Read Next: Outdoor Teambuilding Ideas for Groups in Colorado