4 Ways Groups Can Get Outdoors in Pittsburgh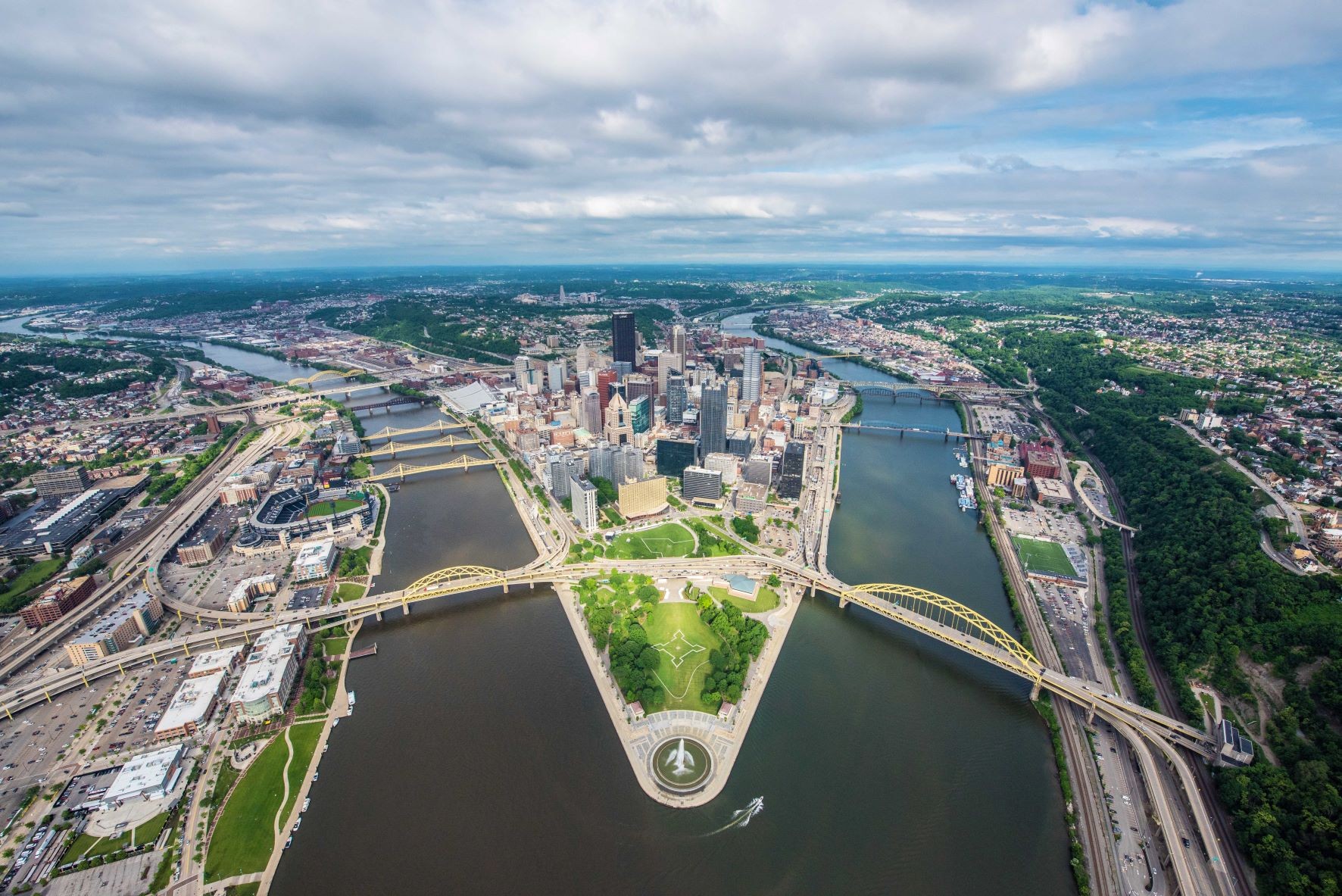 Aerial shot of Pittsburgh. Credit: Dave DiCello
From biking trails with rolling hills, three rivers ready for recreation and more than 100 city parks, Pittsburgh has much to offer when it comes to getting groups outdoors. And the city's diverse landscape, in its home of Western Pennsylvania, makes it easy. 
"The nice thing about the way Pittsburgh is built is that there are so many opportunities for event attendees to get out and explore, depending on what they want to do," said Jerad Bachar, president and CEO of Visit Pittsburgh. 
Before planning wow-worthy outdoor adventures for attendees in Pittsburgh, know that Steel City is ready to welcome back groups following a challenging 2020. Pittsburgh even hosted its first major citywide event in more than a year from August 30 to September 1 with the National Association of Fleet Administrators' annual Institute & Expo event at the David L. Lawrence Convention Center. 
"We're excited to see that segment coming back," Bachar said. 
And when groups do arrive in Pittsburgh, encourage attendees to get out into the fresh air with these four suggestions, including a new outdoor space at the convention center and kayaking on the Allegheny River. 
Hit the Bike Trails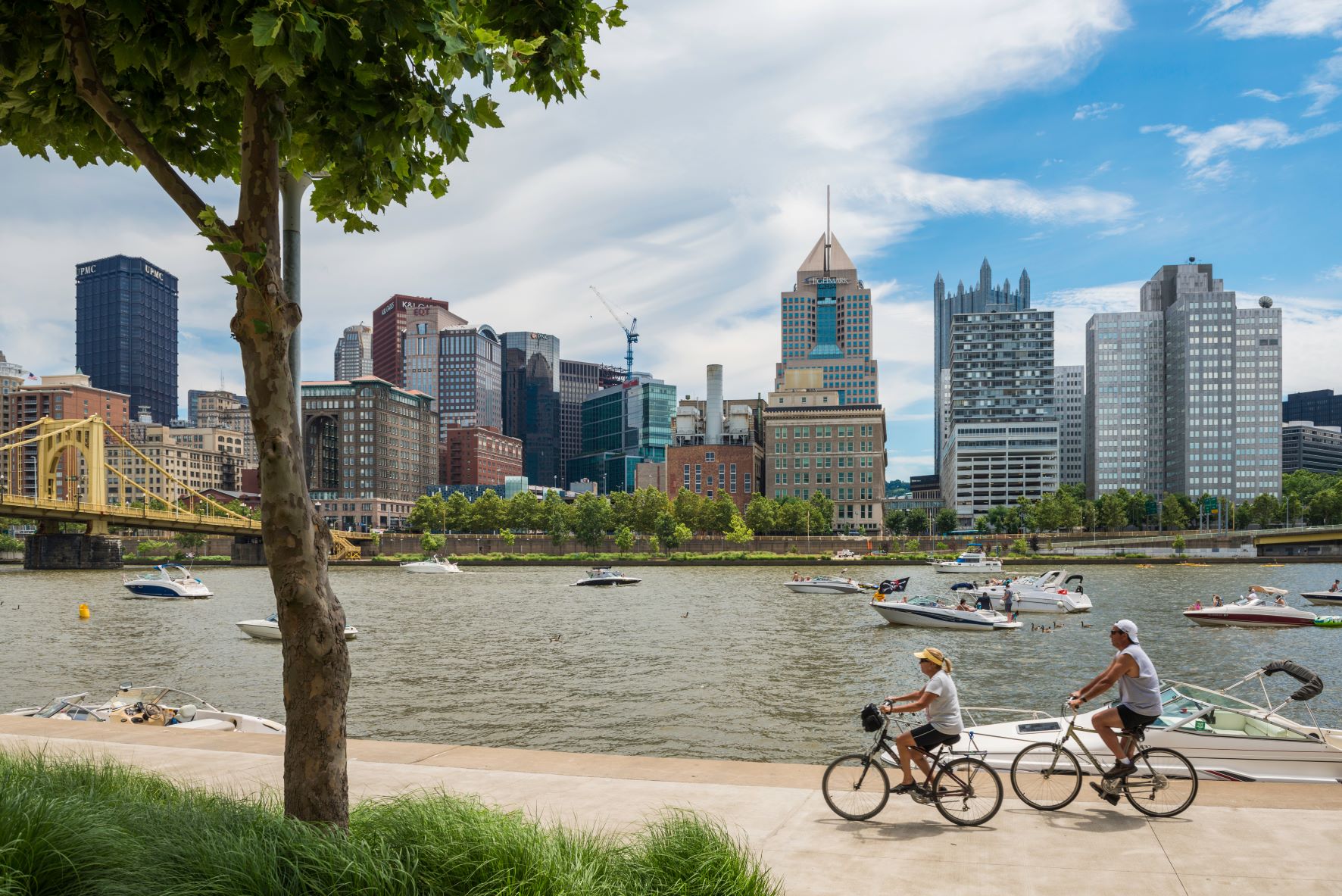 If attendees want to stay on land in the City of Three Rivers, Pittsburgh offers more than 24 miles of bike trails just in the downtown area alone, Bachar said. 
"There are so many opportunities for cycling in and around the Pittsburgh region," he added. "With the topography of Southwestern PA, we have a lot of rolling hills, which proves quite popular for cyclists because we do have a bit more of a challenging cycling tread." 
Pre- or post-event, it's not uncommon to see avid cyclists tack on a few days to their Pittsburgh business trip to take on the Great Allegheny Passage, also known as the GAP trail, which stretches 150 miles taking cyclists from Pittsburgh's Point State Park to Cumberland, Maryland. There, it connects with the C&O Canal towpath, which takes them all the way to the Georgetown district of Washington, D.C., to complete an incredible 335-mile trail ride in total. 
"Before COVID-19, we had a lot of international visitors that would come to Pittsburgh just to cycle that trail from D.C.," Bachar said. 
But there are plenty of trails for biking beginners too—or at least, those not looking to bike quite as far—who prefer to stay near downtown. Two different companies rent bikes in downtown Pittsburgh, making it easy for attendees to get around the city or just to take in some great views. 
For the latter, hit the North Shore Riverfront Trail, where the popular path offers views of the Allegheny River; PNC Park, home of the Pittsburgh Pirates; and the Three Sisters bridges. 
[Related: Western Pennsylvania Wows Groups With Deep-Rooted Food Culture]
Try a Walking Tour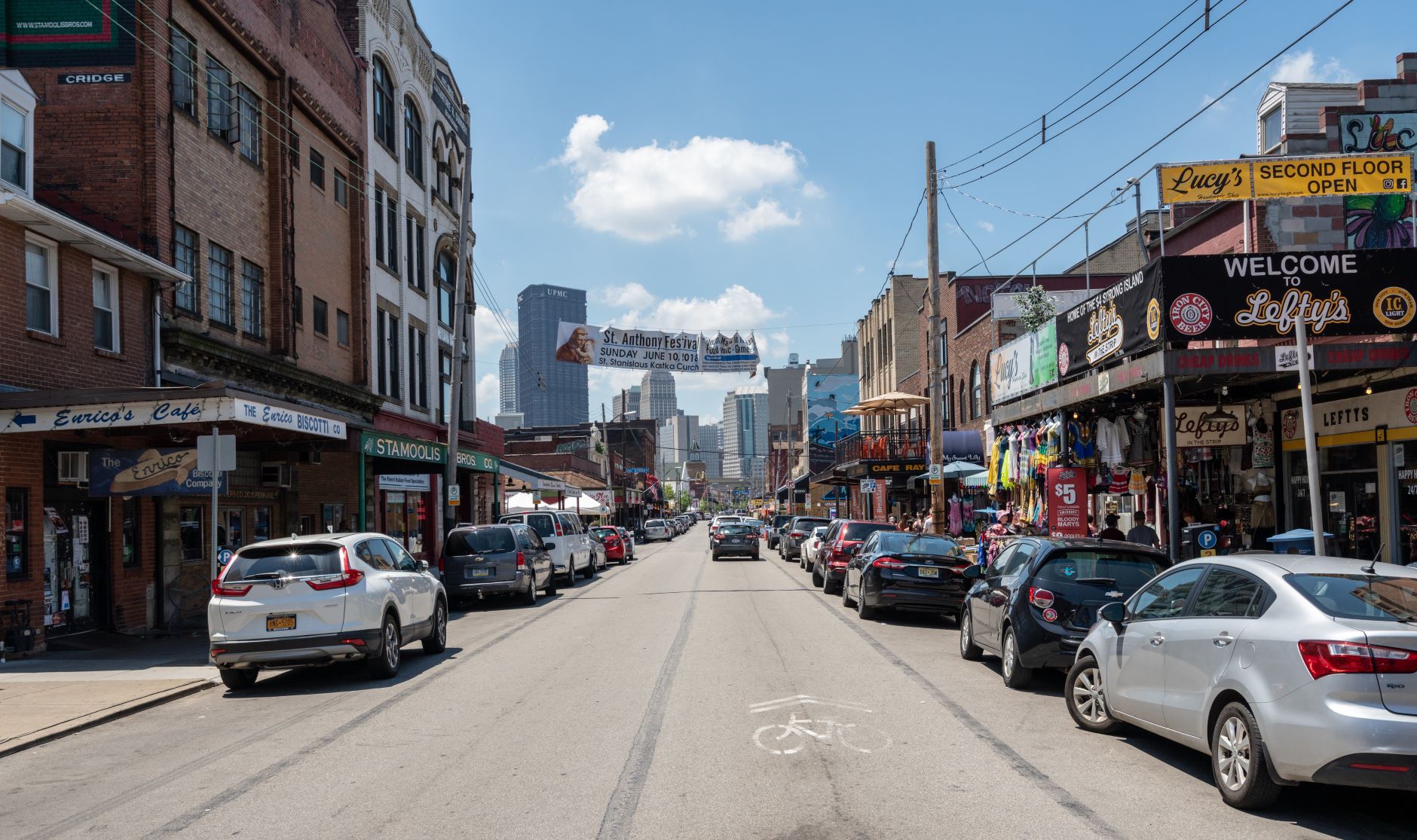 Get attendees moving with an unforgettable food tour of Pittsburgh. Tour company 'Burgh Bits & Bites is a popular supplier for this, and one of its must-do tours is its Strip District Market Tour. Pittsburgh's Strip District, which sits right next to the convention center, is a diverse neighborhood chock full of international grocers, delis, sidewalk vendors, fresh-roasted coffee and meat and fish markets. 
Must-hit spots include Primanti Brothers for one of its signature sandwiches and the S&D Polish Deli for some delectable pierogis.  
"We brought our staff back to the office at the beginning of August, and on that first day back, just to get everybody back in the spirit of being together, we did a food tour in the Strip District, and it was so much fun," Bachar said. 
Other tour locations from 'Burgh Bits & Bites include Allentown, Lawrenceville and Saxonburg. The company can also put on custom tours to meet a group's specific needs or interests. 
Get Out on the River(s)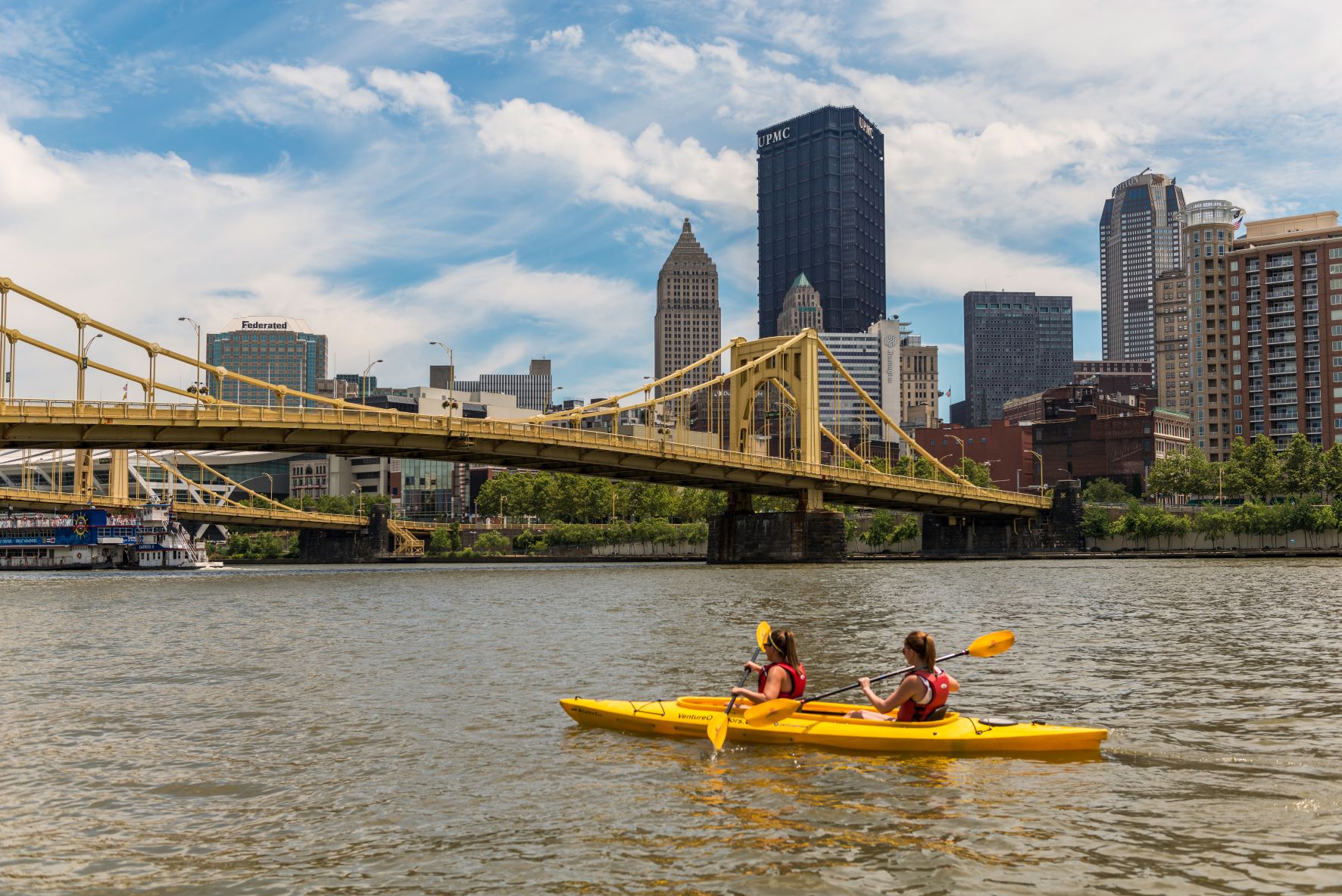 Groups would be remiss to not take advantage of the many sights and sounds of the three rivers that surround Pittsburgh: the Allegheny, Monongahela and Ohio rivers. 
"One of the best things that people really enjoy planning for groups is kayaking on the water," Bachar said. "That's quite popular for teambuilding events." 
Through the Three Rivers Water Trail, the public can launch kayaks, canoes and paddleboards from more than 30 river access points. In the heart of downtown on the Allegheny River, Kayak Pittsburgh rents out solo and tandem kayaks, canoes and hydrobikes. Rentals are also available at Three Rivers Rowing Association under the 31st Street Bridge on the North Shore.  
Bachar added that another way groups typically get out on the water is through Pittsburgh's riverboat fleet. A popular outfitter for boating adventures is Gateway Clipper Fleet, which offers dining and sightseeing riverboat cruises. Host anything from a cocktail reception to a themed dinner on one of its beautiful boats and take in the city skyline from a new perspective. 
Enjoy An Outdoor Venue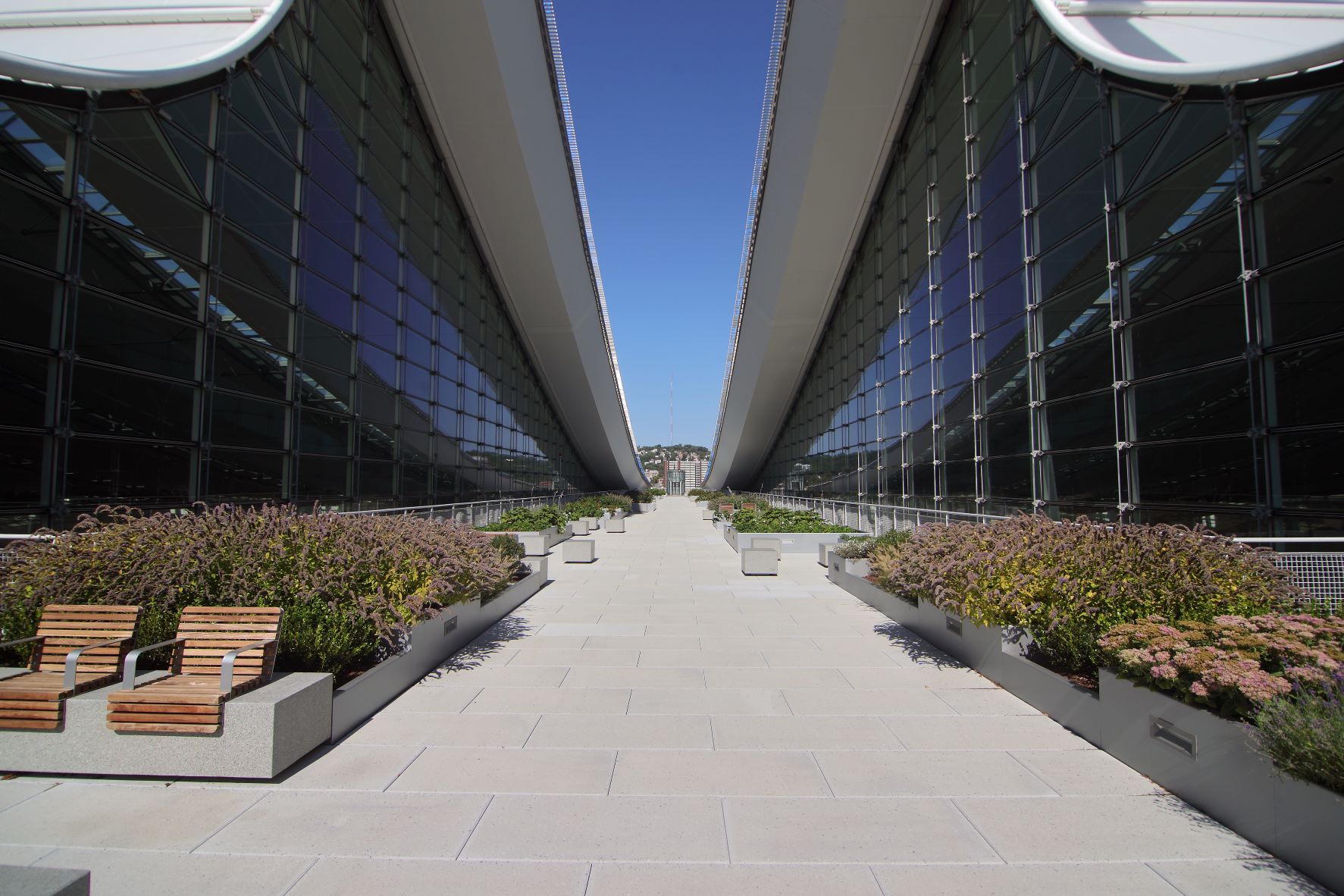 Getting outside the confines of a ballroom or banquet hall typically appeals to most attendees during an event, especially when the weather's nice. Pittsburgh offers a plethora of outdoor venues, including the $3-million renovated rooftop of the David L. Lawrence Convention Center. 
The space, dubbed Rooftop Boulevard, is located on the fourth level and stretches the entire length of the convention center and overlooks the Allegheny River. It can accommodate up to 300 people, and it even doubles as a green roof, housing plants native to Western Pennsylvania.  
Off site, popular outdoor venues include Pittsburgh's professional sports stadiums, PNC Park and Heinz Field, home of the Pittsburgh Steelers. For something more low-key, the city of Pittsburgh is home to 165 parks. The 456-acre Schenley Park offers trails, woods, attractions and a rentable plaza for up 200 guests seated and 400 standing. Downtown, there's Point State Park, a 36-acre park and National Historic Landmark located at the confluence of the Monongahela and Allegheny rivers. 
Connect 
Visit Pittsburgh | 412.281.7711 
Read Next: 4 New Intriguing Hotels in New York and Pennsylvania