Meetings Today LIVE! Louisville Impresses with Rich History, Bourbon and Valuable Networking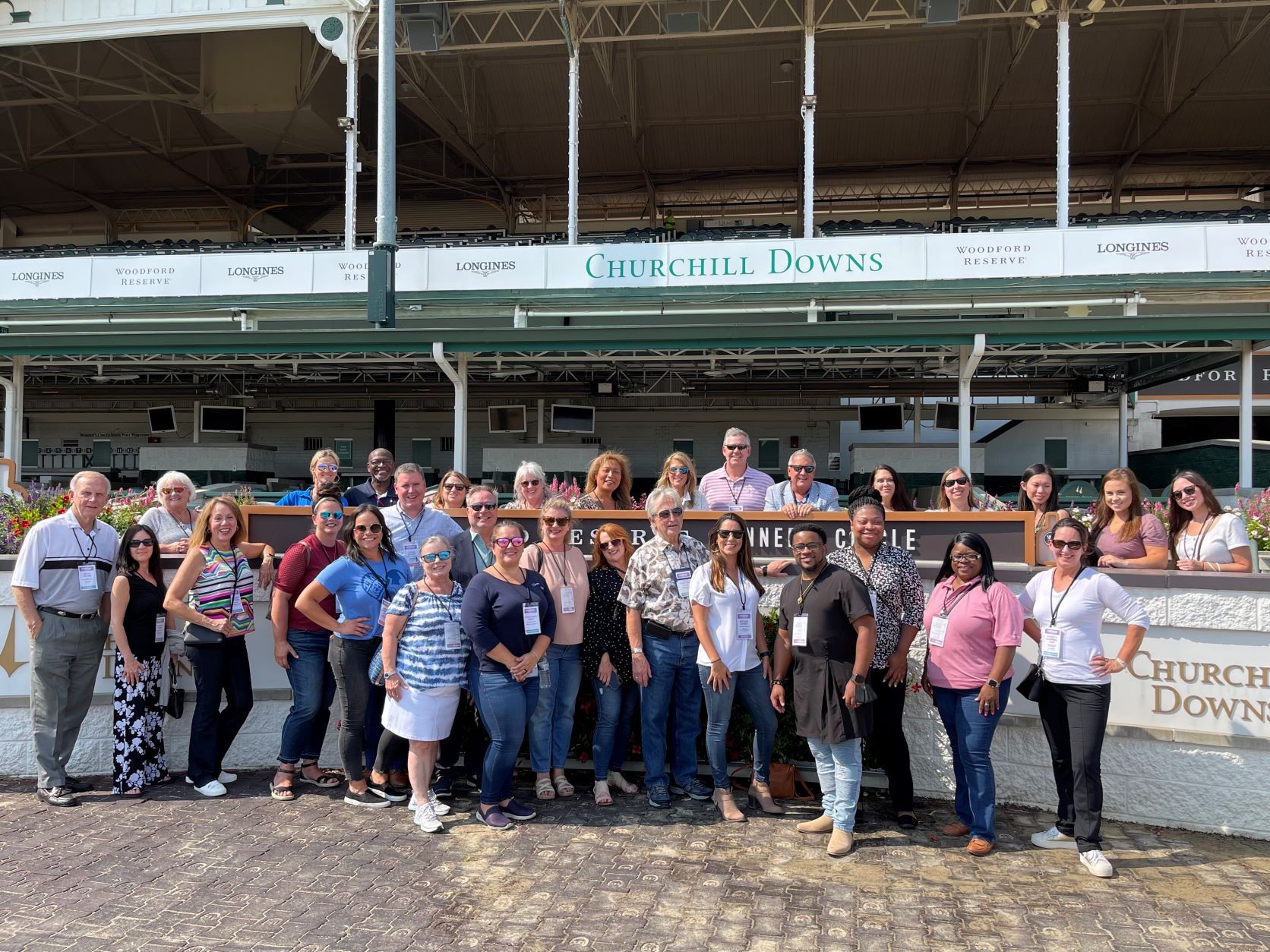 Meetings Today LIVE! attendees in front of the Woodford Reserve Winner's Circle at the iconic Churchill Downs.
They say Louisville, Kentucky, is the Napa Valley of bourbon—and that's certainly easy to verify, with countless distilleries to stop at along the city's famous Urban Bourbon Trail—but Louisville is much more. It's also a great walking destination and home to the revered Churchill Downs, where the iconic Kentucky Derby races, and it's a dynamic destination for groups to meet. 
Meetings Today LIVE! knows this well, as we held our third program of 2021 there September 12-15 with the help of Louisville Tourism and host hotel The Galt House Hotel. The program brought together 60 planners and suppliers to facilitate one-on-one meetings, foster invaluable networking and to visit and experience some of Louisville's top-tier hotels and attractions fit for groups. 
"I love that Meetings Today selects some amazing locations, many that I have never been to," said Candy Campbell, event director at Campbell Scott Productions. "For me, as a meeting planner going through the last year and a half, it is instrumental for me to present my clients with something new and innovative." 
Throughout the 2.5 days of Meetings Today LIVE! MidAmerica/South in Louisville, planners and suppliers were eager to connect, set up potential business, and confer on how the meetings industry is recovering and how they are continuing to navigate the COVID-19 pandemic.  
Louisville's Historic Hotels 
Louisville is rich with history, and much of it is on display through its downtown hotels. Take, for example, the event's host, The Galt House Hotel, located on the waterfront in the heart of downtown. The Galt House has roots tracing back to 1835, but the convention hotel we know today was first built in 1972, with its second tower opening in 1984. 
In 2020, the hotel completed an $80 million renovation that upgraded all of its 1,310 guest rooms and added new dining concepts. The project also included refreshing some of The Galt House's public spaces and its 130,000 square feet of meeting space, which includes 53 meeting rooms, two ballrooms and an exhibit hall. 
The Waterford room on the top floor, next to onsite restaurant Swizzle, was a standout gathering space at the property, where Meetings Today LIVE! Louisville held its closing breakfast and state of the industry panel discussion. Attendees were 25 stories above Louisville watching the sun inch higher into the sky as they enjoyed their coffee and breakfast. 
Along with The Galt House, attendees toured and dined at three other downtown Louisville properties, some with incredible history. 
1. The Seelbach Hilton Louisville. Better known as one of the former hangouts of Al Capone, The Seelbach debuted in 1905. During our event, attendees were treated to a history-filled tour of its grand interior, which includes a show-stopping staircase that is one of the most photographed spots in Louisville for weddings.  
The Seelbach's Oakroom was formerly a gentleman's poker and billiards club where Al Capone and friends would frequent after traveling to Louisville to pick up their bootleg bourbon and moonshine in the hills of Eastern Kentucky. (The private room inside the space even holds a trapdoor where Capone would escape during Prohibition police raids.)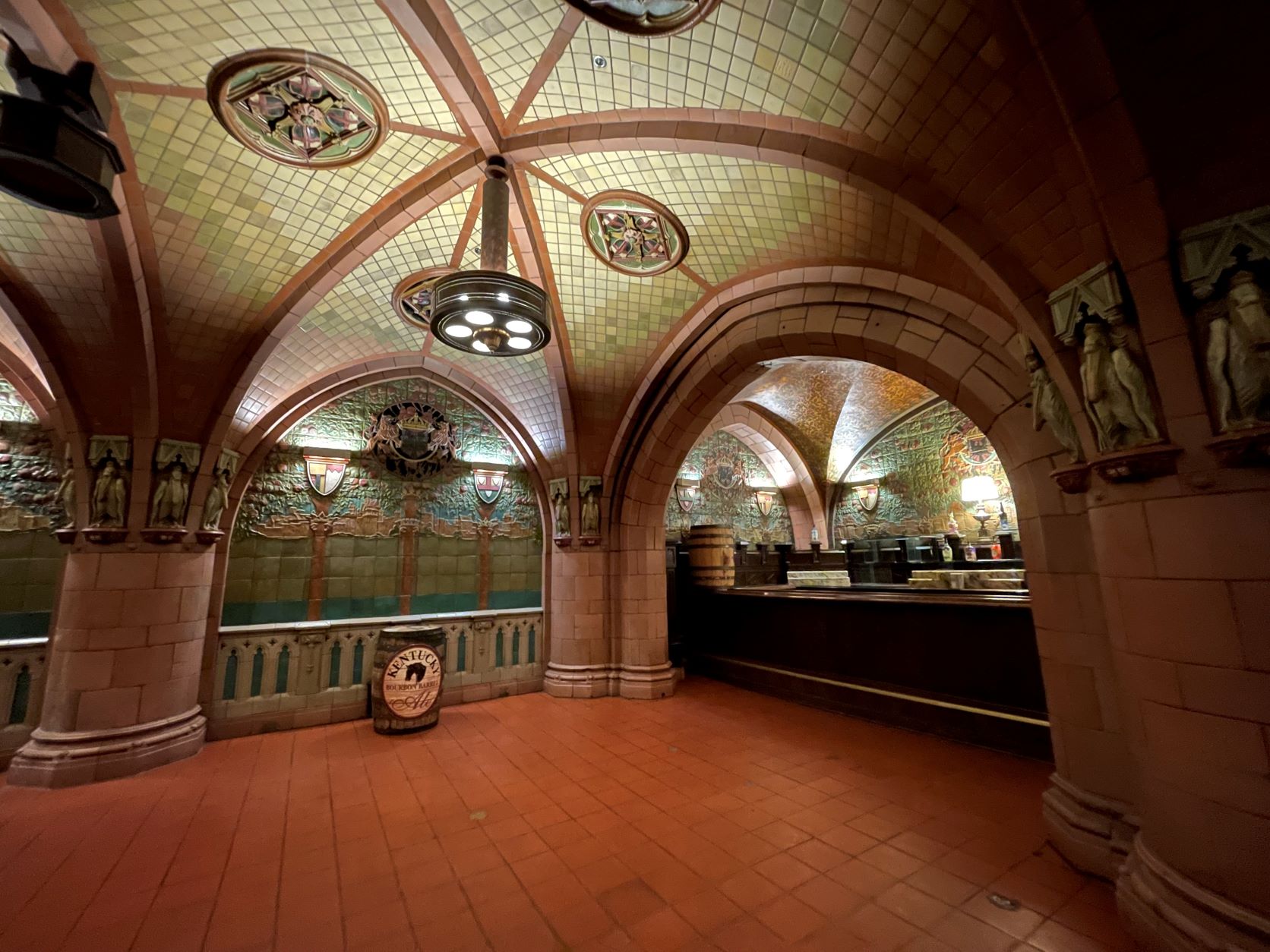 For lunch, attendees dined in the Seelbach's stunning lower-level Rathskeller, which is made out of Rookwood pottery (a material that was discontinued in the early '50s) from Cincinnati. The Seelbach's concierge and hotel historian, Larry Johnson, calls the room a "collector's item." The hotel believes this room is the largest collection of this type of pottery in the world. 
The Seelbach offers 308 guest rooms, 32,000 square feet of meeting space and a wicked ghost story.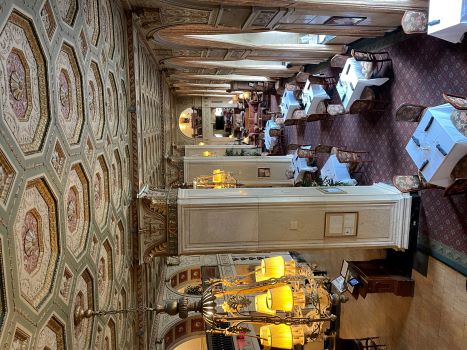 2. The Brown Hotel. Our Louisville history tour continued at The Brown Hotel, which opened in 1923 under ownership of wealthy Louisville businessman J. Graham Brown. It was constructed for $4 million and was completed in less than a year. Today, it's a stately property with themed guest room floors and elegant meeting and event spaces. 
The 4,337-square-foot Crystal Ballroom, with its original chandeliers, makes for an exciting space to host receptions and education sessions.
While the 3,600-square-foot SKY Grand Terrace, where our attendees lunched, offers plenty of grandeur while taking in some incredible views. 
And of course, for lunch, our attendees all had the chance to try The Brown Hotel's famous Hot Brown Sandwich, an open-faced turkey sandwich with bacon and a Mornay sauce (a béchamel sauce typically made with two types of shredded or grated cheese). 
The Brown Hotel offers 293 guest rooms. 
[Related: Inquire now for Meetings Today LIVE! in Myrtle Beach, October 17-20!]
3. Hyatt Regency Louisville. Our Monday night dinner was held at the Hyatt Regency Louisville, located adjacent to downtown attraction 4th Street Live and connected to the Kentucky International Convention Center. Attendees toured the property's meeting space, which includes a 9,280-square-foot ballroom and 23 conference rooms. 
Planners were impressed by the hotel's dedicated (and complimentary) meeting planner office, with comfortable seating, a flat-screen TV and security camera monitors. When conceptualizing the office, the hotel consulted with local meeting planners for suggestions on what accommodations would be most valuable to them in this room.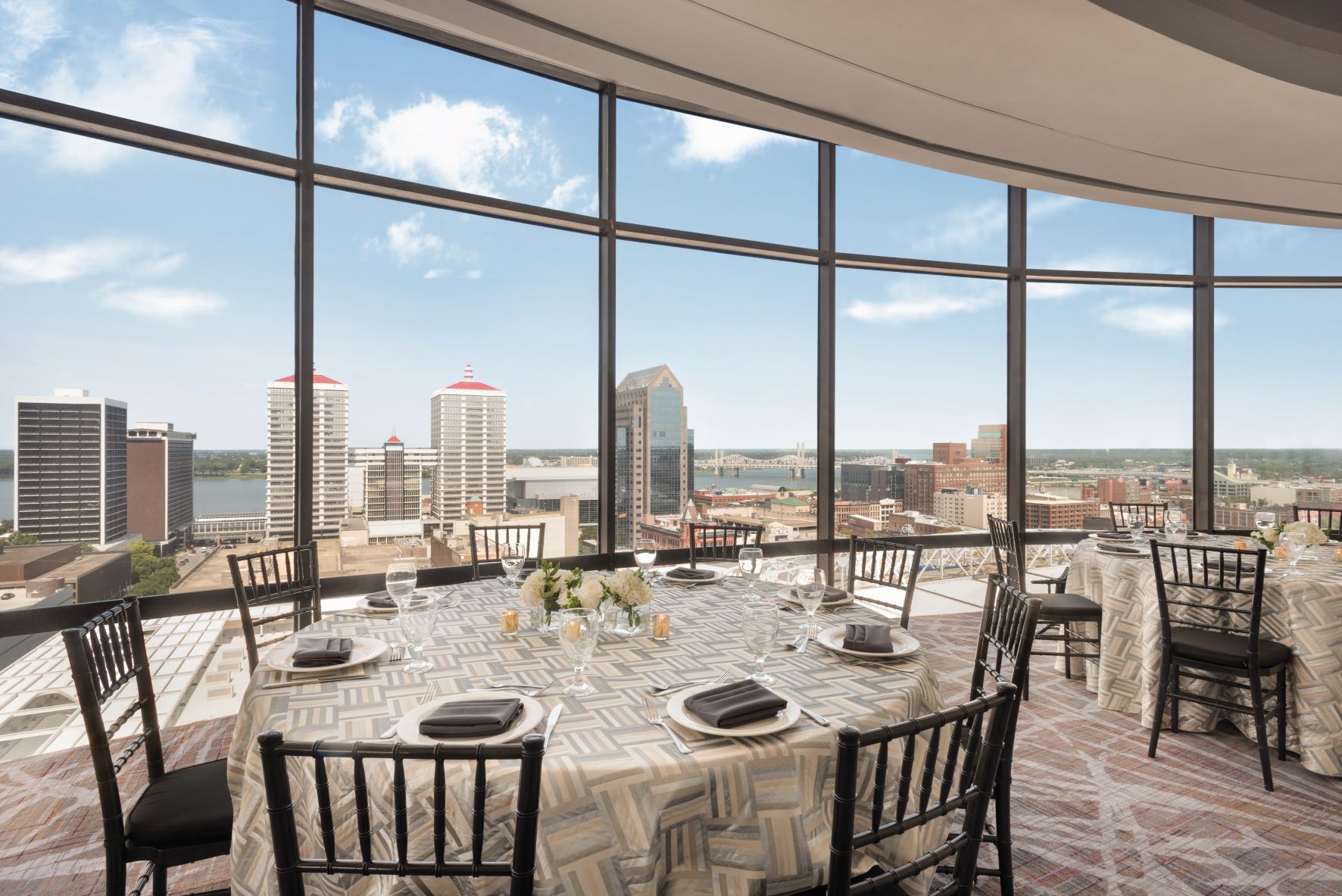 Meetings Today LIVE! attendees were treated to dinner with a view in the Hyatt's circular rooftop event space, The Spire. 
The Hyatt Regency Louisville offers 393 guest rooms and more than 21,000 square feet of meeting and event space. 
Offsite Fun in Louisville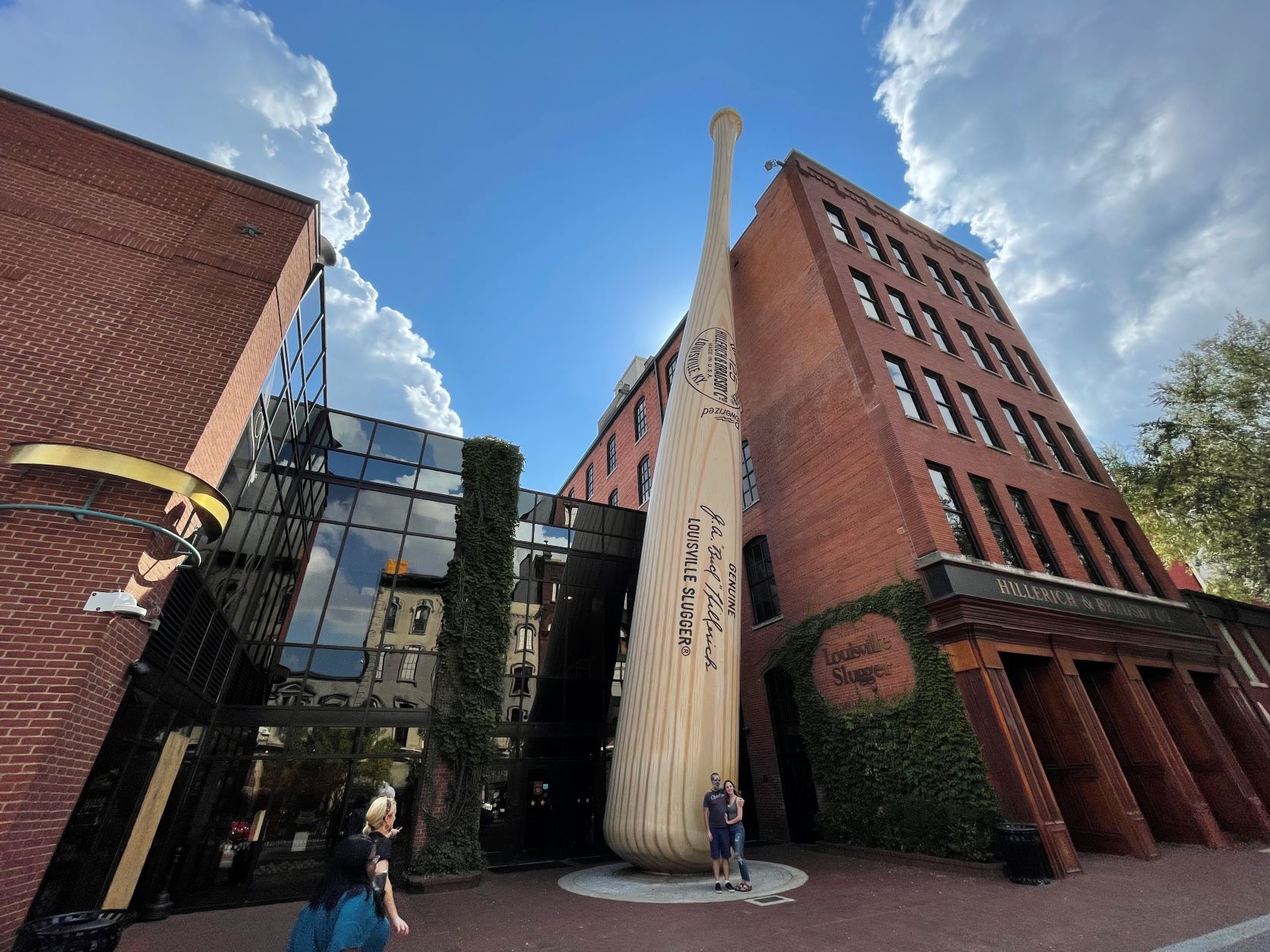 At Meetings Today LIVE!, we love taking our attendees offsite to explore more of the destinations we visit. In Louisville, we went so far as to cross the Ohio River into Starlight, Indiana, where attendees had their second day of one-on-one appointments at Huber's Orchard & Winery. 
This sprawling orchard and winery—which also offers a farm market, bakery, ice cream factory, a "you-pick" operation and a 15-acre farm park for kids—has been family owned and operated since 1843. Huber's also offers plenty of private event space for weddings and business events. A standard year sees the farm hosting about 200 non-wedding events, said Huber's event manager, Allie Huber, like "a fun day on the farm" events for companies/organizations. 
After wrapping up their appointments, attendees had a chance to explore the farm's retail operations, such as the farm market, ice cream shop and wine-tasting loft. Huber's was currently set up for its annual Fall Harvest Festival, with pumpkins and gourds aplenty.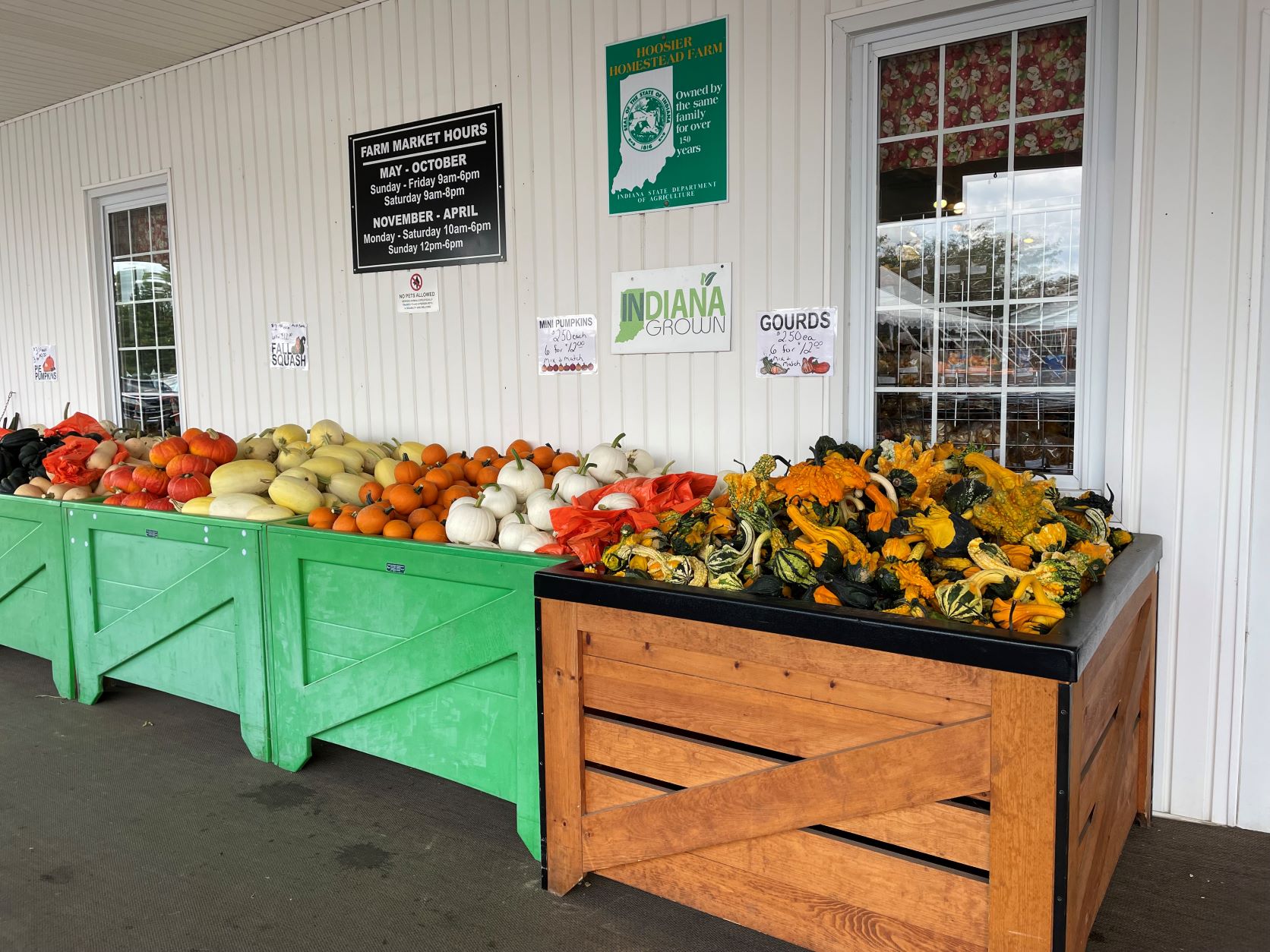 Louisville visitors would be remiss to leave the city without hitting two major attractions: The Kentucky Derby Museum and the Louisville Slugger Museum & Factory. For the former, attendees got to see Churchill Downs (the museum is right next to it) and tour its grand stands, paddock and see the famous racetrack up close. The derby museum also has a high-tech circular theater room where we saw a special screening of an 18-minute video highlighting the history and allure of the Kentucky Derby.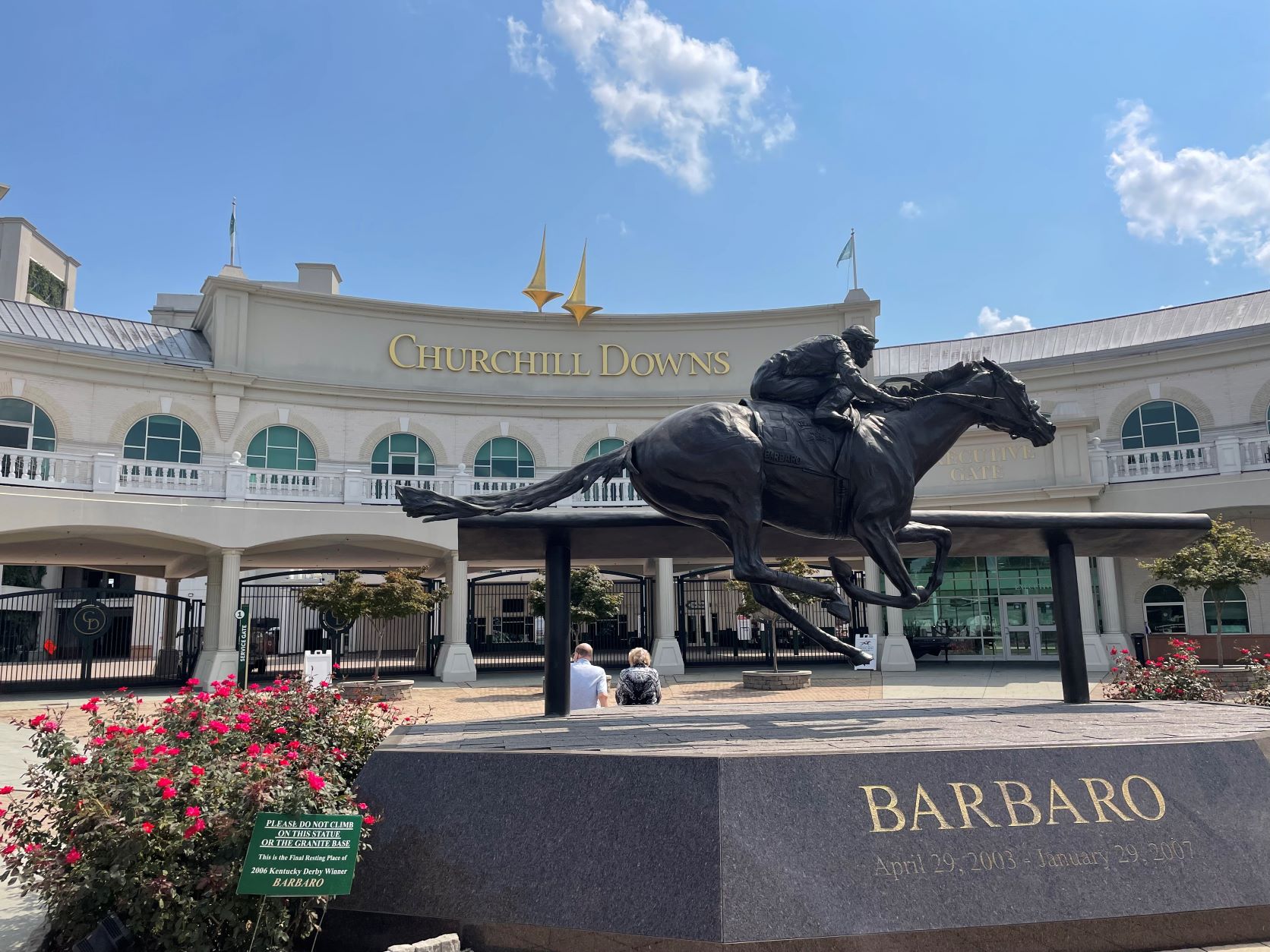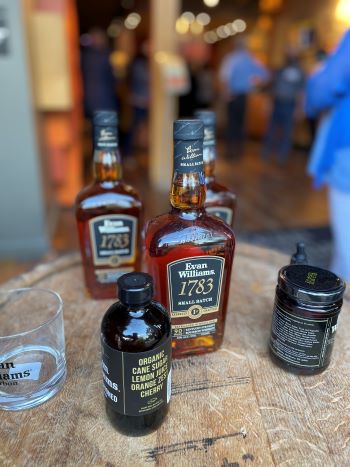 At the Louisville Slugger Museum & Factory, attendees saw the end-to-end process of how those famous baseball bats are made, from one-of-a-kind machinery to the wood billets that will become bats for Major League Baseball players. The factory makes about 2,000 to 2,500 bats a day. 
Meetings Today LIVE! saved the best for last: a stop on the Kentucky Bourbon Trail. Our group had dinner and tastings at Evan Williams Bourbon Experience, located downtown. Bourbon lovers can easily walk between a number of distilleries in this part of Louisville. Within just under two miles, they can find stops like Evan Williams, Angel's Envy and Old Forester. 
CSR & Engaging Education
Our Meetings Today LIVE! events wouldn't be complete without engaging education. Attendees heard from Louisville Tourism on how the destination has successfully been boosting attendance for its events and keeping safety top of mind. The convention center and the Kentucky Exposition Center, also in downtown Louisville, were the first in the state of Kentucky to earn the GBAC STAR accreditation. 
We also got to hear an incredible talk from an ex-CIA intelligence officer, Michele Rigby Assad, thanks to Goodman Speaker Management. Assad spoke about her 10 years in the CIA, working undercover in the Middle East and interrogating terrorists, and how the power of grit is important to navigate the difficult times the industry is in. (Read more about Assad here.) 
During the opening reception Sunday night, attendees also helped fill backpacks with snacks for Louisville's chapter of Blessings in a Backpack, a nonprofit providing food on the weekends for school-aged children across America who might otherwise go hungry.
Loving Louisville 
A busy 2.5 days left planners and suppliers with an appreciation for our destination, Louisville, and brand-new connections for future business. 
"[Meetings Today LIVE!] is a great way to see a lot of things in a short amount of time," said Christina Thelen, general manager for Grand Connection. "As a third-party planner, I think it's especially important that I'm staying updated on different properties and cities, so I can speak to my clients intelligently on various areas of the country." 
"What I love about Meetings Today LIVE! is that it's what I call a well-oiled machine," added Cynthia McIntosh, executive meetings market sales manager for the Greater Birmingham CVB. "The value it brings is the opportunity to have the one-on-one appointments with planners. Also, the social functions—with Meetings Today LIVE! you're with planners the entire time that you attend the conference. That's a huge plus." 
Thanks to the sponsors of Meetings Today LIVE! MidAmerica/South for their partnership on this event. 
Interested in participating in a Meetings Today LIVE! event? Join us in Myrtle Beach October 17-20! Inquire now.