Why Planners Keep Coming Back to Fort Wayne, Indiana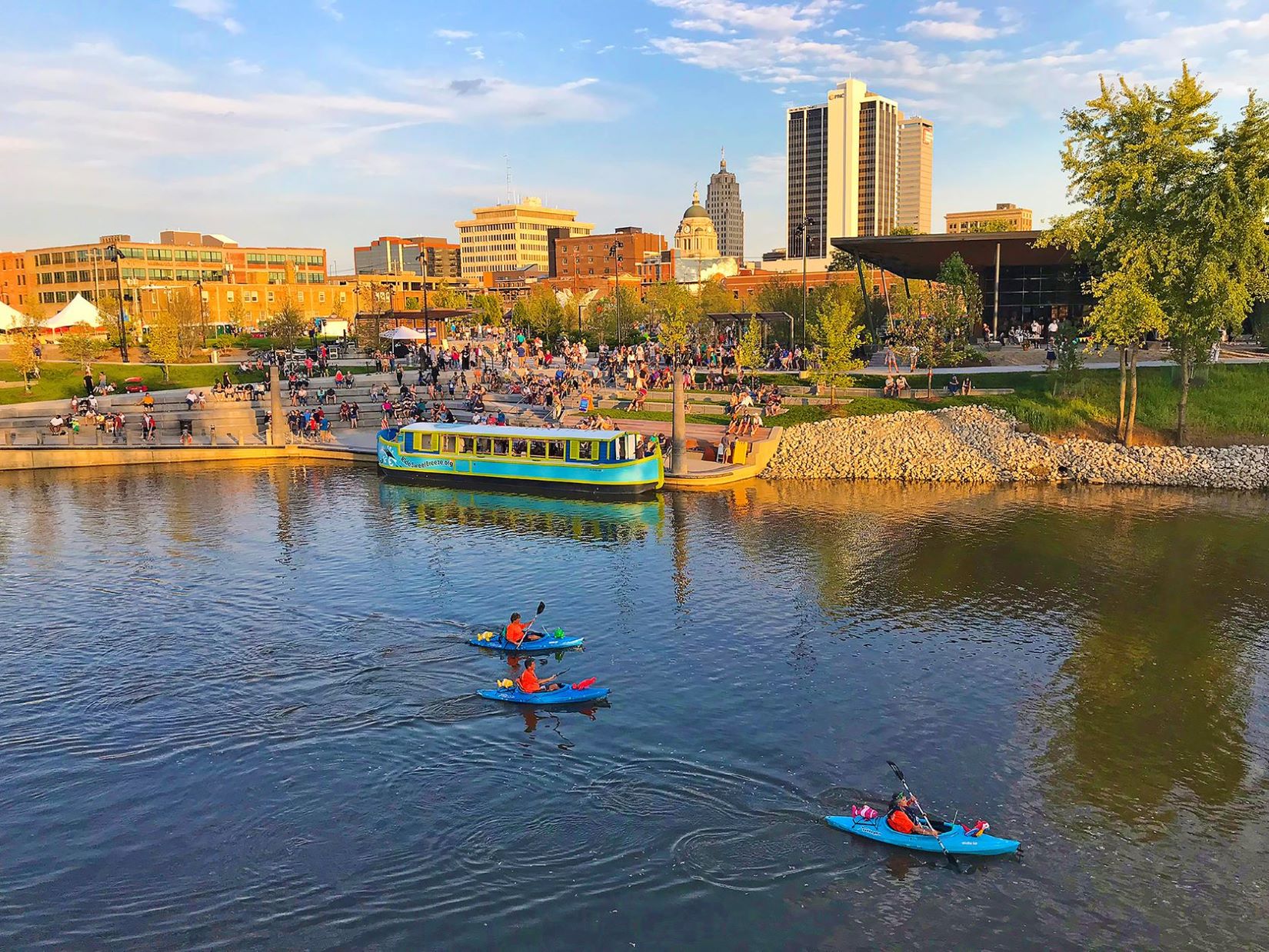 Promenade Park with Fort Wayne's skyline in the background.
Details make the difference in Indiana's second-largest city, Fort Wayne, whether it's the cleanliness and walkability of its downtown or the remarkable 80% rebooking rate of the city's award-winning Grand Wayne Convention Center (GWCC).
"Visitors just love it here—they're surprised when they get here to find so much in a city of this size," said Marcy McKinley, director of sales and marketing for GWCC. "Being downtown, it allows us to create packages where guests can walk right out the door in any direction and find plenty of dining options, shopping and entertainment."
Hoosier Hospitality is on full display in downtown Fort Wayne, likely nowhere more so than at the Grand Wayne Convention Center, where planners can take full advantage of 225,000 square feet of luxuriously designed gathering spaces, including a 50,000-square-foot carpeted exhibit hall and 18 meeting room options. Planners get a multitude of complimentary amenities and will work with an experienced staff of in-house sales and events managers, event hosts, guest experience managers and onsite AV technicians.
Connected to the GWCC via skywalks are three hotels with garage parking, a historic theater and botanical gardens. Within a few-minutes walk, visitors will find more than 60 restaurants, pubs and coffee houses. This meetings-primed hidden gem is more than ready to welcome back planners.
New developments include the $100-million Promenade Park at Riverfront Fort Wayne, which debuted in 2019 only blocks from GWCC and adjacent to The Historic Landing District, a newly revitalized destination for dining, shopping and entertainment.
The Bradley, a 124-room boutique hotel, debuted this summer and is the creation of Barbara Bradley Baekgaard of the iconic lifestyle brand Vera Bradley, which she co-founded in Fort Wayne.
"We really have so much to offer event planners and their guests," McKinley said. "Location is part of our success, but the endless event capabilities and savings are icing on the cake. Grand Wayne is a beautiful facility that happens to be central to this beautiful, rising gem of a city."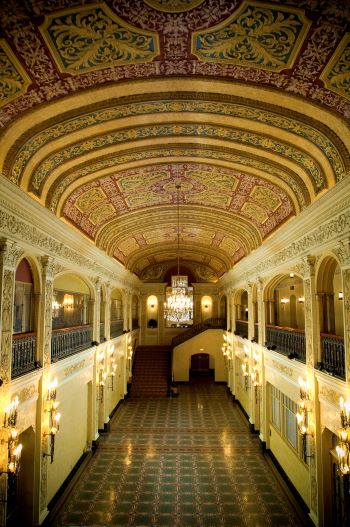 4 Noteworthy Venues
1. Historic Embassy Theatre. This 1928 former movie palace and vaudeville house has been fully restored and expanded to accommodate traveling off-Broadway theater performances, concerts and special events. In 2017, the Embassy completed renovation of its top two floors to create a two-story ballroom/reception venue complete with a rooftop garden space and 360-views of downtown Fort Wayne. The Embassy is connected via skywalk to the Grand Wayne Convention Center and the Hilton and Courtyard by Marriott hotels.
2. Parkview Field. Located across the street from GWCC, Parkview Field is home to the Fort Wayne TinCaps Minor League Baseball Team. Since opening in 2009, the stadium is repeatedly recognized as one of the best minor league ballparks in the U.S. The facility is open year-round for sports events, concerts, farmers markets and more. It also offers additional dining options, retail shopping, professional services and residential housing.
3. Riverfront Fort Wayne & The Historic Landing District. The recent opening of Promenade Park in 2019 and the restored Historic Landing District includes an extensive river-walk experience with kayaking
and boating, games and waterfront event venues. The streetscape features a new luxury boutique hotel (opened in 2021), gourmet restaurants, a brewery and pub, coffee houses, boutique shopping and residential housing.
4. Art This Way. This is a Downtown Fort Wayne initiative that pairs local artists and businesses to create engaging visual art along the clean and lighted alleys and byways of downtown Fort Wayne. Sculpture projects preceded this initiative but Art This Way is taking art to the streets, encouraging active participation.
Getting There
Fort Wayne is located in northeastern Indiana and is geographically within one day's drive of half of the U.S. population. Along with Fort Wayne International Airport, 10 hours or less by car in any direction connects Fort
Wayne with New York City; Chicago; Columbus, Ohio; Detroit; St. Louis; Louisville, Kentucky; Memphis, Tennessee and more.
Connect
Visit Fort Wayne | 260-424-3700

Grand Wayne Convention Center | 260-426-4100
This was produced in collarboation with the Grand Wayne Convention Center.