Launch Your Event Into the Stratosphere With This Rockin' Band
Scott Michaels, of the band Stratosphere. Credit: Scott Michaels.
Every year Michael Cerbelli's: The Hot List™ starts with a 30-minute pre-show at (gulp!) 8 a.m. As soon as doors open, attendees start running (with a huge cup of coffee in hand) to get the best seats in the house. They are ready to smile, get energized and start dancing in the isles. 
The music is always powerful, and this year's house band gave the audience even more, the thrill of something they haven't seen in long time—live entertainment. You have to check out Stratosphere Band!
High-Energy on Tap 
Stratosphere Band is a high-energy, interactive entertainment experience built and created by Scott Michaels. The second I spoke to Scott on the phone to discuss the show I knew he got it! His positive attitude, his attention to detail and his goal to make sure the event prof audience was not only entertained but inspired. The goal of every Hot List™.
[Related: These Incredible Dice Portraits Will Get Your Event Rolling]
The band is available in 11-, 16- and 20-piece formats featuring multiple vocalists and dancers in the front line. They are based in Dallas and travel the world because of their easy, all-inclusive packages.
Scott and Stratosphere have performed every imaginable style of event out there, including events with Bill Clinton, Goldie Hawn,  Alice Walton and PGA Masters winner Sergio Garcia. Scott's specialty is creating a one-of-a-kind program specific to each and every event. What Stratosphere brings to the table is much more than the performance.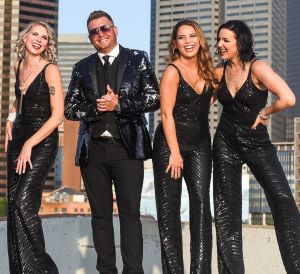 They love to collaborate with their vendor partners, families and industry friends to ensure that each and every detail is covered. They work with you to bring your vision to life and keep your dance floor packed all night long!  
Enough words. Check out the video of Stratosphere Band and start tapping your toes and singing along while sitting at your desk today.  
Stay #EventStrong! 
For more information on booking, please send an email to info@cerbellicreative.com. 
Contact 
Stratosphere Band 
Scott Michaels 
734.308.3377 
See more of Michael Cerbelli's: The Hot List™