How to Incorporate Art Experiences Into Virginia Programs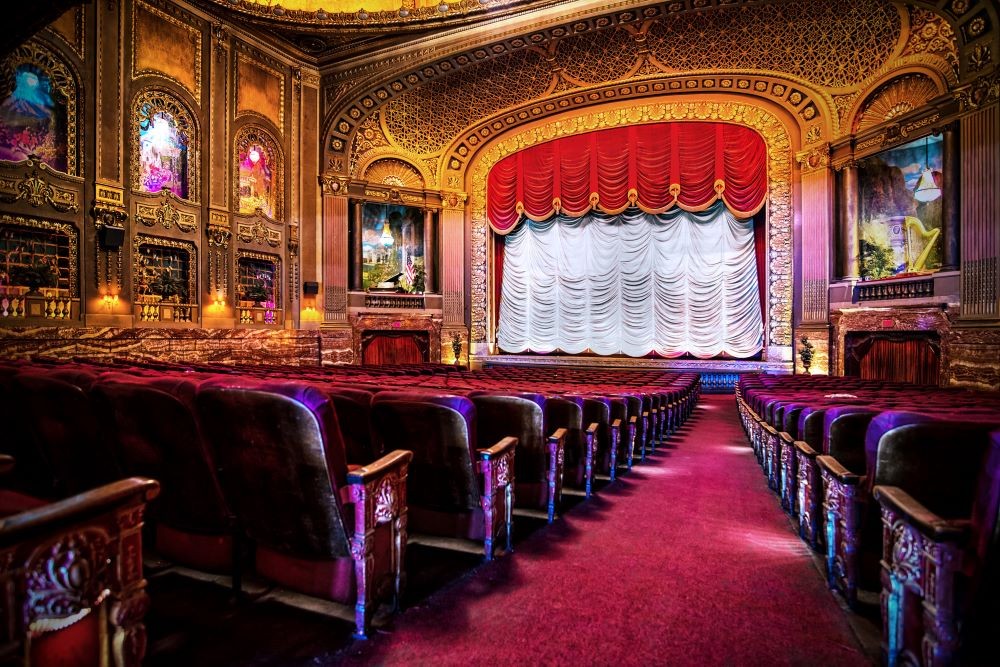 Byrd Theatre auditorium in Richmond. Credit: Byrd Theatre
It's 1952, and you are seeing Singing in the Rain on the big screen. Before the curtain rises, a man seated at a Mighty Wurlitzer Organ rises from the orchestra pit and plays a medley of famed tunes. Then the film begins, and you join in applauding each showstopper from Gene Kelly, Donald O'Connor and Debbie Reynolds. Afterward, you feel like dancing home.
In fact, this was my real-life experience in 2021, this August at The Byrd Theatre in Richmond's vibrant Carytown neighborhood. 
Opened in 1928, Virginia's Grand Motion Picture Palace is a state and National Historic Landmark. Design highlights include luscious red and gold interiors, preeminent painted murals and the 1,200-seat auditorium's dazzling crystal chandelier.
Programming includes new releases, classics and film festivals, with private rentals and screenings among the versatile rental options. Organist Bob Gulledge plays the Mighty Wurlitzer Organ every Saturday and is available for private events.
My transporting experience affirmed what science has known for decades. Namely, that viewing or creating art in any form increases happiness, which, in the pandemic context especially, carries premium value.
Here is a trio of other Virginia destinations where art makes for happier times during group programs.
Alexandria
Displayed through November, Brooklyn-based artist Mark Reigelman's Groundswell is the latest public art installation at event-programmable Waterfront Park in Old Town Alexandria. Inspired by Alexandria's heritage as a port city, this engaging work features 100-plus timber pilings topped with shimmering etched blue mirrors.
Part of the ongoing "Site See: New Views in Old Town" initiative, the project attracted thousands of visitors in showcasing Waterfront Park as a civic space.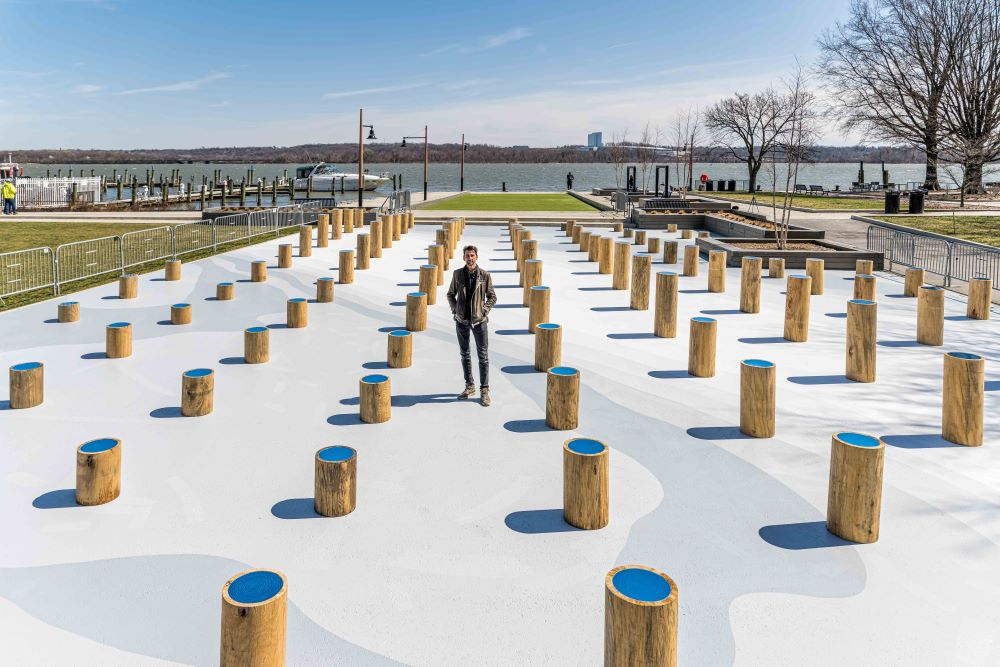 Fortifying Alexandria's renown as a leading arts destination is the Torpedo Factory Art Center (TFAC). Opened in 1918, this waterfront complex was a WWII naval munitions factory before becoming a storage facility for government documents, Smithsonian dinosaur bones, and Nazi trial records. Artists took over in 1974, and today, TFAC houses the nation's largest collection of publicly accessible studios and galleries under one roof. The three-level complex also offers an industrial blank canvas for group functions.
Fairfax County
Scheduled to be inaugurated by musician Josh Groban on Oct. 1, Capital One Hall is the cultural cornerstone of the multimillion-dollar mixed-use Capital One Center complex under development in Tysons Corner. Comprising a 1,600-seat performance hall and The Vault, a 225-seat black box theatre, the event-capable Hall will host performances by local arts organizations through ArtsFairfax as well as Broadway productions, comedy and concerts.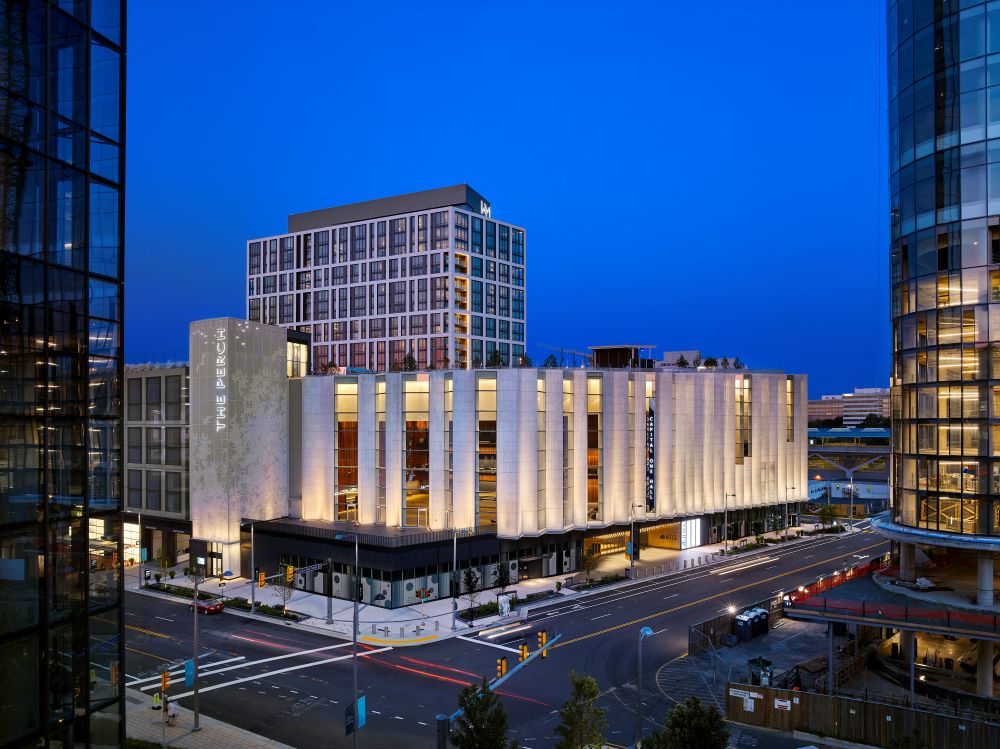 Additional rentals include The Atrium for 500-capacity seated events and 1,600-capacity standing receptions. The adjacent Terrace accommodates up to 450 guests. Other venues include the top-floor 20-capacity Board Room and dual 50-capacity classrooms on the first floor. The Hall is steps from the McLean Metro Station on the Silver Line and provides ample covered parking.
[Related: Virginia's Fairfax County Emerges on the Meetings Scene]
Atop the venue, The Perch is a 2.5-acre "urban park in the sky." Described by Capital One Center managing director Jonathan Griffith in a release as "a rooftop experience like no other," the completed venue includes the 230-capacity Perch Amphitheater. The 300 all-suite residential style Watermark Hotel is also scheduled for this October.
Other distinctive Fairfax venues include the Workhouse Arts Center. Formerly the historic Lorton Workhouse prison, this vibrant 55-acre campus is now home to a community of visual artists, performing artists and arts educators. Rentals range from classrooms and gallery spaces to a 5,000-square-foot outdoor pavilion tent and historic 64,000-square-foot Quad.
Norfolk
Evolving from a grassroots initiative, the NEON District, or New Energy of Norfolk, is the city's first official arts neighborhood. Centered around the eclectic Plot, an urban park, the district's blend of 80-plus outdoor murals, artist studios, live entertainment venues and diverse restaurants is ready-made for absorbing encounters.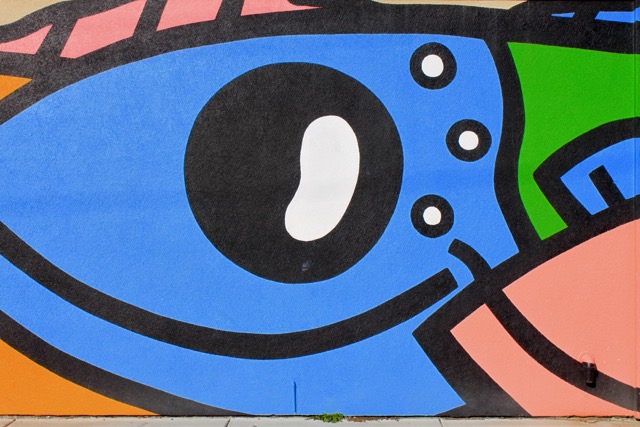 Long-time cultural anchors include the event-capable Chrysler Museum of Art, where delegates can view free narrated glassmaking demonstrations or take workshops at the world-renowned Perry Glass Studio. Other top-class venues include Harrison Opera House, the regional home of Virginia Opera, and 2,500-seat Chrysler Hall, the area's premier performing arts center. 
Norfolk Tour Company is a reliable resource for guided tours of the NEON District and programs throughout the Hampton Roads region.
Read this next: How Groups Can Experience the Diverse Waterways of Coastal Virginia