This Meditative Sound Bath Will Immerse and Relax Attendees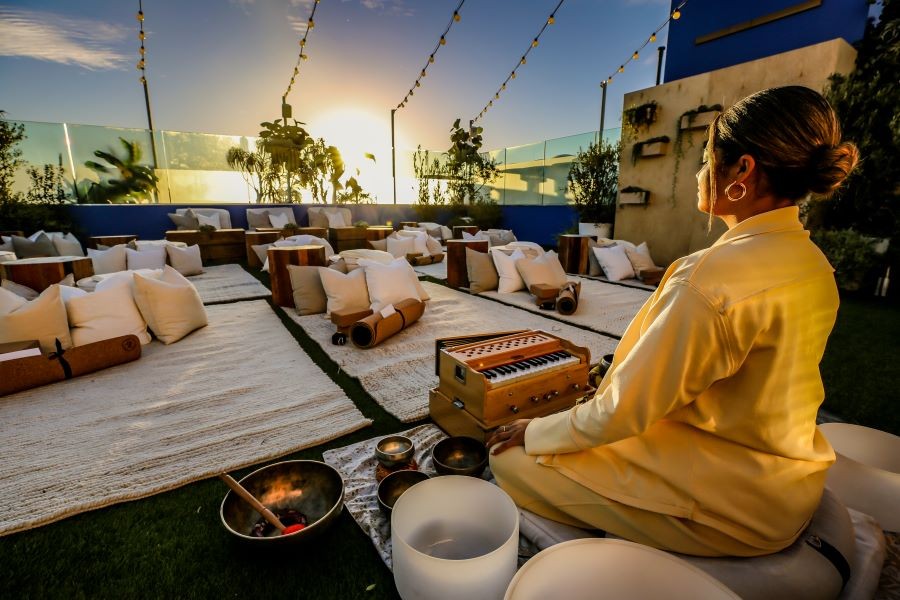 Thalia Ayres Randolph. Credit: Thalia Ayres Randolph
Sometimes life's most complex questions have the simplest answers.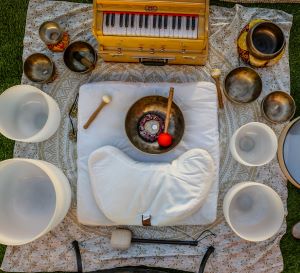 Getting still and listening to the higher-guiding voice inside of you, waiting until the sediment in your mind settles, you see clearly what is beneath the ocean of your thoughts.  
By accessing the deepest part of yourself, you unveil the fortune within and begin a process of remembering. The light that radiates from this fortune gives you the ability to self-heal and remember who you truly are. We are all heirs to the fortune within. 
May all beings everywhere be happy and free. 
May the thoughts, words and actions of your own life, 
in some way contribute, to that same  
happiness and freedom for all. 
As within, so without. 
And so it is.
—Thalia Ayres Randolph
[Related: Holiday Season Calls for Meeting Profs to Reflect and Prioritize]
The Journey Begins From Within 
In order to transform our community and world, we must first start from within. Thalia Ayres Randolph is on a mission to help you understand the role you play in your own healing as a means of empowerment. 
I recently produced a two-day program in West Hollywood, California. Working closely with a client to produce a luxury event experience in under 10 days was a challenge rooted in the world we live in today—supply chain issues, overnight shipping issues, staffing issues, cost of goods issues… 
STRESS, right?! No…not really. Why? If you reread the philosophy above, as meetings and events professionals we are subjected to many trying circumstances in our lives. Do you ever just stop for a moment (and I don't mean at a bar) and just breathe?  
Believe it or not, I do. I do that every morning before the sun rises. On this recent experience to the West Coast, I got to witness a whole new journey of self-healing. The client asked us to create a sunrise sound bath experience. 
Bathe Your Attendees in Sound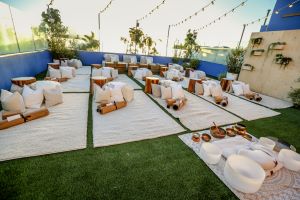 A sound bath is a meditative experience in which those in attendance are "bathed" in sound waves. These waves are produced by various sources, including healing instruments such as gongs, singing bowls, percussion, chimes, rattles, tuning forks and even the human voice itself. Is it yoga? No. Is it meditation? Kinda. It indeed is an experience. 
To witness and experience the true genius of a sound bath, and a soul that touches you from the moment you meet her, allow me to introduce you to the incredible Thalia Ayres Nouveau. 
Thalia Ayres Randolph, reiki master, ORDM (ordained minister), EOL doula (end-of-life doula), E-RYT (experienced registered yoga teacher), has one mission: to ignite seeds of light within the hearts of every living being. She believes that the pursuit of enlightenment is a human birthright, and she is here to help you move beyond the physical self and tap into something much more real.  
A Star of Stage and Stage 
As a multidisciplinary healer, her teaching career began in 2013 and since then she has grown a robust client list known for working with celebrity clientele as well as being featured on CNN, ABC, FOX and Keeping Up With the Kardashians. She also had the honor of performing alongside the Los Angeles Philharmonic as a singing bowl soloist at the Hollywood Bowl under the musical direction of Grammy award-winning conductor Gustavo Dudamel.
[More Wellness Content: MindfulLee Speaking, With Lee Papa]
A Toronto native, she was introduced to shamanism, Taoism, yoga and A Course in Miracles from the time she was born. These practices are at the core of her spiritual foundation, which started the groundwork for her own journey into the healing arts.  
In 2012 she moved to Cape Town, South Africa, and embarked on a journey to self, dedicating the time spent there to meditation under the guidance of her reiki master. It was on this journey that she realized her purpose, "dalukhanyo" (which translates to "to bring light" in Xhosa) to inspire and teach others how to uncover and magnify their light.  
She is here to help you understand the role you play in your own healing as a means of self-empowerment. Working with clients from all walks of life and stages in their journey to self-discovery, Thalia believes that in order to transform our community and world, we must first start from within.  
Great Option for In-Person Return 
As we get back to live events my friends, please trust me, bring this one to the pitch table. Your clients and their attendees will be transformed for an hour early one morning and it will be the talk of the day.  
I promise you this, the ones that were able to attend will make the ones that couldn't crawl out of bed that morning jealous. This is so much more than an experience. It's a journey of self-healing—something we all need in our lives now and forever.  
Stay #EventStrong. 
For more information on booking, please send an email to: info@cerbellicreative.com. 
Back to life, back to reality. 
M 
See more of Michael Cerbelli's: The Hot List™