How Cvent Going Public (Again) Will Impact the Meetings Industry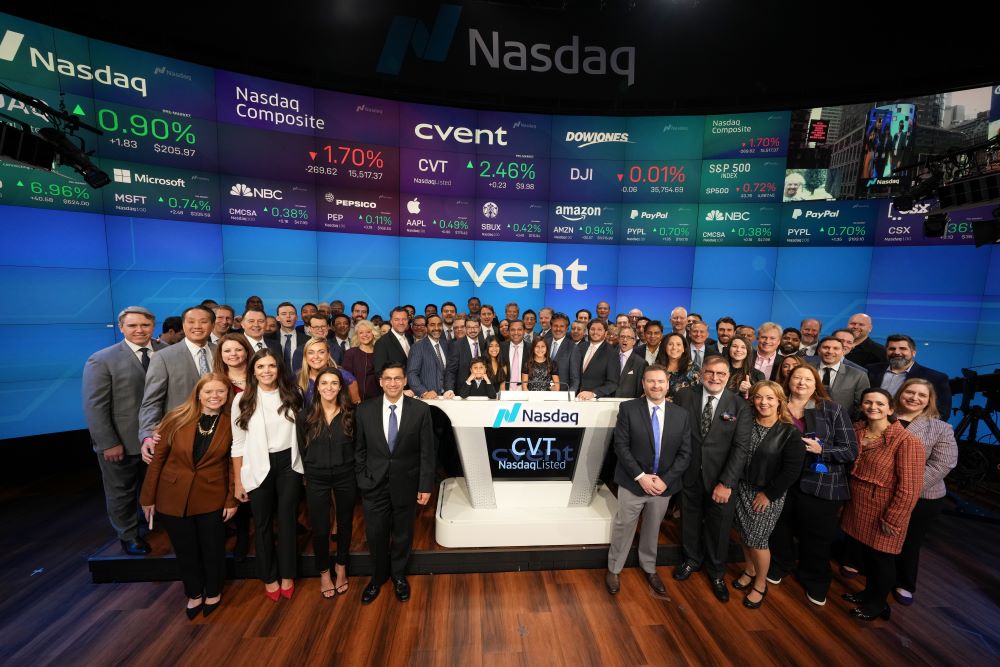 Hospitality industry tech giant Cvent went public December 9. It's the second time the Tysons Corner, Virginia, company has become a publicly traded entity.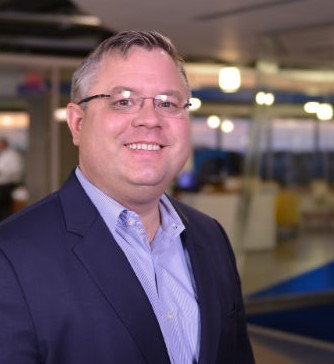 The move, facilitated after completing a merger with special-purpose acquisition company Dragoneer Growth Opportunities Corp. II, will provide growth capital to a company that is already dominating the hospitality and meetings tech space and operates in both the in-person environment as well as virtual and hybrid through a wide range of platforms. 
Cvent first went public August 9, 2013, with an initial price of $21 per share. At publication time, December 13, 2021, the stock was trading at $8.38 per share. The company was acquired by Vista Equity Partners November 29, 2016, in a $1.65 billion transaction, and ceased to be traded on the NYSE the same day.
"It's great to be part of the public market," said Patrick Smith, senior vice president and chief marketing officer of Cvent. "It gives us a lot of brand opportunities and buzz and is a big validation of Cvent and the space itself. It helps further our goals because we're in the spotlight and obviously gives us capital to fulfill what our customers want; it gives us a bit of a tailwind."
[Listen: Cvent on Future Skills for Meeting Professionals]
Cvent Holding Corp. is now listed in The Nasdaq Global Market under the ticker symbol "CVT" following approval from Dragoneer shareholders December 7 and the formation of the special acquisition company Business Combination December 8. Cvent currently has more than 4,000 employees worldwide.
In its latest earnings information, for the third quarter of 2021 and released in November, Cvent reported revenue of $134.1 million, which represented a 13.1% year-over-year growth. Cash, cash equivalents and short-term investments during the same time period totaled $118.1 million, compared with $65.3 million at the end of 2020.
[Free On-Demand Cvent Webinar: Event Promotions 101: Proven Tactics that Drive Registrations and Deliver Attendees]
Industry Perspective on Cvent Going Public
The news of Cvent going public was greeted positively by meetings industry technology veteran Corbin Ball, president of Corbin Ball Associates, who believes the move and investors behind it portend the continued recovery of the industry and confidence in its future.
"I think that CVT going public is good news for the events industry," Ball said. "It is a vote of confidence from large investors such as Zoom and many others that meetings (both in-person and virtual) are important and technology facilitates this.  
"For Cvent, it means substantial investment funding to further expand its capabilities through acquisitions and product development," he continued, "but, in a broader sense, it shows an increasing recognition by major investors of the value of events for B2B marketing and advancing society. This has been seen through other huge funding investments such as [virtual platform] Hopin and others. The rising tide will float many boats."  
Cvent's tide has indeed been rising since announcing its intentions to go public.
According to a press release from Cvent, the company has notched a number of key business achievements since the announcement of the Business Combination in late July:
It closed several large transactions, including a three-year deal with a state transportation agency with a total contract value (TCV) of $900,000; a two-year deal with a publicly traded pharma company with a TCV of $1 million; and a three-year contract with a global marketing association with a TCV of nearly $900,000, among others.
Launched Cvent Studio, a new solution that delivers livestream and video production capabilities and expands Cvent's virtual and hybrid offerings, enabling marketers and meeting and event planners to produce broadcast-quality video content through web-based solutions.
Launched an expanded partnership with Amadeus, a leading hospitality technology platform, to increase bookings for small meetings and events.
Extended a long-standing strategic partnership with MPI to continue to deliver educational opportunities and thought leadership content to MPI's global community of more than 60,000 meeting and event professionals.
The Big Pivot to Virtual
The plan to go public was announced July 23, following more than a year of turmoil that roiled the meetings, events and hospitality industries as the world was held in the grip of the COVID-19 virus and in-person gatherings were cancelled for long periods in many destinations.
Cvent navigated the pandemic by rapidly pivoting to offering virtual and hybrid meeting solutions, including the launch of the Cvent Virtual Attendee Hub, enhancements to the Cvent Supplier Network, innovations like the Cvent Event Diagramming solution and other safety features/protocols. Cvent said it will unveil further hybrid event offerings, such as Cvent Studio, in the near future.
[Related: 6 Ways to Save on Hybrid Meeting Production Costs]
"Digital events are fundamentally great from an attendee standpoint because they provide a digital footprint," Cvent's Smith said. "You can get so much more information about attendees, and I think that mentality will cascade even to in-person events. That's going to lead to an events world that we think is more robust and bigger than it was before. We think we're entering a bigger, more robust event space, which we think is great for the events industry and certainly a positive coming off a couple of really tough years."
Smith said navigating the pandemic served to strengthen the company's resolve regarding the viability of all types of meetings formats, from in-person events to virtual and hybrid.  
"What we've learned is that meetings and events are essential to who we are, essential to life and to people," he said. "I think going public is a [positive] sign for everyone in the industry and the economy and for us as people."
Get Our Free A Hybrid Meetings How-To eHandbook