Key Tips to Create Engagement for a Hybrid Event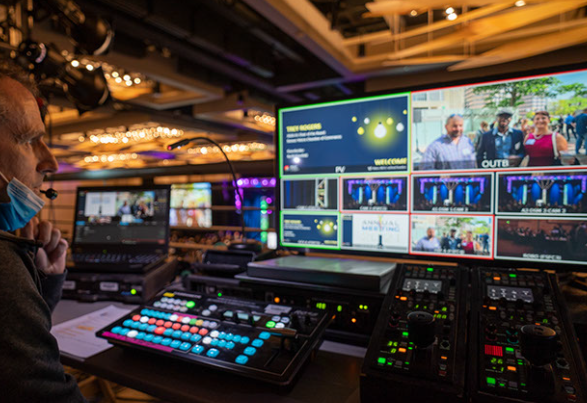 Credit: CEAVCO an AVFX Company.
Some of your attendees will multitask while at the event. 
A few will eat a meal during the event. 
Others will reassure their children while the keynote speaker addresses the audience. 
In the next-normal era of hybrid events, meeting planners and event organizers face a tall challenge to capture the shrinking attention spans of their audience—no matter where they physically are. 
[Related: What Are Hybrid Events—Really?]
To turn this challenge into an opportunity, a shift in mindset is required. Imagine that the event isn't solely about the talking points or the slides. Think of hybrid events as a platform that can transform others through a shared experience. 
Wow. So, when does the next hybrid event begin? (Probably any minute now, based on current demand). 
Offering hybrid meetings even before the pandemic, RSN, a North American network of premier AV companies, has now delivered its first 1,000 hybrid events. Its members have developed technology best practices since hybrid events went upscale amid the pandemic. Here are a few tips from our network for turning your next hybrid event into an experience. 
Context and Points of Reference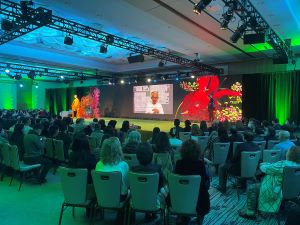 Meeting planners can't create a memorable experience at their next event without properly including their online attendees, said Donald Guzauckas Jr., vice president of North Haven, Connecticut's HB Live Inc. To accomplish that task, he said remote participants must be given context and points of reference throughout the event. Pointing a video camera at a stage and letting it run doesn't make the cut since hybrid meetings have made such leaps and bounds during the pandemic. 
Guzauckas' team added three basic elements that set the table for a memorable experience for online guests: 
Post a "Welcome" slide and a countdown clock so online attendees know that the event is happening and when they can expect it to begin. 
The lower-third of the screen should be utilized with event information, the speaker's name and affiliation, as well as other important tidbits that keep the viewer engaged. 
The third element includes special transitional content that is shown only to online users when the live speaker and audience take a break or move to a different presentation. This content could look like another countdown clock, a commercial from the host organization or a slideshow from the in-person audience—something to fill the natural pauses in the flow of an event that creates a smooth, seamless feeling. 
"The remote audience has been given a much more heightened level of attention than before the pandemic," Guzauckas said. 
[Related: Key Questions to Ask As You Begin the Hybrid Meeting Planning Process]
Advocacy for the Remote Audience 
When in-person attendees are at a live event, their surroundings continue to give them clues that keep them engaged. They walk through the front door and are greeted by someone, and then they see an acquaintance from afar and walk over to chat. And that's all before they take their seat for the presentation.  
An online attendee, however, hits a link that looks like the other 30 links that they clicked that day with their kids screaming in the background. 
To increase engagement, the remote audience should receive some form of advocacy during the experience, so they don't feel remote, said Allin Foulkrod, CEO of Raleigh, North Carolina's Creative Visions. Maybe they are given an online host. Perhaps it's a snapshot of the online attendees flashed on the big screen for the live audience. Can you imagine having the company's chief executive briefly join the online audience to give them a preview about what he's going to talk about before he goes up on stage?  
"Give them more than they expect," Foulkrod said. "It will make them feel special." 
Knockout Breakout Sessions 
Bradley Ehrlich, general manager at Markey's, offers that developing small breakout rooms are his trade secret for generating more engagement.  
About eight years before the pandemic, the Indianapolis-based AV firm helped a large nonprofit with an event that actually focused on its remote attendees rather than a large live audience—an idea before its time.  
The nonprofit had its live audience members meet at boutique hotels or museums, but the true value happened when remote audience viewers went into breakout sessions, where they were able to chat directly with the keynote speakers as well as score some "face time" with other influencers in the industry. It turned out to be the top reason why attendees showed up in large numbers.  
Flash forward to today, and Markey's employs a similar tactic, in which the live and remote audiences watch the same general assembly speeches but then go to different tracks of breakout sessions: One for the live audience and another offering completely different programming for the online audience. 
Markey's also has developed its own online platform and event app, Markey's Virtual Platform, or MVP, to make it easier for both audiences to chat, follow and interact with other attendees and vendors near or afar. The app provides real-time data, measuring engagement from different perspectives, ranging from number of visits to specific "areas" of the event and time duration. 
Integrating Virtual With Live 
Hybrid events are doing more than speaking directly to in-person and remote audiences these days. The new-fangled events are bringing both groups together to ramp up engagement. And the new feature is bringing in new revenue for organizations. 
During a recent hybrid event for a popular personal coach, the influencer was able to sell "VIP Experience" tickets at a premium price, compared to general admission tickets.  
The special tickets put ticket holders in a place on the screen behind the presenter on stage so the in-person audience could watch them as well as the influencer. When one of the VIPs got emotional or made a face about their own personal transformations, Gabby Wallace, project manager at Media Stage in Sunrise, Florida, would tell her technicians to bring that person "full screen." 
Of the 3,000 individuals who attended the event, about 10%, or 300, opted for the VIP treatment. Wallace's team would show about 25 individuals on stage as part of the "backdrop," wait 30 seconds and then scroll another set of 25 individuals on the bank of screens. 
"It was a pretty intense experience," she remembered.